Valkyrie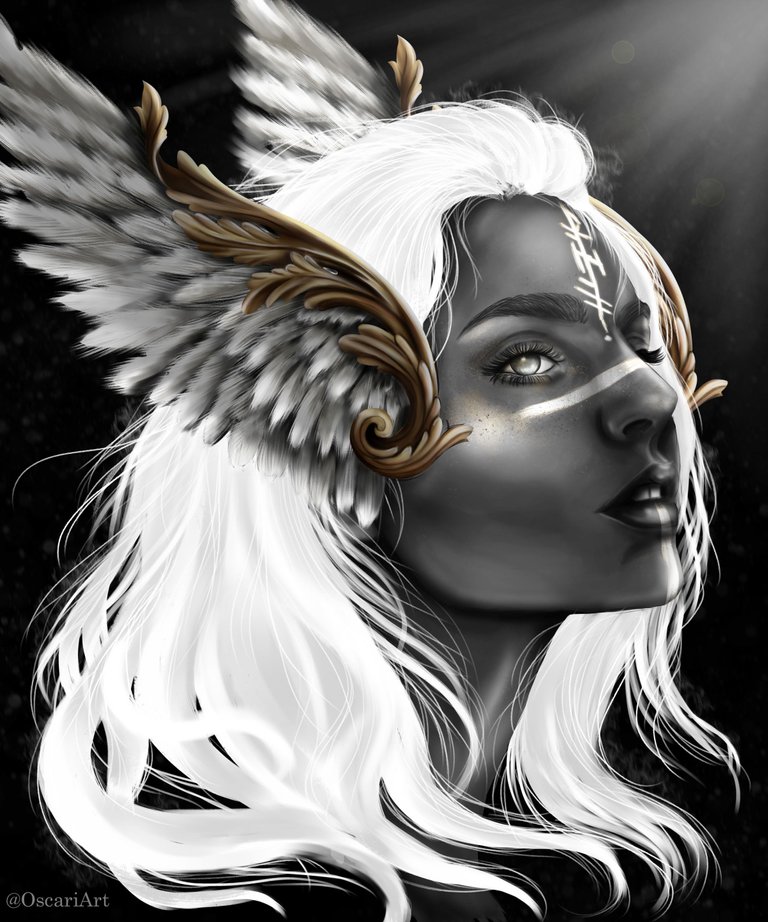 ---
English
Hey hivers! Welcome back to an art post, these last two days I've been a bit busy changing my computer, I'm very happy about that, since I finally have my own computer :D yayy! So I'm sharing my first illustration made here 🤭. This time I wanted to do something related to the nordic mythology, what better than doing a beautiful Valkyrie, next I will share with you the process of it.
Spanish
¡Hola hivers! ¡Bienvenidos de nuevo a un post de arte, estos dos últimos días he estado un poco ocupada cambiando de pc, estoy muy contenta por ello, ya que por fin tengo mi propia computadora :D yayy! Así que comparto mi primera ilustración hecha aquí 🤭. Esta vez quise hacer algo relacionado con la mitología nórdica, que mejor que hacer una hermosa Valkiria, a continuación les comparto el proceso de la misma.
---
PROCESS - PROCESO
---
I had thought of doing this illustration in color, but for the moment I have become a fan of grayscales, I started with the face, I gave a little base shading which I blurred a little and then I made the eye, eyelashes and eyebrows. The iris of the eye I wanted to make it without pupil, I thought this would give it a mystical touch.
Había pensado hacer esta ilustración en color, pero de momento me he vuelto fan de las escalas de grises, empecé por el rostro, le di un pequeño sombreado de base el cual difuminé un poco y luego hice el ojo, las pestañas y las cejas. El iris del ojo quise hacerlo sin pupila, pensé que esto le daría un toque místico.
---
---
I continued doing her skin, I added some pretty strong shadows and then highlights on the face, what I like about grayscales is that the skin can become more realistic. To finish I added some freckles, and highlighted the cheekbones with gold, I did this with a dry texture brush, I like the effect it gives the skin.
Continué haciendo su piel, añadí algunas sombras bastante fuertes y luego luces en la cara, lo que me gusta de las escalas de grises es que la piel puede llegar a ser más realista. Para terminar añadí algunas pecas, y resalté los pómulos con oro, lo hice con un pincel de textura seca, me gusta el efecto que le da a la piel.
---
---
Normally the valkyries wear an armor where their helmet simulates wings, for this one I didn't want to make an armor so for this reason I made some wings with ornaments, to which I added the touch of golden color, lately I like this combination of grays and yellows, so as you can see here I also included it.
Normalmente las valkirias llevan una armadura en la que su casco simula unas alas, para esta no quise hacer una armadura así que por este motivo hice unas alas con ornamentos, a las que añadí el toque de color dorado, últimamente me gusta esta combinación de grises y amarillos, así que como se puede ver aquí también lo incluí.
---
---
For the hair I had thought to make a negative effect or that this was the source of illumination, so I darkened a little more the face and added in some areas of the hair a little gray. To the face I added a Viking makeup in which I also included a Viking rune.
I did the feathering effect with a dry brush and in some areas I blurred it slightly to unify the colors.
Para el cabello había pensado hacer un efecto negativo o que éste fuera la fuente de iluminación, por lo que oscurecí un poco más la cara y añadí en algunas zonas del cabello un poco de gris. A la cara le añadí un maquillaje vikingo en el que también incluí una runa vikinga.
El efecto de pluma lo hice con un pincel seco y en algunas zonas lo difuminé ligeramente para unificar los colores.
---
---
To finish I added some shadows and a light coming from the upper corner. Also some textures for the background and the hair. This is the end of this process, I hope you like it 😊.
Para terminar añadí algunas sombras y una luz que viene de la esquina superior. También algunas texturas para el fondo y el cabello. Este es el final de este proceso, espero que les guste 😊.
---
Final Illustration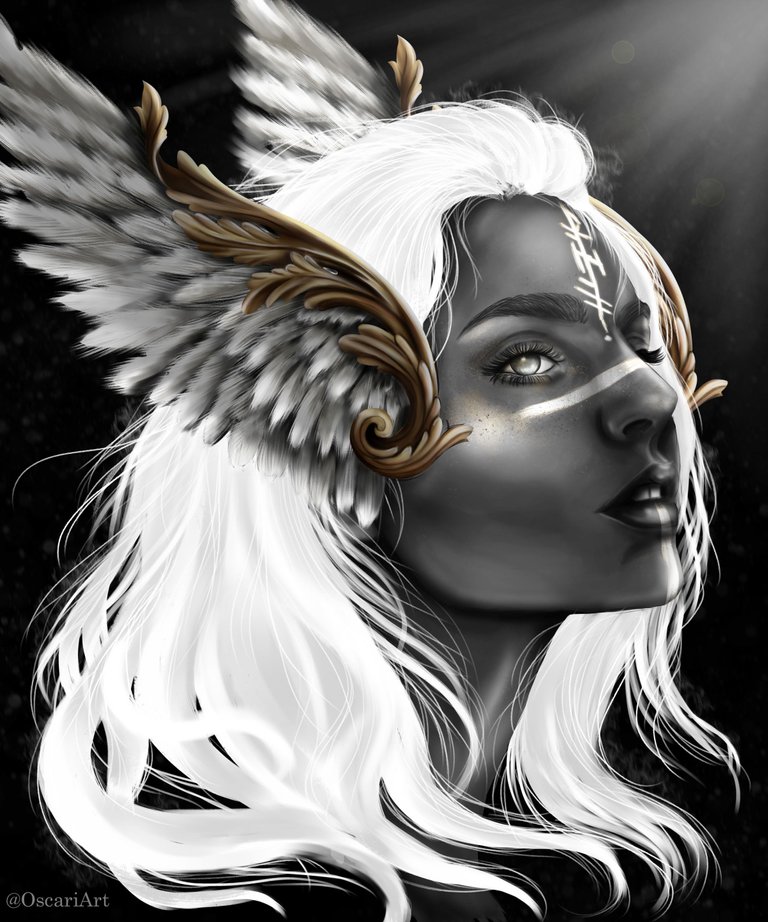 ---
Thanks for taking a few minutes to read me, until next time ✨😊.
Gracias por dedicar unos minutos a leerme, hasta la próxima ✨😊.
---

---
Twitter
Instagram:
Tools - Herramientas
Huion H1060P Graphics Tablet | Tableta Gráfica Huion H1060P
Translated in Deelp
App used | App utilizadas:
Illustration made in Clip Studio Paint and Krita - Ilustración elaborada en Clip Studio Paint y Krita
All images are my own - Todas las imágenes son de mi autoría
---
---