EL PRIMER DESCALABRO DE LA NUEVA ROJA [ESP/ENG]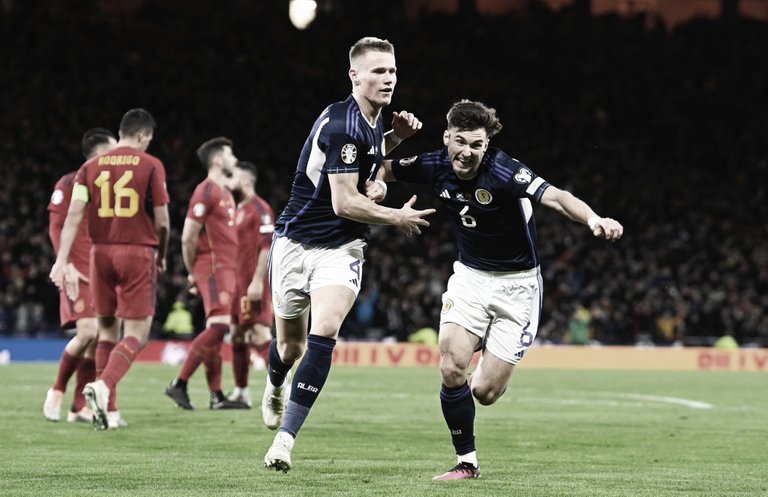 ---
"Bueno, es una derrota dolorosa. Analizando el partido, uno piensa que ha hecho cosas bien como para cambiar el resultado. Me quedo con esas cosas positivas, pero todavía hay que mejorar mucho. Estoy contento con la actitud de los chicos. Valorar que a este alto nivel cualquier error te penaliza. Dos accidentes, pero no hay que reprochar nada a los jugadores. Nos sirve como experiencia de que cualquier detalle inclina la balanza. Pero el primer tiempo ha sido de dominio. Siempre se pueden cambiar cosas y mejorar. Hay que trabajar más. Los jugadores han interpretado muy bien la idea y los he visto identificados con ella." - Luis de la Fuente tras la derrota española en Hampden Park, su primer descalabro como seleccionador de la Roja.
"Well, it's a painful defeat. Analysing the match, one thinks that we did things well enough to change the result. I'll keep those positive things, but there's still a lot of room for improvement. I'm happy with the attitude of the boys. I appreciate that at this high level any mistake penalises you. Two accidents, but we can't reproach the players for anything. It serves as an experience that any detail can tip the balance. But the first half was one of dominance. You can always change things and improve. We have to work harder. The players have interpreted the idea very well and I've seen them identify with it". - Luis de la Fuente after Spain's defeat at Hampden Park, his first loss as La Roja coach.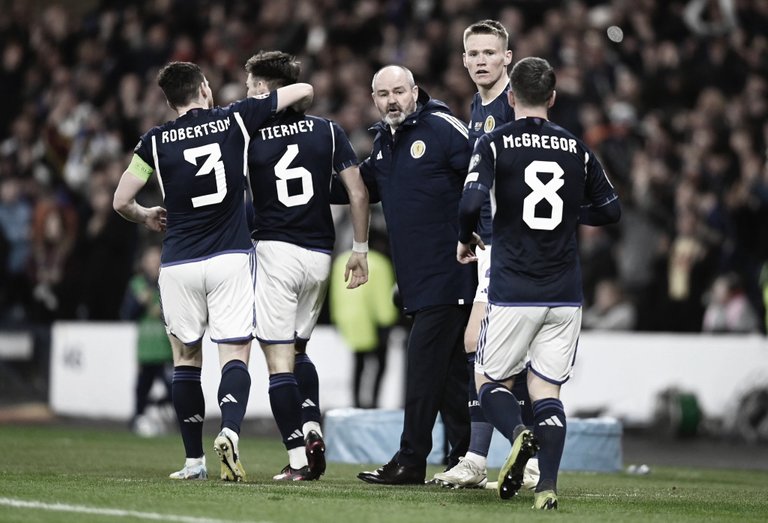 ---
Ocho cambios para la visita a Hampden Park han terminado en el desastre absoluto para un equipo que dijo muy poco con la pelota en los pies. Luis de la Fuente se ha llevado su primer mazazo de realidad al frente de la Selección Española absoluta, el riojano ha empleado un popurrí de jugadores -22 seleccionados en dos partidos- que no lograron desarrollar un fútbol completamente convincente más allá de la victoria inicial en la Rosaleda ante Noruega, en un encuentro en que no convenció del todo con ese futbol cansino e intrascendente que, en varios lances del partido los llevó a estar en peligro de ser alcanzados en el marcador hasta que Joselú dinamitó aquello con un doblete ejecutado con tan solo 4 minutos de presencia en el campo.
Hoy, ante Escocia, no hubo Joselu que valiese -por mucho que el español nacido en Stuttgart haya arrancado como punta de lanza-, De la Fuente no pudo dar con la tecla ni en el once inicial -excesivamente manoseado con respecto al duelo inicial- ni tampoco con los cambios que buscaban revertir un partido que se puso en contra de la visita y muy de cara para el conjunto local muy temprano en el desarrollo de las hostilidades. Escocia salió avante de una prueba que, a priori, sonaba más compleja de lo que en realidad fue y lo hizo empleando sus herramientas más claras, el empuje y el esfuerzo innegociable y un arma secreta que en la figura del centrocampista del Manchester United, Scott McTominay.
Eight changes for the visit to Hampden Park have ended in absolute disaster for a team that said very little with the ball at its feet. Luis de la Fuente has taken his first reality check at the helm of the senior Spanish national team, the Riojan has used a potpourri of players - 22 selected in two games - who failed to develop a completely convincing football beyond the initial victory at La Rosaleda against Norway, in a match in which they were not entirely convincing with their tired, inconsequential football which, at various points in the match, led them to be in danger of being overtaken on the scoreboard until Joselú dynamited that with a brace after just four minutes on the pitch.
Today, against Scotland, there was no Joselu for the taking - no matter how much the Stuttgart-born Spaniard started as the spearhead -, De la Fuente could not find the key to either the starting eleven - excessively tinkered with compared to the opening match - or the changes that sought to reverse a game that went against the visitors and very much in the home side's favour very early on in the game. Scotland came out on top of a test that, a priori, sounded more complex than it actually was and did so by using their clearest tools, drive and non-negotiable effort and a secret weapon in the shape of Manchester United midfielder Scott McTominay.
---
⚽️⚽️ Your @EE Player of the Match... Scott McTominay!#SCOESP pic.twitter.com/AijZjCxmm1

— Scotland National Team (@ScotlandNT) March 28, 2023
---
Era importante para la Roja el poder saldar con seis puntos sus dos primeros escollos en la eliminatoria rumbo a la Eurocopa de Alemania 2024, pero la inmensa cantidad de modificaciones complicó en demasía el desarrollo de una identidad de juego por parte del combinado ibérico y el resultado final ha sido una derrota que siembra un deje de incertidumbre en el ambiente que rodea al combinado nacional español. A esta España le faltó un poco de todo, contundencia en la zona baja, chispa e ideas en el centro del campo y el aporte goleador que brindó Joselu de forma relampagueante en la Rosaleda pero que ni se asomó por Hampden Park.
Una España decepcionante, frágil y carente de un guion de juego claro; un equipo falto de señas de identidad se llevó el primer revés, de los dos que habría de recibir, en los albores del encuentro. Al minuto 7, un inoportuno resbalón de Pedro Porro abrió la puerta a que Andrew Robertson sirviese a la llegada de un Scott McTominay que está lejos de ser un hombre de área pero está encendido de cara a puerta, una combinación Liverpool-United que selló el primer tanto del conjunto escocés en el amanecer de las hostilidades. Un complejo traspié para los dirigidos por De la Fuente.
It was important for La Roja to take six points from their first two qualifiers for Germany 2024, but the huge number of changes made it too difficult for the Iberians to develop an identity of play and the final result was a defeat that sows uncertainty in the atmosphere surrounding the Spanish national team. Spain lacked a bit of everything, strength in the lower area, spark and ideas in midfield and the goalscoring contribution that Joselu provided in a flash at La Rosaleda but did not even make an appearance at Hampden Park.
A disappointing Spain, fragile and lacking a clear game plan, a team lacking a clear identity, suffered the first of two setbacks in the early stages of the game. In the seventh minute, an untimely slip by Pedro Porro opened the door for Andrew Robertson to set up Scott McTominay, who is far from a penalty-box man but is on fire in front of goal, a Liverpool-United combination that sealed the Scots' opening goal in the early stages of hostilities. A complex setback for De la Fuente's side.
---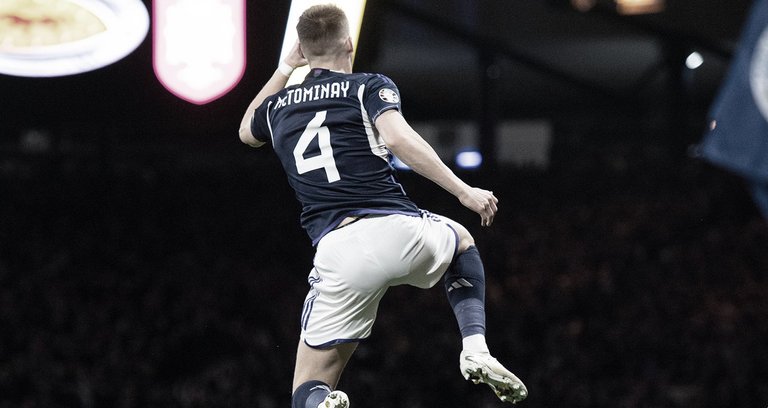 ---
Escocia es uno de esos equipos que con empuje, espíritu y garra, termina por suplir las limitantes que suele encontrar en su idea colectiva de fútbol y ha sido justo con esa capacidad de entrega a ultranza que le han sabido pasar por encima a una España que ha dejado la compleja impresión de ser una oncena sin encuadre y a la que le costará despegar y gustar con su fútbol.
Cuatro jugadores del conjunto esocés -el arquero Gunn, los defensores Porteus y Henley, así como el centro delantero Dykes- fueron reclutados de equipos de la parte baja de la segunda división inglesa; poco ha importado la categoría y el equipo de sus procedencia, todos son escoceses hasta los huesos pelean cada balón como si fuera el último que vayan a disputar en sus carreras, muerden en cada milímetro del campo con la intensidad de un sismo. Escocia le ha borrado la tímida sonrisa al conjunto español para dejarle una cara tan larga como preocupante.
La mejor parte de recibir un gol tan tempranero, es que gozas de mucho tiempo para recalcular y redirigir los esfuerzos que habrás de hacer para enderezar el mal trazado del camino; no hubo cálculos ni redireccionamiento posible para el conjunto visitante en Hampden Park, no tuvieron ni los arrestos futbolísticos ni aquella tradicional "Furia Roja" de la que se han ido alejando en los últimos años para acercarse a la ductilidad con la pelota en los pies -que hoy tampoco se hizo presente sobre la grama de Glasgow. No hubo plan B por parte de estratega riojano, no al menos uno que funcionase.
Scotland is one of those teams that, with drive, spirit and grit, manages to make up for the limitations they tend to find in their collective idea of football and it has been with this capacity to give their all that they have been able to overcome a Spain side that has left the complex impression of being a team without a framework and which will find it hard to get off the ground and enjoy their football.
Four players in the Scottish squad -goalkeeper Gunn, defenders Porteus and Henley, as well as centre-forward Dykes- were recruited from teams in the lower reaches of England's second tier; it has mattered little which team they came from, they are all Scots to the bone, fighting every ball as if it were the last one they will play in their careers, biting every inch of the pitch with the intensity of an earthquake. Scotland have wiped the shy smile off the Spanish team's face and left them with a face as long as it is worrying.
The best part of conceding such an early goal is that you have plenty of time to recalculate and redirect the efforts you will have to make to straighten the wrong path; there was no calculation or redirection possible for the visitors at Hampden Park, they had neither the footballing arrests nor that traditional "Red Fury" that they have been moving away from in recent years to approach the ductility with the ball at their feet -which today was not present on the Glasgow pitch either. There was no plan B from the Riojan strategist, at least not one that worked.
---
FULL TIME: Scotland 2-0 Spain.

A HUGE performance from Steve Clarke's team 💪

Two goals from Scott McTominay either side of half time means it's two wins out of two to start our European Qualifying campaign!#SCOESP pic.twitter.com/EjIrrBR76R

— Scotland National Team (@ScotlandNT) March 28, 2023
---
Escocia llevó encuentro una guerra de guerrillas, un partido como le convenía y que alejaba al conjunto español de cualquier viso de brillantez o estética. Los escoceses se imponen en los duelos físicos con una facilidad pasmosa y España solo daba ciertas señas de identidad cuando Dani Ceballos tomaba la pelota y comandaba la salida del esférico en la medular, era el único, junto a Rodri, que buscaba mantener esa identidad de tratar bien la pelota y evitar los pelotazos tan impropios de su sello futbolístico. Hubo varios momentos en el partido en que la Roja no se reconocía a sí misma.
Lo mejor de España, por mucho que cueste creerlo, llegó en el juego aéreo dentro del área, pero el larguero y la milimétrica falta de puntería impidieron que los de De la Fuente pusieran su impronta en el marcador y al minuto 51' quien sí volvió a dejar su huella en una faceta que, hasta antes de esta fecha FIFA le teníamos desconocida, fue Scott McTominay que firmó su doblete -y cuarto gol en dos juegos- tras una pelota que Tierney ganó a un tibio Dani Carvajal. 2-0 Escocia ha golpeado duramente a una Roja que tiene mucho que mejorar para convencer a su feligresía.
Scotland played a guerrilla war, a game that suited them and which kept the Spanish team from any semblance of brilliance or aesthetics. The Scots imposed themselves in physical duels with astonishing ease and Spain only gave certain signs of identity when Dani Ceballos took the ball and commanded the ball in midfield, he was the only one, along with Rodri, who sought to maintain that identity of dealing well with the ball and avoiding the ball so unbecoming of their footballing hallmark. There were several moments in the match when La Roja did not recognise themselves.
Spain's best, hard as it was to believe, came in the air inside the box, but the crossbar and the millimetre-perfect lack of finishing prevented De la Fuente's side from putting their stamp on the scoreboard, and in the 51st minute it was Scott McTominay who again made his mark in an area that, until this FIFA matchday, was unknown to us, scoring his brace - and fourth goal in two games - after Tierney had beaten a tepid Dani Carvajal to the ball. 2-0 Scotland have hit hard at a Roja side that has much to improve to convince its faithful.
---
✍🏼: Paco Andújar ⚽
---
---