NAPOLI APESTA A CAMPEÓN (ANÁLISIS TÁCTICO) [ESP/ENG]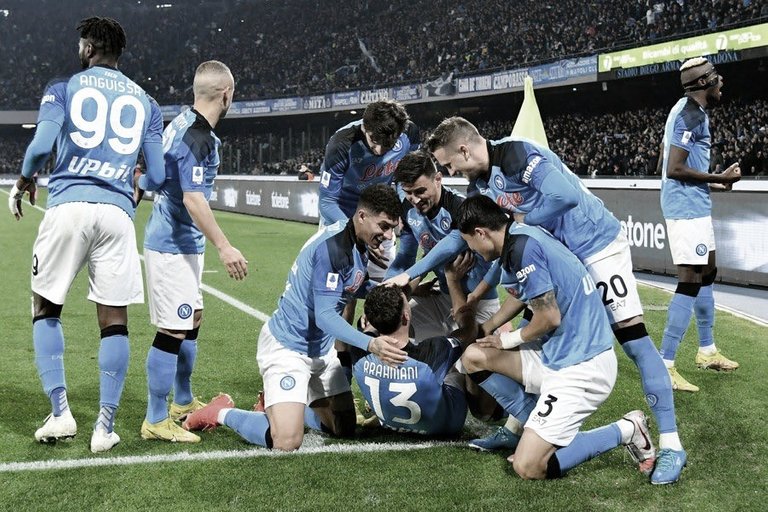 ---
"Es la enésima vez que voy a hablar con los chicos antes de un partido con la sensación de que podría haber satisfacción, y es la enésima vez que responden mostrando que están hechos de otra cosa. Quieren ser alguien que muestre lo que significa vestir la camiseta de Napoli, que tiene hambre y no duerme. Es un dicho napolitano, y es cierto.No es que Napoli se limite a dos jugadores, se extiende a todos los integrantes del equipo." - Spalletti elogiando a su equipo al completo tras haber goleado al Torino por 4-0 previo al parón por fecha FIFA.
"It's the umpteenth time I've gone to talk to the boys before a game with the feeling that there could be satisfaction, and it's the umpteenth time they've responded by showing they're made of something else. They want to be someone who shows what it means to wear the Napoli shirt, who is hungry and doesn't sleep. It's a Neapolitan saying, and it's true.It's not that Napoli is limited to two players, it extends to everyone in the team." - Spalletti praising his entire team after beating Torino 4-0 ahead of the FIFA break.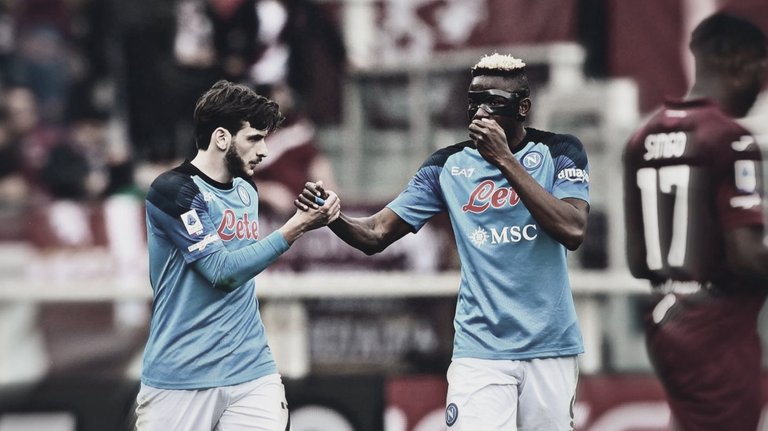 ---
El Napoli se acerca, invariablemente a ganar su primer Scudetto en más de 30 años, el primero que conquistarán sin Diego Armando Maradona en sus filas. La última vez que los Partenopei conquistaron la máxima gloria local fue allá en 1990 con "el Diego" comandando aquella rebelión futbolística del sur ante los poderosos del norte del país de la bota; mismos equipos -Juventus, Milán e Inter- ante los que han sucumbido en numerosos intentos de conquistar el tercer Scudetto para sus vitrinas.
El fútbol desplegado por los de Spalletti y la cómoda ventaja que han conseguido con respecto a sus escoltas apunta a que su destino ineludible sea la consecución del título de la Serie A. Las calles de Nápoles apestan a fiesta mientras los tifosi se preparan para la bacanal de apasionadas celebraciones futbolísticas del hito que los suyos están encaminados a conseguir. Pero nos dejaremos de obviedades para desmenuzar 5 aspectos tácticos que han llevado a este Napoli al éxito irremediable en el torneo local y a la posibilidad de competir por la UEFA Champions League ante cualquier pez gordo que se cruce en su camino.
Los números del conjunto sureño son no menos que abrumadores, 71 puntos de 81 disputados en lo que es apenas la segunda campaña de Spalletti al frente de los destinos Partenopeos; ya en la temporada pasada el Napoli probó ser un equipo absolutamente sólido con tan solo 31 goles en contra en 38 jornadas -los mismos que el Milán que terminó campeón-; el estratega italiano tomó lo que funcionaba y apuntaló lo que necesitaba apuntalar para que su equipo se convirtiese en una pesadilla para todo aquel que se cruzara en su camino.
Napoli are invariably close to winning their first Scudetto in over 30 years, the first without Diego Armando Maradona in their ranks. The last time the Partenopei won the ultimate local glory was back in 1990 with "el Diego" leading that southern footballing rebellion against the northern powerhouses of the country of the boot; the same teams - Juventus, Milan and Inter - to whom they have succumbed in numerous attempts to win a third Scudetto for their trophy cabinet.
The football Spalletti's side have played and the comfortable lead they have built up over their rivals suggests that the Serie A title is their inevitable destination. The streets of Naples reek of celebration as the tifosi prepare for a bacchanal of passionate football celebrations of the milestone their side are on course to achieve. But let's leave the obvious behind and take a closer look at five tactical aspects that have led Napoli to irredeemable success in the domestic competition and the possibility of competing for the UEFA Champions League against any big fish that crosses their path.
The southern side's numbers are nothing short of overwhelming, 71 points from 81 in what is only Spalletti's second season in charge of the Partenopei; last season Napoli proved to be an absolutely solid team with only 31 goals conceded in 38 games - the same as Milan who finished champions - and the Italian tactician took what worked and shored up what needed shoring up to make his side a nightmare for anyone who crossed their path.
---
Nápoles ya se prepara para la conquista de su 3er Scudetto.
La ventaja de 19 puntos ya es insalvable y la fiesta que se viene será histórica. #Napoli pic.twitter.com/lwy07Pw1sL

— VÍCTOR EDÚ (@EDUX77) March 31, 2023
---
Los napolitanos practican un fútbol más sabroso que su pizza -y eso ya es complejo- un funcionamiento ecléctico, plagado de opciones en ambas fases del juego, el mérito es de Spalletti y de todo ese séquito suyo que ha abrigado el mensaje de unidad tanto en defensiva como en ofensiva. Los once futbolistas que Luciano pone en el campo cumplen un rol clave en la fase ofensiva y en la defensiva; es decir, todos atacan y todos defienden de algún modo.
Spalletti ha sabido definir las posiciones claves en su mapa de estrategia y ha detectado cuáles de sus efectivos pueden brindar rendimientos específicos para dichas posiciones. Spalletti tiene bien detectados a sus "caballos de acero" -aquellos futbolistas que se vuelven innegociables en su once si son elegibles- y también a los escuderos perfectos para arropar a dichos elementos y complementar una maquinaria que se ajusta a las necesidades de lo que el entrenador demanda en función de las características del oponente; así fue como pudieron apabullar a históricos como el Liverpool (4-1) y el Ajax (1-6) en Amsterdam. La continuidad en futbolistas que se conocen al dedillo y que, además, están rindiendo altos vuelos, es clave para la regularidad en los resultados del Napoli que ha conseguido el Napoli.
The Neapolitans play more tasty football than their pizza -and that's complex enough- an eclectic performance, full of options in both phases of the game, to the credit of Spalletti and all his entourage who have embraced the message of unity in both defence and offence. The eleven players that Luciano puts on the pitch play a key role in both the offensive and defensive phases; in other words, they all attack and all defend in some way.
Spalletti has been able to define the key positions in his strategic map and has detected which of his players can provide specific performances for those positions. Spalletti has well identified his "steel horses" - those players who become non-negotiable in his eleven if they are eligible - and also the perfect squad members to support them and complement a machine that adjusts to the needs of what the coach demands depending on the characteristics of the opponent; this is how they were able to overwhelm historic teams such as Liverpool (4-1) and Ajax (1-6) in Amsterdam. Continuity in players who know each other inside out and who are performing at a high level is key to the consistency of Napoli's results that Napoli have achieved.
---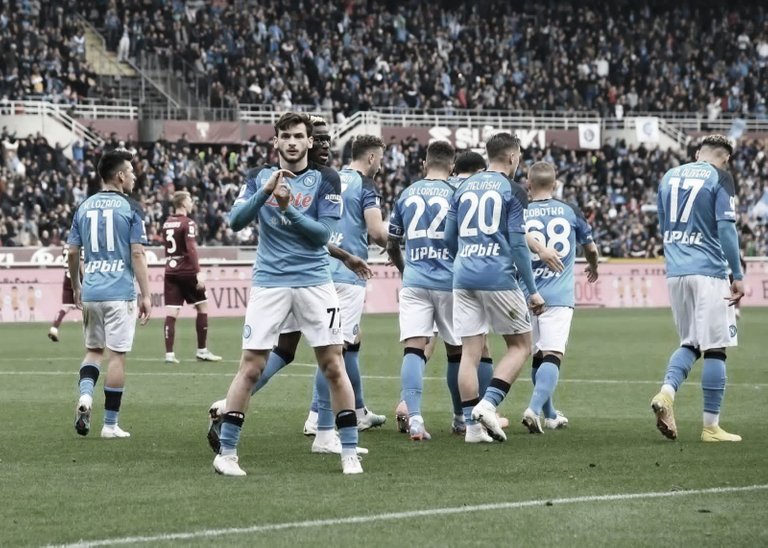 ---
La medular está siendo sumamente importante para el tremendo paso del Napoli, puesto que Rrahmani y Kim Min-Jae en la central son bien cubiertos por un medio campo que cumple con creces en la destrucción del juego del rival y la posterior gestación de fútbol ofensivo en ocasiones con un 2+1 (Anguissa y Lobotka + Zielinski por delante) y en muchas otras 1+2 (Lobotka como único ancla, liberando a Anguissa para aportar opciones a Zielinski en la transición). La innegociable intensidad del conjunto napolitano es también un factor clave, agresivo al momento de atacar, el Napoli también lo es a la hora de buscar recuperar la pelota, buscando mantener a los rivales lo más lejos posible de su portería por lo que emplean un sistema de presión alta asfixiante que en la mayoría de ocasiones les es altamente efectivo, por algo es que son -aparte de la mejor ofensiva del torneo- la mejor defensiva con solo 16 goles encajados en los 27 juegos ligueros que han disputado.
La velocidad que imprime el conjunto de Spalletti en sus progresiones ofensivas por los costados es sin duda otro aspecto clave para entender los 64 goles que han facturado los napolitanos en sus 27 partidos ligueros (17 más que los 47 que ha producido en Inter, segundo en generación ofensiva en el campeonato); los de Spalletti son el equipo que más pases da en el último tercio del campo, como consecuencia de la presión alta y la tremenda velocidad de transición ofensiva tras robo. Son una auténtica pesadilla celeste que viaja a la celeridad de un torbellino que lo arrasa todo con o sin la pelota en posesión.
The midfield has been extremely important for Napoli's tremendous pace, as Rrahmani and Kim Min-Jae in central midfield are well covered by a midfield that is more than capable of destroying the opposition's play and then creating attacking football, sometimes with a 2+1 (Anguissa and Lobotka + Zielinski up front) and often with a 1+2 (Lobotka as the only anchor, freeing up Anguissa to provide options for Zielinski in transition). The undeniable intensity of the Neapolitan team is also a key factor, aggressive when attacking, Napoli are also aggressive when trying to win the ball back, looking to keep their opponents as far away from their goal as possible, which is why they use a suffocating high pressing system that on most occasions is highly effective, which is why they are - apart from being the best offensive team in the tournament - the best defensive team with only 16 goals conceded in the 27 league games they have played.
The speed of Spalletti's team in their offensive progressions down the flanks is undoubtedly another key aspect to understand the 64 goals scored by the Neapolitans in their 27 league games (17 more than the 47 scored by Inter, second in offensive generation in the championship); Spalletti's team is the team that passes more passes in the final third of the field, as a result of the high pressure and the tremendous speed of offensive transition after theft. They are a real Celeste nightmare that travels at the speed of a whirlwind that sweeps everything away with or without the ball in possession.
---
Le Napoli cette saison c'est :

Un duo Kvara-Osimhen en feu 🔥
Une défense de fer 🚌
Un coach ultra ambitieux 💪

Vous voyez les Italiens remporter la Ligue des Champions cette année ? 🤔 pic.twitter.com/HBNbsuWpbi

— 90min 🇫🇷 (@90minFR) February 21, 2023
---
En el análisis de la capacidad ofensiva de este Napoli de Luciano Spalletti es inevitable hablar del par de nombres propios que se han robado las luces -sin atisbo de sombra- en el frente de ataque napolitano Victor Osimhen y Khvicha Kvaratskhelia -de quien en otra entrega haremos un análisis a detalle, pues nos ha enamorado desde su irrupción en el fútbol italiano; el nigeriano y el georgiano son los protagonistas casi absolutos de un ataque venenoso -al que Raspadori y Simeone se suman como alternativas de un peso nada deleznable-. Las rupturas en desmarque de "Kvaradona" por la banda izquierda para ganar las espaldas a los rivales son desquiciantes y las acompaña de un fútbol cuyo octanaje y elegancia son propias de lo que gustamos de llamar "un futbolistas distinto", vaya maneras apunta el tipo; mientras que Osimhen ostenta una tremenda capacidad de leer los espacios en el área y también es el primero en generar esa presión sobre el rival en su salida de pelota. ¡Baluartes invaluables!
Todo lo anteriormente destacado en el Napoli se complementa con un tremendo aprovechamiento de la táctica fija en ofensiva, siendo otra arma fundamental en el arsenal ofensivo que ofrece el conjunto de Spalletti que genera un gol, en promedio, cada 15 córners y es un muro casi infranqueable cuando le toca sembrarse en su propio último tercio para defender la táctica fija del rival generando una estructura defensiva de hasta 5 jugadores por delante de Meret. El Napoli no huele, apesta a campeón y desde este humilde espacio hemos buscado brindar las claves tácticas pertinentes para desmenuzar dicho aroma como quien desmenuza las notas olfativas del mejor vino italiano que regará la casi inevitable celebración en aquella futbolera ciudad sureña.
In the analysis of the offensive capacity of Luciano Spalletti's Napoli, it is inevitable to talk about the pair of names that have stolen the limelight -without a hint of shadow- in the Neapolitan attacking front, Victor Osimhen and Khvicha Kvaratskhelia -who we will analyse in detail in another instalment, as we have fallen in love with him since his arrival in Italian football; The Nigerian and the Georgian are the almost absolute protagonists of a venomous attack - to which Raspadori and Simeone are added as alternatives of a not inconsiderable weight. Kvaradona's unmarked breaks down the left flank to get behind opponents' backs are unsettling and he accompanies them with a football whose octane and elegance are typical of what we like to call "a different kind of footballer", what a way with the guy; while Osimhen boasts a tremendous ability to read the spaces in the box and is also the first to generate that pressure on the opponent on his way out of the ball. Invaluable bastions!
All of the above is complemented by Napoli's tremendous use of fixed tactics in attack, which is another fundamental weapon in Spalletti's attacking arsenal that generates a goal, on average, every 15 corners and is an almost impassable wall when it's time for him to plant himself in his own final third to defend the opposition's fixed tactics by generating a defensive structure of up to 5 players in front of Meret. Napoli don't smell, they reek of champions and from this humble space we have sought to provide the relevant tactical keys to break down that aroma like someone who crumbles the olfactory notes of the best Italian wine that will water the almost inevitable celebration in that southern football city.
---
✍🏼: Paco Andújar ⚽
---
---