TWO GOALS, THREE POINTS AND A SMILING CRISTIANO [ENG/ESP]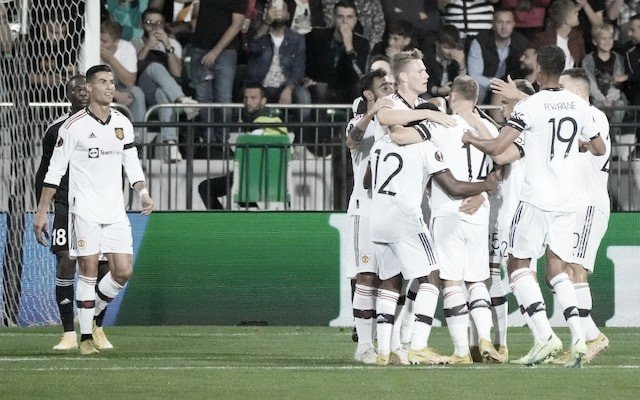 ---
"After the first 10 minutes we found our formation, we were more secure, we had some good movements on the ball in the middle of the park, we kept the ball and in right moments we split up, we made a great goal with Jadon Sancho. We did that more this season, like Arsenal, many players involved in making a goal. So, if we can keep this going, more quantity of such occasions, we are in a good way." – Erik ten Hag on United's victory over Sheriff.
"Después de los primeros 10 minutos encontramos nuestra formación, estuvimos más seguros, tuvimos algunos buenos movimientos con el balón en el centro del campo, mantuvimos el balón y en momentos adecuados nos desdoblamos, hicimos un gran gol con Jadon Sancho. Lo hemos hecho más esta temporada, como el Arsenal, muchos jugadores participan en la fabricación de un gol. Así que, si podemos seguir así, con más cantidad de ocasiones de este tipo, estamos en el buen camino". - Erik ten Hag sobre la victoria del United ante el Sheriff.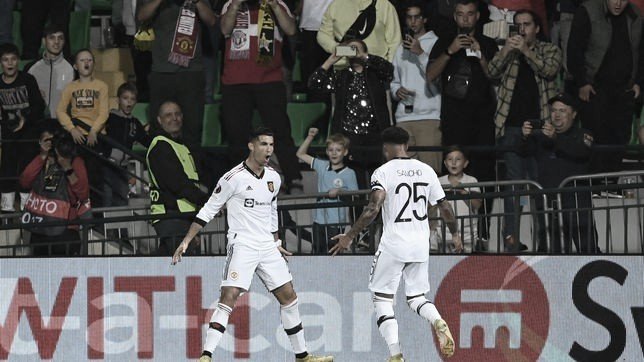 ---
The Pridnestrovian Moldavian Republic better known as Transnistria is an autonomous territorial unit with a special legal status, for many it cannot even be considered a country, and on many maps it is not even typified; not so the team from its capital, Tiraspol Sheriff that burst onto the map of European football recently by playing in the group stage of the UEFA Champions League and having defeated -almost a year ago- no less than Real Madrid at the Santiago Bernabeu.
Today, the Europa League brought the Transnistrian side up against another giant of European football, one that has been dormant for a long time and far from the level that befits its lavish history. The Zimbru Stadium in Chisnáu, Moldova was the setting for the Star side as they sought to further complicate ten Hag's Manchester United's start to the UEFA Europa League.
The home side came into the game having won their Europa League opener with a 3-0 win over Omonia Nicosia, while Manchester United had suffered a painful 1-0 defeat at home to Real Sociedad San Sebastian.
La República Moldava Pridnestroviana mejor conocida como Transnistria es una unidad territorial autónoma con un estatus jurídico especial, para muchos ni siquiera puede ser considerada un país, y en muchos mapas ni siquiera aparece tipificada; no así el conjunto de su capital, el Sheriff de Tiraspol que irrumpió hace poco y nada en el mapa del futbol europeo disputando la fase de grupos de la pasa UEFA Champions League y habiendo derrotado -hace casi un año- nada más y nada menos que a todo un Real Madrid en el Santiago Bernabéu.
Hoy, la Europa League enfrentaba al equipo transnistrio ante otro gigante de el futbol europeo, uno que lleva un gran tiempo aletargado y lejos del nivel que corresponde a su fastuosa historia. El Estadio Zimbru en Chisnáu, Moldavia era el escenario para que el conjunto de la estrella buscase complicar aún más si cabe el arranque del Manchester United de ten Hag en la UEFA Europa League.
El conjunto local llegaba al encuentro tras haber ganado su partido de estreno en esta Europa League habiendo goleado por marcador de 0-3 al Omonia Nicosia, mientras que el Manchester United había sufrido un doloroso descalabro la perder en casa por marcador de 0-1 ante la Real Sociedad de San Sebastián.
---
Job done in Moldova! ✔️ #MUFC || #UEL pic.twitter.com/Hq4g7noQ7w

— Manchester United (@ManUtd) September 15, 2022
---
---
For United it was a game of vital importance, victory was of paramount importance, one of those games in which the implausible adage "Win no matter what" comes to the fore. There are teams whose history demands winning with conviction, clubs where form matters almost more than the result, and one of those is Manchester United who on Moldovan soil went out to win " no matter what".
United did not shine collectively for several stretches of the match, but they knew how to win; on this occasion Sheriff could not put on the suit of David to beat Goliath, ten Hag's team although lacking in lustre and offensive voracity knew how to do the relevant damage to control a match that lacked any surprises for the Red Devils.
Para el United era un juego de vital importancia, la victoria era de capital importancia, uno de esos partidos en el que el poco plausible adagio "Ganar como sea" cobra protagonismo. Hay equipos cuya historia demanda ganar con convencimiento, clubes donde las formas importan casi más que el resultado y uno de esos es el Manchester United que en territorio moldavo salió a ganar "como sea".
No brilló colectivamente por varios tramos del encuentro el conjunto del United, pero supo ganar; en esta ocasión el Sheriff no pudo calzarse el traje del David para vencer a Goliat, el conjunto de ten Hag aunque carente de lustre y de voracidad ofensiva supo hacer el daño pertinente para controlar un partido que careció de sobresaltos para los Red Devils.
---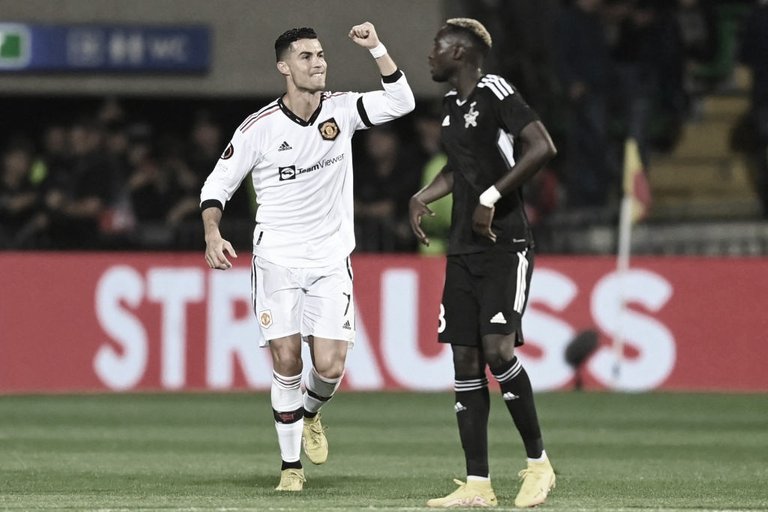 ---
Cristiano started as the spearhead of an attack that included Sancho, Bruno and Antony with Eriksen and McTominay in midfield and a line of four defenders to protect David De Gea's goal with Lisandro and Varane at centre-back, Malacia and Dalot at full-back.
If there is a collective play that stood out for Manchester United on the Zimbru pitch, it was the first goal scored by the Mancunian team. It was the 16th minute, a tremendous combination of passes to set up the play practically with first touch balls ended with Eriksen receiving the pass with space to project himself forward, the Danish star did so and ended up serving a magnificent through ball to Jadon Sancho who received it, hooked it towards his left foot and punished with a cross shot to the bottom corner of the goalpost. It was 1-0 to ten Hag's side.
Arrancó Cristiano en el once titular del estratega neerlandés, y lo hizo como la punta de lanza de un ataque en el le cobijaban Sancho, Bruno y Antony con Eriksen y McTominay en el centro del campo y una línea de 4 defensores para resguardar el marco de David De Gea con Lisandro y Varane como centrales, Malacia y Dalot como laterales.
Si hay una jugada colectiva que destacar por parte del Manchester United sobre la grama del Zimbru, esa es la del primer gol del conjunto mancuniano. Corría el minuto 16', un tremendo toqueteo para hilvanar la jugada prácticamente de primera intención terminó con Eriksen recibiendo la pelota con espacio para proyectarse hacia el frente, lo hizo así el astro danés que terminó sirviendo un magnifico pase a la internada de Jadon Sancho que recibió, enganchó hacia su zurda y castigó con un tiro cruzado y rasante a la base del palo. 1-0 lo ganaban los de ten Hag.
---
Two goals. Three points ✅#MUFC || #UEL

— Manchester United (@ManUtd) September 15, 2022
---
Around the 38th minute of hostilities, a ball rained into the box that eluded Dalot but, in an exercise in sheer clumsiness, Patrick Kpozo would end up committing a penalty on United's Portuguese full-back; and with Cristiano on the pitch, there was no doubt who would take the spot-kick.
A neat, well-timed strike from Ronaldo, who waited for the goalkeeper's movement before simply slotting wide to make his goal-scoring debut of the campaign as well as his first goal in Europe's second-tier competition. The Transnistrian side are the 124th team Ronaldo has scored against in his voracious and insatiable goalscoring career. Cristiano has scored again and we will see if his numbers improve for the rest of the season and at the World Cup, as he is the spiritual leader of the Portuguese national team.
United have taken their first three points of the season in the UEFA Europa League and will not see Premier League action this weekend either, as matches on London soil in Round 8 of the Premier League have been postponed due to the British crown's mourning protocol in memory of Queen Elizabeth II. Ten Hag's Red Devils will have two games left on their domestic schedule.
Sobre el minuto 38 de las hostilidades, llovería al área una pelota que se le escapaba a Dalot pero que, en un ejercicio de torpeza absoluta, Patrick Kpozo terminaría cometiendo penalti sobre el lateral portugués del United; y con Cristiano en el terreno de juego, no había duda de quien sería el encargado de ejecutar la pena máxima.
Un pulcro y tiempista cobro de Ronaldo que esperó el movimiento del portero para simplemente cobrar lejos de su alcance y así estrenarse como goleador en esta campaña al tiempo que se estrenaba también en la segunda competición europea. El conjunto Transnistrio es el conjunto numero 124 al que Ronaldo le ha marcado en su voraz e insaciable carrera goleadora. Cristiano ha vuelto a marcar y veremos si sus números mejoran de cara al resto de la temporada y en la Copa del Mundo, pues es el líder espiritual de la selección portuguesa.
El United ha sumado sus primeros tres puntos en esta temporada de la UEFA Europa League y no verá acción este fin de semana tampoco por la Premier League, ya que los partidos que hubieran de disputarse en territorio londinense durante la jornada 8 de la liga inglesa han sido pospuestos debido al protocolo luctuoso de la corona británica en memoria de la Reina Isabel II. Los Red Devils de ten Hag tendrán dos juegos pendientes en su calendario por la competición doméstica.
---
Highlights of Manchester United's win in Tiraspol:
El resumen de la victoria del Manchester United en Tiraspol
✍🏼: Paco Andújar ⚽
---
---