El instrumento con forma de mujer // The instrument shaped like a woman // LOH Contest #109
Hola, querido hiver.
Regreso con una participación para la iniciativa semanal de Ladies of Hive, que celebra su edición número 109. Te animo a que participes, para lo cual te dejo aquí el enlace a la convocatoria.
Esta semana las preguntas han sido propuestas por @irenenavarroart. Aprovecho para agradecerle su disposición, tiempo y energía dedicados a esta acogedora comunidad. Aquí respondo a la primera de las preguntas, cuyo enunciado es este:
1️⃣ ¿Cuál es tu instrumento musical favorito y por qué? ¿Sabes tocarlo? Si no, ¿crees que hay límites para aprender a tocarlo?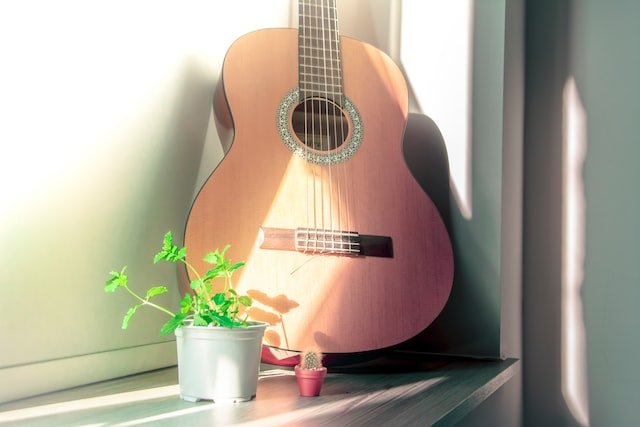 El instrumento con forma de mujer
Cuando pienso en música, de forma automática imagino una guitarra española. Junto al piano es el instrumento musical más versátil que conozco, aunque le aventaja por su fácil transporte a cualquier parte. Donde vayas, puede acompañarte.
Mis primeros contactos con la guitarra fueron en las misas dominicales a las que me llevaban mis padres todas las semanas con el extra de los que llamaban fiestas de guardar. En la parroquia a la que pertenecíamos se celebraba a las 11 de la mañana la misa especial para los niños. En ella cantábamos canciones alegres acompañadas por guitarras y alguna bandurria.
Como instrumento tradicional que es en mi región, la guitarra ha formado parte de las vidas del pueblo en todos sus estratos sociales y más acentuado en las clases menos pudientes. El folclore popular de Aragón tiene su máximo exponente en la jota aragonesa, que es interpretada por rondallas compuestas por guitarras, bandurrias y laúdes.

No me conformo con escucharla
A mis 11-12 años tuve que cambiar de colegio porque cerraron mi centro escolar. Mi alegría fue mayúscula al saber que en mi nueva escuela había una rondalla en la que enseñaban a tocar la guitarra, por lo que no dudé en apuntarme.
Las partituras que nos enseñaban seguían el sistema cifrado, por lo que mis nociones de solfeo son básicas. A cambio era mucho más sencillo aprender a tocar. Interpretábamos obras de todo tipo, desde clásicas hasta éxitos populares de aquellos años, pasando por jotas, pasodobles, valses, mazurcas, rancheras… y hasta alguna pieza de flamenco.
Pasé horas y horas ensayando en casa. Me encerraba en una habitación y me tarareaba a mí misma las melodías para irlas acompañando. Cerraba los ojos y sentía la vibración de la madera en mi estómago. El tiempo volaba.

No hay límites
Cualquier persona puede tocar la guitarra. Cuando aprendí, al ser todavía una niña mis dedos se quedaban un pelín cortos. Lo compensé con más tiempo de ensayo para que mis ligamentos y músculos se fueran estirando. Al principio tuve ampollas en las yemas de los dedos que me dolían al pulsar las cuerdas, pero si de verdad haces algo en lo que pones toda tu pasión, compensa por mucho.
Por si el párrafo anterior no te convence, te presento a Tony Meléndez. Su historia es conmovedora y un ejemplo a seguir.
¿Te has preguntado qué pasaría si a Tony le faltasen los pies? Pues, por increíble que parezca, hay quien no los tiene y también se empeñó en alcanzar su sueño. Los avances de la tecnología permiten que Rafa Reyes toque la guitarra eléctrica sin poseer ninguna extremidad completa. Mira este video y alucina:
La música nos acompaña a lo largo de toda la vida. Los momentos especiales que experimentamos tienen una banda sonora de fondo. En la mía siempre está presente ese instrumento con forma de contorno femenino.

Aviso: Todo lo publicado en este post es de mi autoría, excepto los elementos en los que doy crédito a su/s autor/es. Por tanto, en caso de plagio o difusión sin mi permiso, ejerceré mis derechos de autor si así lo estimo oportuno.
Realizo mis fotografías con mi móvil iPhone, las edito en el editor de fotos de Mac y con la versión gratuita de la aplicación PicsArt.
Si te gusta lo que publico, únete a mi Fanbase pinchando aquí



ENGLISH VERSION

Hello, dear hiver.
I'm back with a participation for the weekly initiative of Ladies of Hive, which celebrates its 109th edition. I encourage you to participate, for which I leave you here the link to the call.
This week the questions have been proposed by @irenenavarroart. I would like to take this opportunity to thank her for her willingness, time and energy dedicated to this welcoming community. Here I answer the first of the questions, which is worded as follows:
1️⃣ What is your favourite musical instrument and why? Do you know how to play it? If not, do you think there are limits to learning to play it?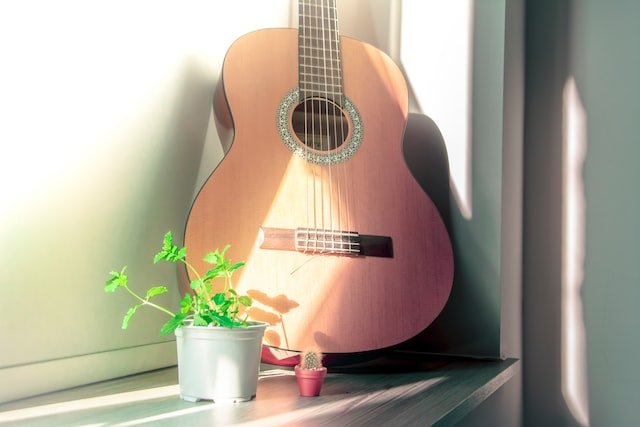 Image Source

The instrument in the shape of a woman
When I think of music, I automatically think of a Spanish guitar. Next to the piano, it is the most versatile musical instrument I know of, but it is second only to the piano in that it is easy to carry anywhere. Wherever you go, it can accompany you.
My first contact with the guitar was at the Sunday masses my parents took me to every week with the extra of what they called festas de guardar. In the parish to which we belonged, the special children's mass was celebrated at 11 o'clock in the morning. We sang happy songs accompanied by guitars and the occasional bandurria.
As a traditional instrument in my region, the guitar has been part of the lives of the people in all social strata and more accentuated in the less affluent classes. The popular folklore of Aragon has its greatest exponent in the Aragonese jota, which is performed by rondallas made up of guitars, bandurrias and lutes.

I am not satisfied with just listening to it
When I was 11-12 years old I had to change school because my school was closed. I was overjoyed to learn that my new school had a "rondalla" where they taught guitar playing, so I didn't hesitate to sign up.
The sheet music they taught us was based on the cipher system, so my notions of solfège were basic. In return it was much easier to learn to play. We played all kinds of pieces, from classics to popular hits of those years, including jotas, pasodobles, waltzes, mazurkas, rancheras,... and even some flamenco pieces.
I spent hours and hours rehearsing at home. I would lock myself in a room and hum the melodies to myself to accompany them. I would close my eyes and feel the vibration of the wood in my stomach. Time flew by.

There are no limits
Anyone can play the guitar. When I learned, being still a child, my fingers were a little short. I compensated with more rehearsal time so that my ligaments and muscles could stretch. At first I got blisters on my fingertips that hurt when I plucked the strings, but if you really do something that you put all your passion into, it pays off in spades.
In case the above paragraph doesn't convince you, meet Tony Meléndez. His story is touching and an example to follow.
Have you ever wondered what would happen if Tony's feet were missing? Well, incredible as it may seem, there are those who don't have them, and they too were determined to achieve their dream. Advances in technology allow Rafa Reyes to play the electric guitar without having any complete limbs. Watch this video and be amazed:
Music accompanies us throughout our lives. The special moments we experience have a soundtrack in the background. In mine there is always present that instrument shaped like a woman.
---
---