Celebrating my son's birthday at the pool

August 7th is a very special day for me, as it is my son Johan's birthday. This year I wanted to give him a special celebration for his 14th birthday.
I wanted to celebrate it away from home as I felt we had already had too much confinement due to the pandemic, so I thought I would enjoy a day at the pool with him. At first I was not sure where to take him, since there are different hotels here where you pay for a full day at the pool, so I asked in one of them and it seemed cheap at 5$, however they asked for a minimum consumption of 15$ and it seemed a bit exaggerated, so I decided to think about another option.
I remembered that one of my best friends is a member of a club with the best pools in town and excellent facilities overlooking the river. Although my friend emigrated out of the country, her mom kindly offered to give us passes to enter the Italo Club. They were happy to be able to give this gift to the boy to enjoy his day at the pool, so everything flowed beautifully.
The boy's birthday fell on Saturday, a perfect day to go to the pool. We packed a bag with our bathing suits, towels and sunscreen and headed straight to the pool.
El 7 de agosto es un día muy especial para mí, ya que es el cumpleaños de mi hijo Johan. Este año quise hacerle una celebración especial para su cumpleaños número 14.
Quería celebrarlo fuera de casa ya que sentía que ya habíamos tenido demasiado encierro por la pandemia, así que pensé en disfrutar de un día en la piscina con el. Al principio no estaba segura de donde llevarlo, ya que aquí existen diferentes hoteles donde se paga por un full day en la piscina, así que pregunté en uno de ellos y me pareció económico en 5$, sin embargo pedían un consumo de 15$ mínimo y me pareció un poco exagerado, así que decidí pensar en otra opción.
Recordé que una de mis mejores amigas es socia de un club con las mejores piscinas de la ciudad y unas excelentes instalaciones con vista al río. Aunque mi amiga emigró fuera del país, su mami se ofreció amablemente de darnos unos pases para entrar al Club Italo. Ellas estaban contentas de poder darle este regalo al niño de disfrutar su día en la piscina, así que todo fluyó maravillosamente.
El cumple del niño cayó sábado, un día perfecto para ir a la piscina. Hicimos un bolso con nuestros traje de baños, toallas y protector solar y nos fuimos directo a la piscina.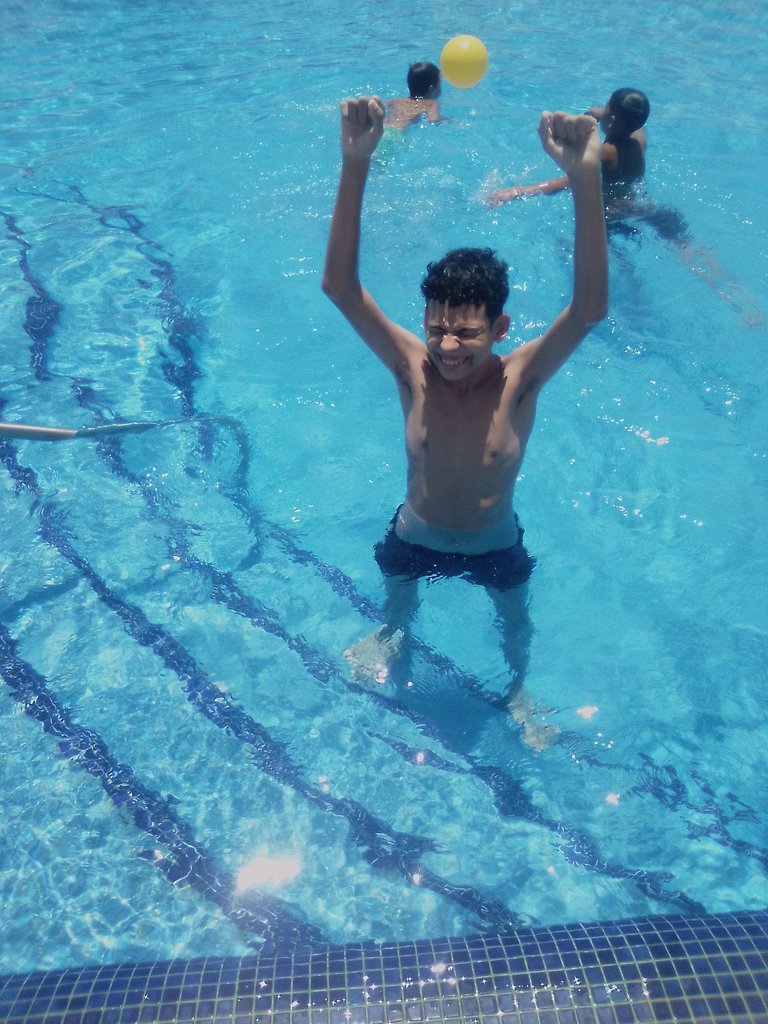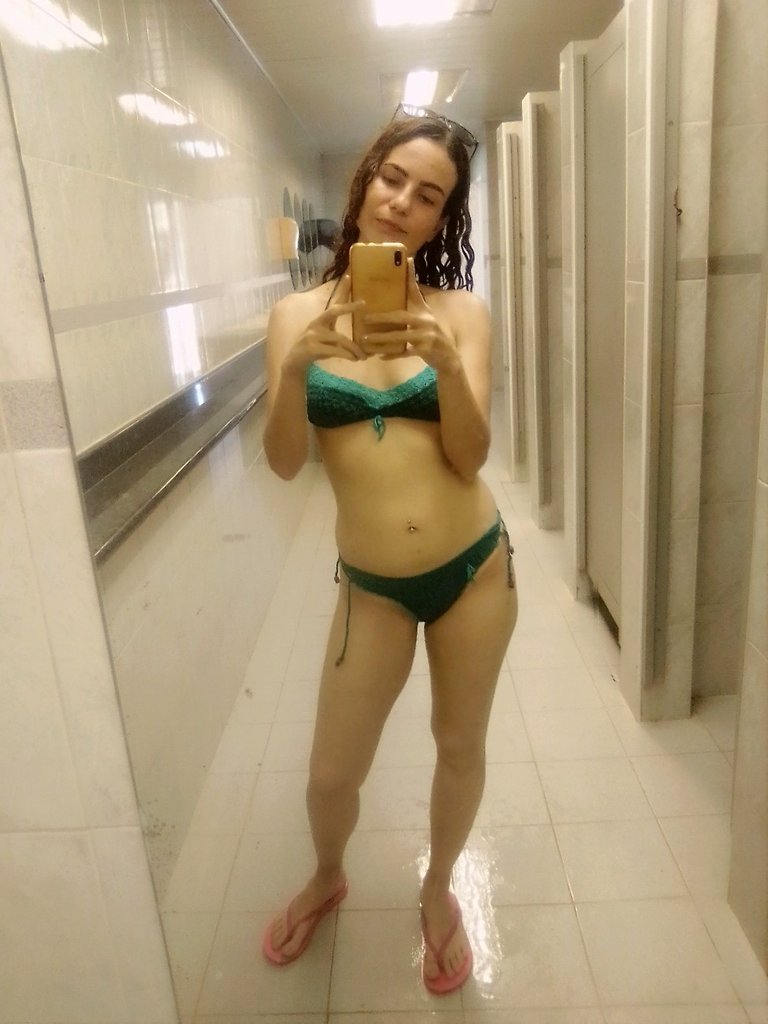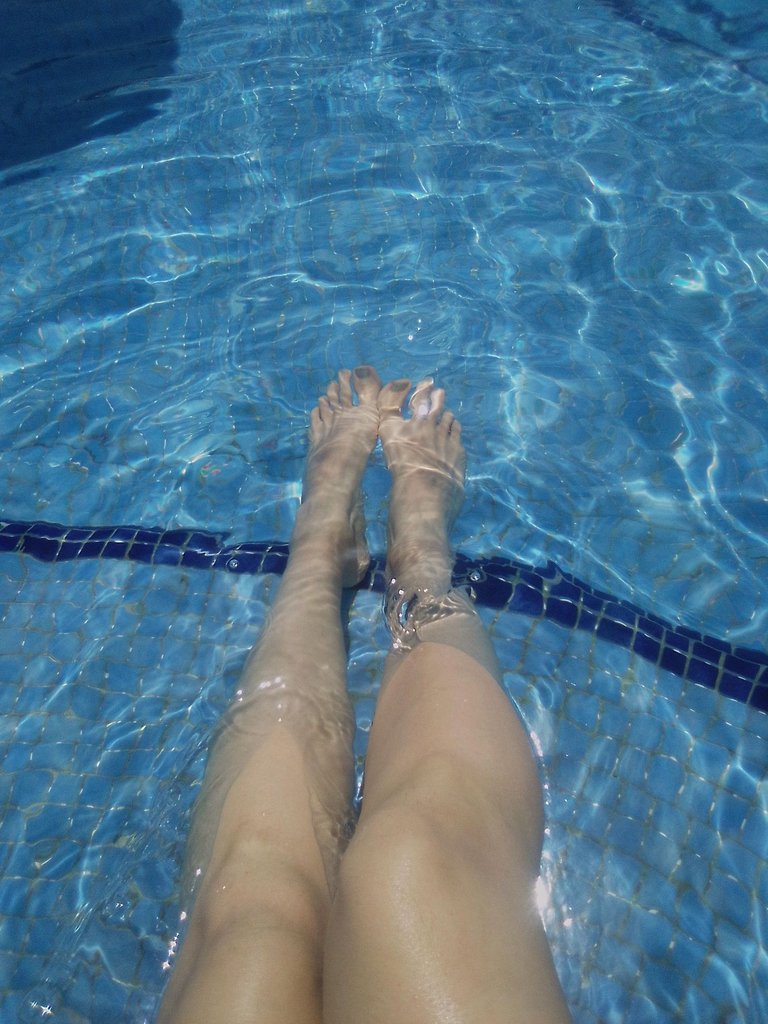 Despite the continuous rains in my city, it was totally sunny that day. I tend to shy away from the sun, however, there is a little bridge at one of the pools that provides shade, so I took that spot to enjoy the pool without exposing my delicate skin to the sun. It couldn't have been better.
A pesar de las continuas lluvias en mi ciudad, ese día fue totalmente soleado. Yo suelo huirle un poco al sol, sin embargo, en una de las piscinas hay un puentecito que hace sombra, asi que tomé ese lugar para disfrutar de la piscina sin exponer al sol mi delicada piel. Mejor, imposible!.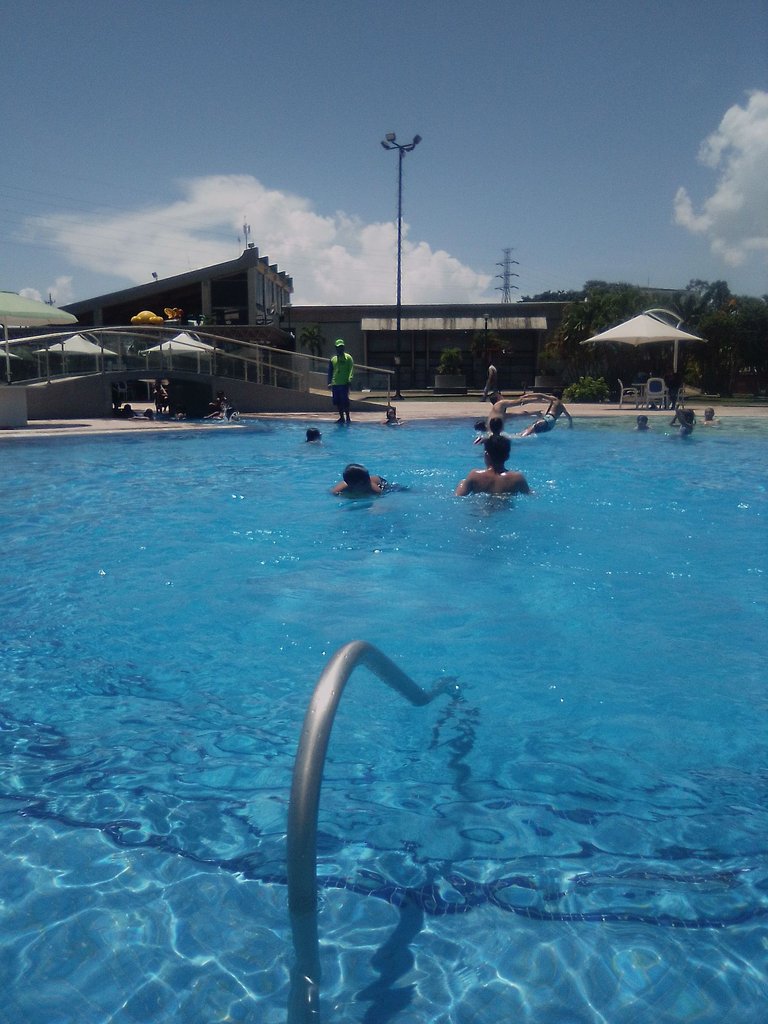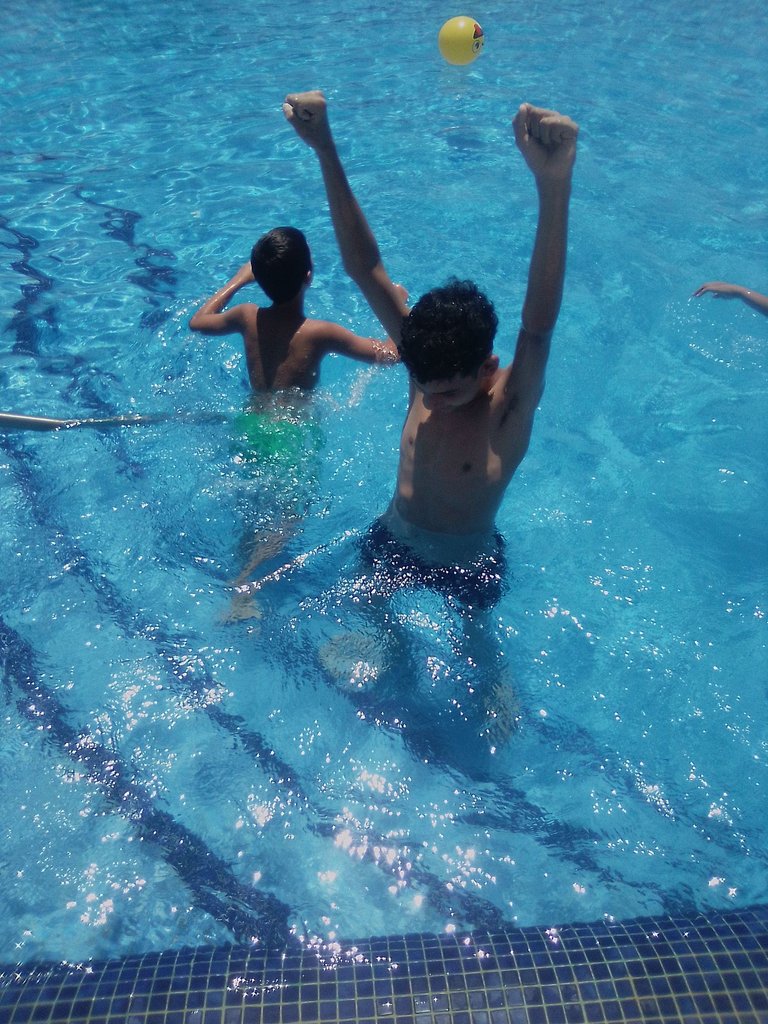 In the pool they were playing ball, with some kind of recreational player that made the game even more fun. My son approached them and ended up joining the group playing, laughing and having a great time with other kids in the pool. What delighted me the most was seeing the big smile on my son's face and seeing how much fun he was having on his day.
En la piscina estaban jugando a la pelota, con una especie de recreador que hacía el juego aún más divertido. Mi hijo se les acercó y terminó integrándose al grupo jugando, riendo y disfrutando de lo lindo con otros niños en la piscina. Lo que más deleite me producía era ver la gran sonrisa en el rostro de mi hijo y ver cómo se divertía en su día.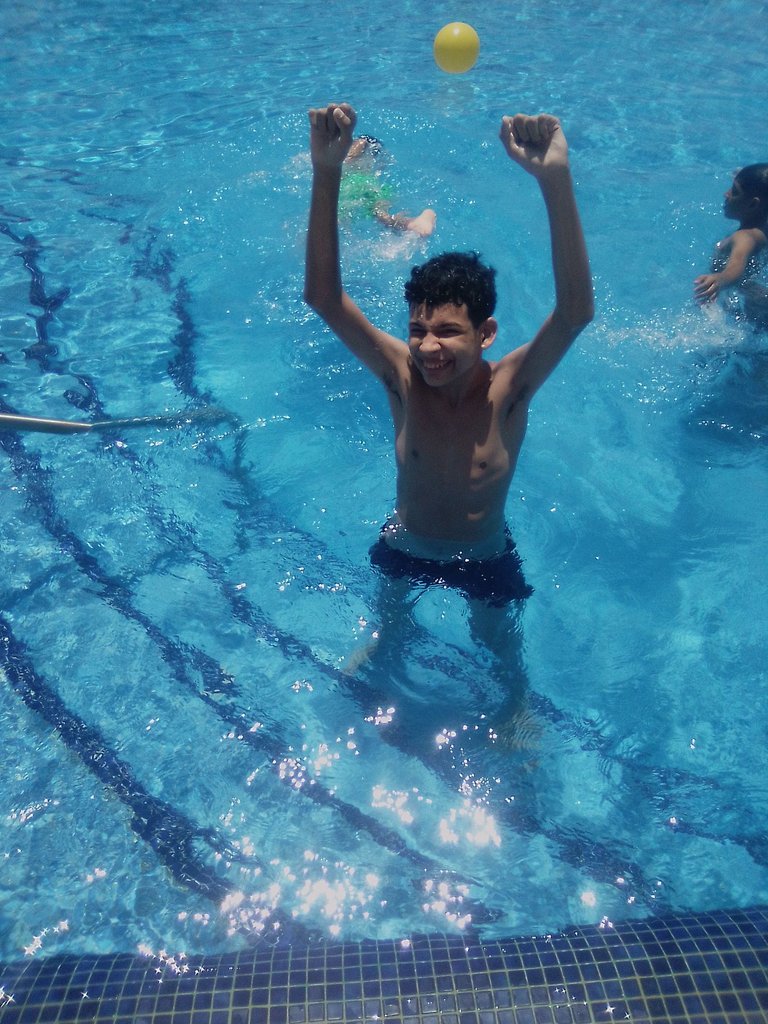 After noon we went out for lunch. Club Italo has some very good pizzerias, however, they were not open yet that day. So we had to go for another option at the Soda Fountain. I had seen that they were ordering pizzas there, so I decided to order one too. The day so far had been perfect, but not the pizza service. The cashier had forgotten our order and I had to complain because it had been almost half an hour and they still hadn't brought me my pizza. The pizza was already lukewarm, the worst part was the "salami" they added, which in the end ended up being a comical anecdote, since they had cut it so thinly that it looked like a transparent toasted flake 😆 and of course the pizza did not have the slightest taste of salami due to its precarious size. I never understood why they did it that way, since the pizza had cost me $8, it wasn't that cheap. So I complained to the waiter and we left.
After that, we decided to clear our minds to feel a little better. We were not going to let a small situation ruin that special day and we went straight to the club's beach to contemplate the river and the nature around it. It was very relaxing and helped us connect with the enjoyment again.
Después del mediodía salímos a comer. El Club Italo tiene unas pizzerías muy buenas, sin embargo, ese día aun no habían abierto. Así que tuvimos que irnos por otra opción en la fuente de Soda. Había visto que estaban pidiendo pizzas ahí, así que decidí pedir una también. El día hasta ahora había sido perfecto, más no el servicio de pizza. La cajera había olvidado nuestra orden y tuve que reclamar porque había pasado casi media hora y aún no me habían traído la pizza. La pizza estaba tibia ya, lo peor fue el "salami" que le añadieron que a la final terminó siendo una anécdota cómica, ya que lo habian cortado tan finito que parecía una hojuela transparente tostada 😆 y por supuesto que la pizza no tenía el más mínimo sabor de salami debido a lo precario de su tamaño. Nunca entendí porque lo hacían así, ya que la pizza me habia costado 8, no era tan económica. Así que le reclamé al mesero y nos fuimos.
Luego de eso, decidimos despejar la mente para sentirnos un poco mejor. No íbamos a dejar que una pequeña situación arruinara ese día especial y nos fuimos directo a la playita del club a contemplar el río y la naturaleza a su alrededor. Fue muy relajante y nos ayudó a conectarnos con el disfrute nuevamente.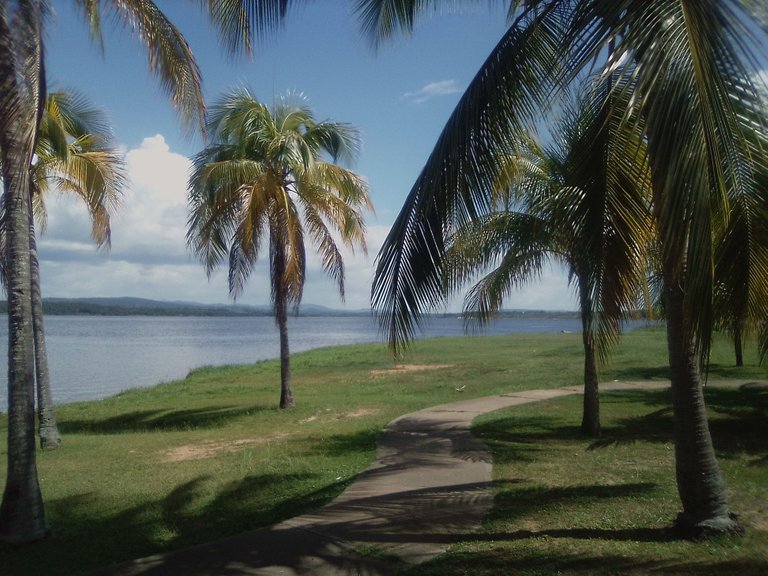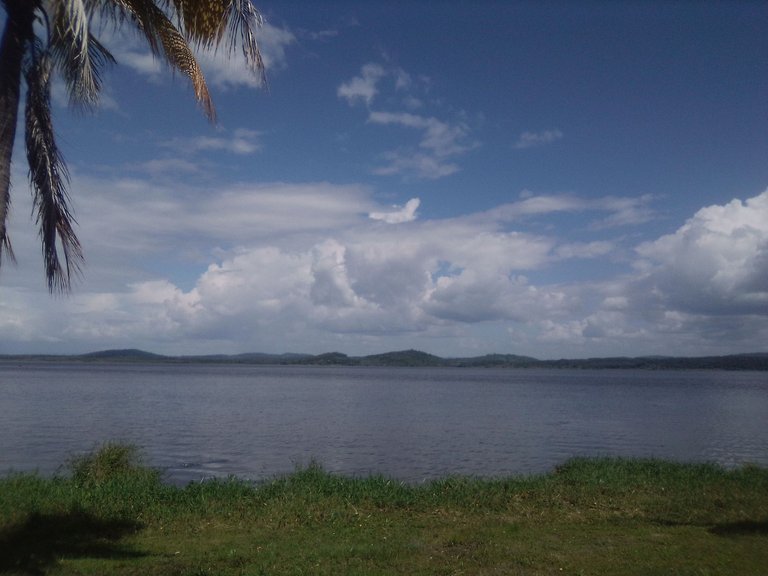 Then at home and to end the day on a high note I made a delicious marble cake that was super cute and my son shared some time with his best friend with whom we had the cake.
Luego en casita y para finalizar el día con broche de oro realicé una rica torta marmoledada que me quedó super linda y mi hijo compartió un rato con su mejor amigo con quién picamos la torta.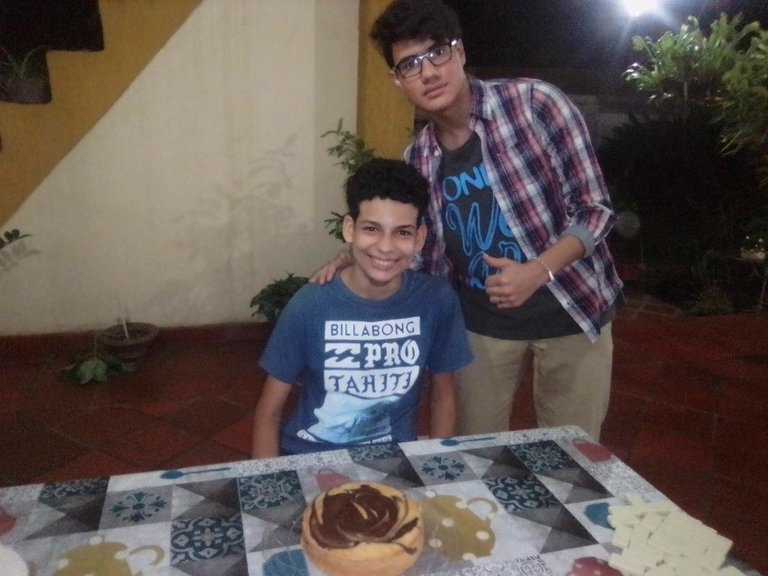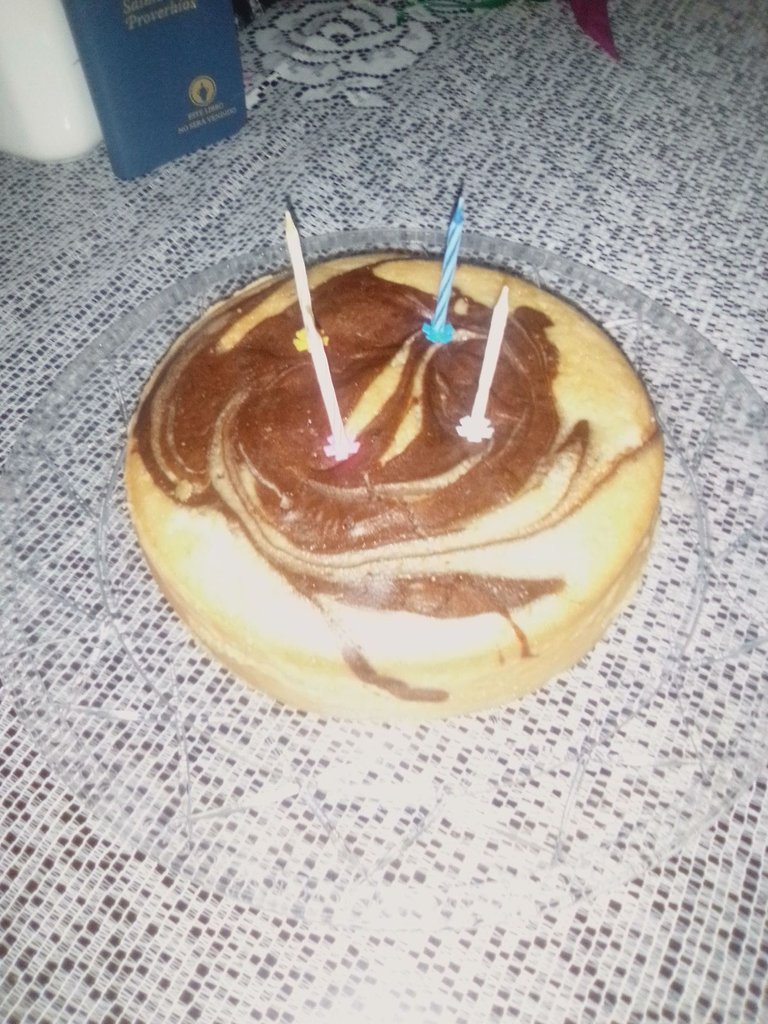 CREDITS / CREDITOS
All pictures taken by me
---
Translated with www.DeepL.com/Translator
Thank you very much for visit my blog!
Muchas gracias por visitar mi blog!
---
---