A new Spring and new life in nature. (Part 2)
I promised that I will do more posts on the Malachite baby, as you really enjoyed Part 1 in HERE so this is a second post to show you how cute she is.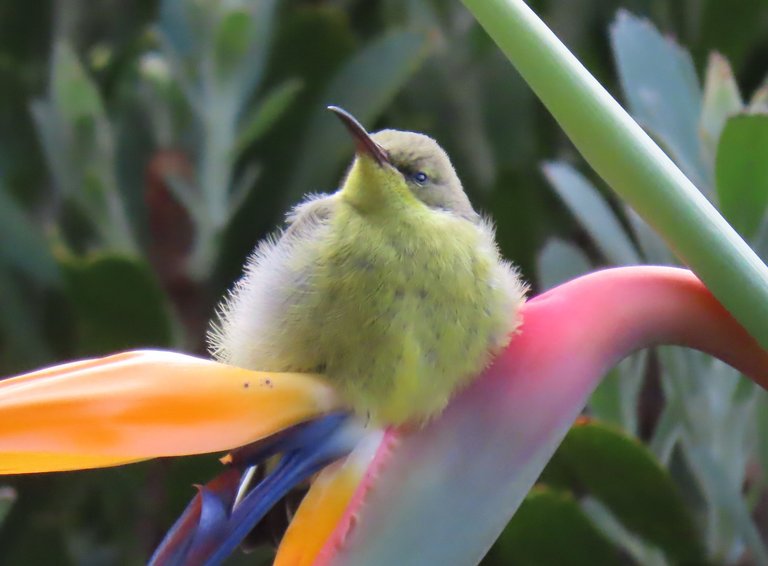 She was taking a break from eating and resting on a Strelitzia flower, also known as a Paradise flower.
I will show you more about her resting stage in another post, as I also like the action pictures that you will see in here. The parents feed her approximately every 20 minutes and the dad has learned not to feed her big insects such as the mantis in the previous post. Now the dad only comes in with smaller insects, as you will see.
The mom however is spot on with the feeding, as she instinctively knows what the baby needs.
Come and look.
See? The dad now comes with smaller insects.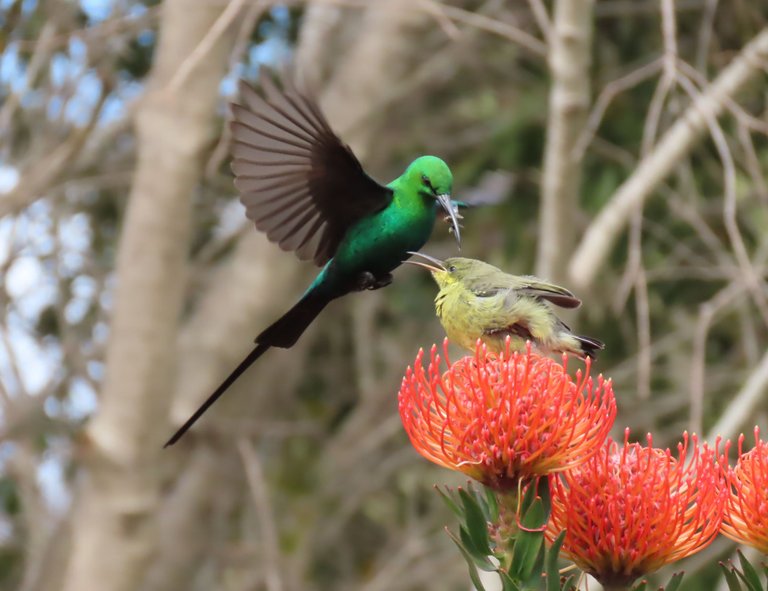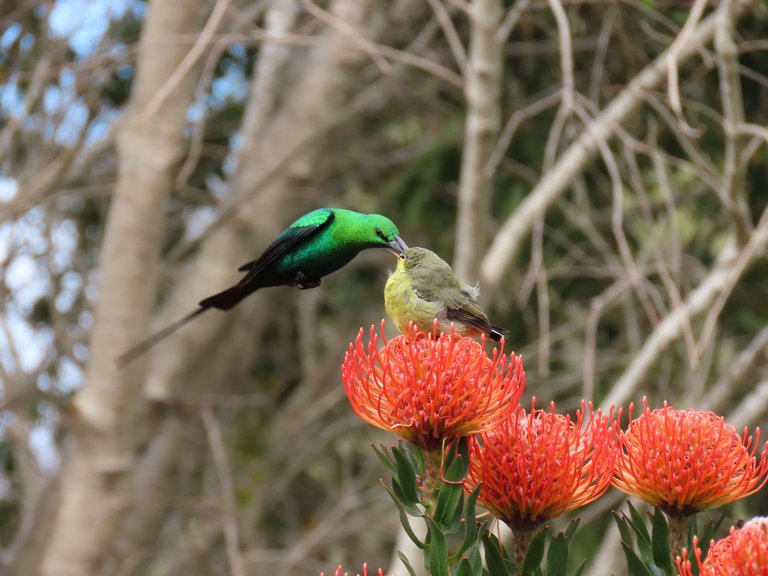 I still think that the mom below does it so much better, as her beak is not as long as the dad's.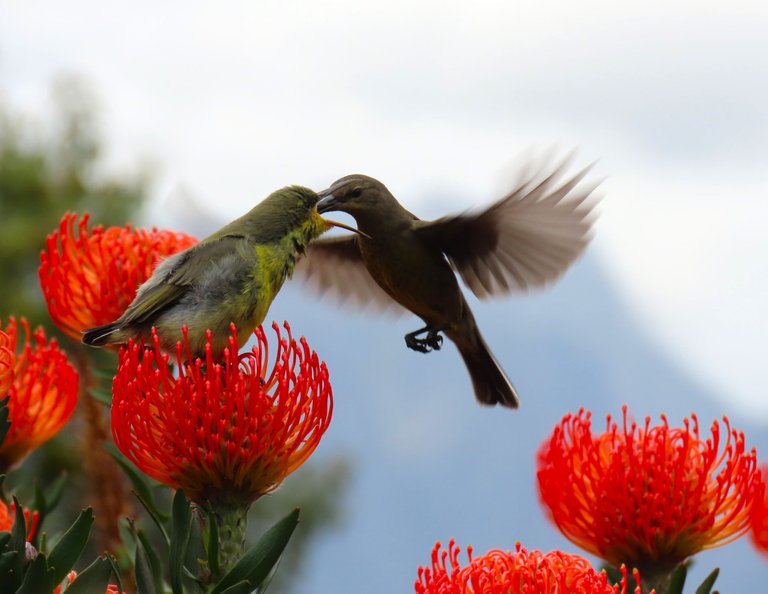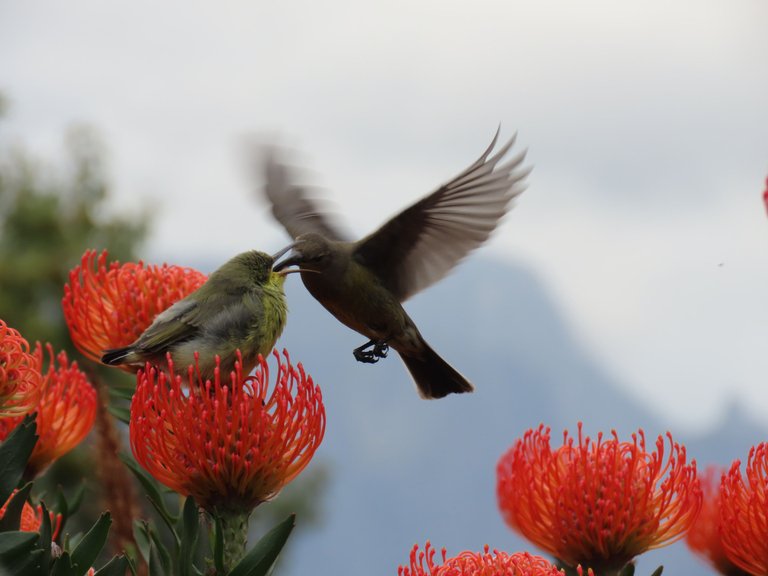 Come, come now my baby, please eat, I promise that I will not stick my beak into your stomach again, the dad said, as the baby was in one of her obnoxious moods again.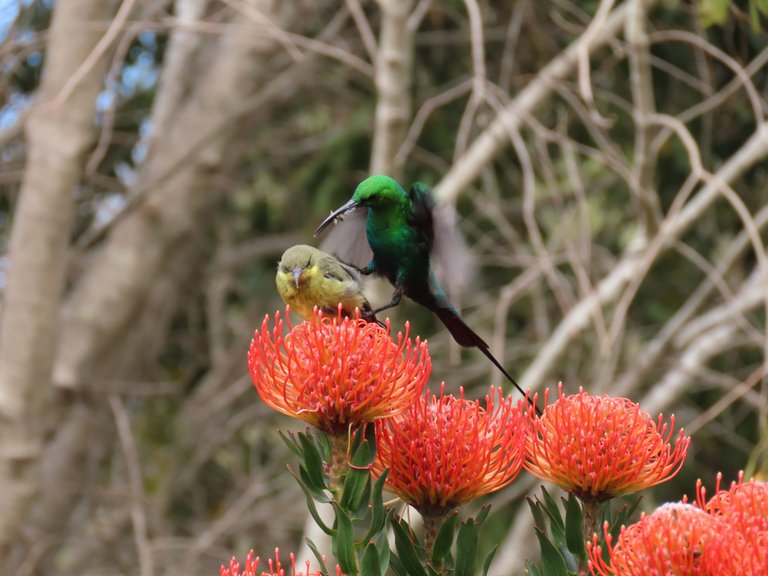 Look how shallow the dad sticks his beak into her throat now :)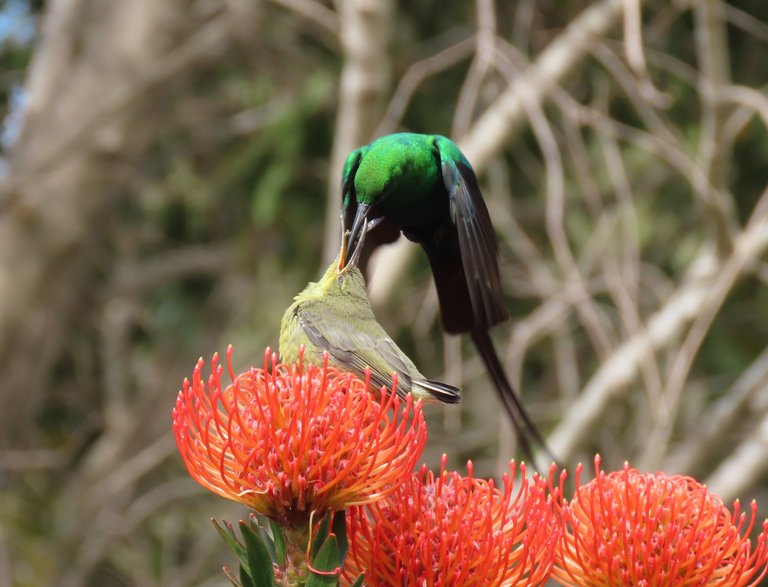 But again, moms always know better and she doesn't have to plead with the baby.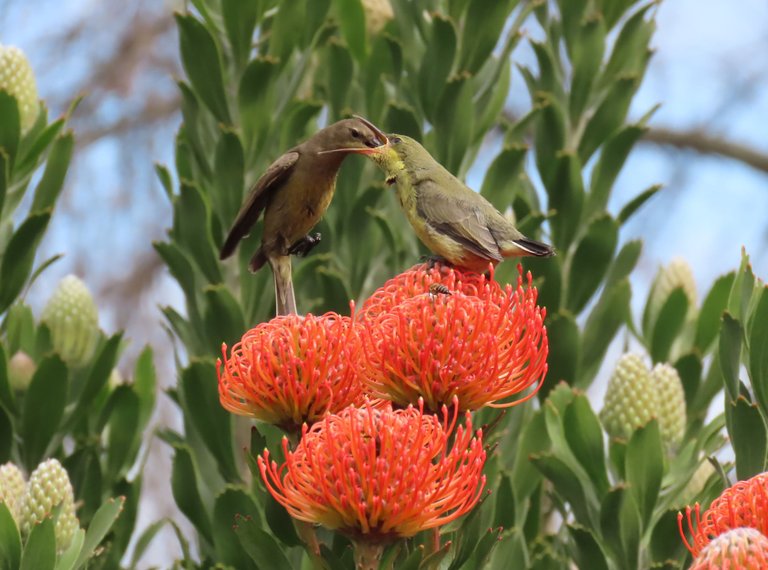 Finally to show you a wonderful healthy little girl.

This is how life is supposed to be isn't it? Parents to care for and also to feed their children. Then I wonder how we have so much child undernourishment among children in the world. Poverty will no doubt be the first excuse. And of course, there are many other reasons, such as broken families, missing fathers, orphans, and a host of other problems. Yet we have millions of arable lands that can be cultivated to feed the poor. A lot is being done already, but sadly there are still so many children that have to go to bed hungry. Nature teaches us to feed our children and we, as the human race simply have to wake up.
I grew up poor as my mom was the only bread winner, but we had food to eat every day. Maybe not gourmet meals, but enough to keep us healthy. But I also know what hunger pangs are and it is not pleasant, as at times things were very difficult. At Papillon we have over the years fed thousands of people both adults and children, but it is a mere drop in the bucket of hunger. A dream would be that all of the farmers would send 20% of their produce to a centralized food bank that will distribute the food to all of the poor areas. But maybe that's asking too much.
Such is life.
I hope that you have enjoyed the pictures.
Photos by Zac Smith-All rights Reserved.
Camera: Canon Powershot SX70HS Bridge camera.
Thank you kindly for supporting this post.
---
---