New birth now in our spring season.
That is a nest and come to see what I found. So great and refreshing to see all of the new life popping up all around us.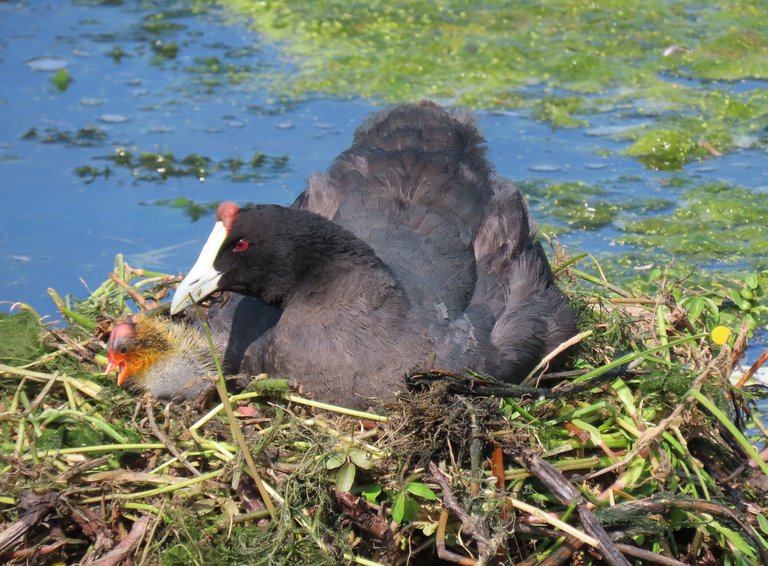 An amazing feeling to discover new life, especially as cute as this.
We have many dams here and I love to search some of them, at least the ones that I can get to, in order to get some pictures like this. Spring has sprung as they say and most everything is fresh and wonderful. Even our trees are now putting new green dresses on. The bird choruses ring in one's ears and the warm sun is banishing thoughts of the long and dark winter.
A Red-Knobbed Coot (Fulica cristata) hen with her babies.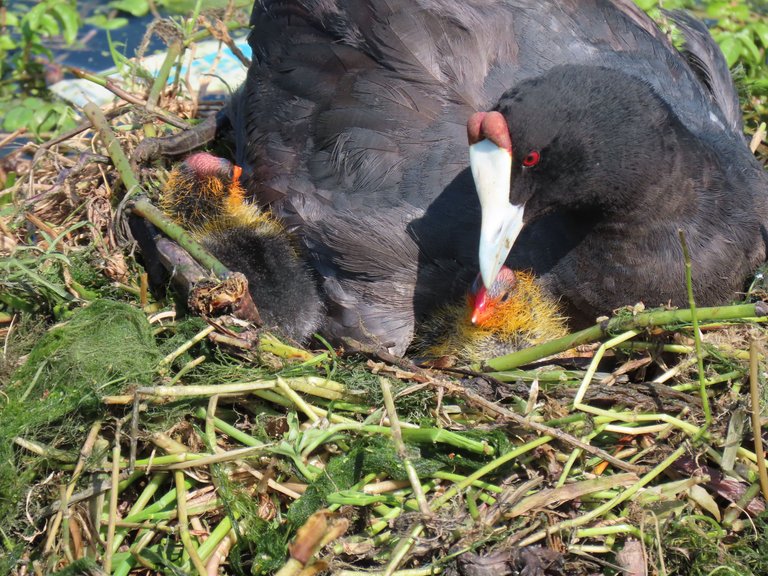 I still cannot get used to the colors of the babies, as they look like aliens.

Maybe two or three days old and they cannot swim yet.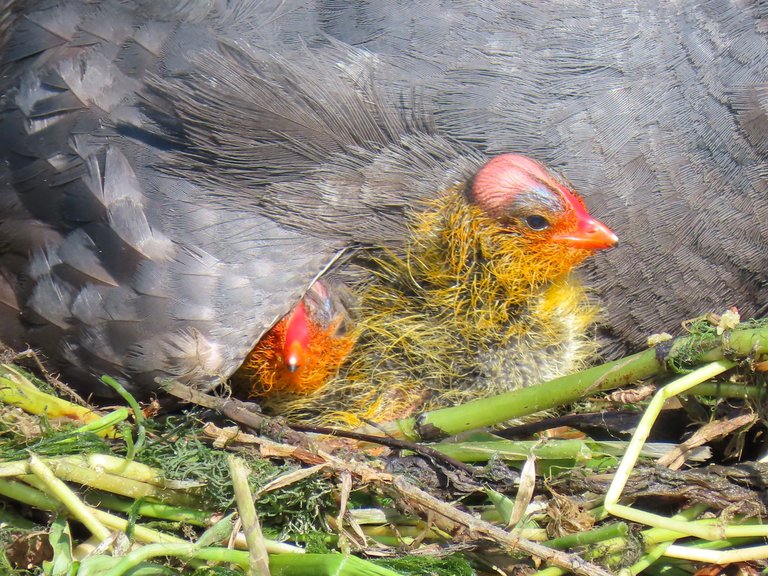 I saw three below, as one on the left only peeped out and there might be more under the hen.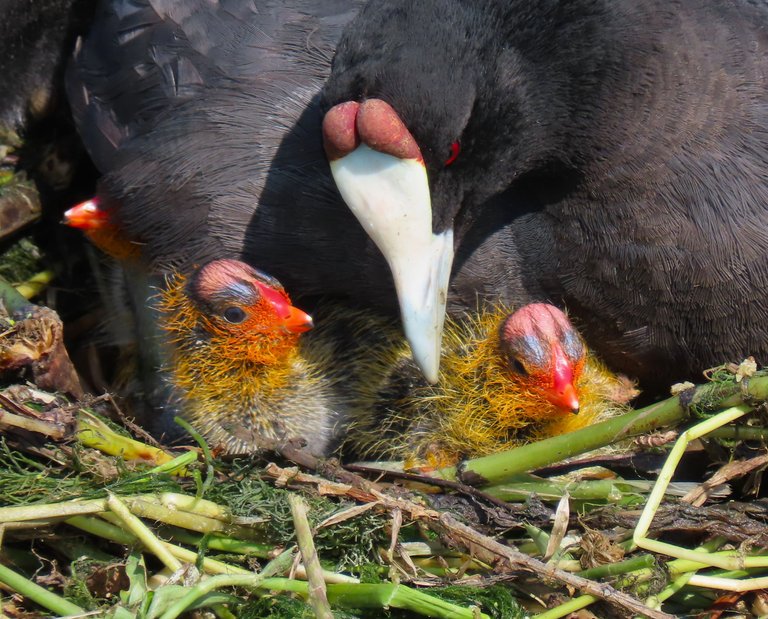 Cuteness overload methinks:)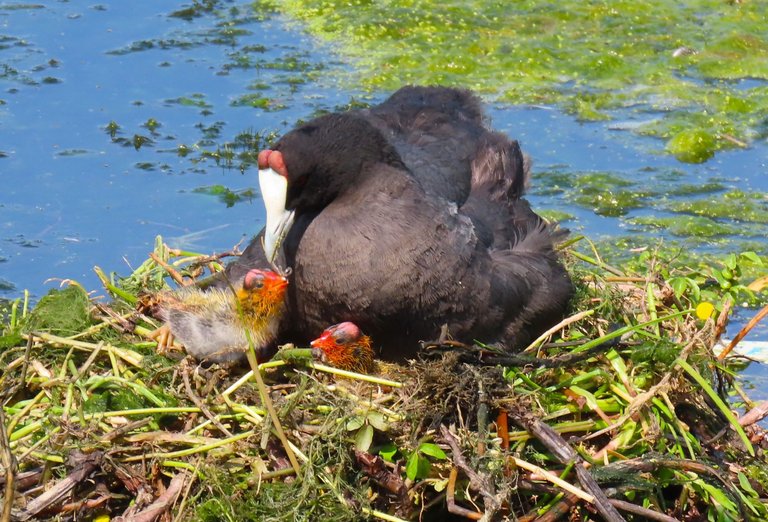 Maybe I got too close, as the hen told her babies to come inside, and she closed the doors.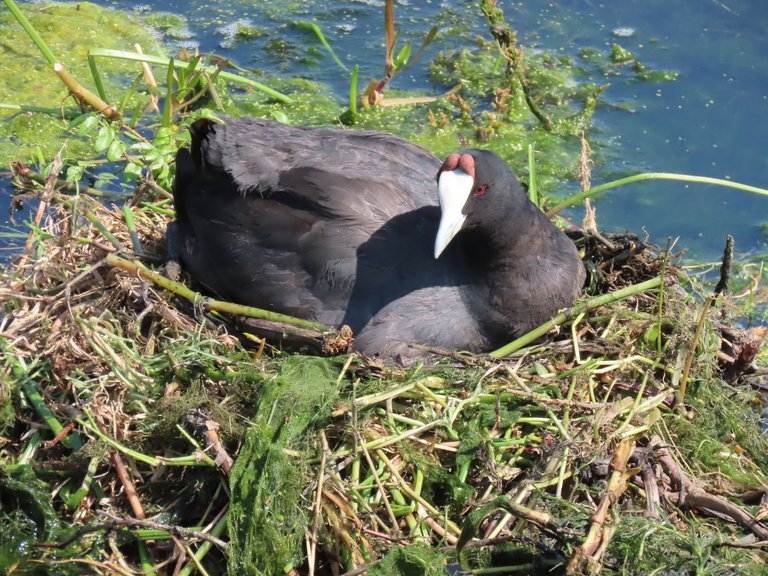 Did you know that the red-knobbed coot in Africa is a separate species from the Eurasian, red-knobbed coots?
A good view is necessary to separate this species from the Eurasian coot, with which its range overlaps in northwestern Africa and southern Iberia. There are two tiny red knobs at the top of the facial shield, which are not visible at any great distance and are only present in the breeding season; the black feathering between the shield and the bill is rounded, whereas in Eurasian it comes to a point; and the bill has a bluish grey tinge. In flight, the red-knobbed coot lacks the white trailing edge to the secondaries of the Eurasian coot.
I didn't know this either, but that is why nature is so interesting. One gets to learn new things every day, as things are never what they seem to be. A little bit of research can reveal interesting facts.
In any case, I hope that you have enjoyed the pictures.
And That's All Friends.
Photos by Zac Smith-All Rights Reserved.
Camera: Canon Powershot SX70HS Bridge camera.
Thank you for supporting this post.
---
---