South African birdlife at it's best.
Mother nature's own bird sanctuary and nursery on show here.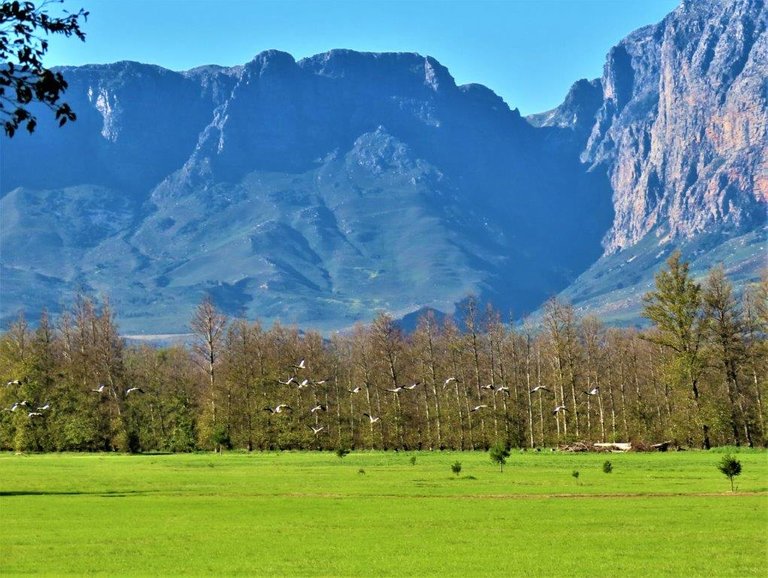 Now watch as there is a double line of geese coming in to fly over (15 photos).
Things can change very quickly here in our safe place where we come to get rid of our stresses and recharge our soul's batteries with peace and serenity. So I will show you the most Egyptian geese that I have ever seen together, all in the wild.
They have obviously established their colony here a few years ago, as it is near the mountains and so many geese together can take care of any predators. They are also very good insect clearers in the planted fields of this farm.
The grape vines also benefit from their presence as they keep them clear from snails and such.
So let's have a look at them.
Things happen very fast here as this below was the view a moment ago.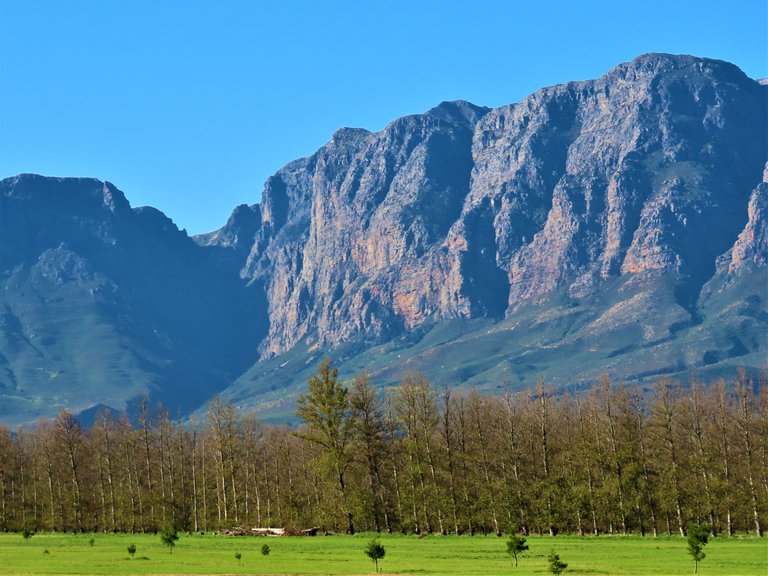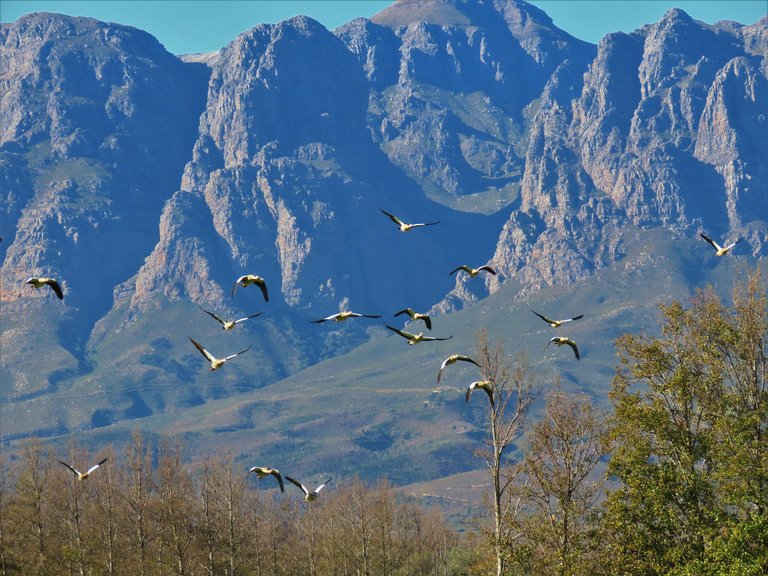 And soon the skies were filled with flying Egyptian geese.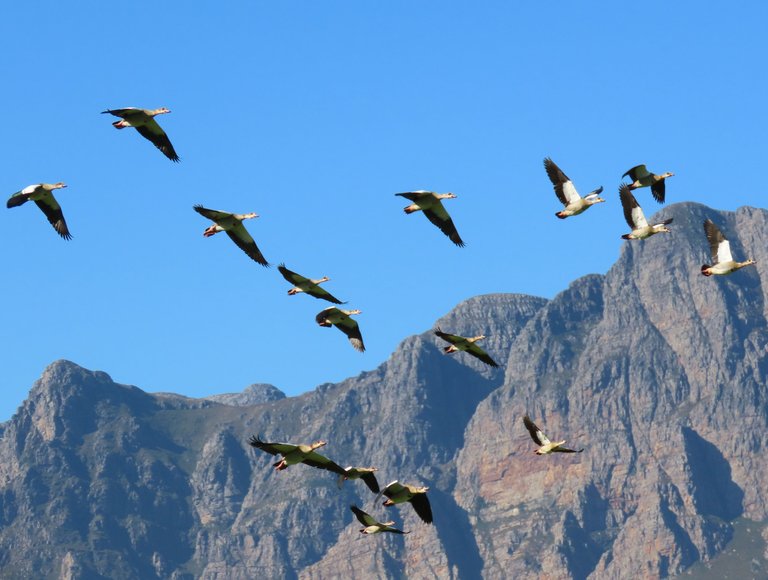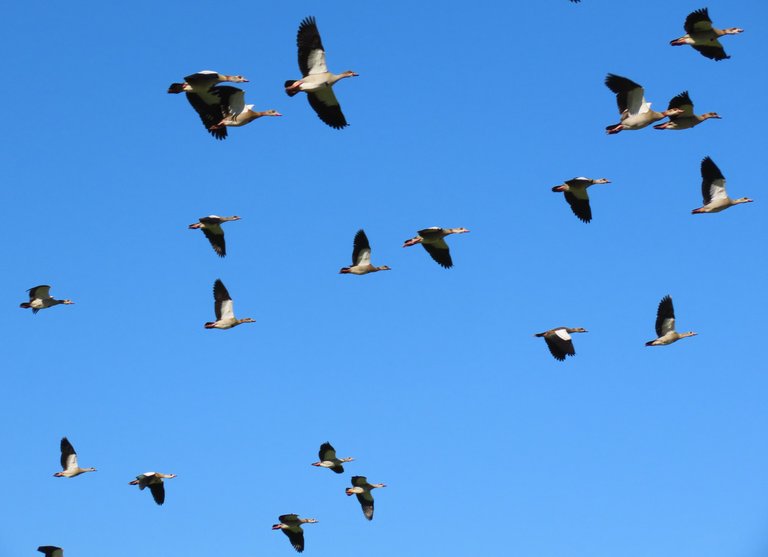 They landed at a distance near a forest on the farm, and also in other places.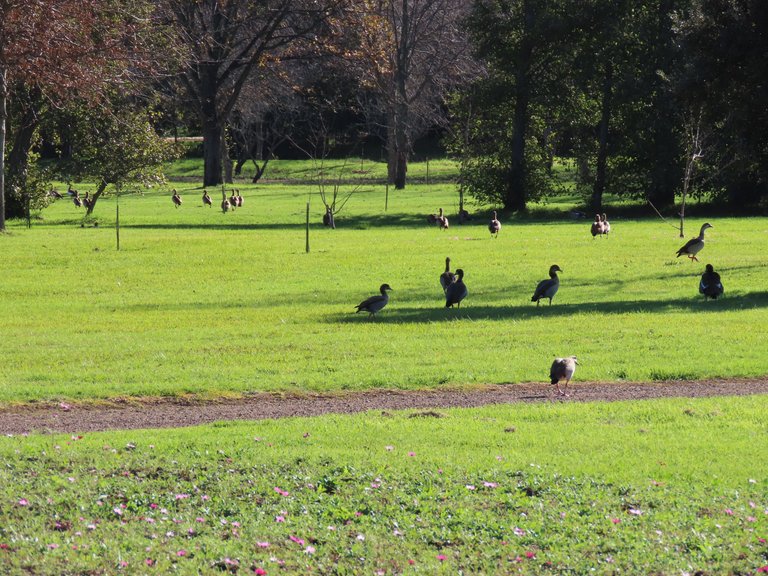 There was also a tribe of guinea fowl that seemed to be old friends with the geese.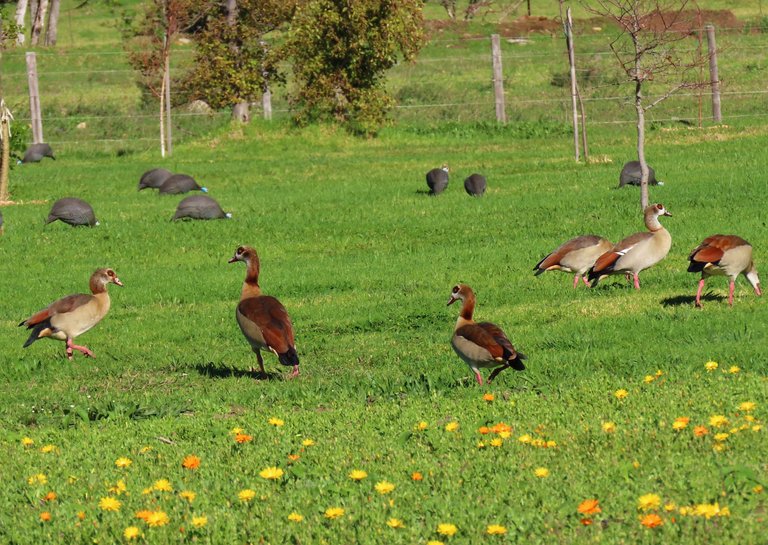 And here is nature's goose nursery. All of the geese were born here.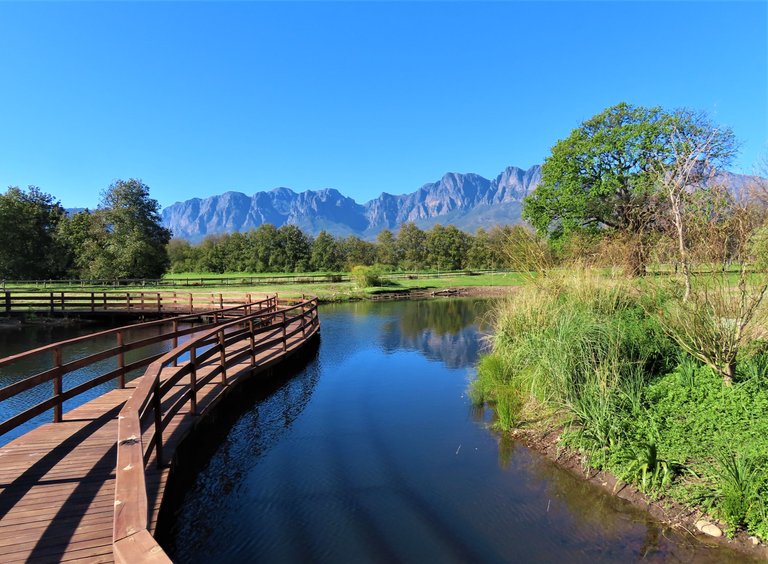 A dad leading the goslings (baby geese) here below.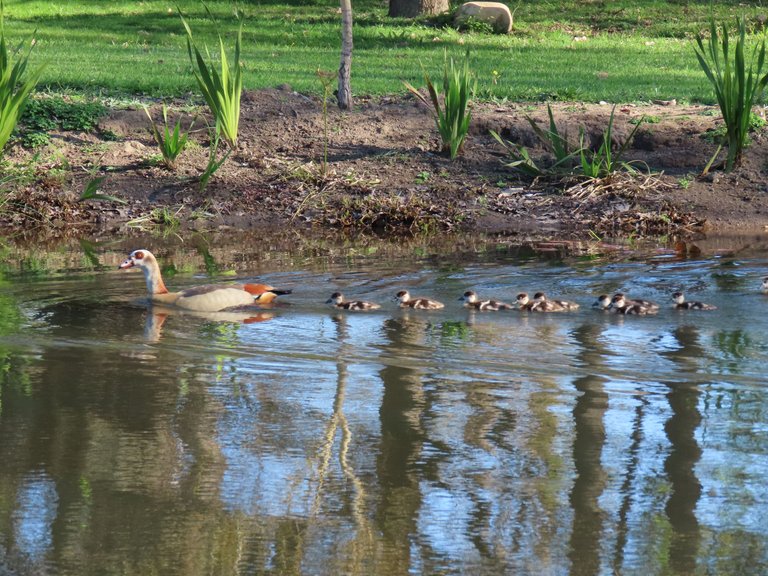 They crossed under the wooden bridge that you saw above. Dad in the front and mom in the rear.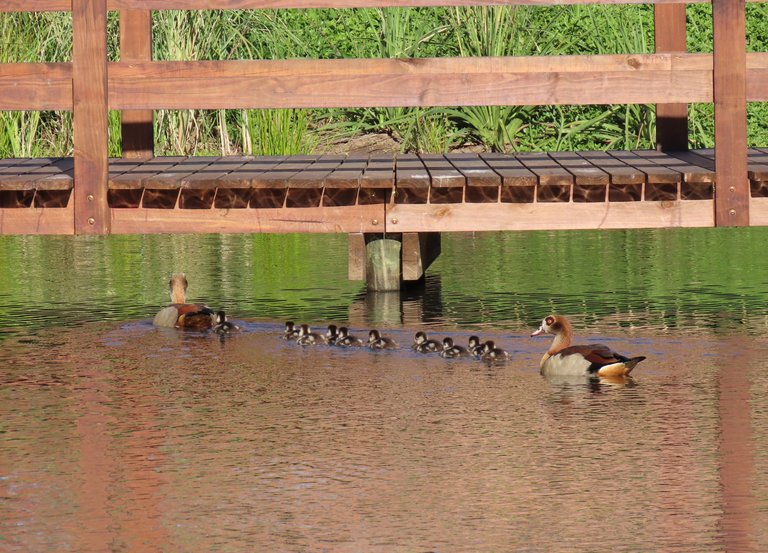 Now watch this lesson in the next two photos. Here mom leads the babies to teach them that they should take a sip of water before they enter the dam.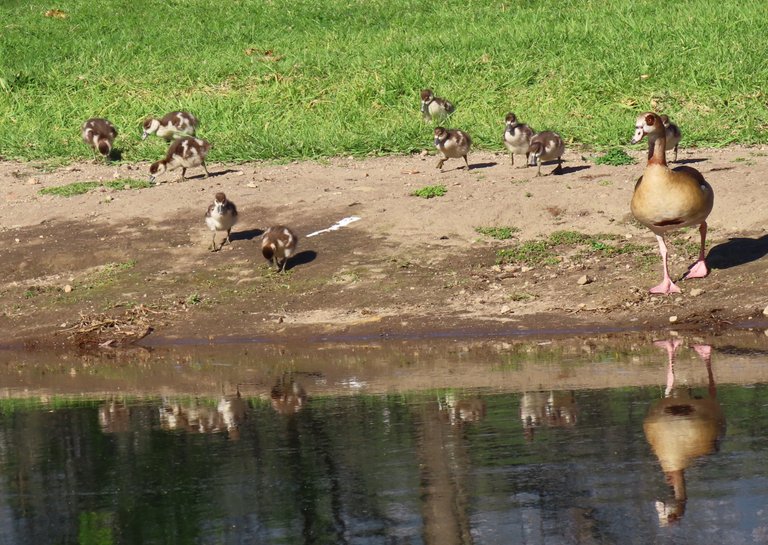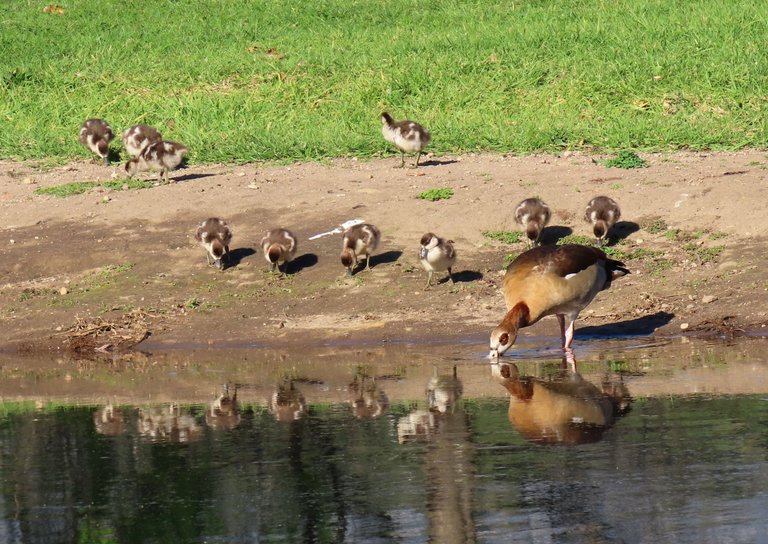 And yes you can see the babies also starting now to take a sip of water before they come in to swim.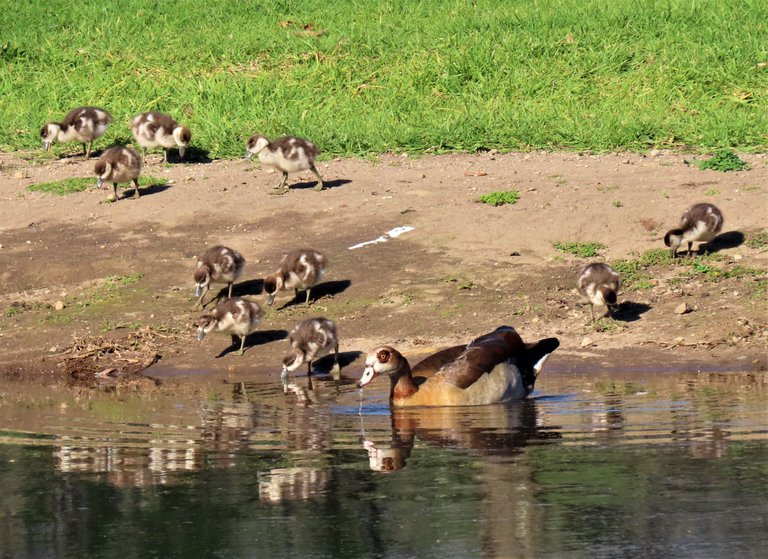 Finally, a most peaceful setting don't you think?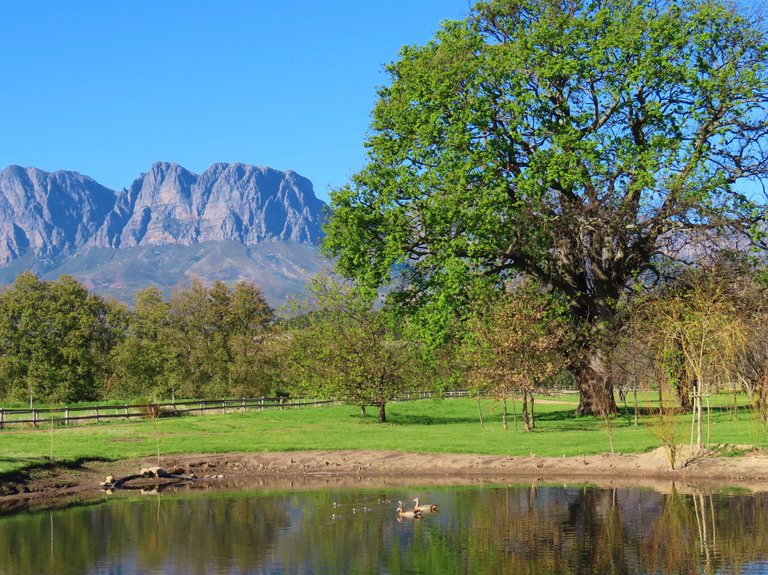 There are many wine farms of repute in the Western Cape province and most of them allow the public to visit their farms. Some have lovely outdoor restaurants and wine tasting centers. One can even watch the wine making process and they also have a range of activities available, such as mountain biking, walking trails, horse riding, zip-lining, and other such adventures.
The great thing is that they kept the farms as close to nature as they could. A huge amount of tourists, from all over the world, visit the farms regularly. This particular farm also has a lovely open air restaurant and tours to their prestigious wine cellars. There is also a museum in the original farmhouse, that state presidents and royalty visited in the old days.
And That's All Friends.
Photos by Zac Smith-All Rights Reserved.
Camera: Canon Powershot SX70HS Bridge camera.
Thank you kindly for supporting a post on behalf of @papilloncharity
---
---