ENG-TR || Kastamonu; Horma Canyon ||Kastamonu; Horma Kanyonu
Hello Dear Friends,
There are a number of methods that we definitely do to eliminate the troubles within us. These methods vary from person to person. Some of us need to be alone. Some of us give themselves to dinner. Some of us also go on a long journey to discover new places. I am among those who take the journey, although it is not long. In fact, it would be more accurate to call it a trip to see new places rather than a journey. Today, I will tell you about Horma Canyon, which is located in Kastamonu district, which I went to during these periods.
Merhaba Sevgili Arkadaşlar,
İçimizdeki sıkıntıları gidermek için mutlaka yaptığımız bir takım yöntemler vardır. Bu yöntemler kişiden kişiye değişir. Bazılarımız yalnız kalmaya ihtiyaç duyarlar. Bazılarımız kendilerini yemeğe verirler. Bazılarımız da yeni yerler keşfetmek için uzun bir yolculuğa çıkarlar. Ben uzun olmasa da yolcuğuna çıkanlar arasında yer alıyorum. Aslında buna yolculuk değil de yeni yerler görmeye gitmeye desek daha doğru olur. Bugün sizlere bu dönemler de gittiğim Kastamonu ilçesinde yer alan Horma Kanyonundan bahsedeceğim.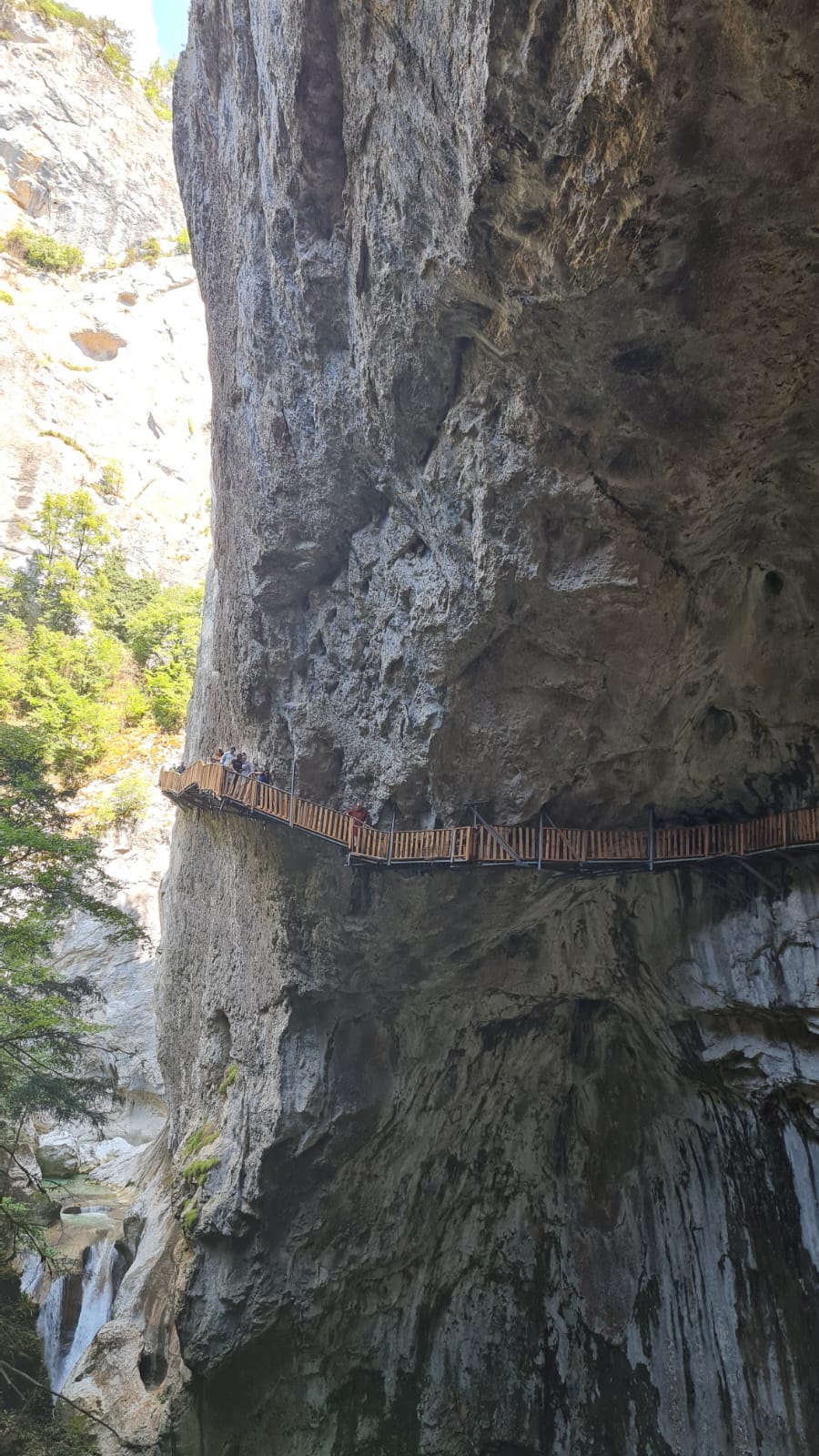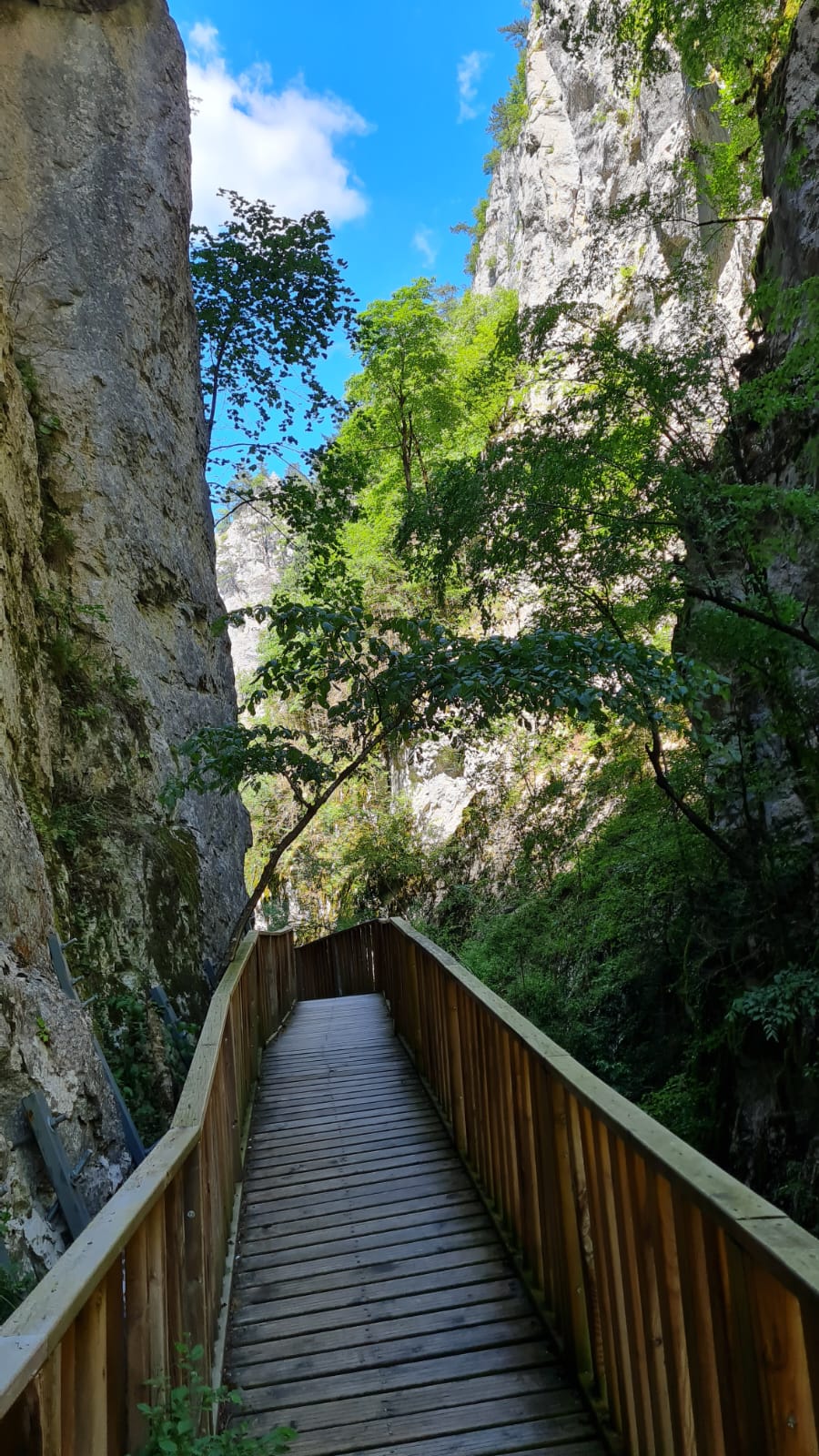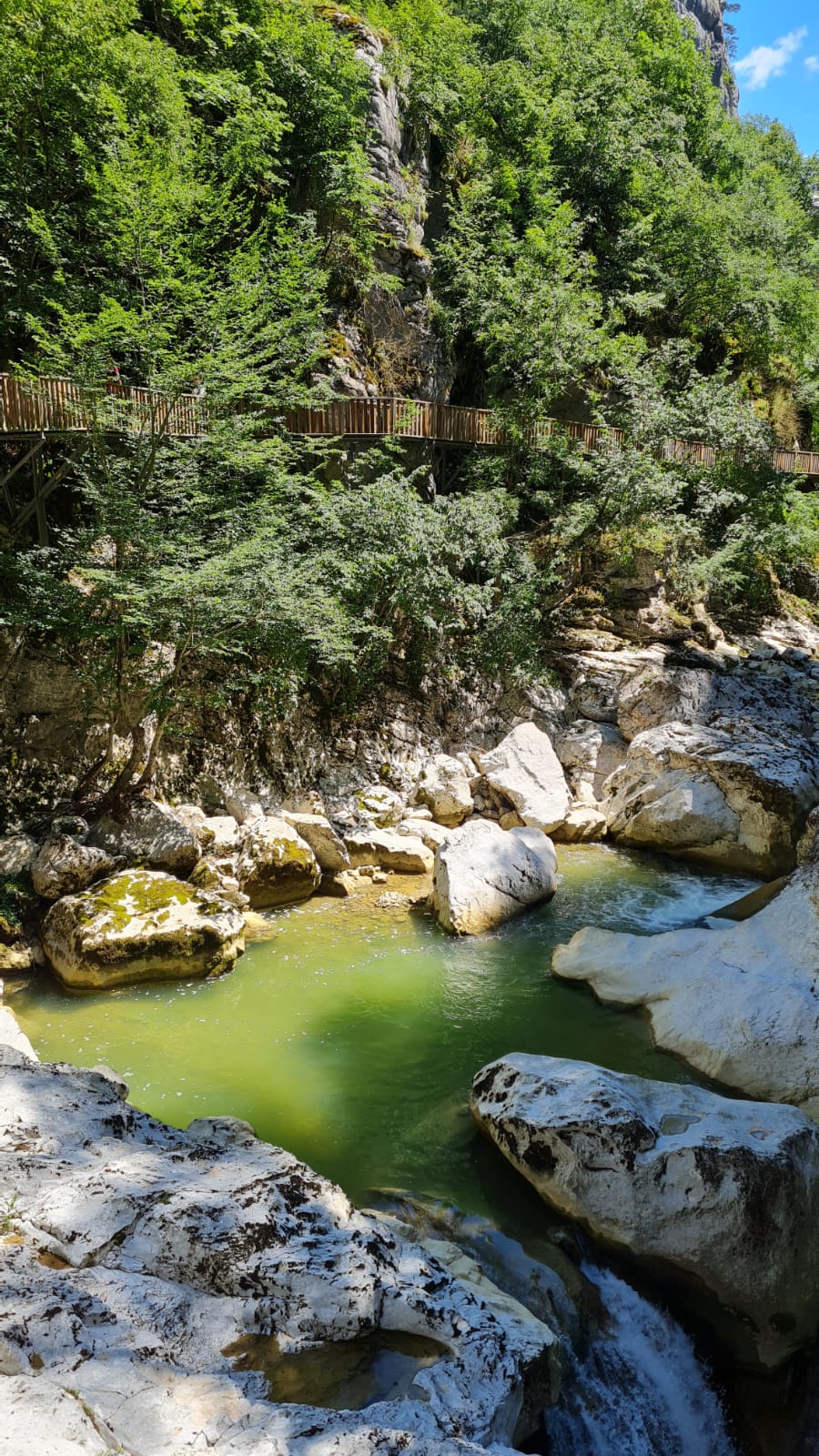 Horma Canyon is located in the Küre Mountains National Park, located in the Kastamonu district of the Western Black Sea region. Within the Küre Mountains National Park, the Valla Canyon, Ilıca Waterfall and Ilgarini Cave, which constitute the natural treasures of the Western Black Sea, add color to the beauties of the park with their natural formations. Horma Canyon has also been popular with everyone lately, and it is especially popular with foreign tourists. I must tell you that if you are visiting Turkey, you immediately realize that you have entered the Black Sea region. You can see the branches of the big green trees on the roadside throughout the trip. You feel the clean air penetrating your lungs. Here, the horma canyon in our city of Kastamonu is just one of the peaceful and clean air.
Horma Kanyonu, Batı Karadeniz bölümünün, Kastamonu ilçesinde yer alan, Küre Dağları Milli Parkın içerisinde yer alır. Küre Dağları Milli parkın içinde, Batı Karadeniz'in tabiat hazinelerini oluşturan, Valla Kanyonu, Ilıca Şelalesi ve Ilgarini Mağarası da kendi doğal oluşumlarıyla, parkın güzelliklerine renk katmaktadır. Horma Kanyonu da son zamanlarda herkesin diline dolanmış olup, özellikle yabancı turistlerin göz bebeği durumundadır. Sizlere şunu söylemeliyim ki eğer Türkiye'de geziye geliyorsanız, Karadeniz bölgesine girdiğinizi hemen fark ediyorsunuz. Yol kenarlarındaki yemyeşil büyük koca ağaçlarının dallarını seyahat boyunca görebilirsiniz. Tertemiz havanın ciğerlerinize işlediğini hissediyorsunuz. İşte Kastamonu şehrimizdeki horma kanyonu da size huzur veren ve tertemiz havalardan sadece biridir.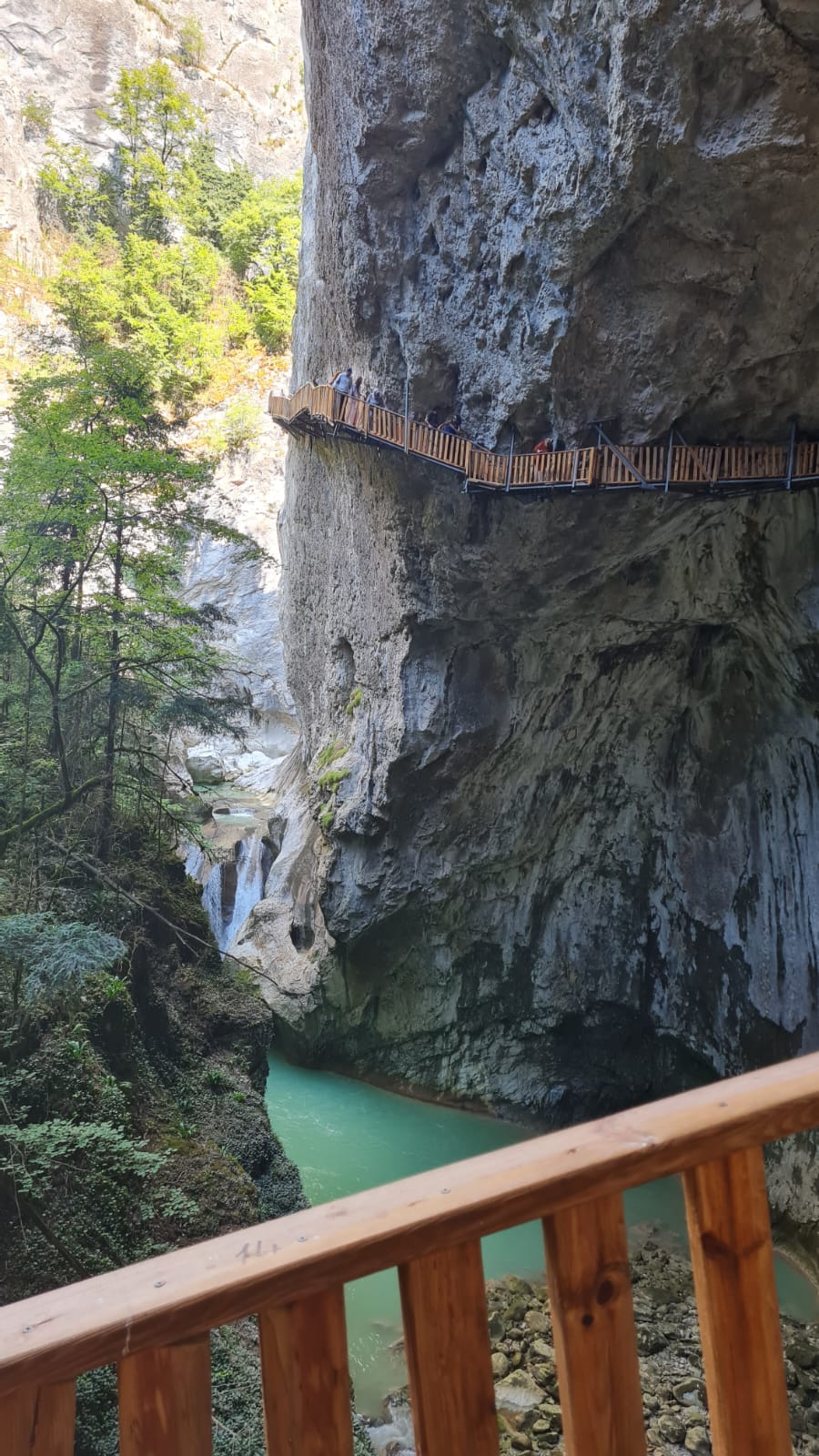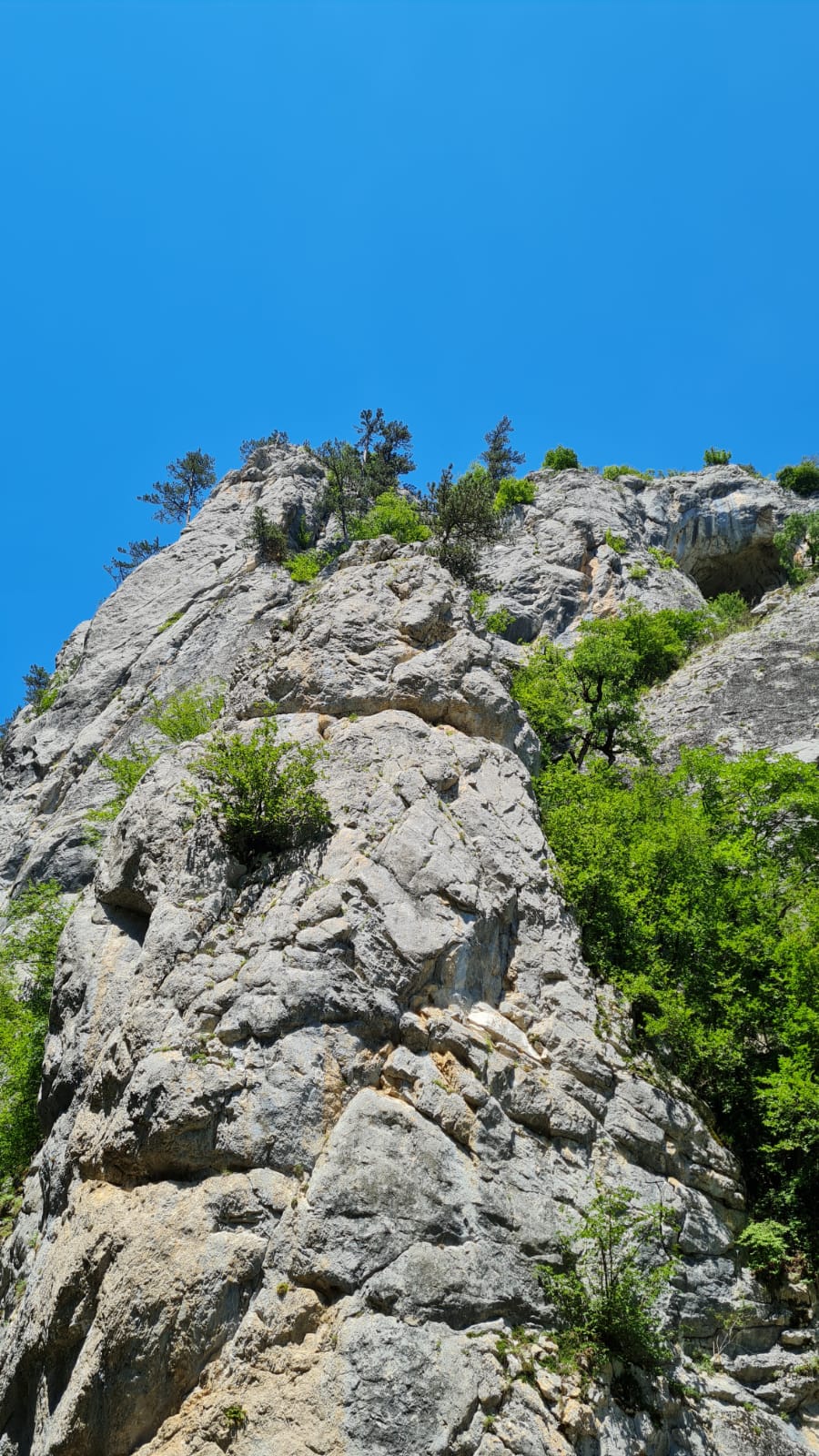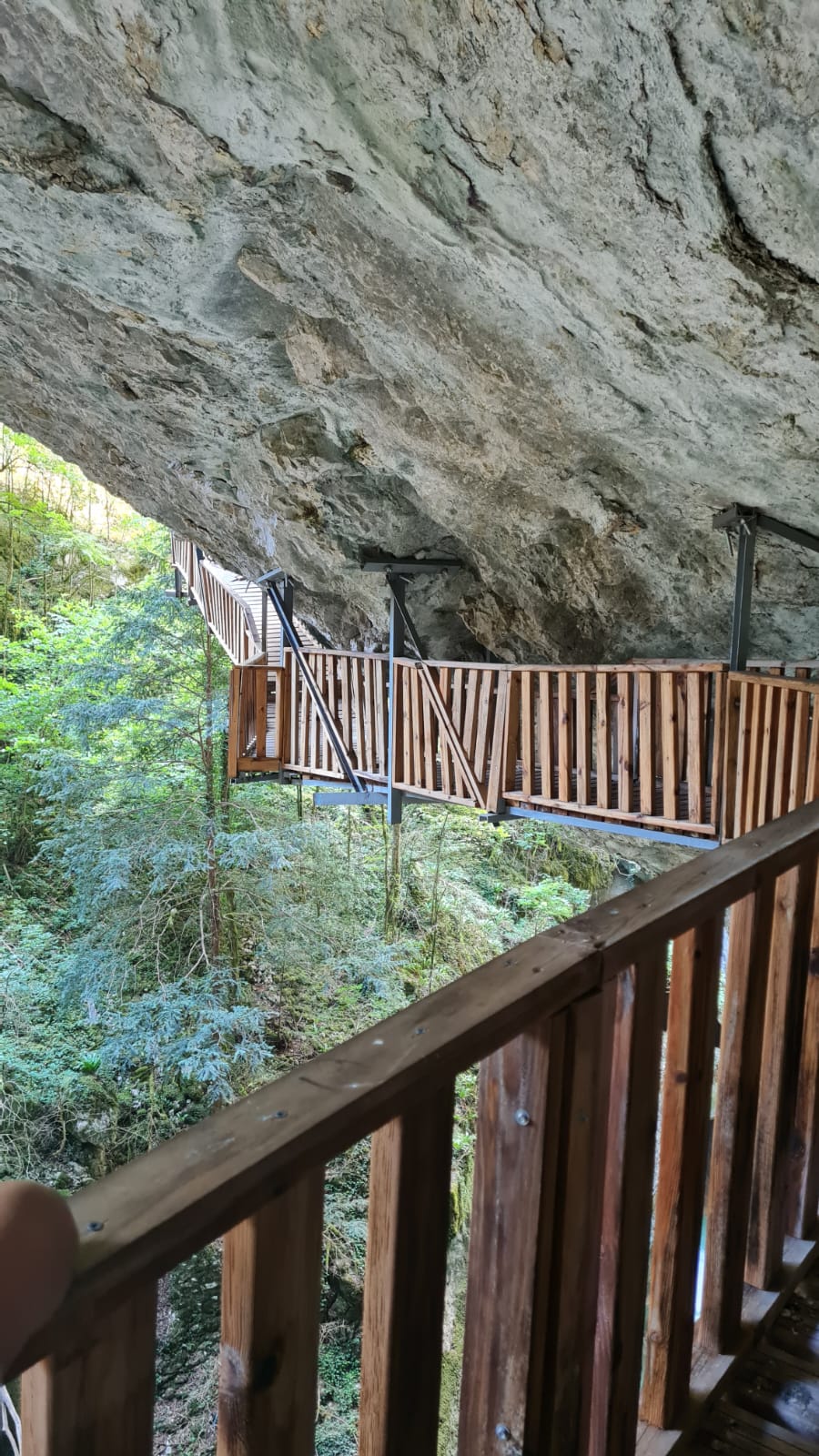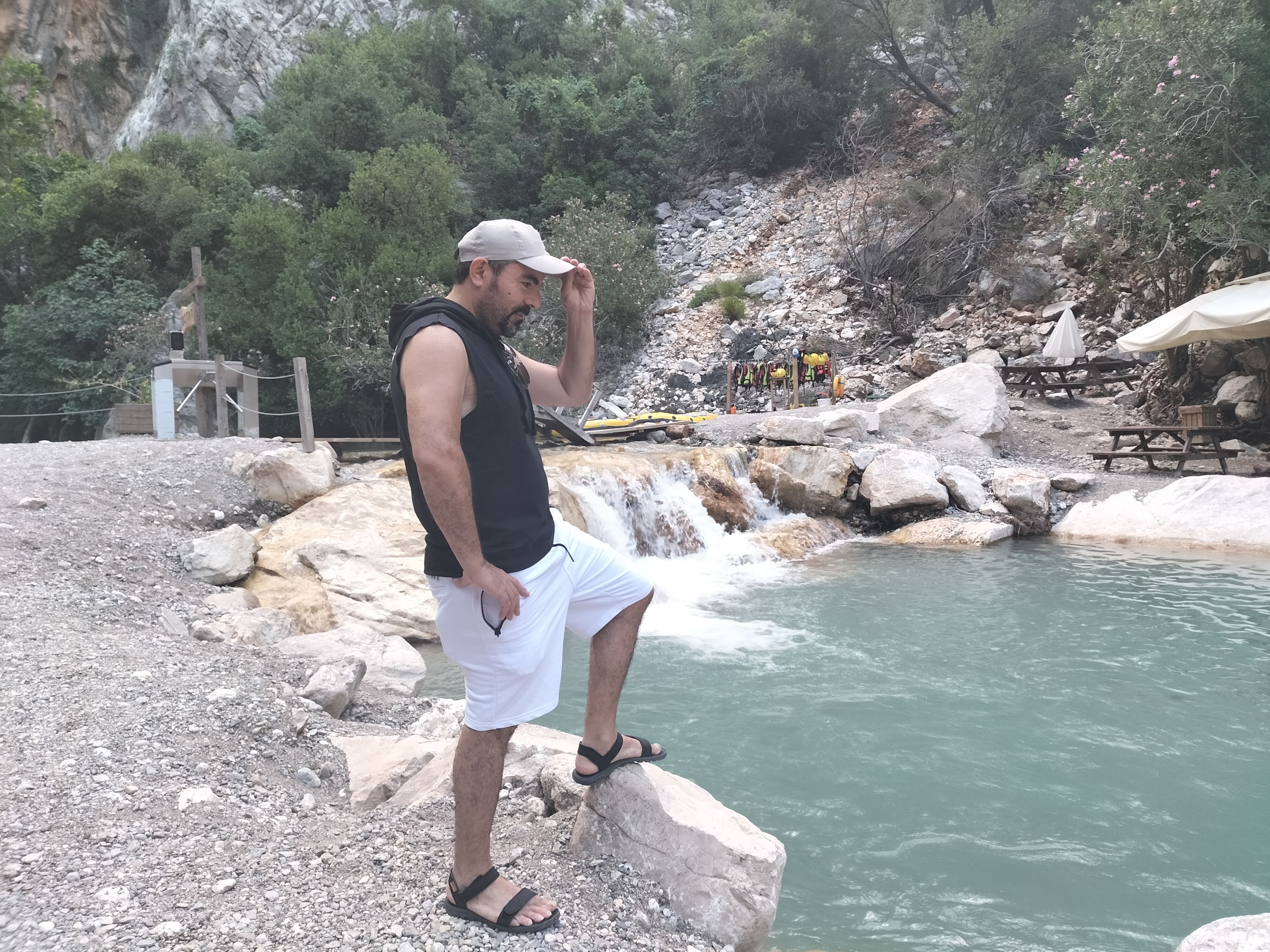 In order to come to Horma Canyon, you need to come to Pınarbaşı district of Kastamonu province. From the district, you should proceed towards the Ilıca Waterfall. You can reach the Canyon after going straight on the road to Ilıca Waterfall. Normally 7 TL per person is charged to enter the canyon. If you are a student, 4 TL is charged. In addition, if you want to put your car in the car park inside the Canyon, you have to pay a parking fee of 5 TL.
Horma Kanyonuna gelebilmek için Kastamonu ilinin Pınarbaşı ilçesine gelmeniz gerekiyor. İlçeden de Ilıca Şelalesine doğru ilerlemelisiniz. Ilıca Şelalesi yolunda dümdüz ilerledikten sonra Kanyona ulaşabilirsiniz. Kanyona giriş için normal kişi başı 7 TL alınıyor. Eğer öğrenciyseniz 4 TL alınıyor. Ayrıca aracınızı Kanyonun içindeki otoparka koymak isterseniz, 5 TL de otopark ücreti ödemek zorundasınız.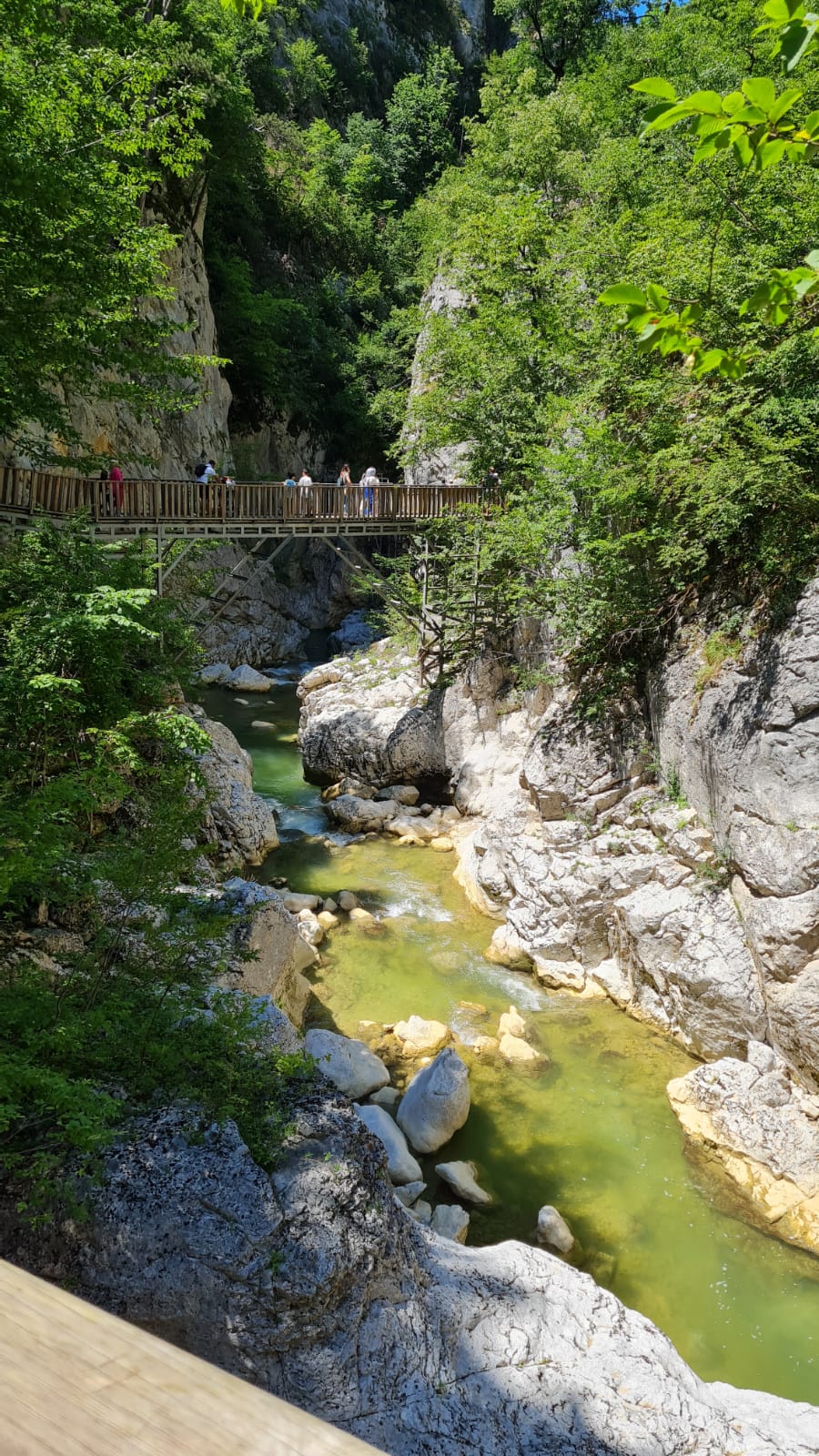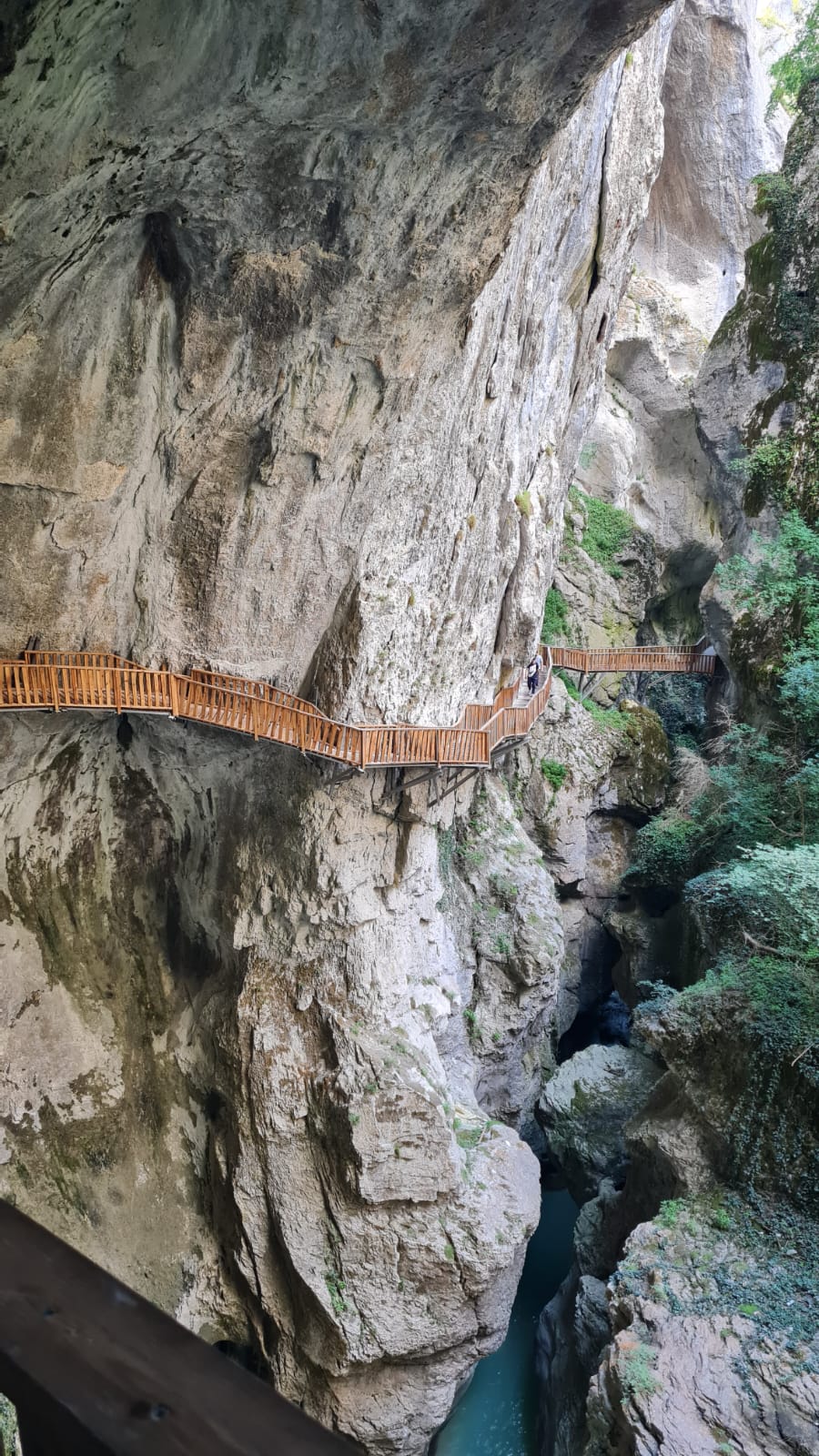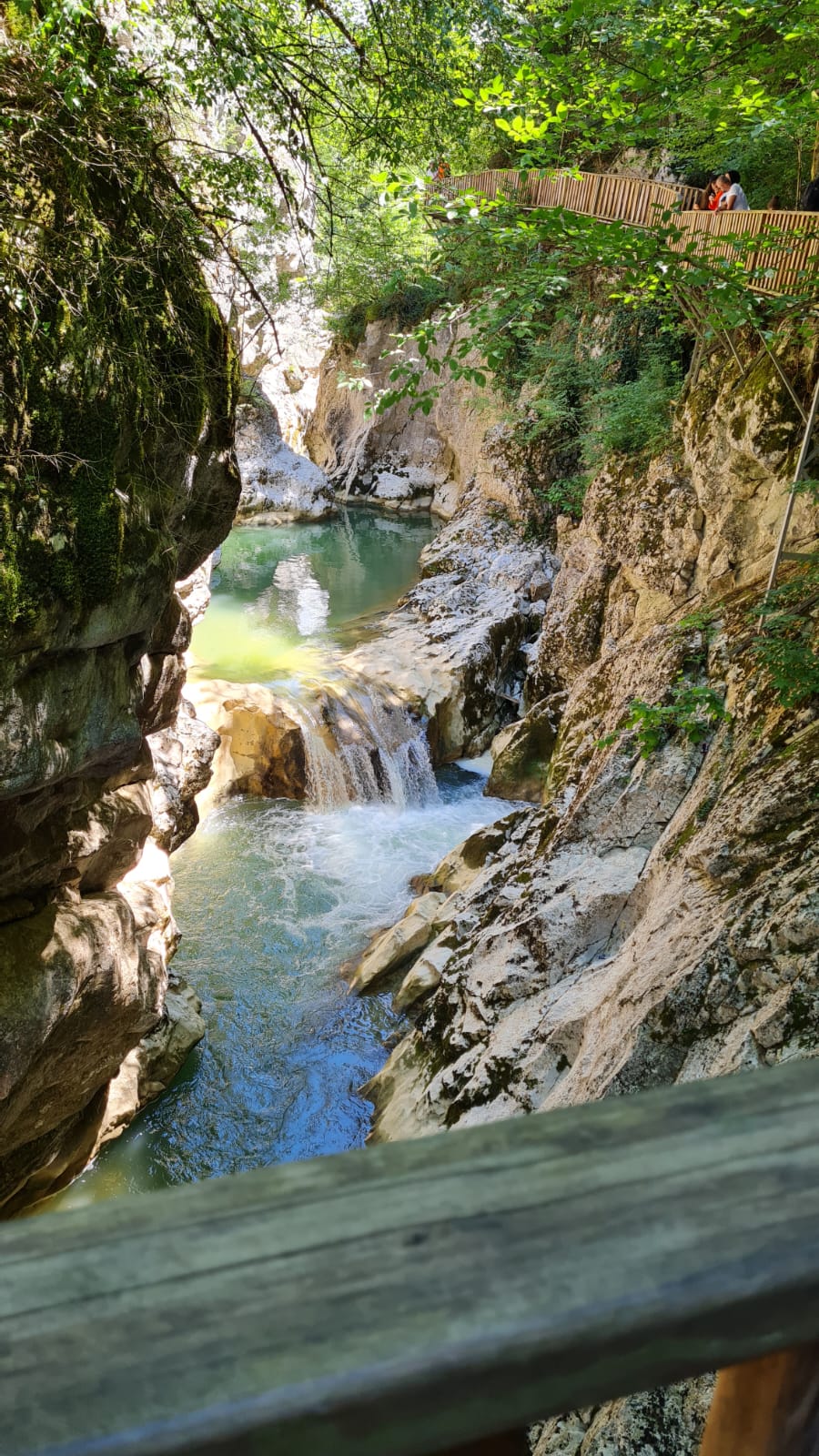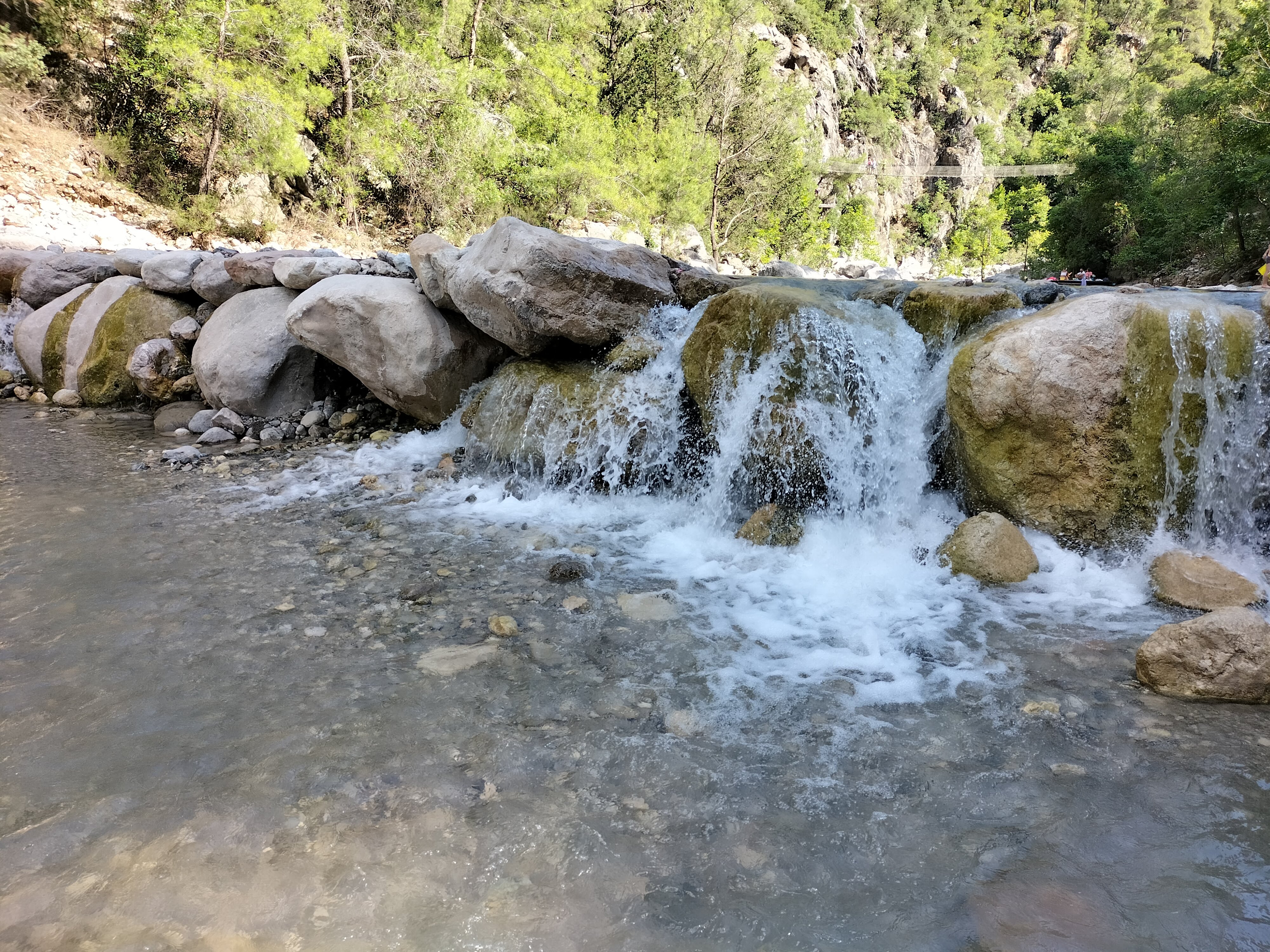 The inside of the canyon is surrounded by huge mossy steep giant rocks. Since walking in the canyon is dangerous and difficult, they thought of a solution for it. They created a walking path from wooden boards around the rocks. This walking path, where even two people can hardly pass, is 4 km long. When you look at the hill while walking on the walking path, giant rocks create a shade for you. When you look up and look at the air, although the steep rocks gave me a little shiver, I was admiring the view I saw. As I moved inwards, I could also notice that the temperature in the air had dropped. This wooden walkway mounted on the rocks resembled a long balcony of the house.
Kanyonun içerisi, büyük yosunlu dik dev kayalarıyla çevrilidir. Kanyon da yürümek tehlike ve zor olduğu için, bunun için bir çözüm düşünmüşler. Kayaların etrafına ahşap tahtalardan yürüyüş yolu oluşturmuşlar. İki kişinin bile zor geçtiği bu yürüyüş yolu, 4 km uzunluktadır. Yürüyüş yolunda ilerlerken tepeye baktığınızda dev kayalar size gölgelik oluşturmaktadır. Başınızı kaldırıp havaya baktığınızda dik kayalar her ne kadar içimi biraz ürpertse de gördüğüm manzaraya hayranlıkla bakıyordum. İçlere doğru ilerlerken havadaki sıcaklığının düştüğünü de fark edebiliyordum. Kayalara monte edilmiş olan bu ahşaptan yürüyüş yolu sanki evin uzun bir balkonunu andırıyordu.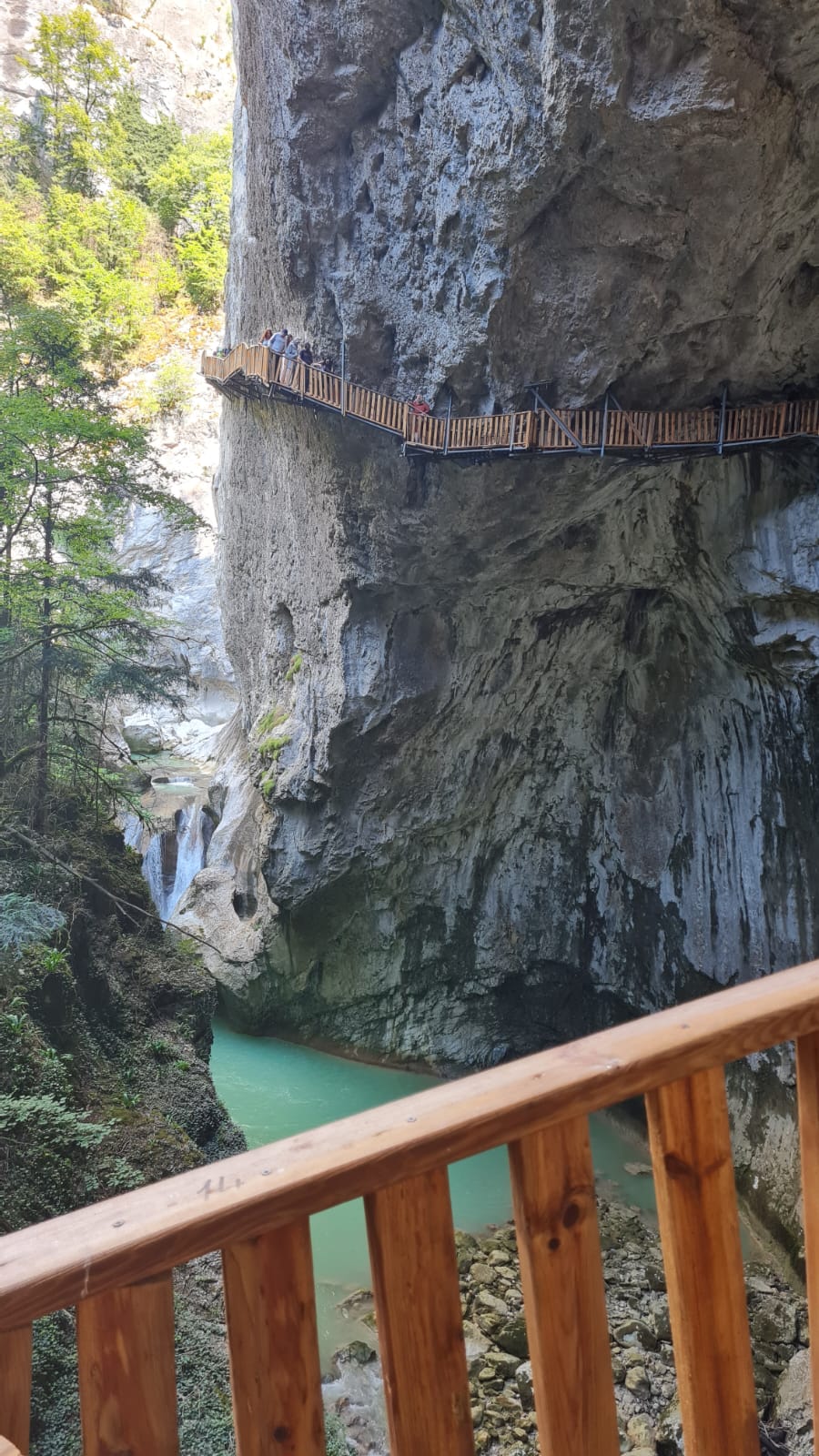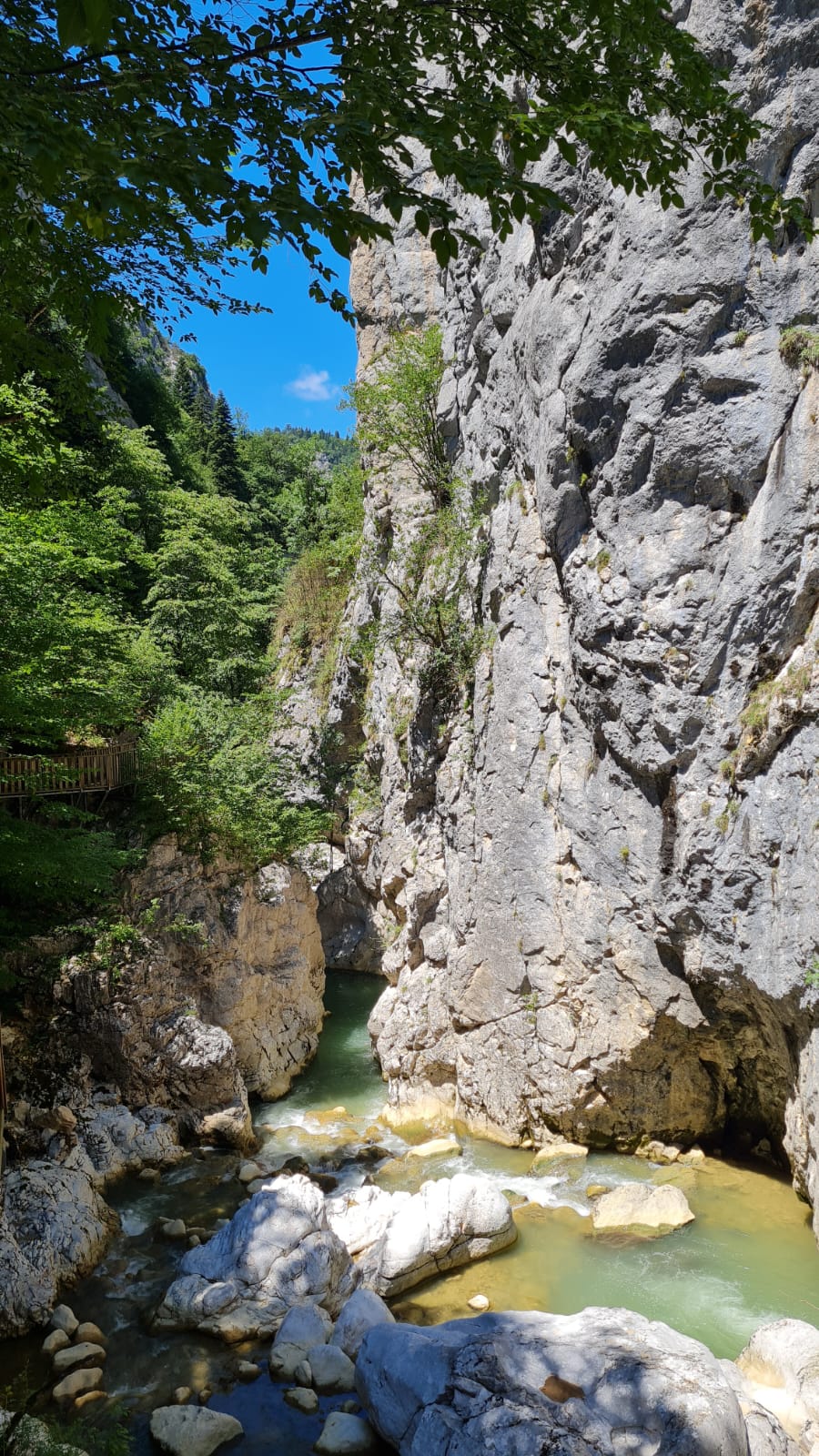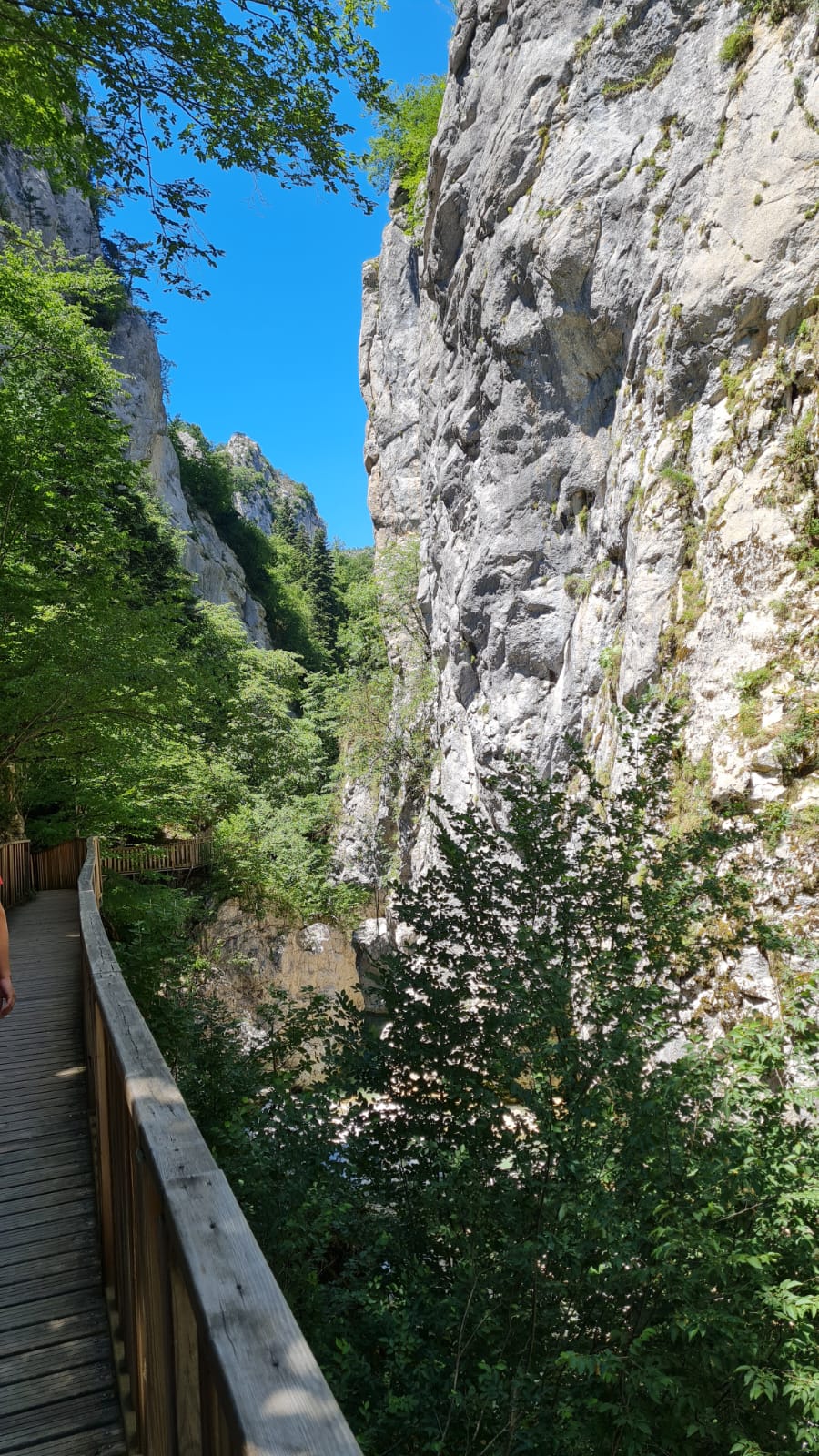 The danger made of wood right next to the giant rocks in the canyon and when you come to the end of the winding road, a rushing waterfall awaits you. The name of this waterfall is Ilıca waterfall. Flowing through steep rocks from a height of about 20 meters, the waterfall forms a natural pool where the water spills. I tried to shoot each frame of the magnificent view of the waterfall, which has various plants around it, one by one for you.
Kanyondaki dev kayaların hemen yanındaki ahşaptan yapılan tehlike ve virajlı yolun sonuna geldiğiniz de sizi gürül gürül akan bir şelale bekliyor. Bu şelalenin adı Ilıca şelalesidir. Yaklaşık 20 metre yükseklikten dik kayaların arasından süzülerek akan şelale, suyun döküldüğü yerde doğal bir havuz oluşturmaktadır. Etrafında da çeşit çeşit bitkilerin olduğu şelalenin muhteşem görüntüsünün her karesini sizler için tek tek çekmeye çalıştım.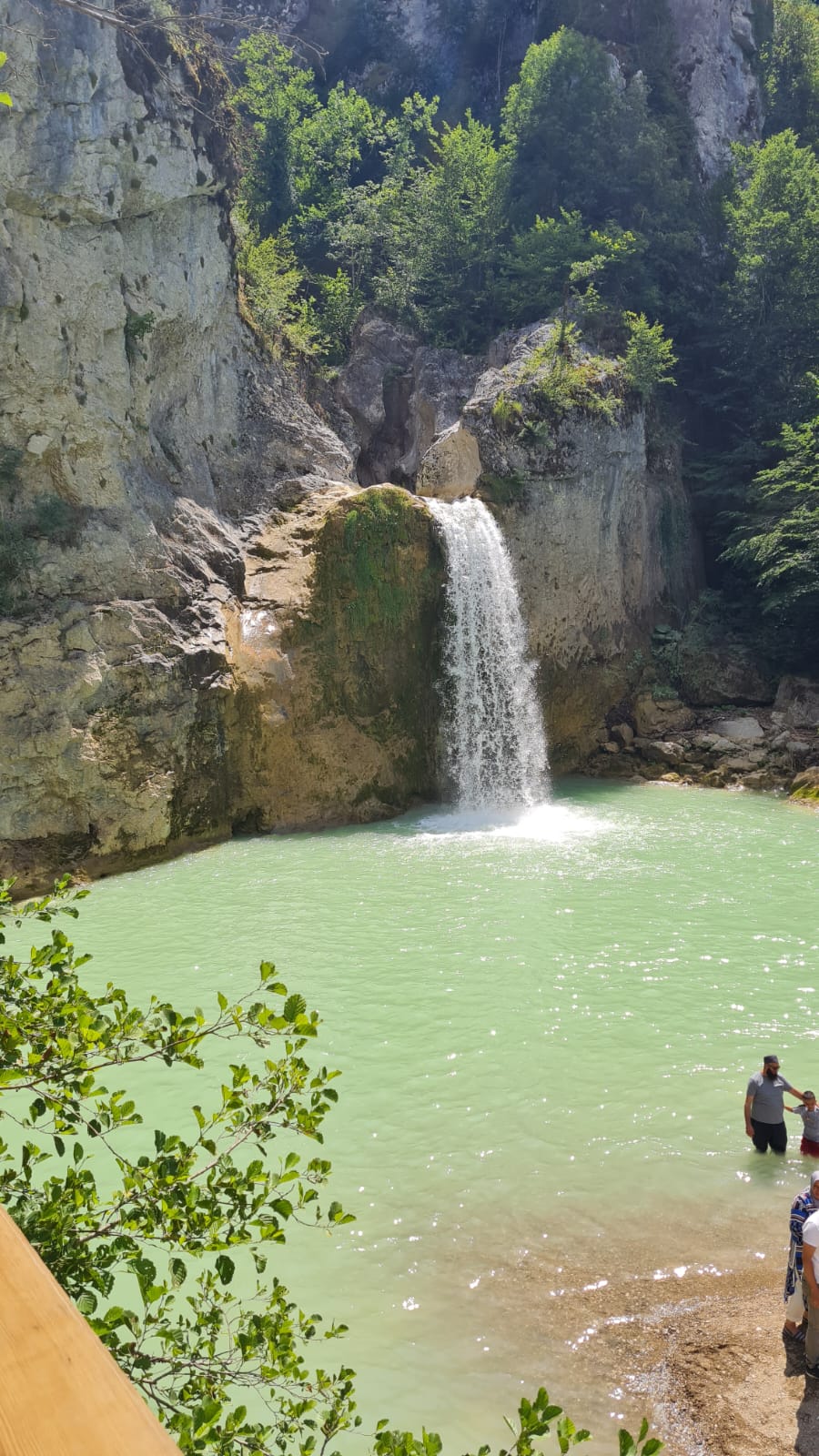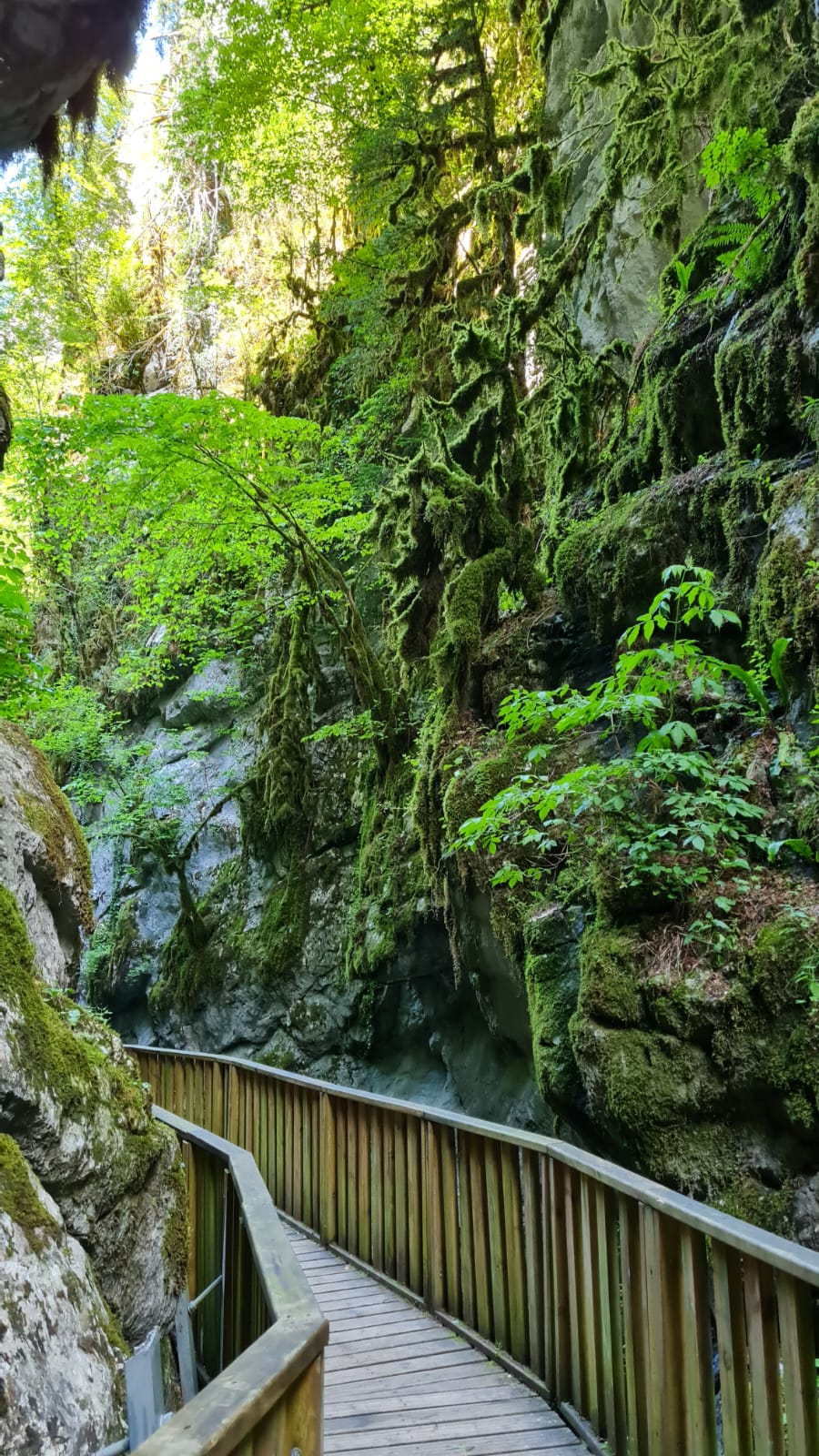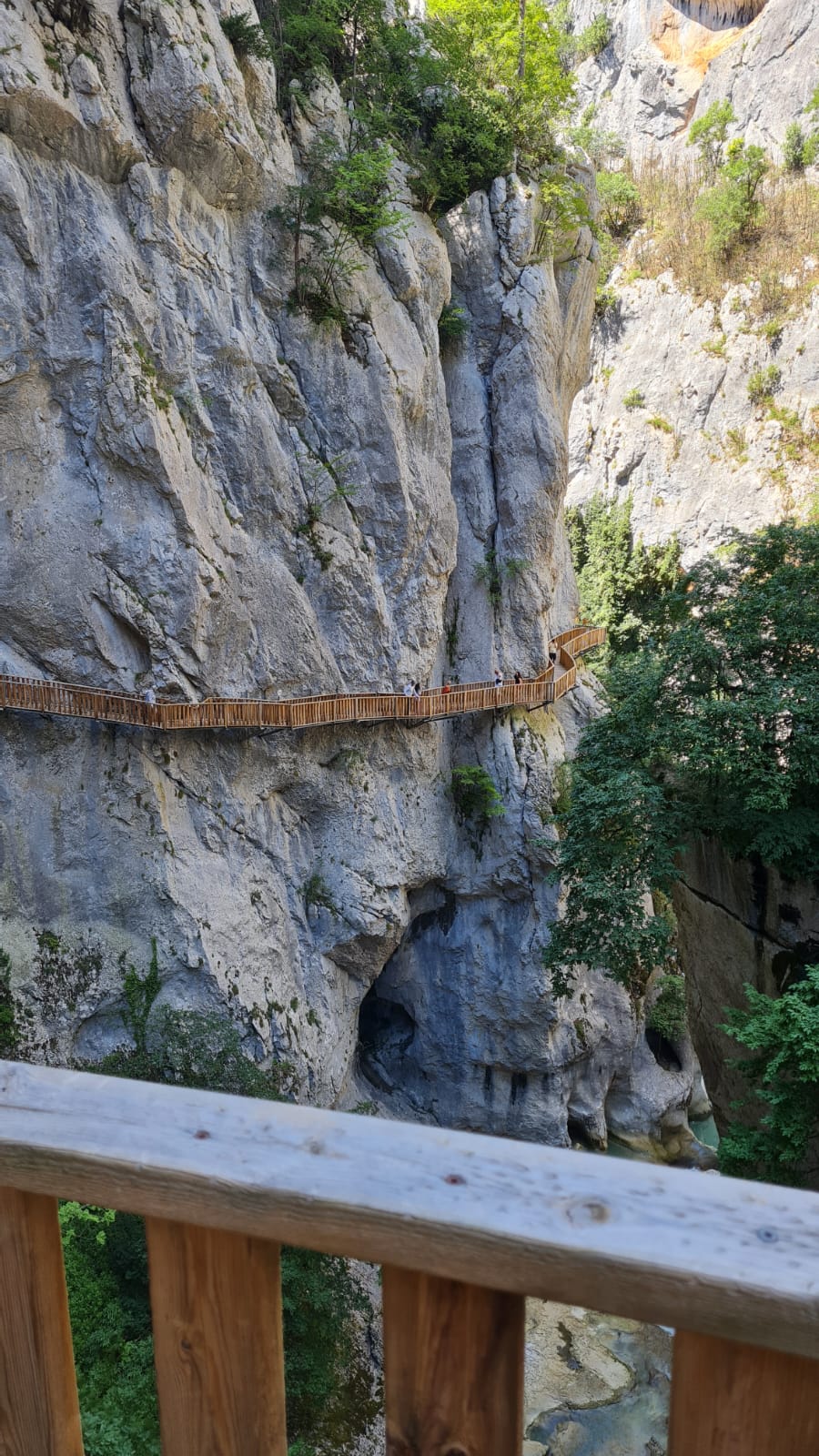 You will be enchanted by the sounds of birds and all the natural beauties as you progress through the Horma Canyon, the most beautiful natural wonder of the Western Black Sea Region. The big rocks in the shape of a skyscraper rising inside the canyon seem to have been the natural protectors of this region. Since the region is located within the Küre Mountains, you breathe the fragrant mountain air.
Batı Karadeniz'in en güzel doğal harikası olan Horma Kanyonun da ilerlerken kuş sesleri ve tüm doğal güzellikler karşısında mest olacaksınız. Kanyonun içinde yükselen gökdelen şeklindeki büyük kayalar, sanki bu bölgenin doğal oluşumlu koruyucuları olmuşlar. Bölge Küre dağlarının içinde yer aldığı için, mis kokan dağ havasını da solumuş oluyorsunuz.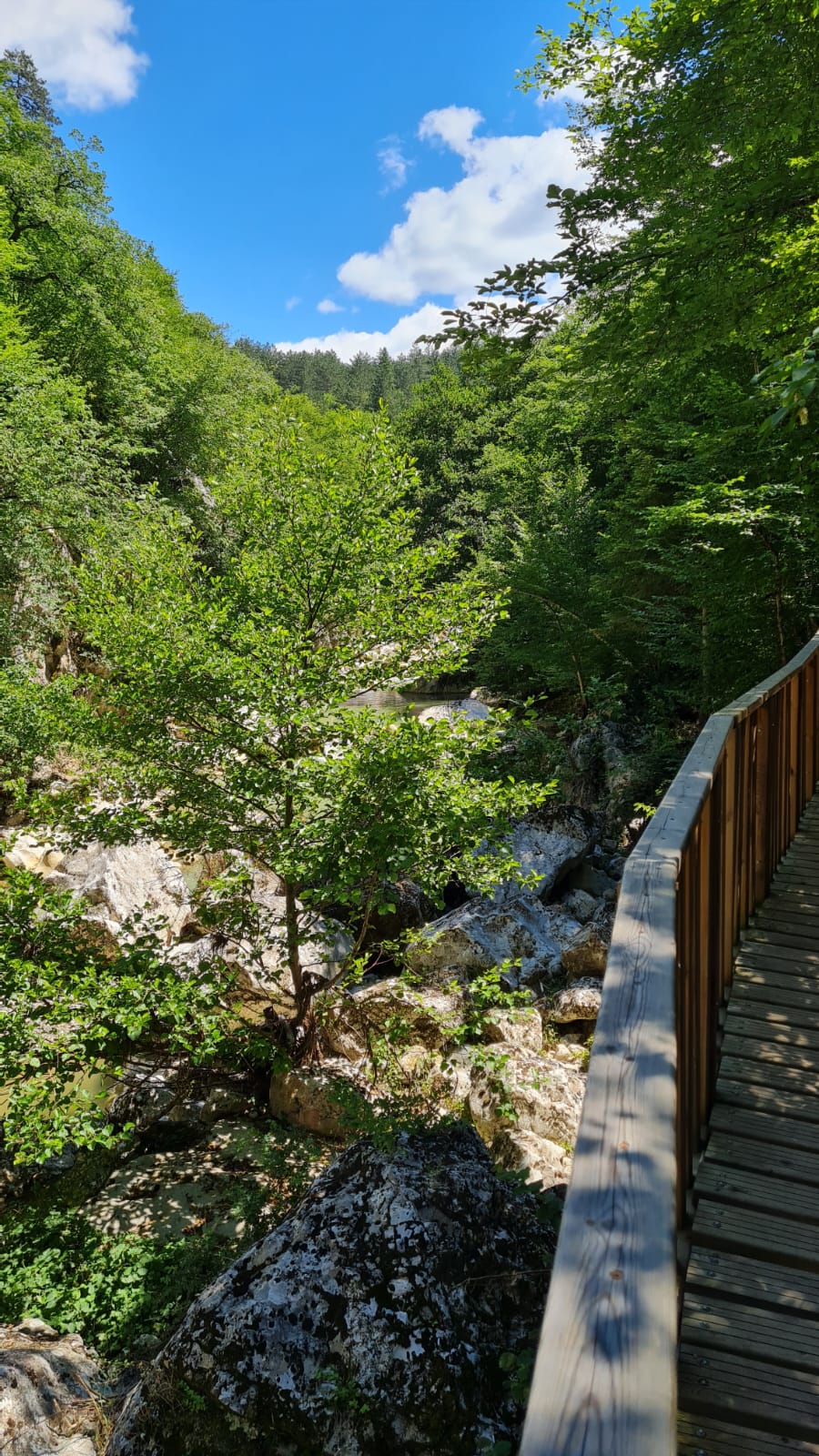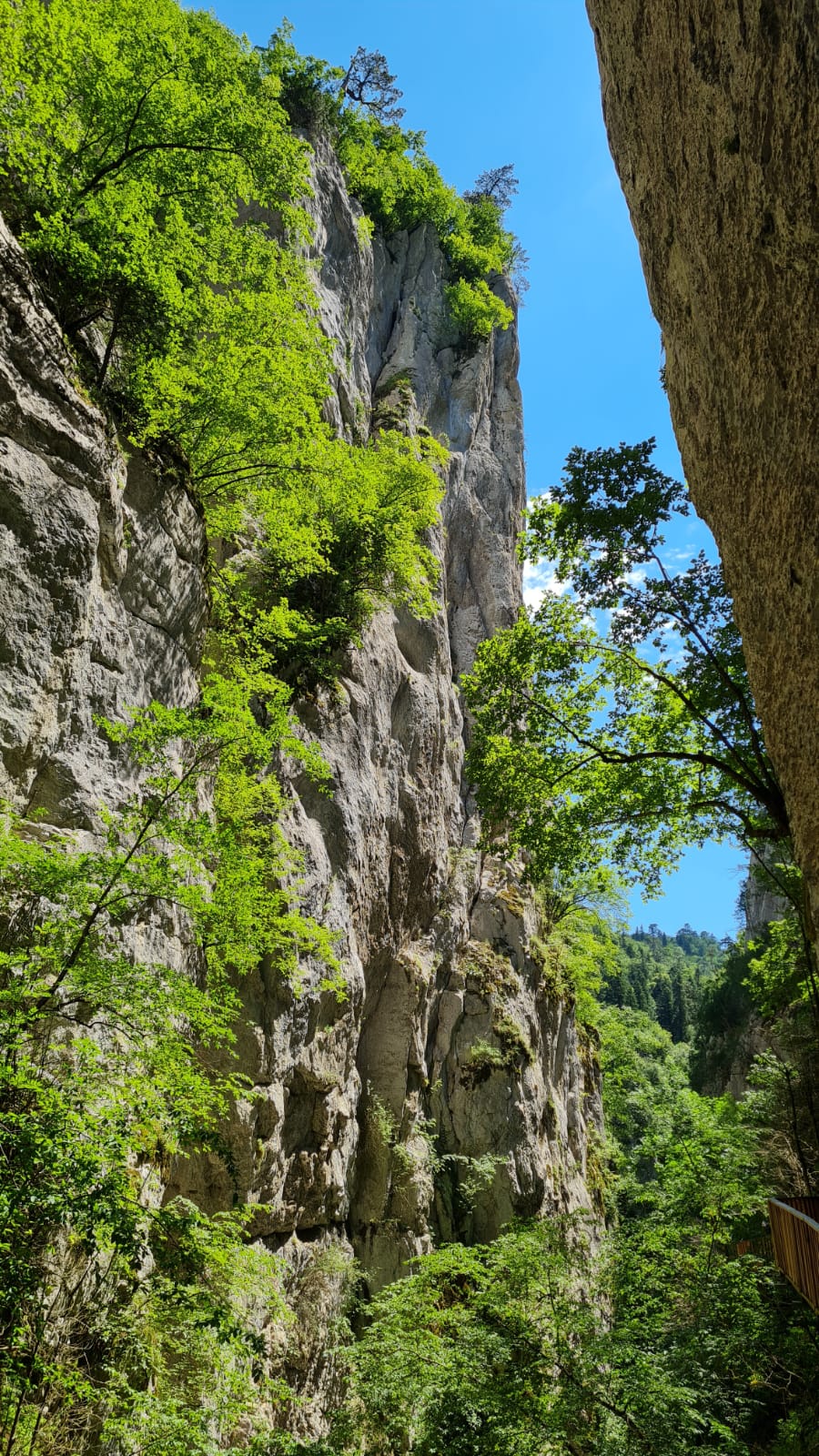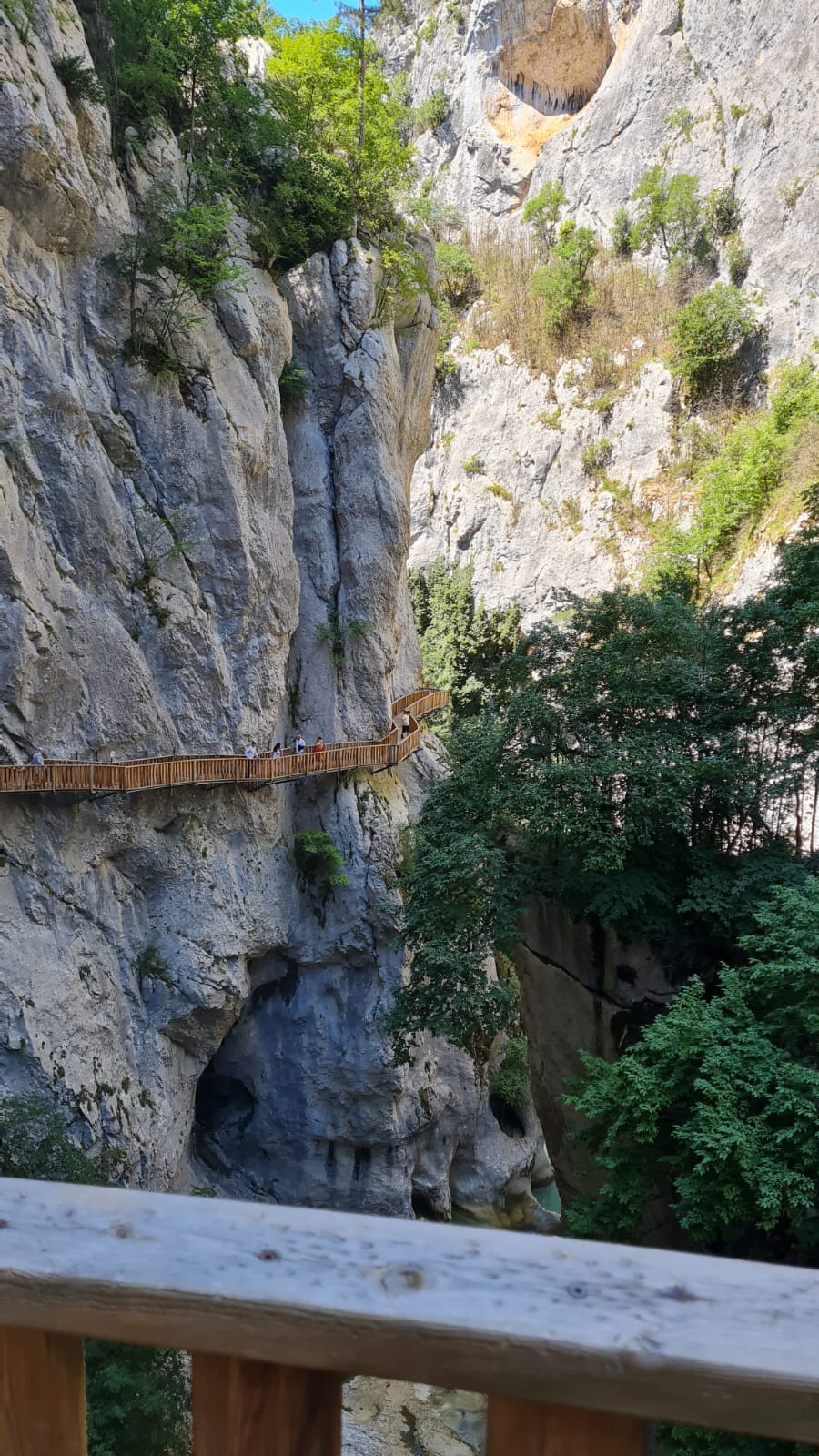 While strolling through the canyon, you feel yourself wandering in the paradise of nature. You look at it with admiration as you see magnificent views, small cauldrons and deep wells that accumulate where the water flows. As you watch the surroundings, you carry the wave of happiness within you with you.
Kanyonun içinde gezinirken, kendinizi tabiatın cennetinde dolaştığını hissediyorsunuz. Muhteşem manzaralar, suların aktığı yerde biriken küçük kazanlar ve derin kuyuları gördükçe hayranlıkla bakıyorsunuz. Etrafı izlerken, içinizde oluşan mutluluk dalgasını yanınızda taşıyorsunuz.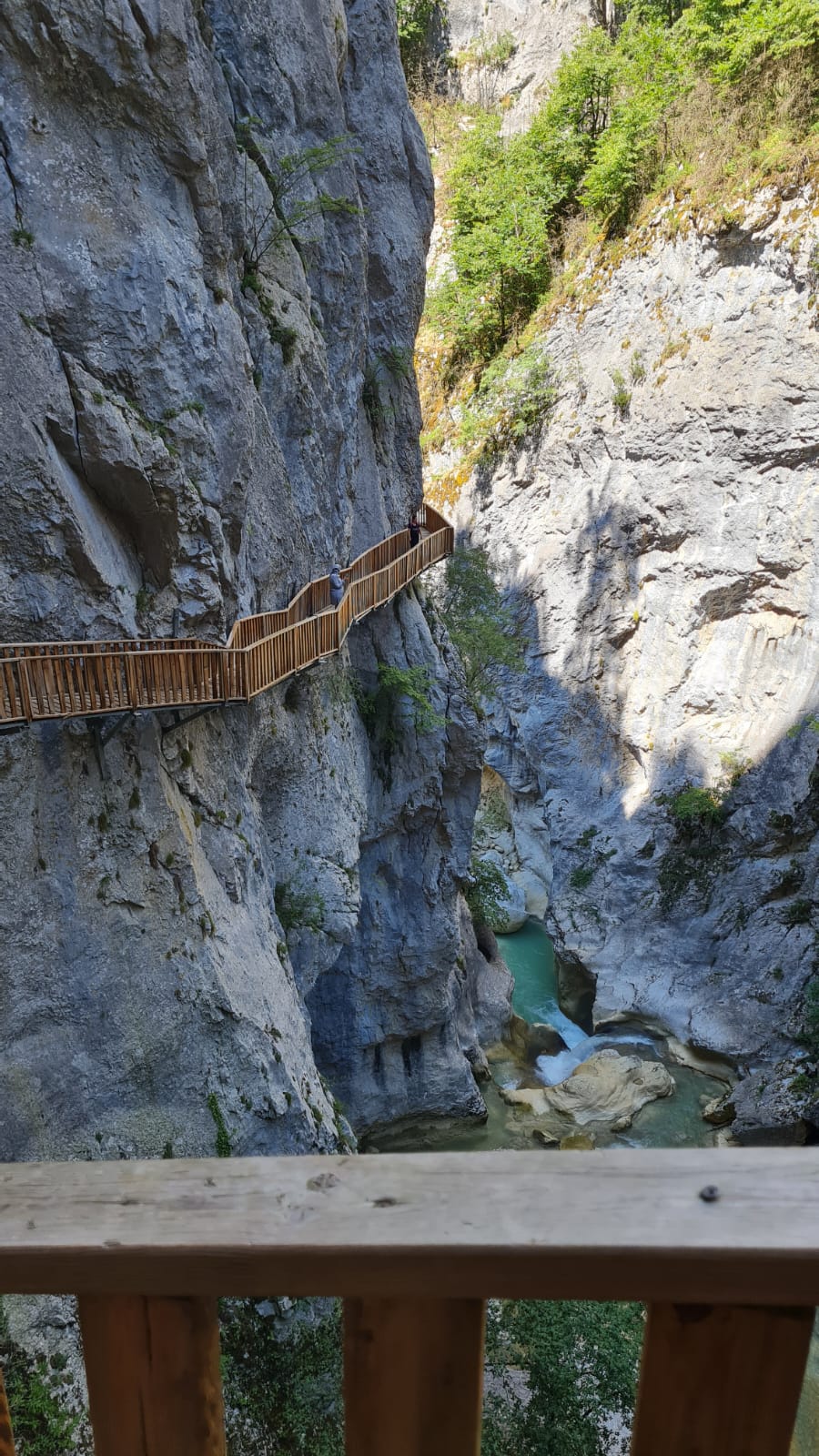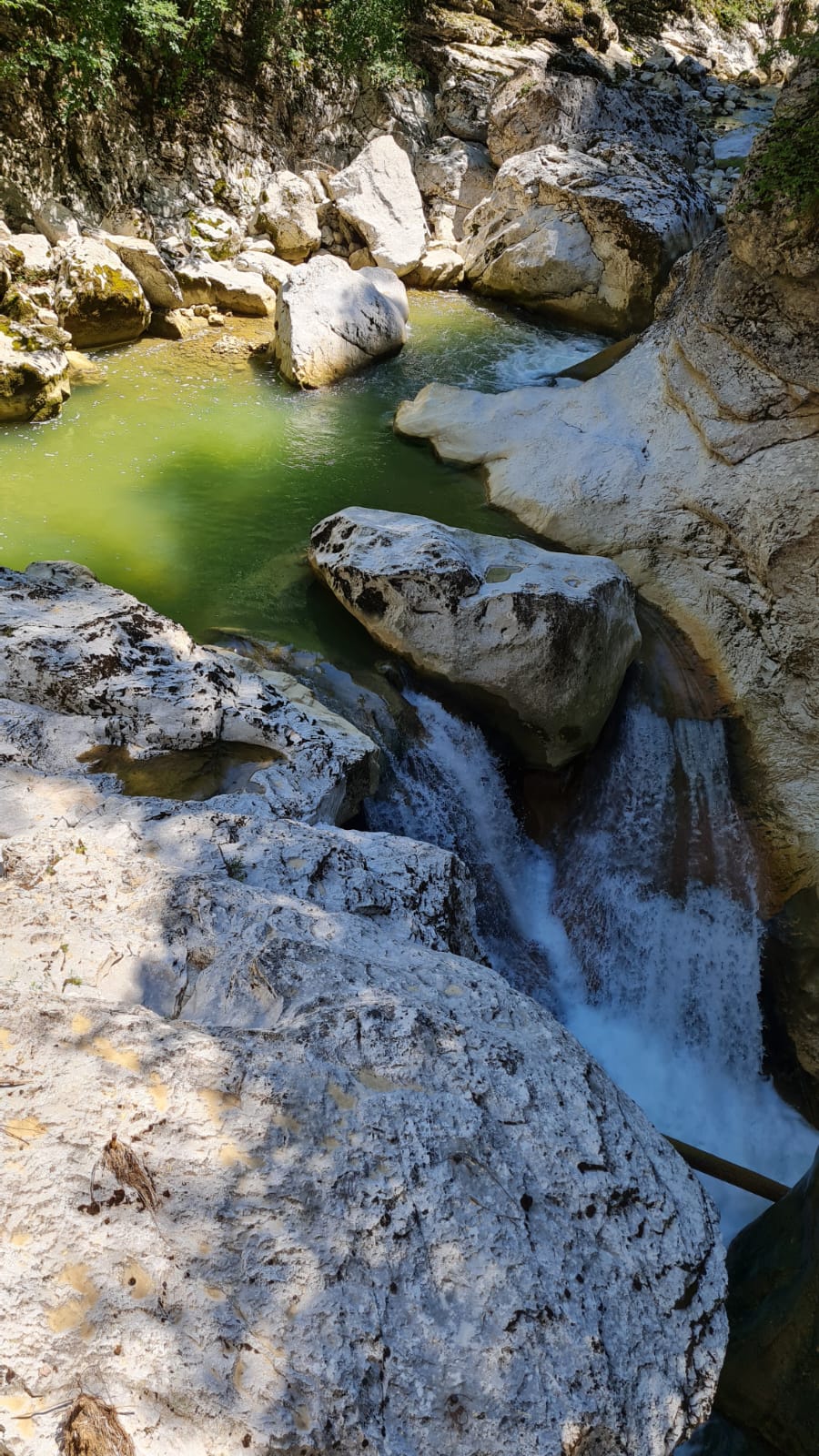 Finally, if you want to walk in water here, I would like to say that it is quite dangerous. Because the boilers and deep wells that have formed naturally in the areas where the water is poured prevent the passage points. See you again in my next travel post. Goodbye.
Son olarak burada suyun içinde yürümek isterseniz eğer, oldukça tehlikeli olduğunu söylemek isterim. Çünkü suyun döküldüğü alanlarda doğal oluşumla meydana gelmiş olan kazanlar ve derin kuyular geçiş noktalarını engelliyor. Bir dahaki gezi yazımda tekrar görüşmek üzere Hoşçakalın.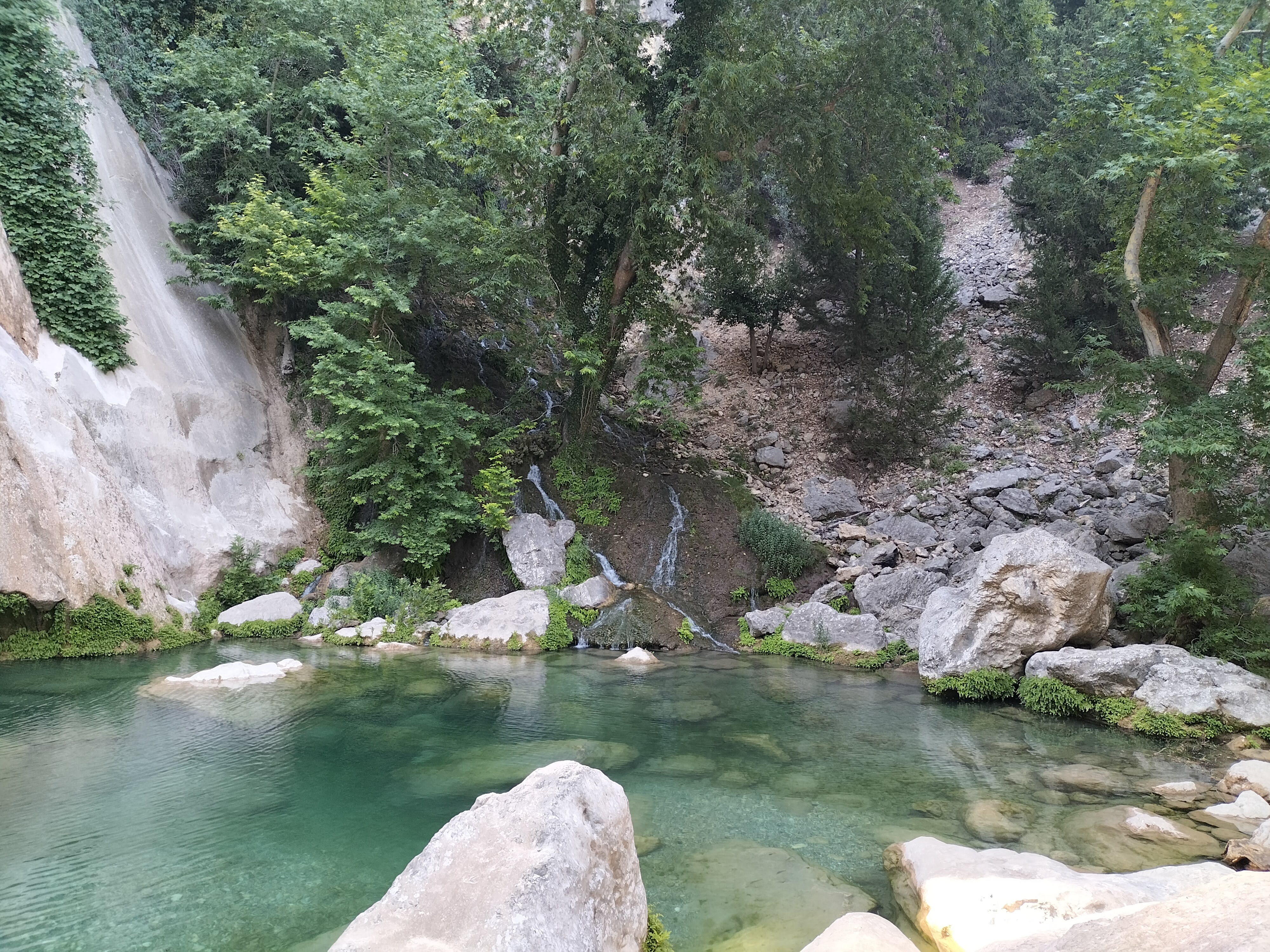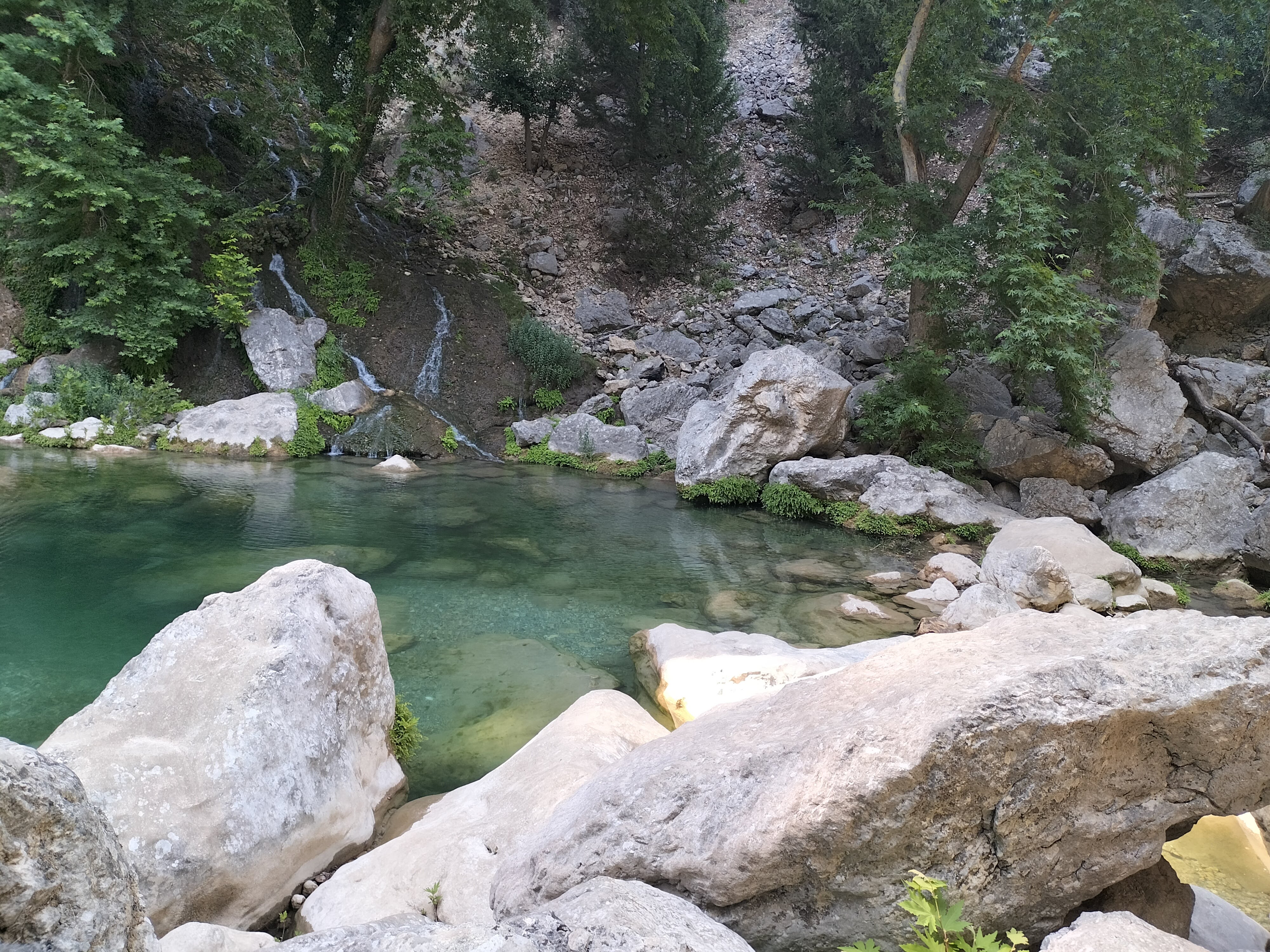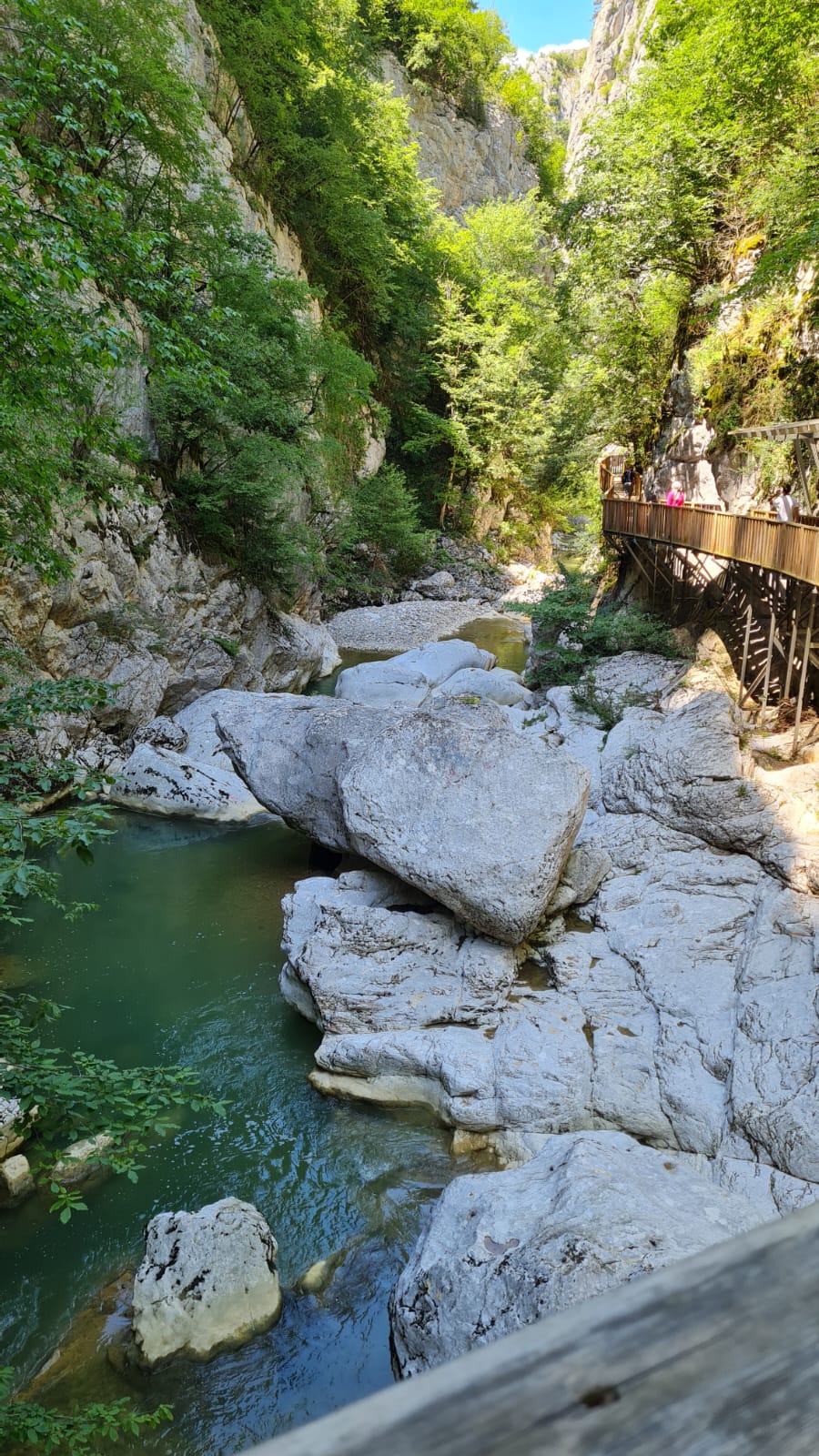 Wishing you happiness in your heart, Stay well, my friends...
Mutluluğu Kalbinizde dalgalandırmanız dileğiyle, Sağlıcakla kalın dostlarım...
---
---