Golden aliens have appeared along with new weapons. ||Abuse for MS-DOS. || Retro-videogame.|| Gameplay&Mini-guide.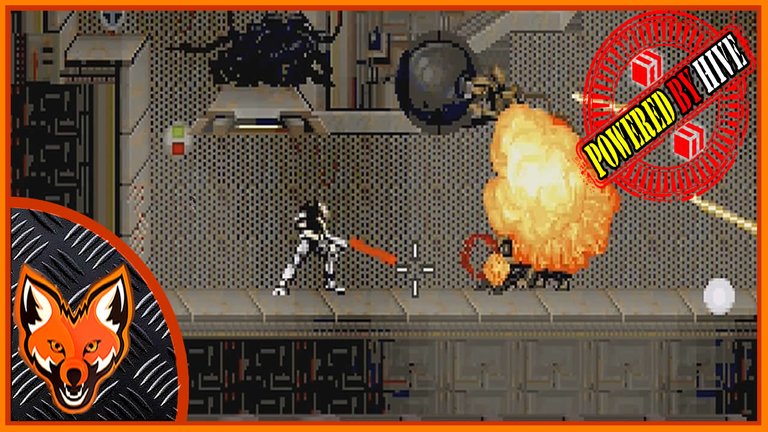 ---

---
-| Hey fellows, first of all. Blessings for all of you. |-

Introduction.
Abuse is a Shoot'em up platform game, which was developed by Crack dot com, to be distributed by Electronic Arts (EA) throughout North America, and distributed in Europe by Origin Systems.
---
The game was released on 29 February 1996 for the MS-DOS system. It also had a version for MAC Os, which was released by Bungie on 5 March 1997. Because its source code has been available to the public since 1990, it has been ported to Linux and other platforms such as the commodore Amiga.
---
In this game we play special agent Nick Vrenna, who was justly incarcerated in a maximum security prison where inhumane experiments are conducted on prisons with an experimental substance called ABUSE. Our goal is to escape alive and eliminate the monsters that inhabit the prison.
---

Mini-Guide #4.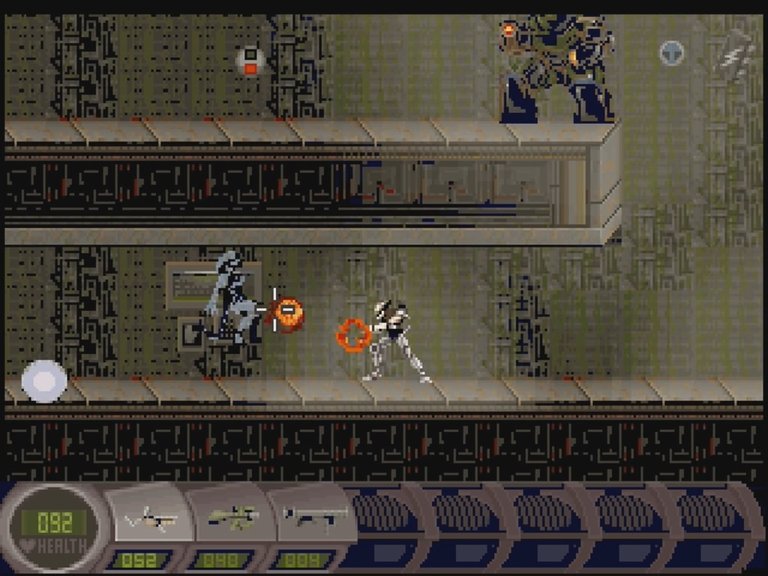 a) Something very effective when facing the black aliens that throw grenades, is to shoot them from the shortest distance possible, because when they are close to your avatar they will not be able to shoot their grenades, which are usually very effective at the moment of lowering your life.
---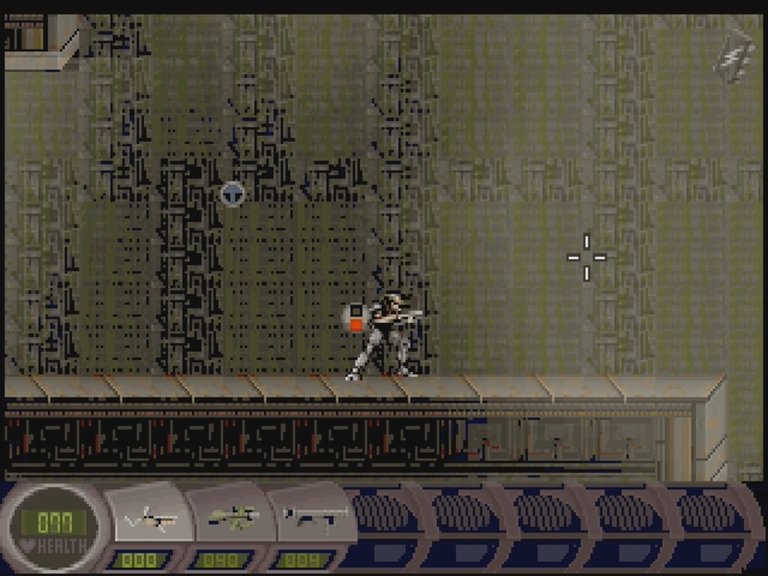 b) After eliminating the alien grenade launcher, you must eliminate the two tank monsters that are on the upper platform, before you can access the other part of the level. In this area it is advisable to eliminate both tank monsters from below, all this in order to avoid a direct confrontation with them as they are extremely resistant to damage, and on the other hand they can cause a lot of damage equally. After eliminating them, activate the central switch to open the left door and continue advancing.
---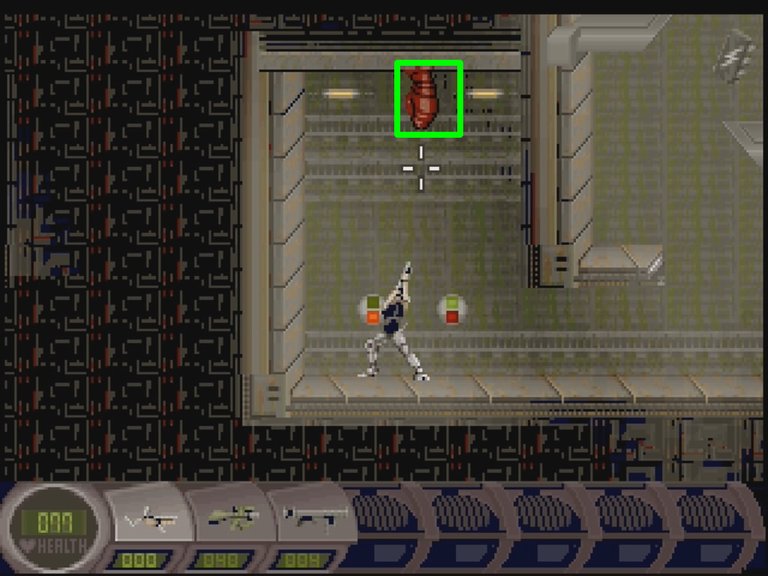 I think that at this point in the game it is quite clear that when we see the aliens retreating as shown in the image above, it is an indicator that when we activate a switch or activate a gate, they will descend violently pouncing on us, so it is very important to have an action strategy ready every time we see the aliens retreating on the walls as shown above.
---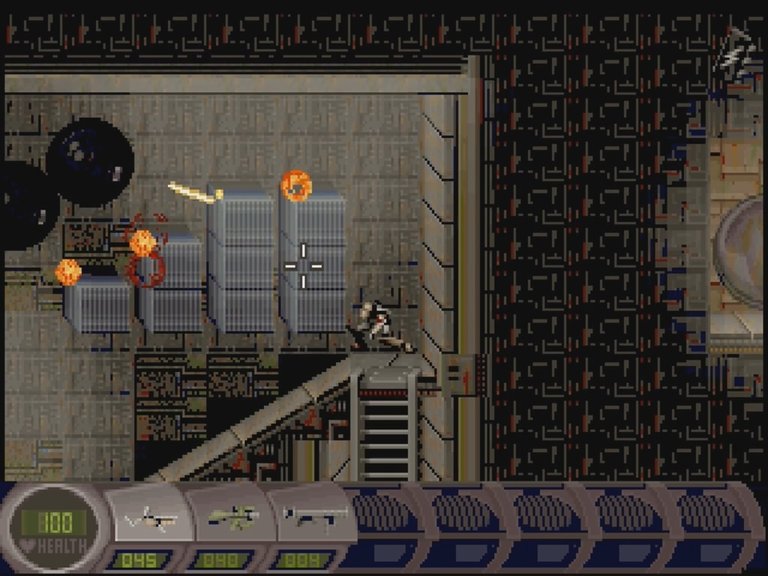 c) I call this sector of the level the box area, as you can see, immediately after climbing the stairs you will find a series of metal boxes that can serve as a momentary protection against the three turrets that are guarding the hatch where the staircase ends, therefore, I strongly recommend that you avoid confrontation with these turrets, as I show in the gameplay and use the special ability of the speed chip to quickly go down the right staircase and thus get out of this area. When you go down you will find the next save point and some ammunition and life hearts that will help you a lot for what is coming.
---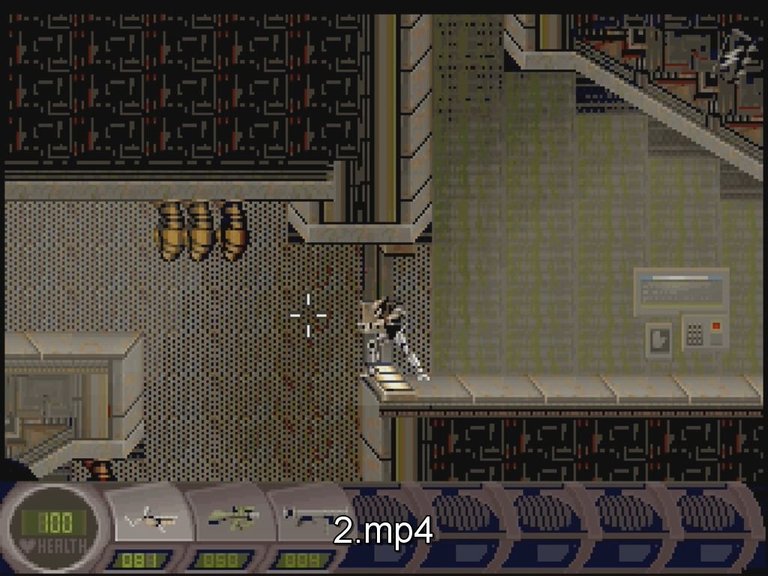 Attention to those golden aliens that are in retreat, as they are very dangerous because they have the ability to launch rockets that do a lot of damage. Basically these golden aliens are walking rocket launchers.
---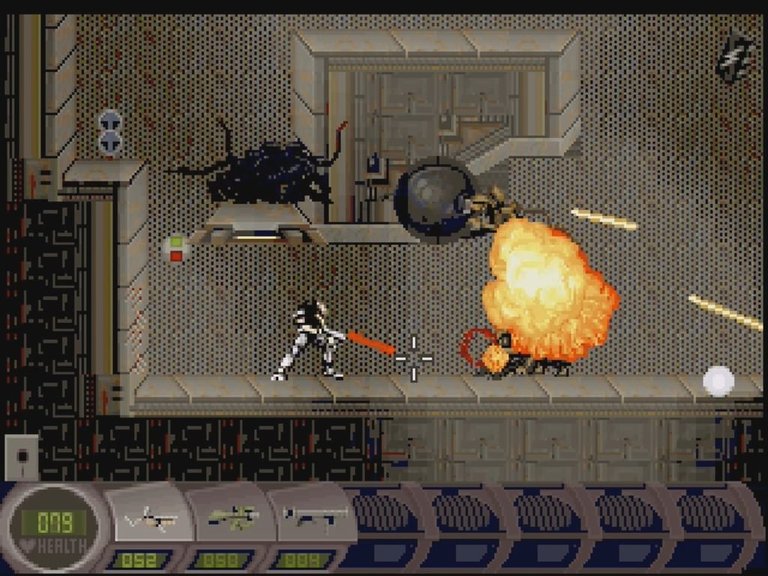 d) Attention please, because most likely in this area you can die many times because it is very difficult to get out of this area due to the large number of black and gold aliens that appear, and if we add to this the presence of a lethal turret in the place, then things will be more difficult, but the most effective solution to overcome this area is to activate the turret and not destroy it, but rather use it against the aliens that attack us, as these turrets are indifferent to which targets are shooting at them.
When you finish with all these enemies, jump on the boosters to the left and climb the ladder to get out of this area and find the next save point.
NOTE: Something very good about the golden aliens is that they release their rocket launchers when you eliminate them, and in this way they will make it very easy for us to get ammunition for our own.
---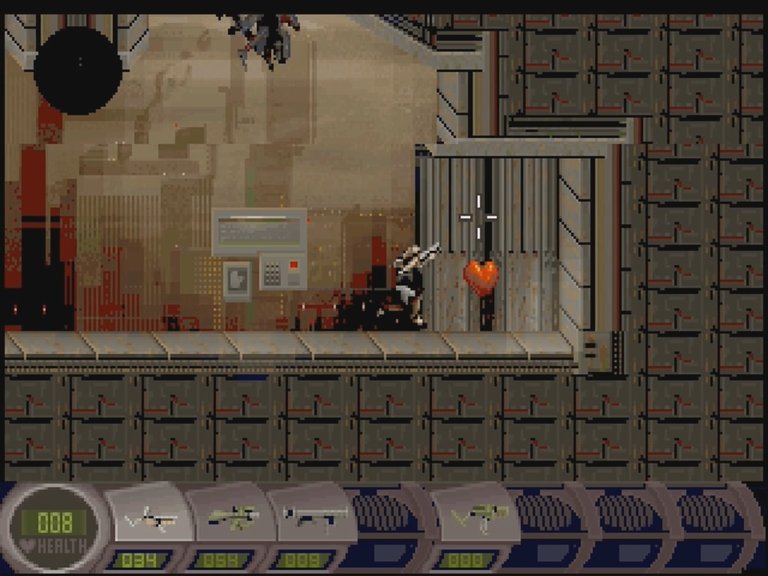 Never be confident in this game, as it is very punishing in terms of difficulty level, and it is very common that you have to use several attempts to advance from one area to another, so I always invite you not to trust and perform the save whenever you can. On the other hand, from this point it is very important that you are always attentive to the ammunition because at this point the ammunition starts to become very scarce, and basically you can get it through eliminating aliens and collecting their loots.
---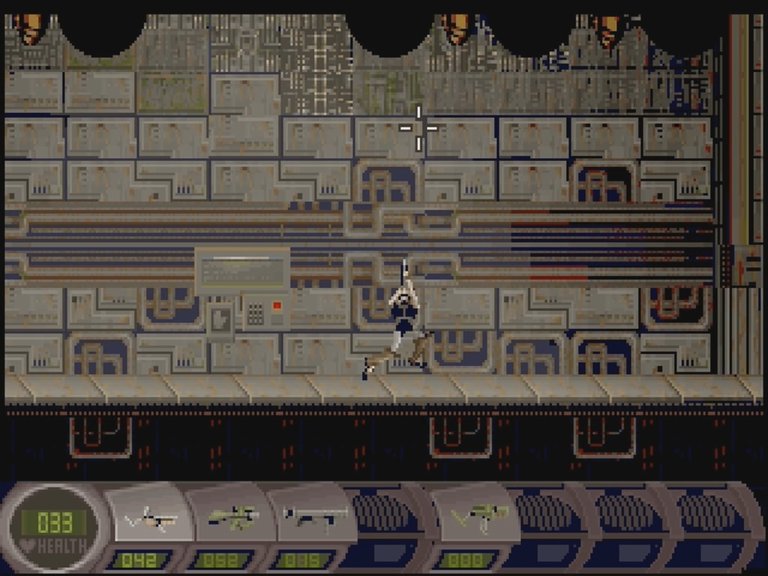 ---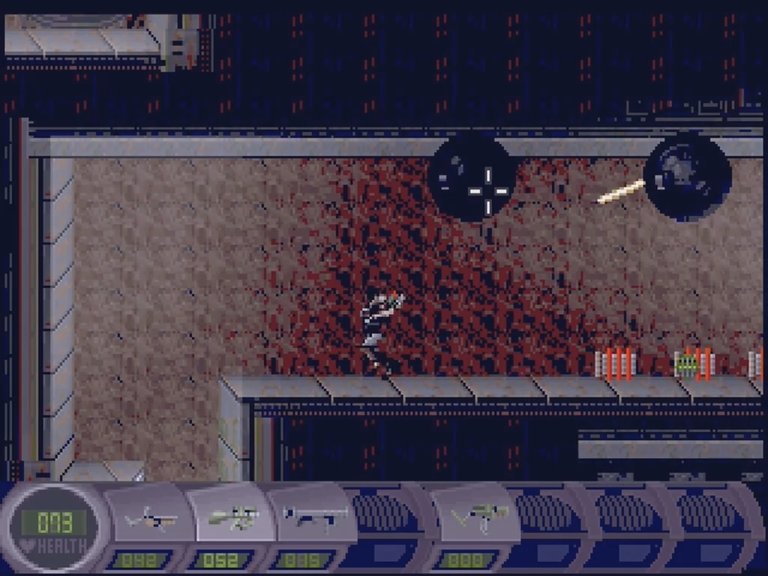 e) In the area that I show in the image above, it is convenient to go directly to the right and face the turrets that are there, for this I recommend you to use the weapon that is in the slot number 2, that is the grenade launcher, since it is usually very effective against the turrets.
---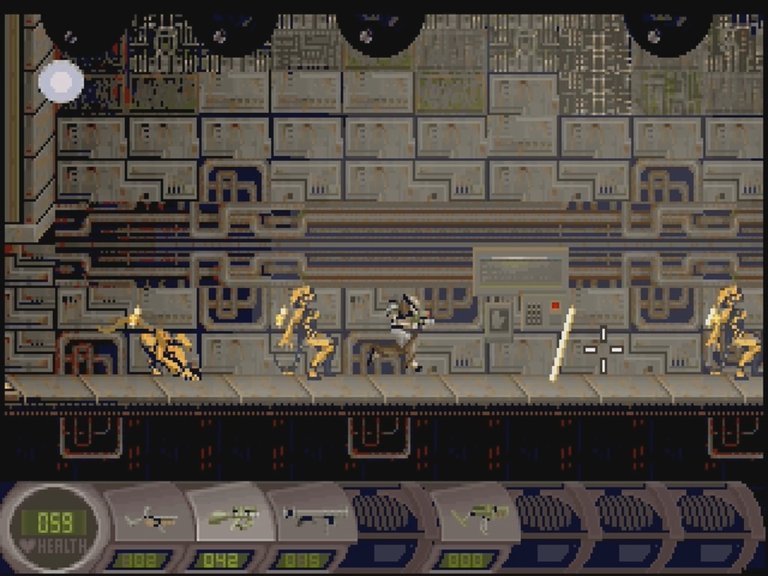 After activating the switch you will find a whole hell of aliens underneath, but don't worry, because the key here is simply to use these turrets to your advantage and let them do as much damage as possible to the aliens.
---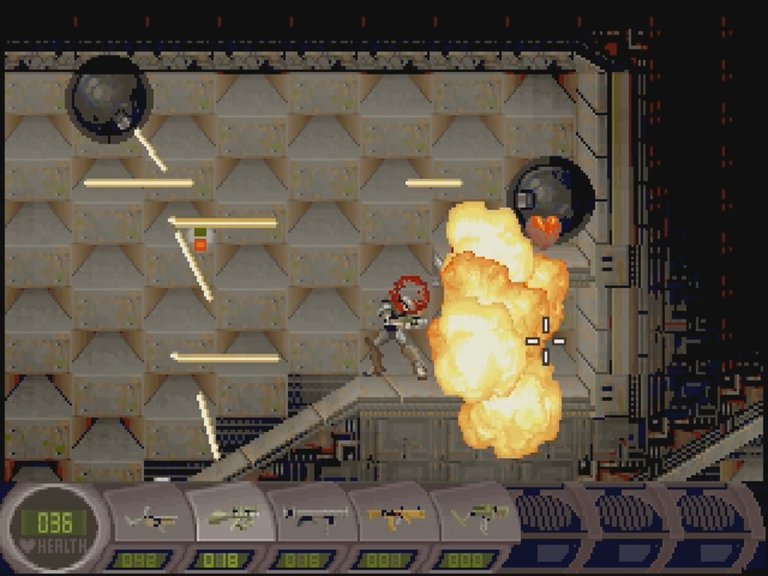 The next section has been one of the most difficult I have encountered, but fortunately I managed to conserve enough ammunition of various types at this point.
---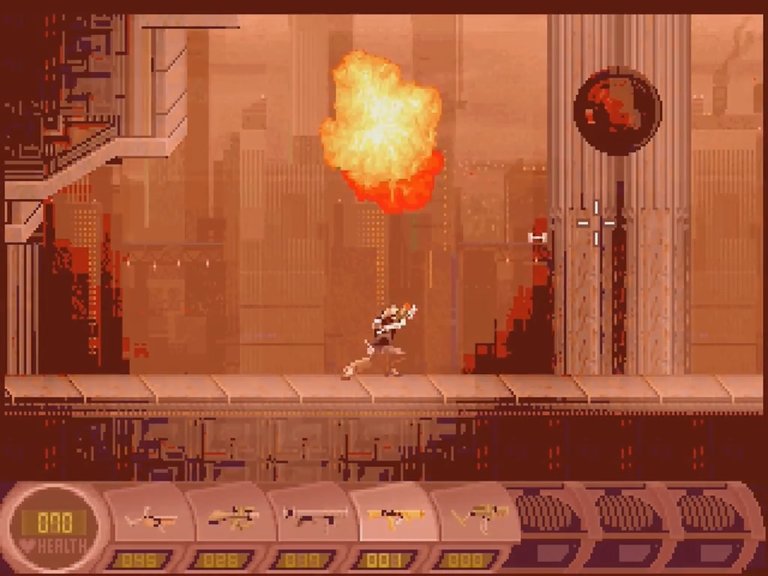 Words are superfluous when one looks at the image above. The hell of the turrets.
To overcome this area the best you can do is to use your rocket launcher against the turrets, because you have to eliminate as many of them as quickly as possible because this fire tends to saturate and give very little freedom of action. Activate the switch and continue on your way.
---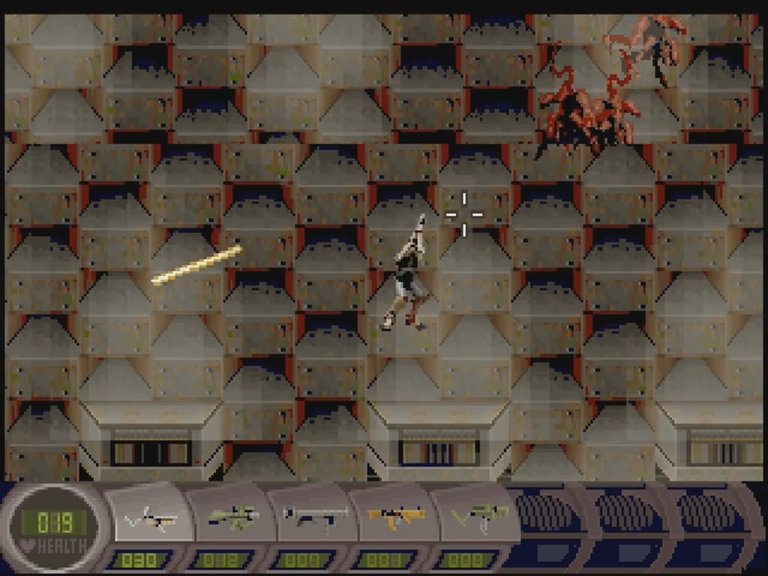 ---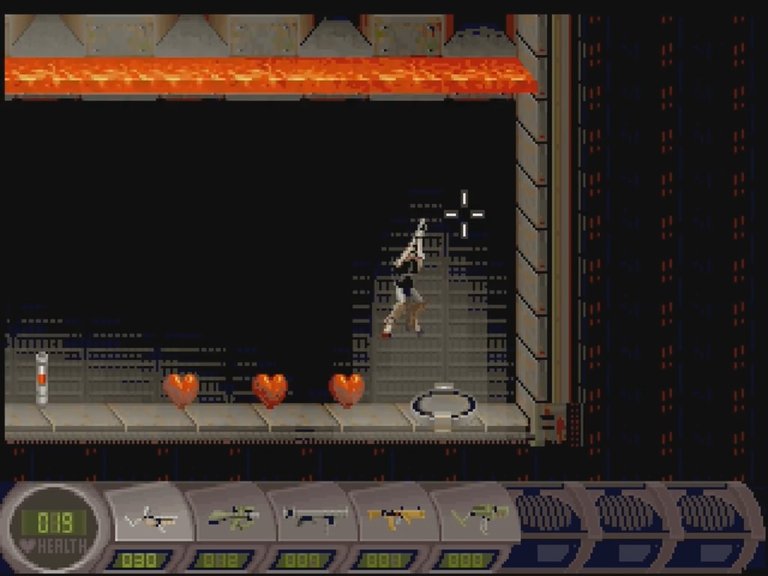 f) In this last section the best thing you can do is to jump quickly from platform to platform without caring about the red aliens that are falling from the ceiling and try to attack you, because if you face them as you can see in my gameplay, you will eventually end up being eliminated due to their large number and the uncomfortable place. Then, jump to the end and jump through the final lava floor to reach the last teleport portal and get to the next save point.
Stay focused my friend, there are more battles to come and enemies to beat.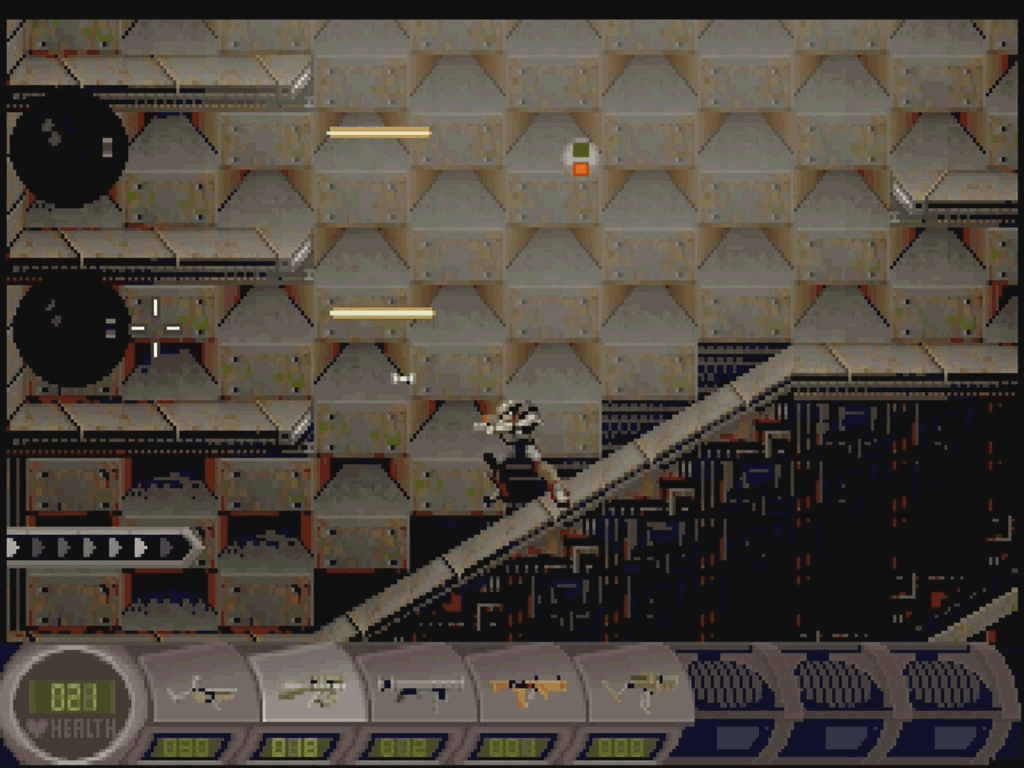 ---

My previous guides of Abuse:
Guide 1
Guide 2
Guide 3

---
See you on the next video, fellows gamers.
This videogame is being played on Dos-Box Emulator under(Windows 7).
All the screeshots and gif's on this post are taken from my pc screen.
You can follow me at
@paultactico2
▶️ Watch on youtube
This original content is powered by
HIVE BLOCKCHAIN.

---
---