The VWBT Presents: Visiting the Robot Factory and a Fractal Whale at MegaRace. || MegaRace for MS-DOS. || Gameplay & Mini-guide #3.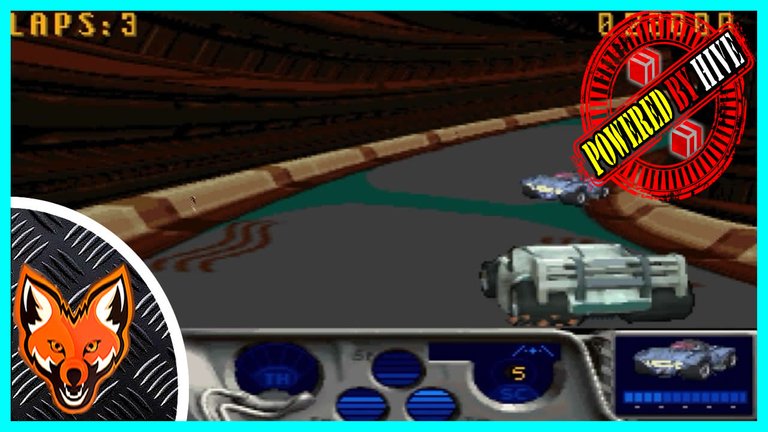 ---
---

---
-| Hey fellows, first of all. Blessings for all of you. |-

Introduction.
MegaRace is a video game that belongs to the racing genre, which was released for the MS-DOS platform in 1993 by its developer team belonging to the developer CRYO, in addition, later a version was released for the SEGA CD system. This videogame is one of the pioneers in terms of 3D pre-rendering technology, and it is also important to highlight the fact that this videogame has a total of more than 20 minutes of video material, referring to presentations and indications made by the virtual host of the VWBT "Lance Boyle".
MegaRace is a video game set in a dystopian future, where the most popular entertainment of the moment is under the command of a mega entertainment corporation called VWBT (Virtual World Broadcast Television). As I mentioned before, the entertainment of the moment is none other than MegaRace, where everything will be centred around "virtual" life and death races against outlaw car gangs and criminals on the road. MegaRace also combines action and arcade elements, making it a very versatile and adaptable video game for a wide range of gamers and their different tastes in the gaming industry.

Mini-Guide #3.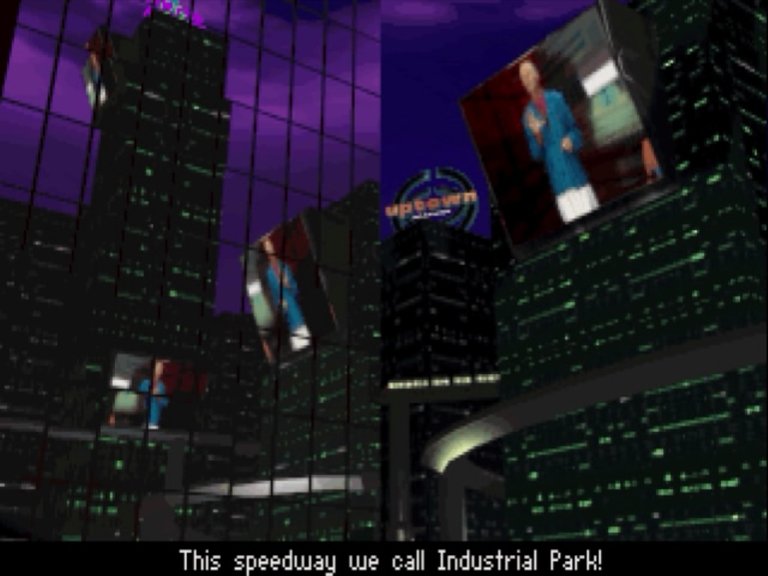 The difficulty is increasing and the circuits that we have to overcome are increasingly eccentric, and in this episode of our journey we will visit the city that serves as a large industrial city, which is simply known as "Industrial Park", where our no less eccentric host and host of the program, Lance Boyle, informs us about how in this great industrial city is usually dedicated mostly to the manufacture of military robots axes, work that incidentally is also carried out by other robots.
---
Next Lance shows us a close-up of the Industrial Park circuit, where we can see that the most striking feature of this circuit is that we can go completely upside down in a sector of the track. In addition it is clear that you can see various structures related to technology such as satellite dishes and large structures of advanced industrial development.
Something very important if we look closely at what Lance points out, is that apparently in the world where the whole story of MegaRace takes place, robots are responsible for all the heavy work of human civilization, hence his comment: "Its thanks to robots that people like you can spend all the day watching VWBT".
---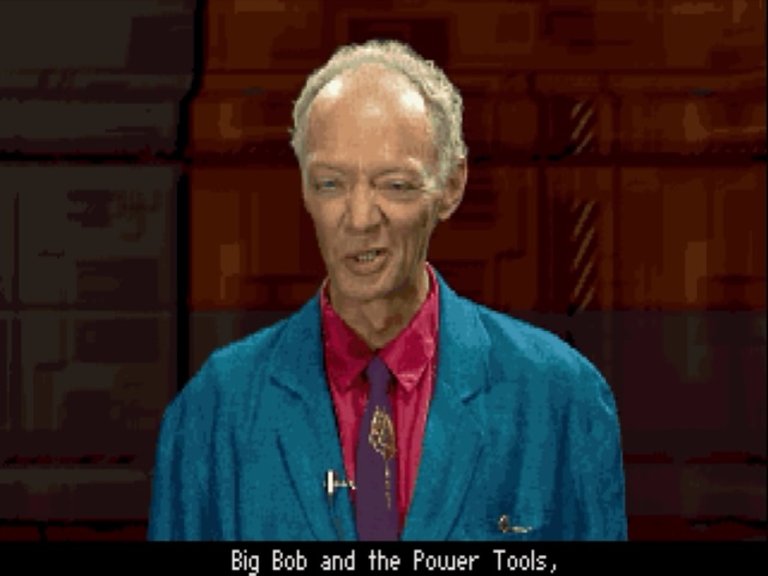 In this circuit we will have to face the Power Tools gang, which is commanded by the terrible Big Bob. This gang is described as a group of angry, beer-bellied extremists who hate everything related to robots, including us.
---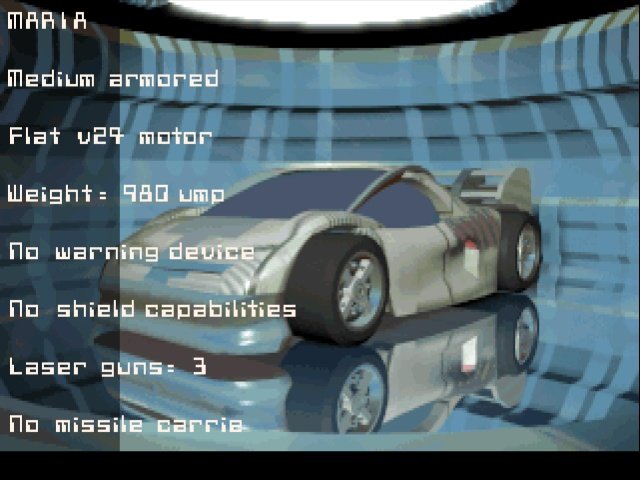 a) I begin by recommending that for this circuit you use the vehicle that we get as a prize after overcoming the previous circuit, that is to say, the Maeva circuit. This vehicle which is known as "Maria" is a fairly light armor vehicle, which is usually its biggest disadvantage, but this is compensated with a great cruising speed, and this last feature will be very useful because although the vehicles of the power Tools gang are practically walking tanks, they lack little cruising speed, so the strategy to tackle this circuit is to catch them as fast as possible.
---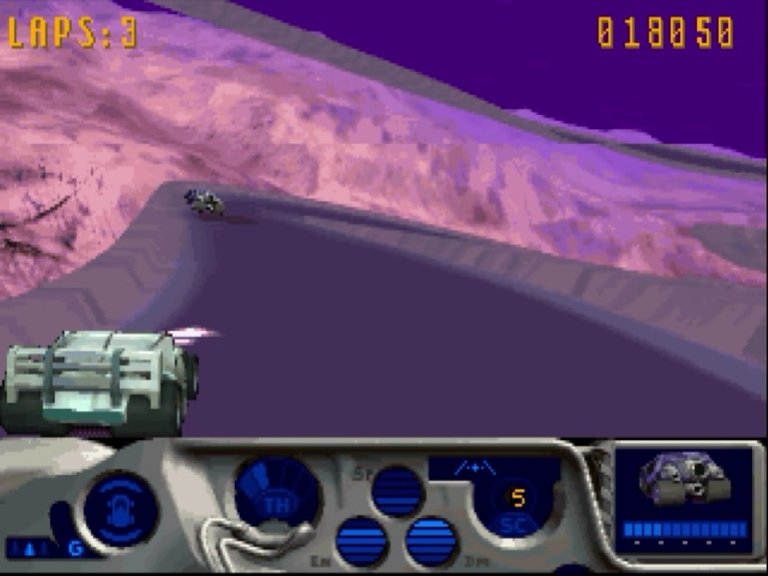 b) At the beginning it is very likely that you may feel threatened by the high starting speed of the cars that use the Power Tools band, but these only have a good starting speed, but a low cruising speed, therefore, I recommend that at the beginning of the race you do not miss the first arrow of speed increase that is on the left when you start, because you can reduce that distance very quickly and you will reach the cruising speed of your car in a faster way.
---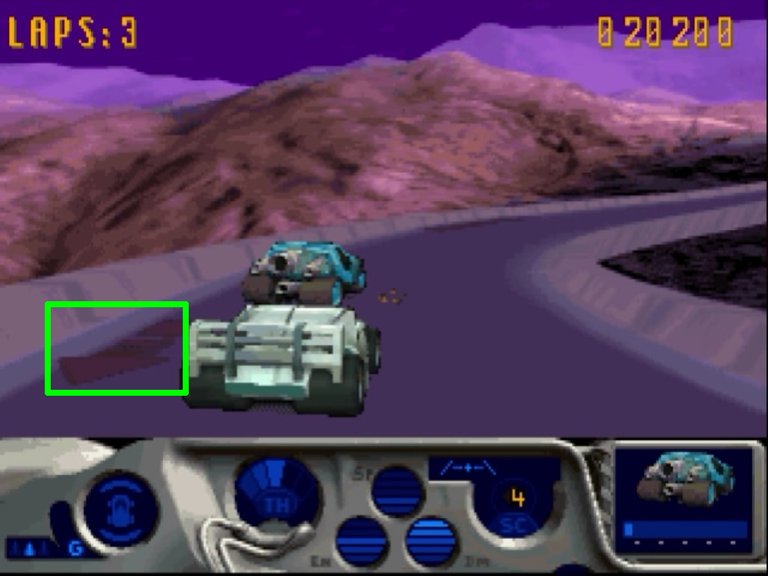 c) Hey hey, be very careful with all the dark colored symbols, as they will cause a negative effect on the performance of your car, but the zone symbol that you should be as careful as possible to avoid, is the symbol of the dark colored inverted arrow, as shown in the image above, and this because the effect of this arrow is to apply the brakes of your car causing a significant decrease in the speed of your car. So be careful!
---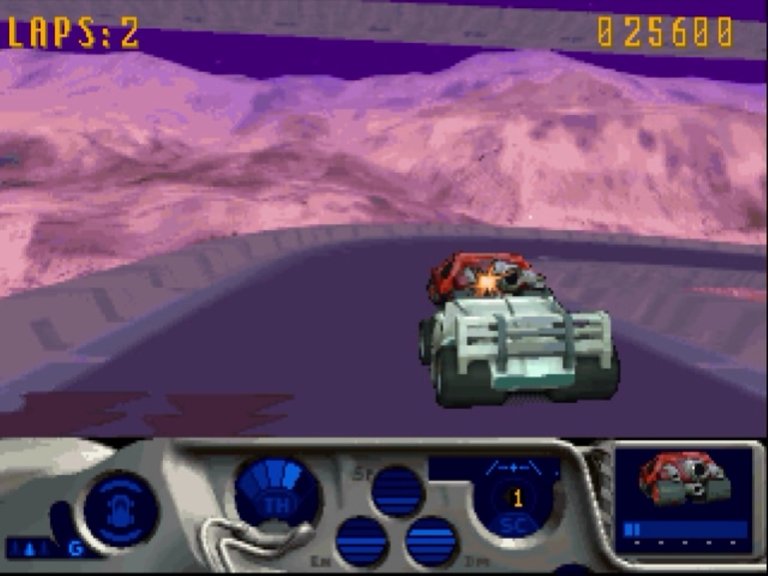 This was actually one of the easiest tracks I've ever played in MegaRace, but this is mostly due to choosing the right car before starting the race. The great weakness of the Power Tools is that they have a very poor cruising speed, which leaves them at the mercy of faster and lighter cars, but you always have to keep an eye on the energy meter "EN" in your car, to make sure you don't run out of ammunition, since the Power Tools cars are walking tanks, it will cost you too much to eliminate them by ramming them, causing a quick destruction of your car.
---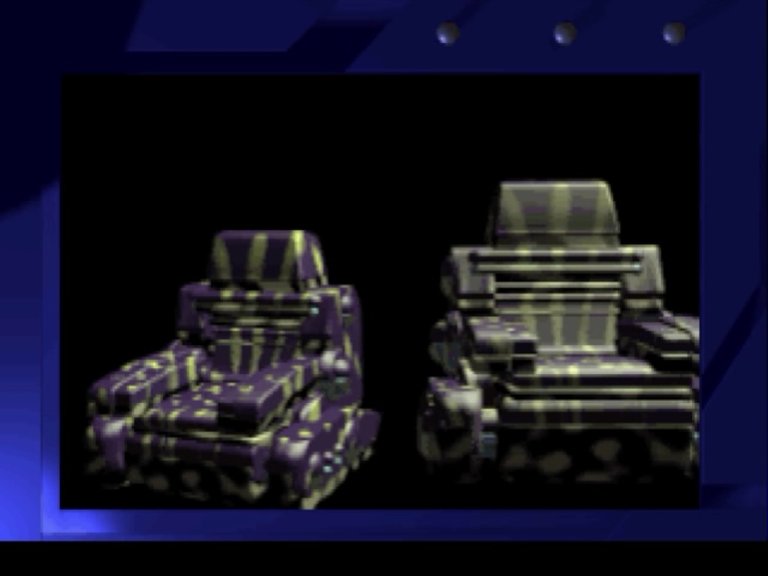 As is becoming a habit, at the end of the race at Industrial Park, our prize is a very disappointing seat cover for our car...
---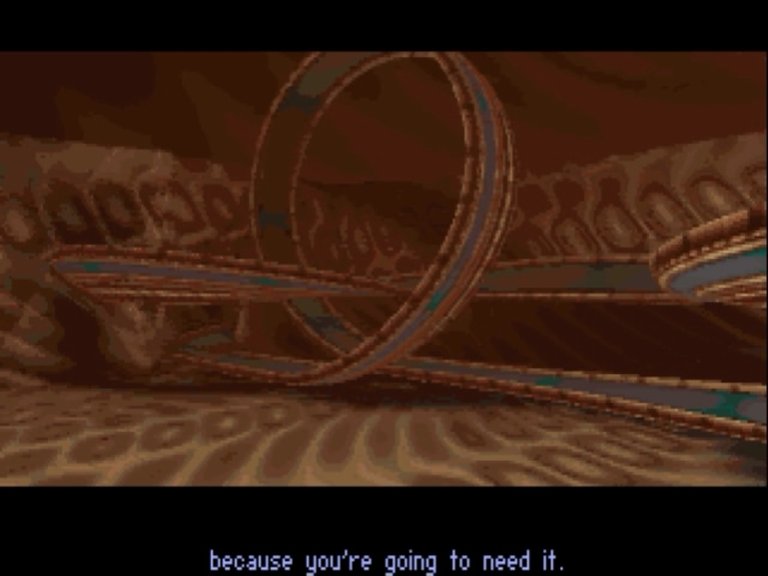 Things start to get very twisted after passing the previous track, because we are transferred to a space phenomenon, which is known as a "Fractal Whale", and more specifically to the bowels of a Fractal Whale, yes, as you read, the next track is built in the bowels of space-time phenomenon.
---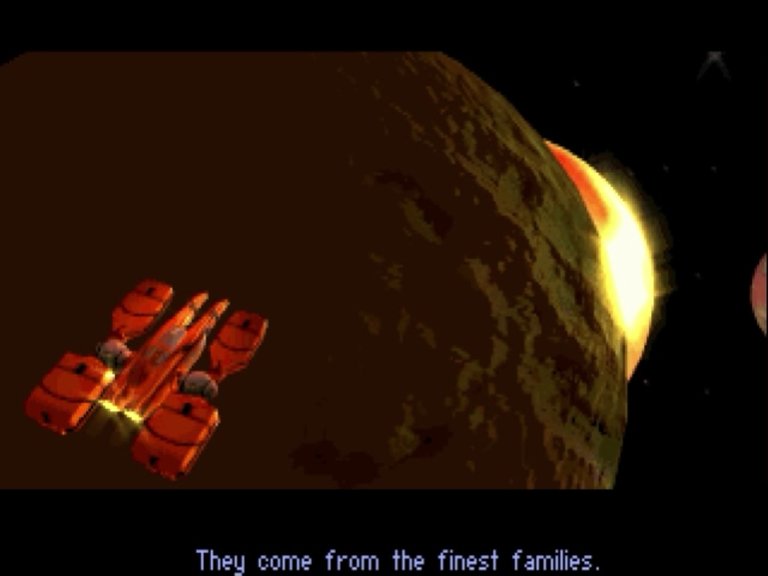 According to Lance, the gang members who swarm the circuit of this Fractal Whale belong to the highest class of society. The Speed-gang is known as the Fractal's Spaces, whose leader is a certain King Kool. The boss is apparently very tired of the unremarkable scenery around him and wants to destroy it all.
---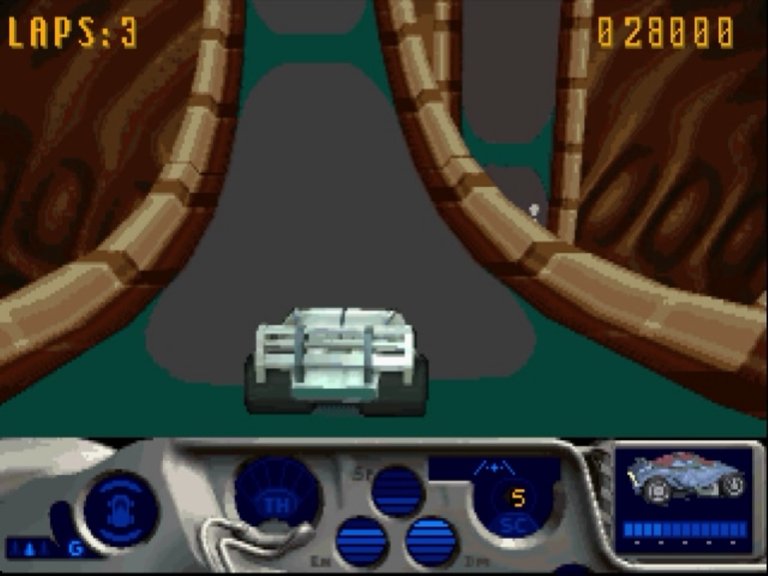 This is a circuit with many loops and quite tight curves, which makes it a circuit quite difficult to master, which causes some difficulties when it comes to hit the shots of our car to those of rival cars. The other important characteristic of this circuit is that it has many dark zone symbols, that is to say that they cause negative effects in the displacement of our car.
---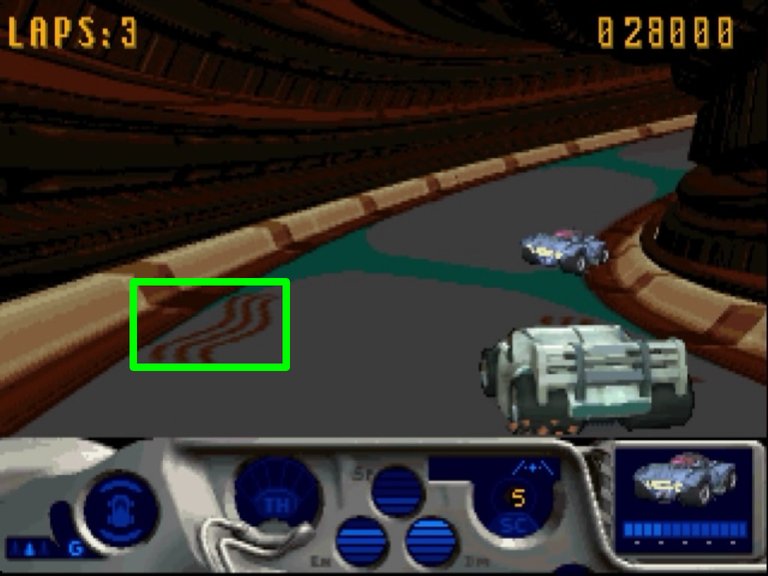 d) Be careful with the road symbols that I show you in the image above, because if your car activates one of these symbols it will skid and you will lose control for a few moments, causing an important decrease in the speed of displacement.
---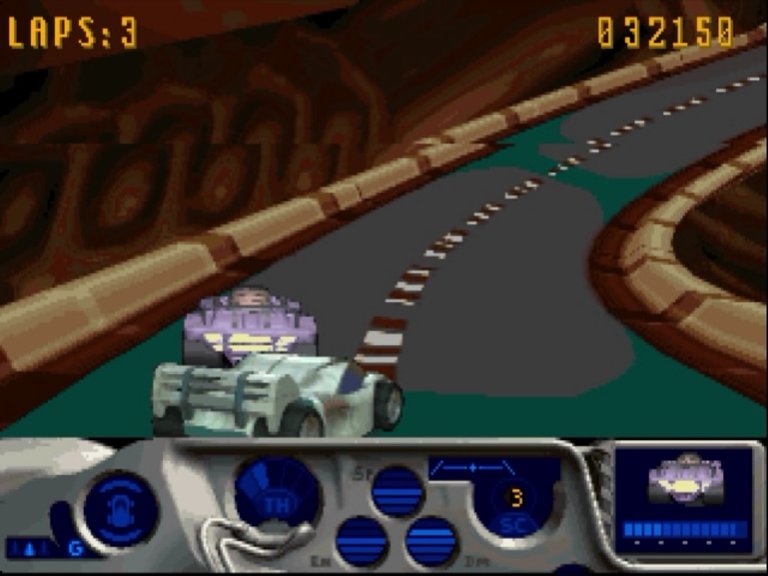 e) Pay attention to the marked rails, as these when activated with your car will cause it to stick to the rail, which can help you to master a tight curve or even to shoot more accurately at rival cars, which by the way, have a good amount of armor.
---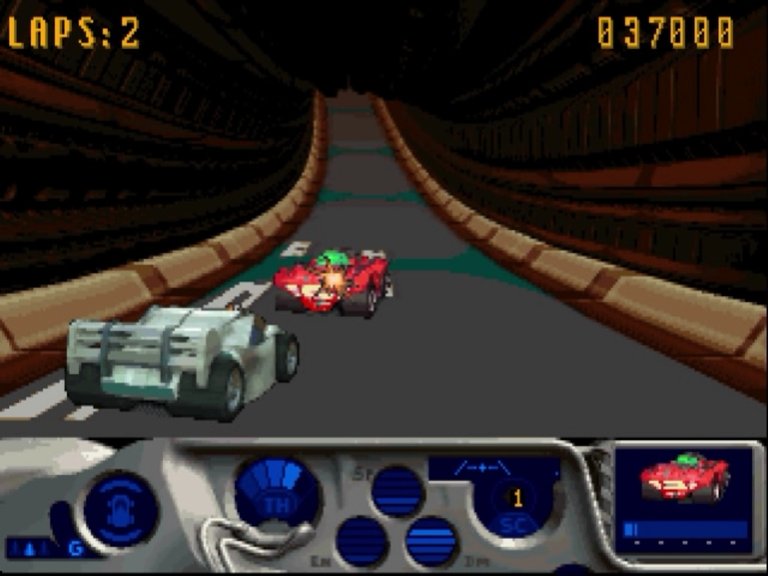 Finally we will have to eliminate King Kool and his very extravagant red car. If we have reserved some ammunition then we will not find it so difficult to defeat Kool, because his car has a good armor, but it is not the best available.
That's it for today, see you at the next race, enforcer.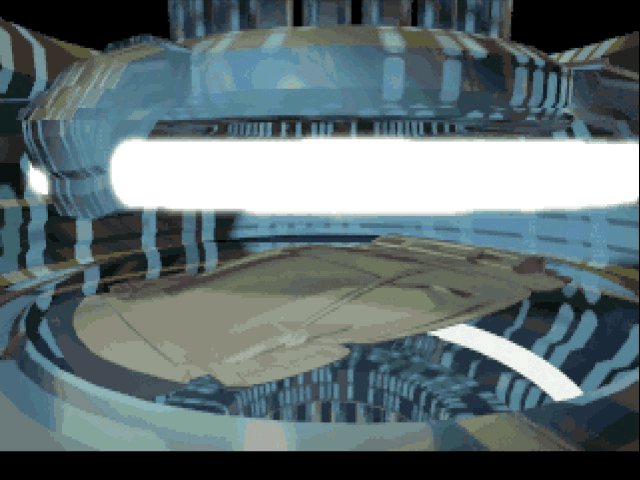 My previous mini Guides about MegaRace:
---

Well this is all for today, fellows. I hope you like this format of post made it by me, he he i know that it's some experimental kind.

See you on the next video, fellows gamers.

This videogame is being played on The Emulator Dos-Box under(Windows 7 x64).

All the images and gif's showed on this post are taken from my pc Screen.

You can follow me at @paultactico2

This original content is powered by

HIVE BLOCKCHAIN.

---
▶️ 3Speak
---
---