Aggro Light: Better than ever (WR 8/10 in Mythic) [ ENG | ESP ]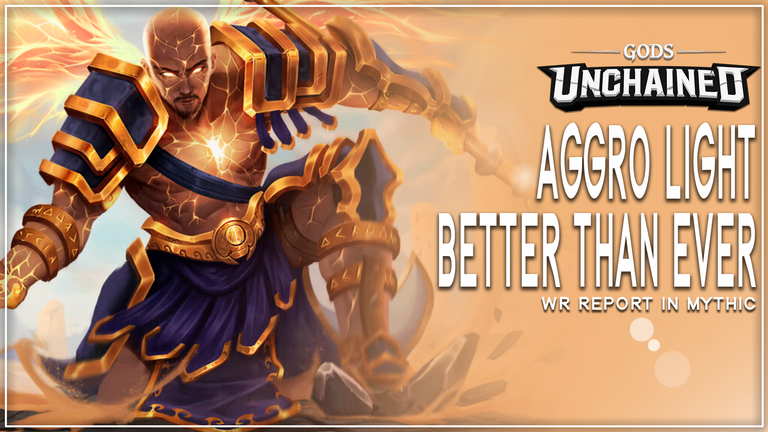 English
Once again finished the Weekend Ranked, a special edition for me as I was able to return to compete in Mythic after a couple of months in lower ranks. Although I started the WR in a pitiful way, I pulled myself together and finished with a decent streak, which allowed me to reach eight wins.
Español
Nuevamente terminó el Weekend Ranked, una edición especial para mí pues pude volver a competir en Mythic tras un par de meses en rangos inferiores. Aunque comencé el WR de forma penosa, me recompuse y finalicé con una racha decente, que me permitió alcanzar ocho victorias.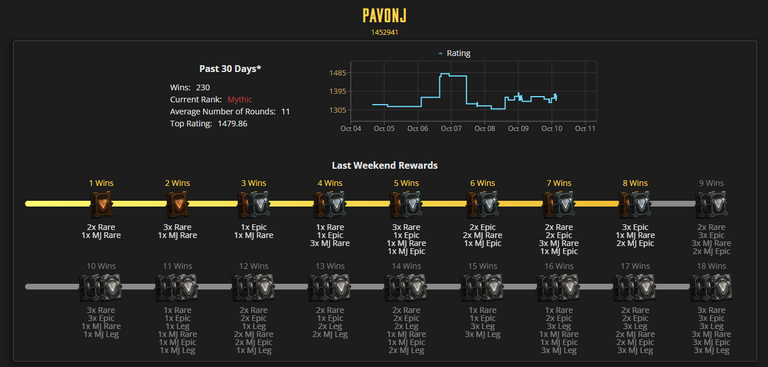 To get an idea of how badly I started this WR: of the first nine games I won one and lost eight. Although in the title I praise the aggro light, I didn't get the most out of it at the beginning. Of those eight losses, five were with the aggro deck and three with an Order Deception that didn't give me good results either. Fortunately the scales tipped in my favor in the second half of the event. Being a bit finer with the aggro light I only lost two of the next nine games. So far the deck has performed as I expected; I managed to get back to Mythic and I'm still there today.
Para hacerse una idea de lo mal que comencé este WR: de las primeras nueve partidas gané una y perdí ocho. Aunque en el título elogio al aggro light, no le saqué el mayor provecho al inicio. De esas ocho caídas, cinco fueron con el mazo aggro y tres con un Order Deception que tampoco me dio buenos resultados. Por fortuna la balanza se inclinó a mi favor en la segunda mitad del evento. Estando un poco más fino con el aggro light solo perdí dos de las siguientes nueve partidas. Hasta ahora el mazo me ha rendido como esperaba; logré estar otra vez en Mythic y ahí me mantengo hasta hoy.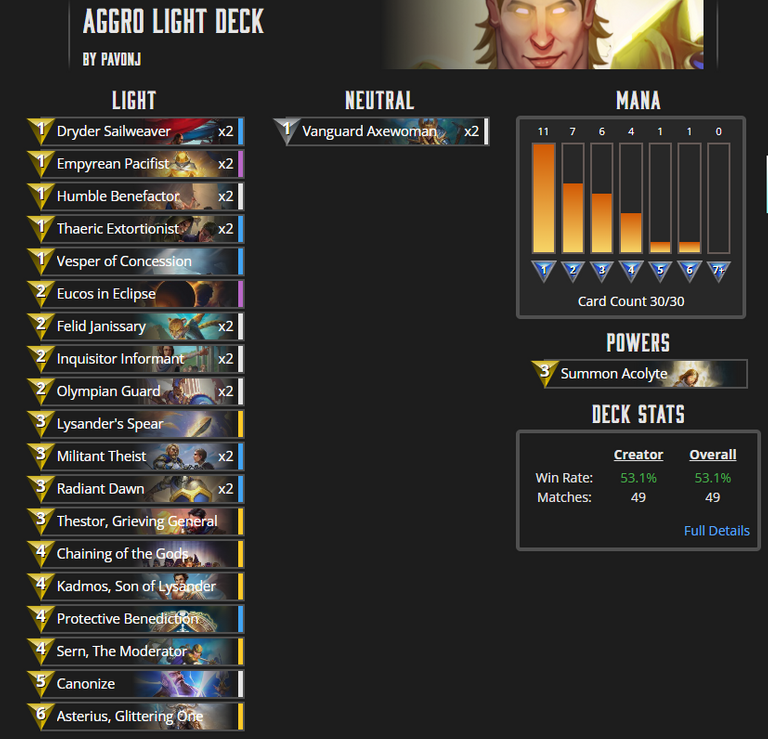 Deck code: GU_1_3_CABCABIChIChKABKABKALKALHAFHAFKDQKDbCCsCCsIAqIAqGBXGBXGAfCFbCFbICkICkKAXKAYICYICjICbBGPCBM

Strengths
Thanks to the recent rule change in the game, which now prevents the base version of a "transformed" creature from going to the graveyard, Thaeric Extortionist is one of the best cards in the deck. Especially against the Sleep, Heirloom and Zombies variants of Death decks. Since then I haven't lost a match against Heirloom and I doubt I ever will; with cards to transform, apply soulless (Eucos in Eclipse) and remove relics (Vesper of Concession) this deck seems to be its perfect counter.
Fortalezas
Gracias al reciente cambio de reglas en el juego, que ahora evita que la versión base de una criatura "transformada" vaya al cementerio, Thaeric Extortionist es una de las mejores cartas del mazo. Especialmente contra las variantes Sleep, Heirloom y Zombies de los mazos de Muerte. Desde entonces no he perdido ninguna partida contra Heirloom y dudo que lo haga; con cartas para transformar, aplicar soulless (Eucos in Eclipse) y remover reliquilas (Vesper of Concession) este deck parece ser su counter perfecto.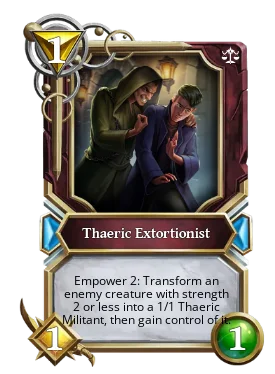 Weaknesses
Not taking control of the field is fatal. Since I have no spells to clear the field, if I don't get a way to line up my creatures and quickly give them some buffs with spells or other creatures, I'll probably end up losing. It has been a bit difficult for me against Magic (Unbound Flames can end the match) and Nature aggro decks.
---
Replaceable and Irreplaceable
As such, almost all cards are "replaceable", as other creatures or spells that give different advantages could also be useful depending on what the player wants. However, if I had to replace something from this specific deck it would be the Olympian Guard for two copies of Pyramid Warden, something that would boost me significantly.
Debilidades
No tomar control del campo es fatal. Ya que no tengo hechizo para limpiar el campo, si no consigo la forma de alinear a mis criaturas y rapidamente darles algún buffeo con los hechizos u otras criaturas, probablemente acabe perdiendo. Se me ha complicado un poco contra mazos de Magia (un Unbound Flames puede acabar con la partida) y Naturaleza aggro.
---
Reemplazables e irremplazables
Como tal, casi todas las cartas son "reemplazables", ya que otras criaturas o hechizos que den ventajas diferentes también podrían ser útiles dependiendo de lo que el jugador quiere. No obstante, si tuviera que reemplazar algo de este deck en específico sería a los Olympian Guard por dos copias del Pyramid Warden. Algo que me potenciaría significativamente.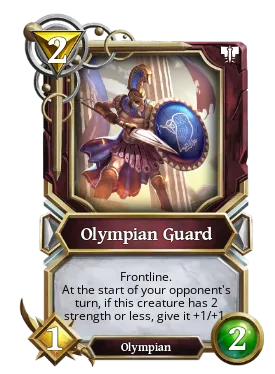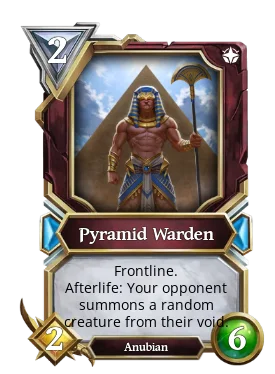 On the other hand, when it comes to cards that I wouldn't change from this deck for any reason, only Lysander's Spear and Sern, The Moderator fit in this concept. One is a relic that solves games by itself thanks to the +2/+2 that I can give to one of my creatures every turn (which makes that, for example, creatures like Dryder Sailweaver can be a 4/4 with Ward for only one mana); while The Moderator is a deck accelerator par excellence. When entering the field it heals my wounded creatures (which there will almost always be some wounded creature) and when a creature is healed I can draw a card from the deck. This is also useful to take advantage of opponent's creatures being healed; very useful against Nature minions with regen.
Por otro lado, tratándose de cartas que por ninguna razón cambiaría de este deck, solo caben en ese concepto Lysander's Spear y Sern, The Moderator. Una es una reliquia que resuelve partidas por sí sola gracias al +2/+2 que puedo dar a una de mis criaturas cada turno (lo que hace que, por ejemplo, criaturas como Dryder Sailweaver puedan ser un 4/4 con Ward por solo uno de mana); mientras que The Moderator es un acelerador del mazo por excelencia. Al entrar al campo cura a mis criaturas heridas (que casi siempre habrá alguna criatura herida) y cuando una criatura es curada puedo coger una carta del mazo. Esto sirve también para aprovechar que criaturas del rival se curen; muy útil contra los esbirros de Naturaleza con regen.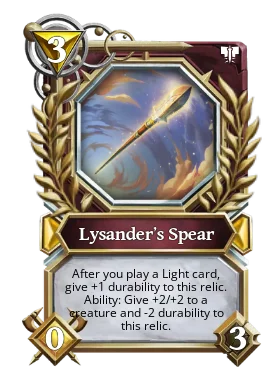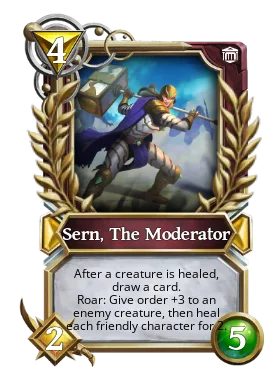 For the next WR
Even though I don't have the best winrate, I think I will keep tuning with this aggro light and I can make a better participation in the next Weekend Ranked; maybe reach 10 wins with a little luck. If there are no upcoming balance changes that may alter the meta, I will most likely repeat this deck.
Para el siguiente WR
A pesar de que no tengo el mejor winrate, creo que seguiré afinándome con este aggro light y puedo hacer una mejor participación en el próximo Weekend Ranked; quizá llegar a las 10 victorias con un poco de suerte. Si no hay cambios de balance próximos que puedan alterar el meta, lo más probable es que repita este deck.
Juan Pavón Antúnez
Translated with the help of DeepL || Traducido con la ayuda de DeepL



---
---