Halo 4 aged well 👌 [ ENG | ESP ]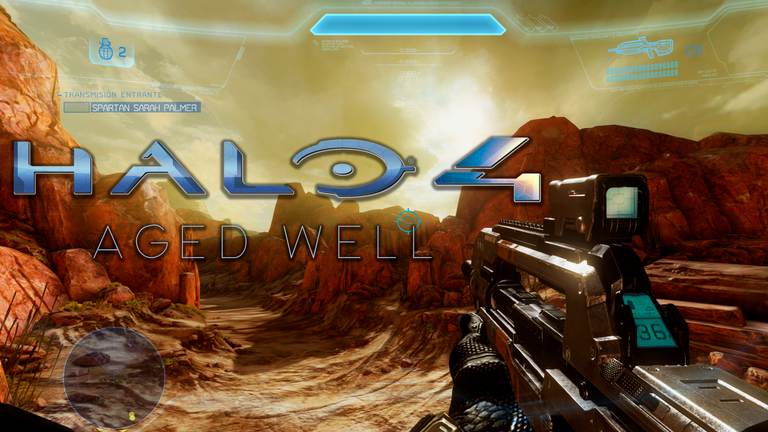 English
Only one title remains in my journey to finish the Master Chief Collection. It's time to start the campaign of Halo 4 and honestly, as I write these lines after having played for four hours, I think I left the best for last. This is a Halo I remember very fondly, partly because it is the only one I could play a few days after its release to the market (in a distant November 2012), and personally it is my favorite in terms of gameplay. While this is a product that can be criticized for many things, one thing for me is certain, and I want to focus a little on it in this post: Halo 4 aged tremendously well.
Español
Solo un título falta en mi travesía por terminar la Master Chief Collection. Ha llegado el turno de iniciar la campaña de Halo 4 y sinceramente, mientras escribo estas líneas luego de haber jugado por cuatro horas, creo que dejé lo mejor para el final. Este es un Halo que recuerdo con mucho cariño, en parte porque es el único que pude jugar a pocos días de su lanzamiento al mercado (en un lejano noviembre del 2012), y en lo personal es mi favorito en cuanto a jugabilidad. Si bien este es un producto al que se le pueden criticar muchas cosas, algo para mí es seguro, y quiero enforcarme un poco en ello en este post: Halo 4 envejeció tremendamente bien.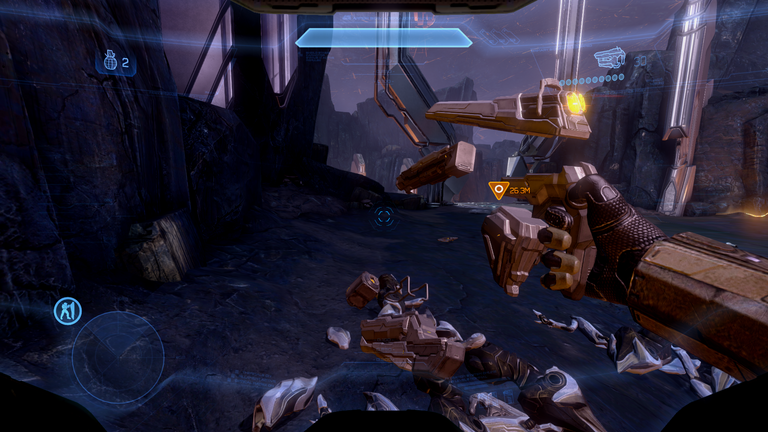 As soon as I started the campaign I realized that graphically Halo 4 is an exceptional game. I thought it would be one of those usual cases in which a video game from the recent past was more visually appealing before and now it was obvious that the years had weighed it down; however, this was not the case. I found it hard to believe that what I was seeing while playing the game was already 10 years old and that its predecessor, Halo Reach, had been released just two years earlier.
Let me clarify: I don't consider Halo Reach to be "ugly" or anything like that; it's the third Halo with the best graphics I've played, behind Halo Infinite (which obviously surpasses it because of the generational leap) and the protagonist of these lines today which, in comparison, has a big advantage over it. I should also mention that I haven't played Halo 5: Guardians yet, so I couldn't speak properly about that title. Anyway, I know that Halo 4, as well as the rest of the Master Chief Collection, had one or two tweaks for its transfer from console to PC, but this is not of major weight in its final finish.
Apenas empecé la campaña me di cuenta de que gráficamente Halo 4 es un juego excepcional. Pensé que sería uno de esos casos habituales en los cuales un videojuego del pasado reciente resultaba más visualmente atractivo antes y ahora se notaba que los años le habían pesado; sin embargo no fue el caso. Me costó creer que eso que veía mientras jugaba tiene ya 10 años y que su antecesor, Halo Reach, había salido apenas dos años antes.
Aclaro: no considero a Halo Reach sea "feo" ni nada por el estilo; es el tercer Halo con los mejores gráficos que he jugado, detrás de Halo Infinite (que obviamente le sobrepasa por el salto generacional) y el protagonista de estas líneas de hoy que, en comparación, le saca una gran ventaja. También debo mencionar que no he jugado Halo 5: Guardians aún, así que no podría hablar con propiedad de ese título. En fin, sé que Halo 4, al igual que el resto de la Master Chief Collection, tuvo uno que otro retoque para su traspaso de consola a PC, pero esto no es de mayor peso en su acabado final.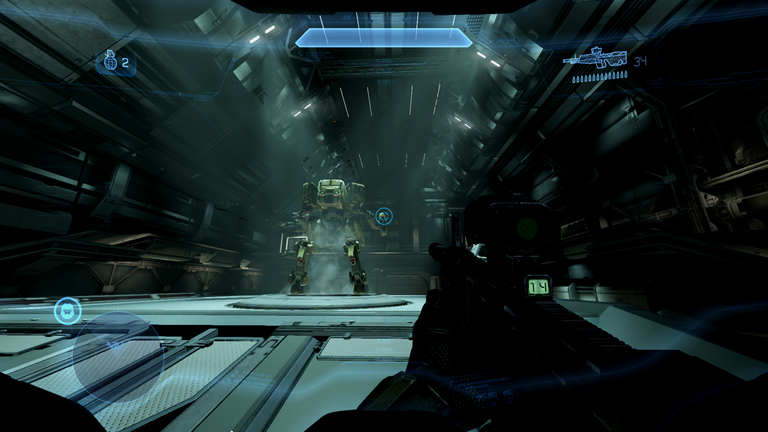 Although at first, back in 2012, 343 Industries was severely questioned for the radical transition from the design of Halo 3 to Halo 4, I maintain that this was also a success. Except that the appearance of some species, like the Jackals or Grunts, make a bit of noise to me, overall the change was for the better. Here's the best HUD design I've seen so far in a Halo, along with the best design of vehicles, most of the weapons and I'd even risk saying the best design of Master Chief and Cortana herself. Being honest, until Halo 3 the latter looked horrible. While the Covenant weaponry until this installment looked more like a bunch of toy guns than ballistic instruments with super advanced technology.
The critics were very hard on this great game, I presume mainly because of the campaign story, which is no big deal and at times becomes one nonsense after another; the fandom didn't like the costume change, but little by little the balance between negative and positive comments was balanced.
Aunque en principio, allá por el lejano 2012, 343 Industries fue cuestionado severamente por la transición radical que hubo del diseño de Halo 3 a Halo 4 yo sostengo que esto también fue un acierto. A excepción de que la apariencia de algunas especies, como los Jackals o Grunts, me hacen un poco de ruido, en general el cambio fue para mejor. Acá está el mejor diseño de HUD que he visto hasta ahora en un Halo, junto al mejor diseño de vehículos, de la mayoría de las armas e incluso me arriesgaría a decir que el mejor diseño del propio Jefe Maestro y Cortana. Siendo sinceros, hasta Halo 3 esta última lucía horrible. Mientras que el armamento Covenant hasta esta entrega parecía más un montón de armas de juguete que instrumentos balísticos con tecnología superavanzada.
La crítica fue muy dura con este gran juego, presumo que principalmente por la historia de la campaña, que no es la gran cosa y por momentos se torna en un sinsentido tras otro; al fandom no le agradó el cambio de vestuario, pero poco a poco la balanza entre comentarios negativos y positivos se equilibró.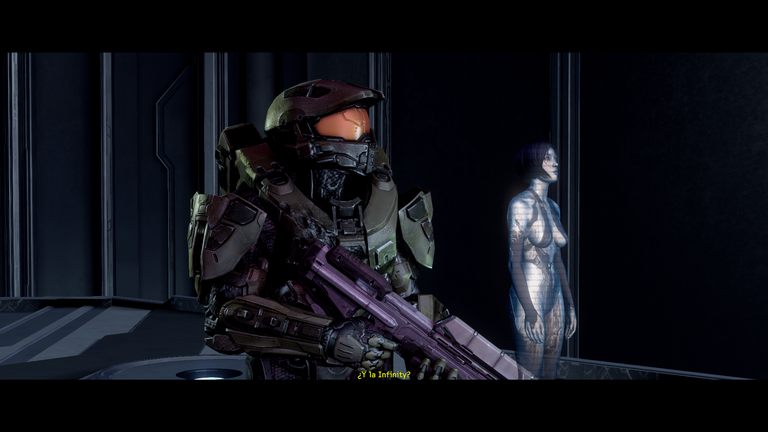 Halo 4 is my favorite of the whole saga; and I insist that I don't consider it the best. I think it's not even close to being it, at least not in plot. I wish that the Saga of the Reclaimer, which is how this new chapter in the Halo lore was called after the events of the first three video games, would have taken a different course. For currently this universe is adrift without a fixed course, something that began with Halo 4. However, it is precisely this Halo which has to be one of the most remembered of the entire franchise. A jewel in terms of gameplay and visual beauty, key aspects for FPS, that I could play again and again. Blowing up a Phantom with a rocket is priceless.
Halo 4 es mi favorito de toda la saga; e insisto que no por eso lo considero el mejor. Creo que no está ni cerca de serlo, al menos no en argumento. Desearía que la Saga del Reclamador, que es como se le llamó a este nuevo capítulo en el lore de Halo tras los hechos de los tres primeros videojuegos, hubiera tomado un rumbo diferente. Pues actualmente este universo navega a la deriva sin un rumbo fijo, algo que comenzó con Halo 4. No obstante es precisamente este Halo el que tiene con qué ser uno de los más recordados de toda la franquicia. Una joya en cuanto a jugabilidad y una preciosidad visual, aspectos clave para los FPS, que podría jugar una y otra vez. Reventar un Phantom de un cohetazo no tiene precio.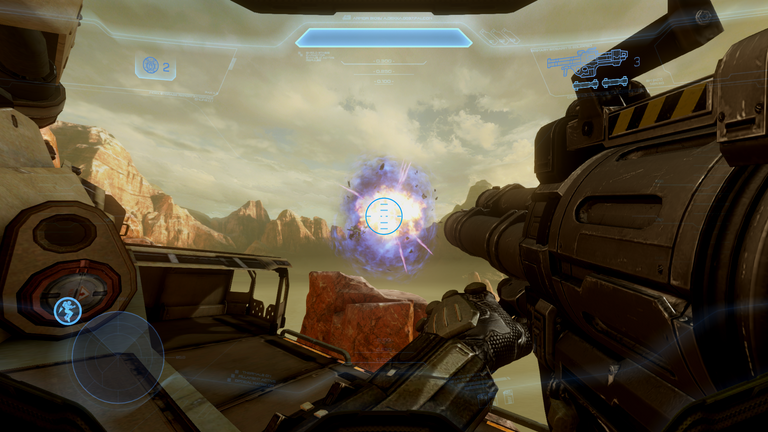 Juan Pavón Antúnez
Translated with the help of DeepL || Traducido con la ayuda de DeepL



---
---