Three great quality/price decks [ ENG | ESP ]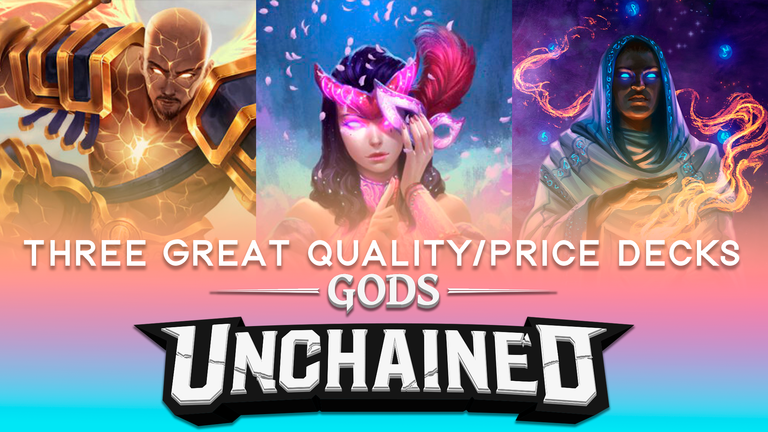 English
I realized that I had a long time (about a month) without posting anything about Gods Unchained. So I said to myself that it's time to take it up again. cheers!
Español
Me di cuenta de que tenía mucho tiempo (un mes apróximadamente) sin publicar nada sobre Gods Unchained. Así que me dije a mí mismo que es momento de retomarlo. ¡Salud!
---
An optimal quality/price ratio in the decks is something very difficult to achieve in GU (and any other TCG, in fact). In my particular case, I find it hard to get used to the meta when it undergoes significant changes, but I think I have finally found some deck archetypes to use as a base and maintain an optimal level of competition. The best thing, I think, is that none of these decks exceeds 50 USD (according to GUDecks figures). I will list them from the cheapest to the most expensive (and efficient):
Una óptima relación calidad/precio en los decks es algo muy difícil de conseguir en GU –y cualquier otro TCG, de hecho–. En mi caso particular me cuesta mucho acostumbrarme al meta cuando este sufre cambios significativos, pero creo que por fin he encontrado unos arquetipos de mazos para usar como base y mantener un nivel de competencia óptimo. Lo mejor, creo yo, es que ninguno de estos decks sobrepasa los 50 USD (según cifras de GUDecks). Los enlistaré del más económico al más costoso (y eficiente):

1 - Aggro Light
Despite the last nerf to Prayer of the Desesperate, a spell that was fundamental in the best moments of this archetype, the Aggro Light is not dead at all. With this deck I try to take advantage not only of the buff of Radiant Dawn, but also of creatures like Felid Janissary (gives +1/+1 to an ally) and Intimidating Uplifter (Empower 1: gives +1/+2), this last one is very underrated. Others like Militant Theist and Chaining of the Gods can also be used to eliminate minions of the opponent, since their effects affect them. For example, a hypothetical creature with 3/1, protected and ward would fall immediately before the roar of Militant Theist.
A pesar del último nerfeo a Prayer of the Desesperate, un hechizo que fue fundamental en los mejores momentos de este arquetipo, el Aggro Light no está muerto para nada. Con este deck intento aprovechar no solo el bufeo de Radiant Dawn, sino además los de criaturas como Felid Janissary (da +1/+1 a un aliado) e Intimidating Uplifter (Empower 1: da +1/+2), esta última está muy infravalorada. Otros como Militant Theist y Chaining of the Gods se pueden usar también para eliminar esbirros del rival, pues sus efectos les afectan. Por ejemplo, una hipotética criatura con 3/1, protected y ward caería en seguida ante el roar de Militant Theist.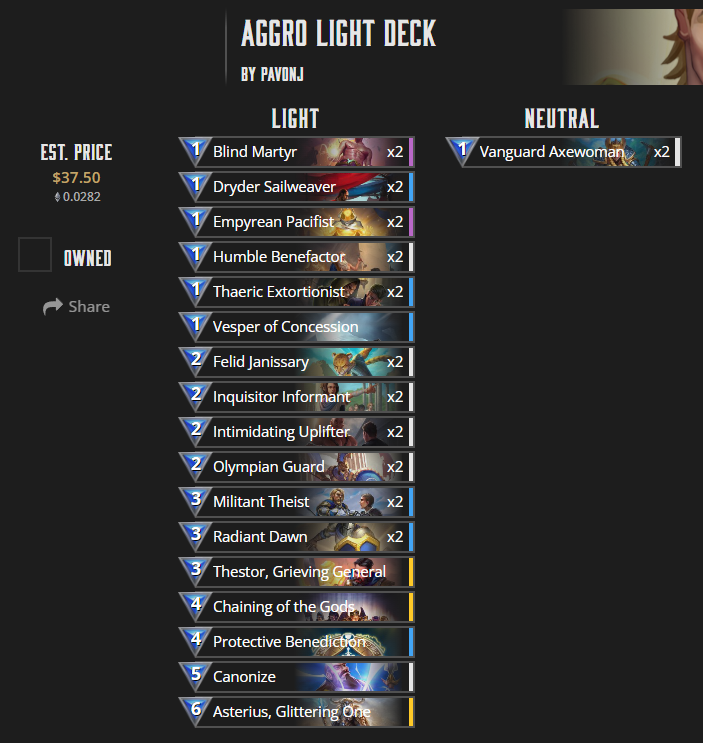 It is in my plans to get creatures like Kadmos, Son of Lysander and Sern, The Moderator,* which would be excellent additions. Others like Thaeric Extortionist could be replaced by Light's Levy, depending on what the deck user is looking for.
Está en mis planes obtener criaturas como Kadmos, Son of Lysander y Sern, The Moderator,* que serían excelentes adiciones. Otros como Thaeric Extortionist podrían ser reemplazados por Light's Levy, dependiendo de lo que busque el que use el deck.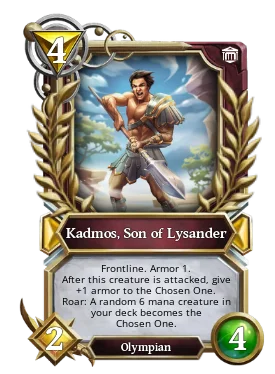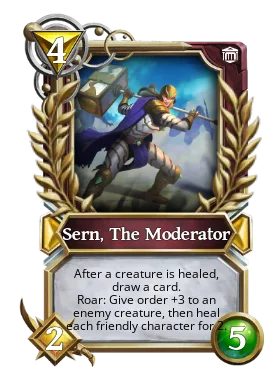 Deck code:
GU_1_3_CBKCBKCABCABIChIChKABKABKALKALHAFHAFKDQCCsCCsIAqIAqKAHKAHGBXGBXCFbCFbICkICkKAXKAYICjBGPCBM

2 - Order Deception
This is probably the most versatile of all the decks; and it is the one that serves for the most situations: it draws cards from the hand, removes power, draws and clones the opponent's cards, hides its own creatures, destroys relics, and so I could go on throughout the post. It is, right off the bat, a deck designed to be a nuisance for any other domain. Although I've had a hard time playing against magic.
Este es probablemente el más versátil de todos los decks; y es que es el que sirve para la mayor cantidad de situaciones: roba cartas de la mano, quita fuerza, roba y clona las cartas del rival, esconde a las criaturas propias, destruye reliquias, y así podría seguir en todo el post. Es, de buenas a primeras, un deck diseñado para ser un fastidio para cualquier otro dominio. Aunque me las he visto complicadas jugando contra magos.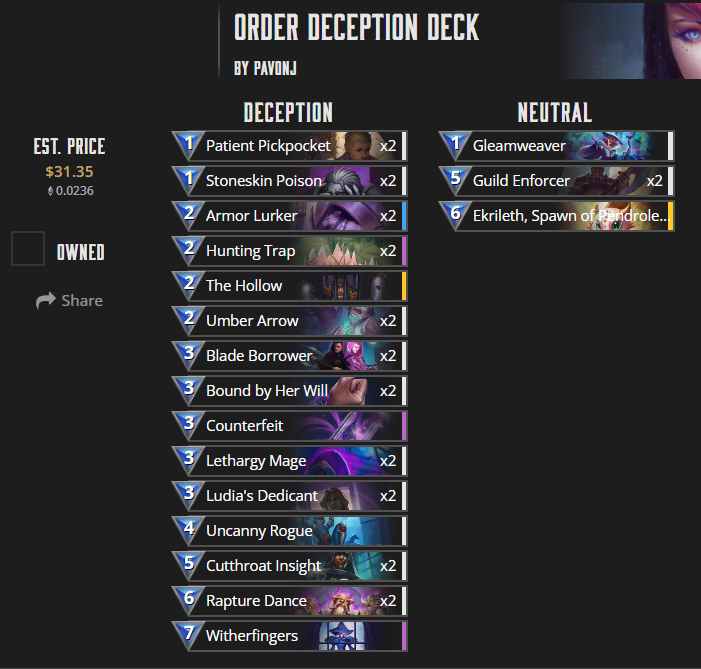 I tirelessly recommend adding another Witherfingers which is by far the best card in the deck. I will add another one as soon as possible. I could say that creature is the cheap version of Demogorgon; a creature that alone has saved me games. The most sensible replacement option would be Gleamweaver, as it only serves the function of removing lethality from Heirloom decks; however with Umber Arrow or Bound by Her Will combined with Blade Borrower I could do something similar, bringing key Heirloom creatures to my graveyard instead of obliterating them.
Recomiendo incansablemente añadir otro Witherfingers que es, por lejos, la mejor carta del mazo. Yo añadiré otro en la brevedad de lo posible. Podría decir que esa criatura es la versión barata del Demogorgon; una criatura que por sí sola me ha salvado partidas. La opción de reemplazo más sensata sería el Gleamweaver, pues solo cumple la función de quitar letalidad a mazos Heirloom; sin embarg con Umber Arrow o Bound by Her Will combinado con Blade Borrower podría hacer algo similar, llevando las criaturas clave del Heirloom a mi cementerio en lugar de borrarlas.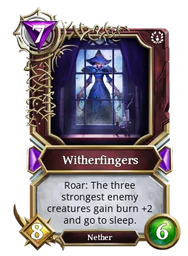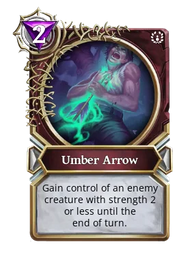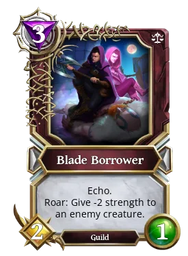 On this deck it must be kept in mind that sometimes it will be more useful to use the god power Orfeo's Distraction and other times Thievery, so the luck factor could have more influence than with other archetypes.
Sobre este deck hay que tener presente que algunas veces será más útil usar el poder de dios Orfeo's Distraction y otras Thievery, por lo el factor suerte podría tener más influencia que con otros arquetipos.
Deck code:
GU_1_2_KCyIAoIAoIAlIAlIClIClCCMCCMIDACEwCEwKCZKCZKCbKCbICtKCgKCgICqICqCERCEQCEQICHICHCGFCAJCAJCFQ

3 - Control Magic
It is the most expensive, although the difference is small compared to the other two. It has also been by far the most useful for me. While Order Deception is useful for more situations, I've run into War, and other variants of Magic; so this one has been more useful to me so far. Despite the nerf (lost ward), Ekrileth, Spawn of Pendroleth is still a great card. Several things about this deck are subject to discussion and could be modified, but it is essential to have a couple of Crystaltech Scholar that, with luck, will give us four mana gems ahead of the opponent.
Es el más costoso, aunque la diferencia es poca en comparación con los otro dos. Además, ha sido por lejos el más útil para mí. Si bien el Order Deception sirve para más situaciones, me he topado mucho con War, y otras variantes de Magic; por ello este me ha resultado más útil hasta ahora. A pesar del nerf (perdió el ward), Ekrileth, Spawn of Pendroleth sigue siendo una cartaza. Varias cosas sobre este mazo están sujetas a discusión y podrían modificarse, pero es indispensable tener un par de Crystaltech Scholar que, con suerte, nos adelantarán cuatro gemas de mana por sobre el rival.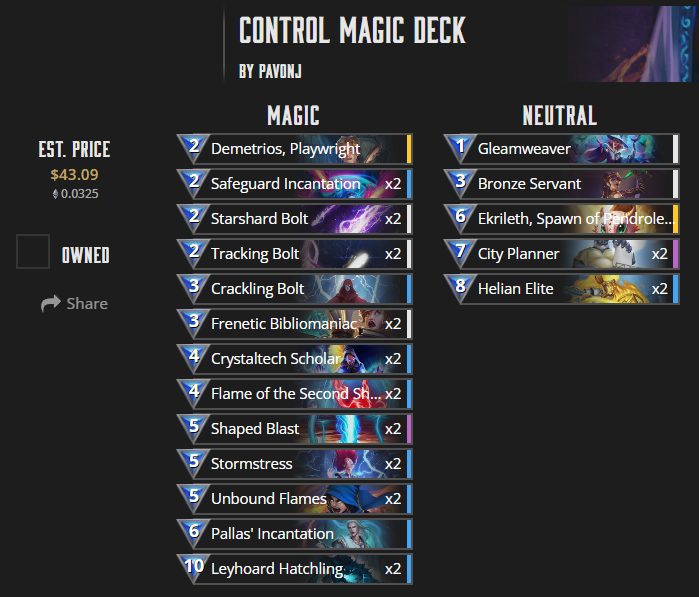 Here the Gleamweaver is not optional. I haven't run into Heirloom all the time, although it does remain common. Gleamweaver has saved me in the early game, and thanks to the effect of Pallas' Incantation I can finish off the graveyard of opponents who use those types of decks. If possible, I would recommend adding a Moramag, Bane of Black Isle, but that card alone is worth 25% more than this deck as is.
Acá el Gleamweaver no es opcional. No me he topado con Heirloom todo el tiempo, aunque sí sigue siendo común. Gleamweaver me ha salvado en el juego temprano, y gracias al efecto de Pallas' Incantation puedo rematar el cementerio de los contrarios que usan ese tipo de decks. De ser posible, recomendaría añadir un Moramag, Bane of Black Isle, pero solo esa carta vale un 25% que este deck tal como está.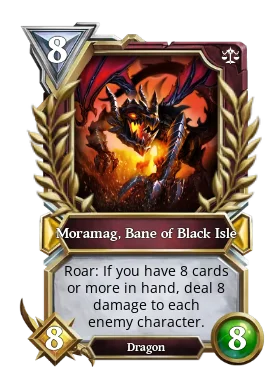 Deck code:
GU_1_4_KCyIBmIBDIBDCANCANCEkCEkCEHKAnKAgKAgKApKApCFrCFrIBsIBsCBmCBmKAqKAqCGFGCYIBSIBSCBjCBjCAlCAl
Of course, all three decks could be modified in dozens of ways, much better and with extremely more favorable results. However, these are decks that I have played with and I know how they work in battle. I hope that, whoever may be interested, will find them useful.
Por supuesto, los tres mazos podrían modificarse de decenas de formas, mucho mejores y con resultados extremadamente más favorables. No obstante, son decks con los que he jugado y sé cómo funcionan en batalla. Espero que, a quien pueda interesar, le sea de utilidad.
Juan Pavón Antúnez
Translated with the help of DeepL || Traducido con la ayuda de DeepL



---
---