Tres con treinta y tres | Relato corto | [ESP | ENG]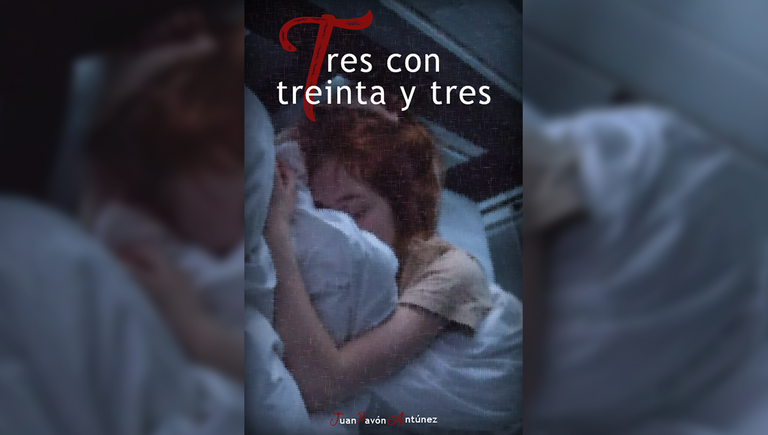 Fotografía original de Pexels | Ivan Oboleninov
Tres con treinta y tres
    La luz y la vibración del celular, que dejó en el velador junto a su cama horas atrás, la despertaron. Supuso que sería una notificación genérica de alguna app, ya que a esas horas solo su esposo le escribía, y en ese momento ya él dormía junto a ella.
    Él trabajaba hasta tarde casi todos los días. Generalmente caía en la cama, derrumbado, en medio de la madrugada. Algo que, la mayoría de las veces sin intención, hacía que ella se despertara al sentir sus movimientos en el colchón. Esa vez no ocurrió, ella no notó cuándo él se metió a la cama, pero ahí estaba.
    Sentía sus brazos apretujándola por la cintura y el pecho, en un intenso abrazo, en medio de la gélida habitación. Su esposo habría llegado horas atrás, imaginó y le reconfortó saber que, al menos, no dormiría sola por lo que restaba de la noche.
    —¿A qué hora llegaste? —preguntó; sin embargo, no tuvo respuesta.
    De pronto el teléfono vibró otra vez, y otra vez unos segundos después.
    —Espera, amor —dijo ella, haciendo fuerza para retirarse los brazos que la prensaban, y que al final cedieron —. Podría ser una emergencia —. Se sentó al borde de la cama y cogió el teléfono.
    Echó un vistazo rápido al reloj, que marcaba las tres con treinta y tres de la madrugada, y fue hasta la pestaña de los mensajes. Al instante dejó caer el teléfono y soltó un grito ahogado, corrió y se pegó de espaldas contra la pared.
    «Amor, olvidé las llaves, llegaré en un rato» decía el primer mensaje de su esposo, y el segundo, enviado hacía menos de un minuto: «Estoy en la puerta, ábreme, por favor».
XXX
Juan Pavón Antúnez

Three thirty-three
The light and vibration of the mobile phone, which she had left on the bedside table a few hours earlier, woke her up. She assumed it was a generic notification from some app, since at that time only her husband wrote to her, and at that moment he was already asleep next to her.
He worked late most days. He usually fell into bed, collapsed, in the middle of the night. Something that, most of the time unintentionally, caused her to wake up when she felt his movements on the mattress. That time it didn't happen, she didn't notice when he got into bed, but there he was.
She felt his arms tighten around her waist and chest, in an intense embrace, in the middle of the freezing room. Her husband had arrived hours ago, she imagined, and it comforted her to know that at least she wouldn't be sleeping alone for the rest of the night.
"What time did you arrive?" she asked, but got no answer.
Suddenly the phone rang again, and again a few seconds later.
"Wait, lovee," she said, straining to pull her arms away from her, and they finally gave way. It might be an emergency. She sat on the edge of the bed and picked up the phone.
She took a quick glance at the clock, which read three thirty-three in the morning, and went to the messages tab. Instantly she dropped the phone and let out a gasp, ran and slammed her back against the wall.
"Love, I forgot my keys, I'll be there in a while," read the first message from her husband, and the second, sent less than a minute earlier: "I'm at the door, please open up.
XXX
Post translated with (much) help from DeepL
Juan Pavón Antúnez

Últimos cuentos/relatos:



---
---