Victoria al limite: 'Battle Mage Secrets' de Splinterlands [ ESP | ENG ]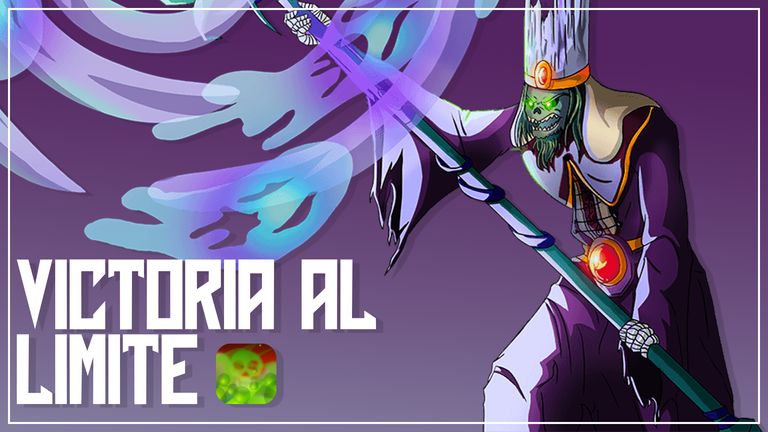 El veneno es uno de los condicionantes más complicados en todo Splinterlands; y las batallas que no gocen de una gran cantidad de maná se vuelven mucho más cuesta arriba. En esta oportunidad, por suerte, logré conseguir la victoria por una mínima diferencia en un enfrentamiento que lucía mucho peor para mí. Esta es mi participación en el Battle Mage Secrets de esta semana con Noxious Fumes.
! [To read it in english click here]
Poison is one of the most complicated conditions in all Splinterlands; and the battles that do not have a great amount of mana become much more difficult. In this opportunity, luckily, I managed to get the victory by a minimal difference in a confrontation that looked much worse for me. This is my participation in this week's Battle Mage Secrets with Noxious Fumes.
---
Condiciones
Como siempre, antes de avanzar con la batalla en sí, me gusta comentar la distribución de la misma: En esta oportunidad, al igual que la semana pasada, se desarrolló en el Brawl y dispusimos de 26 de maná (a mi parecer, muy poco dadas las circunstancias). Además de Noxious Fumes las otras condiciones de batalla presentes fueron Keep Your Distance y Odd Ones Out; así que, si el veneno por sí solo era lo suficientemente complicado, a este duelo se le sumó el plus de no poder disponer de monstruos con ataque cuerpo a cuerpo ni una cantidad par de maná.
! [To read it in english click here]
As always, before moving on with the battle itself, I like to comment on the distribution of the battle: This time, like last week, it took place in the Brawl and we had 26 mana available (in my opinion, very little given the circumstances).Besides Noxious Fumes the other battle conditions present were Keep Your Distance and Odd Ones Out; so, if the poison alone was complicated enough, this duel had the plus of not being able to have monsters with melee attack and an even amount of mana.
Por parte de los elementos, solo quedaron por fuera vida y tierra; teniendo disposcición de los demás, tomando en cuenta las limitaciones que acabo de mencionar.
! [To read it in english click here]
On the part of the elements, only life and earth were left out, having disposition of the others, taking into account the limitations I have just mentioned.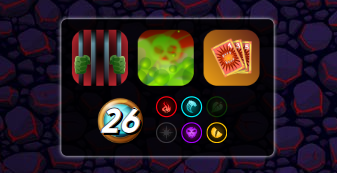 ---
Estrategia
Para empezar, a sabiendas de que el veneno será el factor definitorio del combate, Thaddius Brood me pareció la opción más sensata como invocador ya que afectaría la salud de todos los esbirros del rival. Por como lo vi, la clave de la victoria recaería en que Ancient Lich y Witch of Warwick (tercera y cuarta casilla respectivamente) pudieran hacer daño y, gracias a su habilidad Life Lich (además del Bloodlust en el caso de la Warwick), aguantaran los fuciente para prevalecer cuando ya no quedaran monstruos adversarios.
! [To read it in english click here]
To begin with, knowing that poison will be the defining factor of the fight, Thaddius Brood seemed to me the most sensible choice as a summoner since it would affect the health of all the opponent's minions. The way I saw it, the key to victory would lie in Ancient Lich and Witch of Warwick (third and fourth squares respectively) being able to deal damage and, thanks to their Life Lich ability (plus Bloodlust in the case of the Warwick), withstand the poison to prevail when there were no more opposing monsters left.
Shadowy Presence fungió como "falso tanque" para aguantar un par de golpes y, casi con el mismo fin, detrás de este posicioné al Tortisian Chief. Al final de todo alineé a Soulstorm por si el contrario jugaba algún monstruo con Sneak, esperando que el mío fuera capaz de esquivarlo gracias a su velocidad y la habilidad Flying.
! [To read it in english click here]
Shadowy Presence served as a "fake tank" to withstand a couple of hits and, almost for the same purpose, behind it I positioned the Tortisian Chief. At the end of everything I lined up Soulstorm in case the opponent played a monster with Sneak, hoping that mine would be able to dodge it thanks to its speed and Flying ability.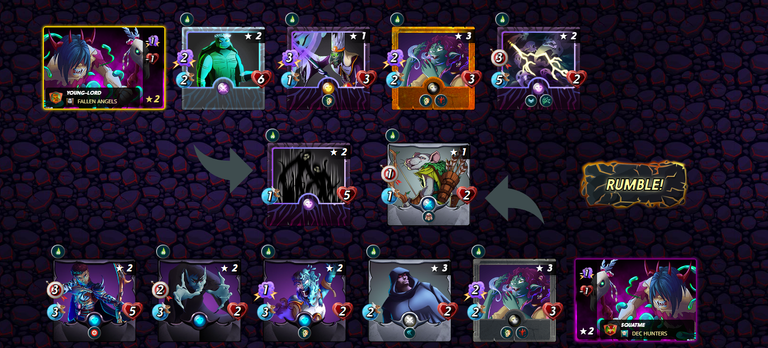 ---
Desarrollo
Soulstorm dio el primer golpe que acabó con el Venari Marksrat contrario. Mientras que mi Shadowy Presence y Tortisian Chief aguantaron el daño suficente como para que mis dos esbirros con Life Lich se beneficiaran. Hasta entonces todo salía como lo había previsto y, para mejorar más aún la situación para mí, la Witch of Warwick de mi adversario fue desplazada rapidamente.
! [To read it in english click here]
Soulstorm landed the first blow that took out the opposing Venari Marksrat. While my Shadowy Presence and Tortisian Chief withstood enough damage for my two minions with Life Lich to benefit. So far everything was going as planned and, to make things even better for me, my opponent's Witch of Warwick was quickly displaced.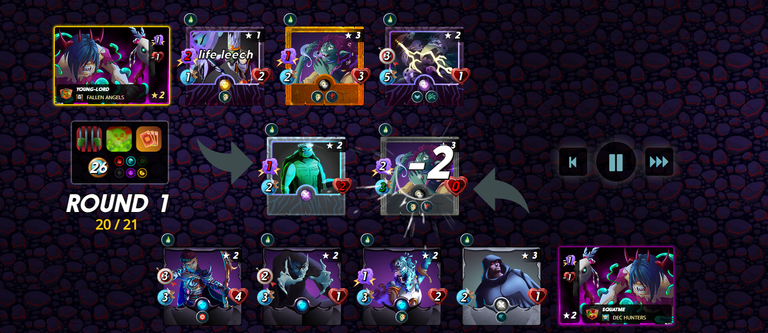 Entonces entró en acción el veneno que, básicamente, sentenció la contienda. Uno a uno los monstruos restantes de mi contrincante llevaron su salud a cero, al igual que la mitad de los míos, dejándole a él solo a un Dhampir Stalker incapaz de atacar. Un golpe más de Ancient Lich y Witch of Warwick bastaron para bajar el telón. Así, en un parpádeo se había acabado esta partida, por una diferencia mínima.
! [To read it in english click here]
Then the poison kicked in, which basically sealed the contest. One by one my opponent's remaining monsters took their health to zero, as did half of mine, leaving him alone at a Dhampir Stalker unable to attack. One more hit from Ancient Lich and Witch of Warwick was enough to bring the curtain down. Thus, in the blink of an eye, this game was over, by the slimmest of margins.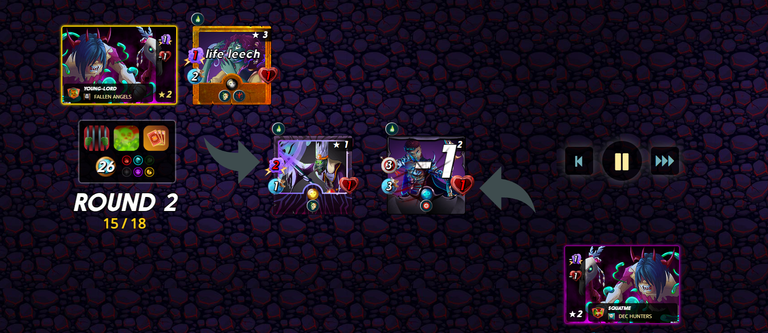 Conclusión
Creo que un mínimo cambio en mi alineación habría derivado en que perdiera esta partida (probablemente un cambio de mi rival también). Tuve la fortuna de que Ancient Lich y Witch of Warwick atacaran en el momento justo, y por consiguiente acabaran la primera ronda con un punto de salud restante. Esto estuvo más cerca que nunca de ser un empate, sin embargo me alegró conseguir el triunfo.
! [To read it in english click here]
I believe that a minimal change in my lineup would have resulted in me losing this game (probably a change of my opponent as well).I was fortunate that Ancient Lich and Witch of Warwick attacked at the right time, and therefore ended the first round with one health point remaining.This was closer than ever to a draw, however I was happy to get the win.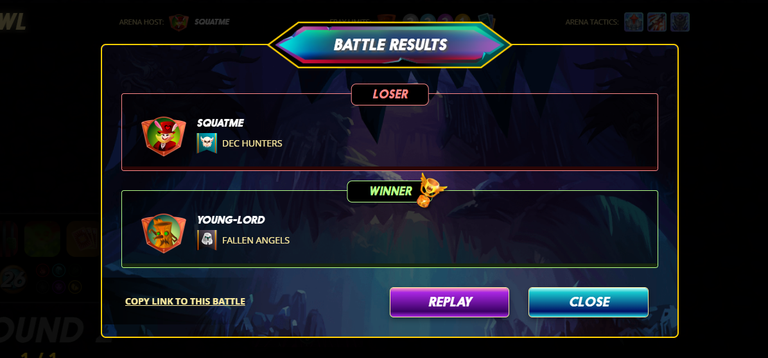 ¡Puedes ver la batalla completa a través de este enlace!
---
Juan Pavón Antúnez
Translated with the help of DeepL



---
---