Victoria de camerino: 'Battle Mage Secrets' de Splinterlands [ ESP | ENG ]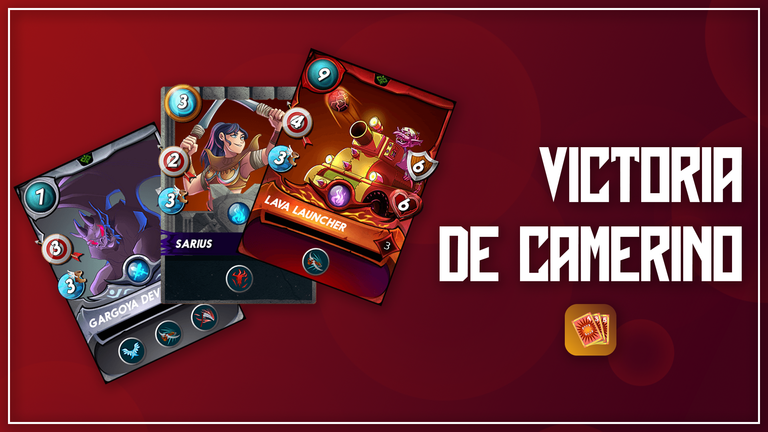 Recortar el catálogo de monstruos a la mitad convierte la creación de una alineación previa a la batalla en un desafío muy cuesta arriba. Tal como me pasó recientemente. En un combate de alta intensidad, y pocas opciones, mi rival y yo nos enfrentamos. Al final pude sortear las condiciones adversas y logré una victoria contundente. Por consiguiente estoy acá, a punto de relatar esta que es mi batalla con Odd Ones Out para el Battle Mage Secrets de esta semana.
! [To read it in english click here]
Cutting the catalog of monsters in half makes creating a pre-battle lineup a very uphill challenge. As happened to me recently. In a combat of high intensity, and few options, my opponent and I faced each other. In the end I was able to overcome the adverse conditions and achieved a resounding victory. So here I am, about to relate my battle with Odd Ones Out for this week's Battle Mage Secrets.
Condiciones
Para este enfrentamiento, correspondiente al Brawl de la semana en un fray de la Liga Oro, a pesar de contar con 33 de maná (una cantidad regular, según yo) y la posibilidad de jugar con cartas de todos los elementos, a excepción de Agua, esta contienda se convirtió en un pesado reto desde las condiciones de batalla: Odd Ones Out (protagonista de este post, como saben), Counterspell y Briar Patch fueron las presentes. Entonces, tenía que elegir con cuidado, puesto que todos los esbirros tendrían Magic Reflect y Thorns. Opté por la opción obvia: unidades con ataque de rango.
! [To read it in english click here]
For this matchup, corresponding to the Brawl of the week in a fray of the Gold League, despite having 33 mana (a regular amount, according to me) and the possibility of playing with cards of all elements, except for Water, this contest became a heavy challenge from the battle conditions:Odd Ones Out (protagonist of this post, as you know), Counterspell and Briar Patch were the ones present. So, I had to choose carefully, since all minions would have Magic Reflect and Thorns. I opted for the obvious choice: units with ranged attack.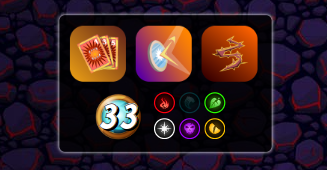 ---
Estrategia
Supuse que mi rival pensaría igual que yo, así que me preparé para un duelo entre monstruos de rango; sin embargo no lo hizo tal cual, lo que considero que fue un error de él y por ende parte de la razón de mi victoria. Por el contrario a mi pensamiento, alineó a un par de esbirros con ataque cuerpo a cuerpo y otro par con daño por magia.
! [To read it in english click here]
I assumed my opponent would think the same as me, so I set up for a duel between ranged monsters; however he didn't do it as is, which I consider to be a mistake on his part and thus part of the reason for my victory. Contrary to my thinking, he lined up a pair of minions with melee attack and another pair with magic damage.
Por mi parte, escogí a Eternan Brune como invocador, para aprovechar la capacidad de tener un monstruo Gladius en el campo y restarle armadura a mi oponente. Posicioné a Gargoya Devil como tanque, era mi monstruo con mayor capacidad de esquivar un ataque enemigo. Imaginé que caería rápido, pero antes de eso dañaría al contrincante. Detrás de este estaban Venari Marksrat, Lava Launcher, Firecaller y Sarius. Por supuesto, buscaba sacarle el máximo provecho a los efectos del Martyr de Venari y Firecaller.
! [To read it in english click here]
For my side, I chose Eternan Brune as a summoner, to take advantage of the ability to have a Gladius monster on the field and subtract armor from my opponent. I positioned Gargoya Devil as a tank, it was my monster with the best ability to dodge an enemy attack. I figured it would fall fast, but before that it would damage the opponent. Behind him were Venari Marksrat, Lava Launcher, Firecaller and Sarius. Of course, I was looking to make the most of Venari and *Firecaller's Martyr effects.
Aunque no se desarrolló como lo imaginé, creo que todo terminó de la mejor forma posible para mí.
! [To read it in english click here]
Although it didn't unfold as I imagined, I think it all ended in the best possible way for me.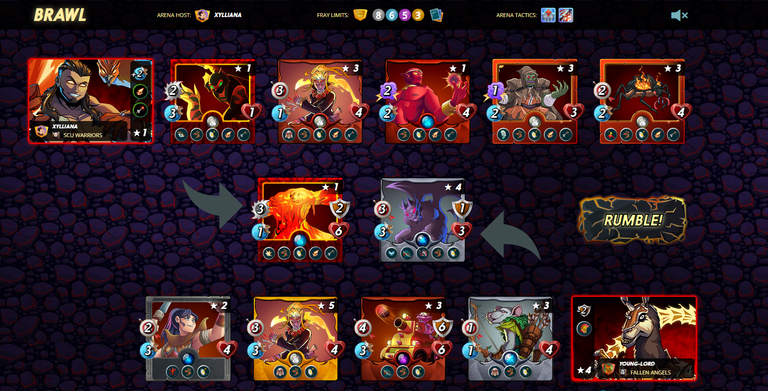 ---
Desarrollo
A pesar de que no ataqué primero mi Gargoya Devil hizo suficiente daño (e indirectamente mató al Serpentine Spy adversario gracias al Thorns) y, para mi sorpresa, no pereció. Mi oponente gozaba de la mayor velocidad, pero yo tenía el control en cuanto a poder de ataque. Al final de la primera ronda ya perecían las dos unidades enemigas más importantes, mientras que las mías recibieron un buffeo gracias al Venari Marksrat (Gargoya Devil y Lava Launcher) y, en el caso de Sarius, activó su efecto por bloodlust.
! [To read it in english click here]
Although I did not attack first my Gargoya Devil did enough damage (and indirectly killed the Serpentine Spy opponent thanks to the Thorns) and, to my surprise, he did not perish. My opponent enjoyed the most speed, but I was in control in terms of attack power. By the end of the first round, the two most important enemy units had already perished, while mine received a buff thanks to the Venari Marksrat (Gargoya Devil and Lava Launcher) and, in the case of Sarius, activated its effect by *bloodlust.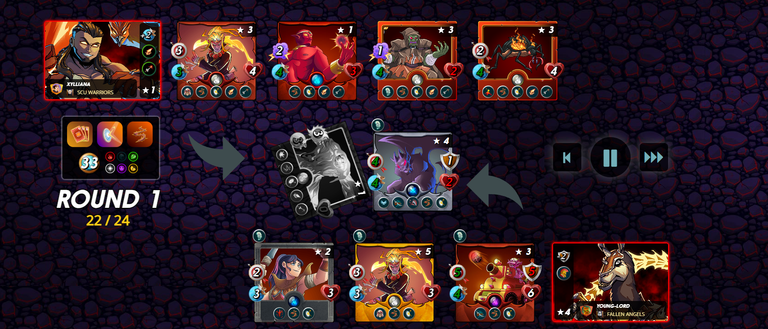 En la segunda ronda bastaron los golpes de los protagonistas: Lava Launcher, Sarius y Gargoya Devil (en ese orden) para sentenciar el resultado a mi favor. Para el ocaso, mis unidades se enfrentaron a un solitario Fire Beetle que nada podía hacer y, en el amanecer de la ronda tres, una estocada final de Sarius sentenció, ahora sí de forma oficial, la justa.
! [To read it in english click here]
In the second round the hits of the protagonists were enough: *Lava Launcher, Sarius, and Gargoya Devil (in that order) to sentence the result in my favor. At sunset, my units faced a lone Fire Beetle who could do nothing and, at the dawn of round three, a final lunge by Sarius sentenced, now officially, the joust.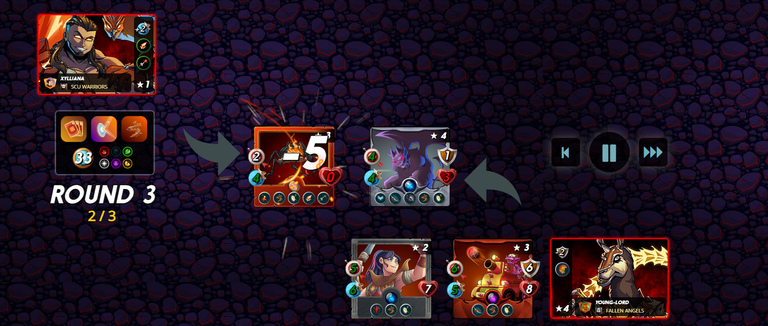 ---
Consideraciones finales
Esta vez no tengo mucho para acotar. Creo que elegí la estrategia adecuada y mi oponente se equivocó. En consecuencia obtuve un triunfo fácil en una batalla que, en los papeles, pudo ser muchísimo más complicada.
! [To read it in english click here]
This time I don't have much to comment on. I think I chose the right strategy and my opponent made a mistake. Consequently, I obtained an easy victory in a battle that, on paper, could have been much more complicated.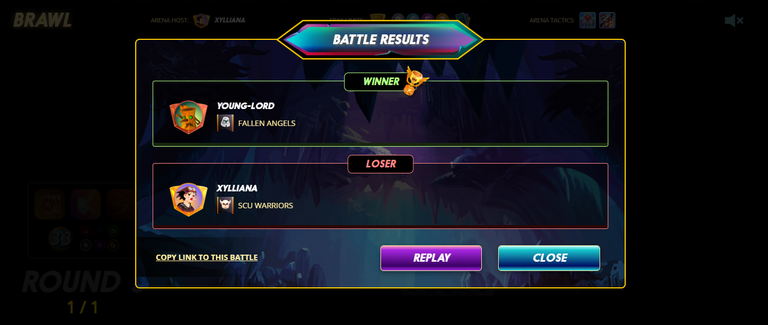 ¡Puedes ver la batalla completa a través de este enlace!
---
Juan Pavón Antúnez
Translated with the help of DeepL



---
---