20% HBD Interest Rate: Endless Possibilities & Options Available!

---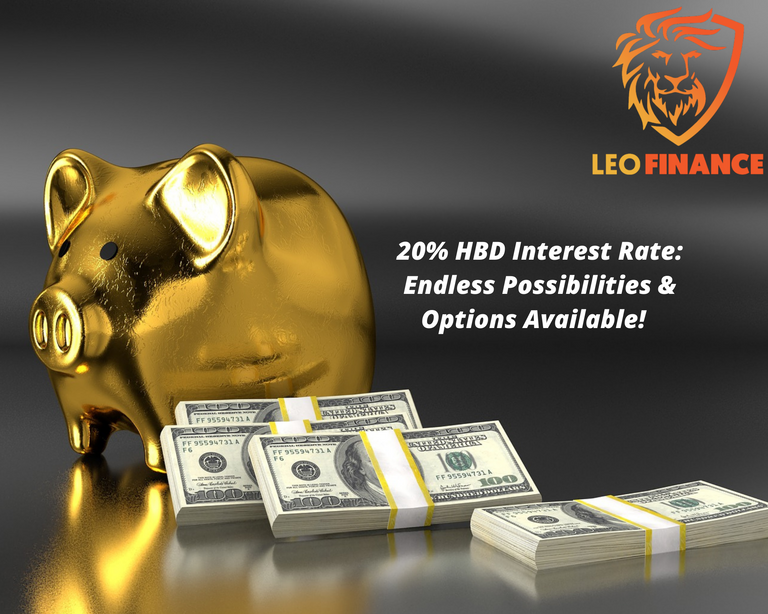 Image by Quince Creative From Pixabay
"The entrepreneur always searches for change, responds to it, and exploits it as an opportunity."-Peter Drucker
---
---
It has been 15days since the HBD Interest Rate was reviewed upwards of 20%. Also, the Leofinance team has introduced various projects ranging from Polycub, xPolycub, pHBD, and other defi developments.
There is no denying that it has truly been a ride experiencing these various introductions into the cryptoverse. However, my focus today is basically on the possibilities and options available given the increase in HBD Interest Rate.
---
10% APR on HBD in Savings
---
Prior to 15days ago, the APR was 10% and I honestly did not mind putting my HBD in savings rather than leaving it without any yield. I was not particularly excited about the interest rate but it was better than nothing.
Sometimes I would even withdraw and sell the HBD as I did not really see the major benefit of leaving it in savings long-term. Although, I always love to keep a certain portion of my resources in HBD.
However, I started a journey to 100% power my Hive at the beginning of this year for several reasons and I can confirm it has been a fulfilling one. I was barely making HBD from my post payouts as everything was in HP.
---
20% HBD Interest Rate
---
On receiving this update, I actually was excited about this new development and decided to revert back to 50% HP, 50% HBD post payout option. My goal was to start stacking up HBD as soon as possible and explore this opportunity.
Why?
I have come to realize that leaving HBD as HBD and not converting it to HIVE prevents me from spending the funds. It sort of serves as that secured fund not a liquid fund in my mind. This is a really good way to keep my spending in check and ask those important questions before I proceed to use it.
With the new interest rate, the compounding interest in months would be nice. Imagine getting 1/5 of whatever you have put in savings and having a compounded interest on both the addition of the capital and the previously accrued interest. That would be a good gain long-term.
---
My HBD Savings Goal
---
In recent times, I have been motivated and encouraged to push my HBD savings further. I am not one to put pressure on myself as life is full of uncertainties and savings are there for a reason. However, I am looking at having at least $1k HBD savings in the next 6months.
Also, I earlier planned to trade HBD on external platforms to earn profits and bring it back on the Hive blockchain. Oh well, there are a whole lot of opportunities to explore and routes to take when a person holds HBD and has yielded from its savings.
---
"Most people miss Opportunity because it is dressed in overalls and looks like work."-Thomas A. Edison
---
Till I come your way again…
Thank you for your precious time!
Have an Amazing Day!
---
Contact Details:
Instagram: @pearlquasar_
Discord: peaq#5727
Telegram: Pea_q
Posted Using LeoFinance Beta
---
---