Ask Leo: How Can Financial Emergencies Be Survived While Being Broke & Considering Inflation?

---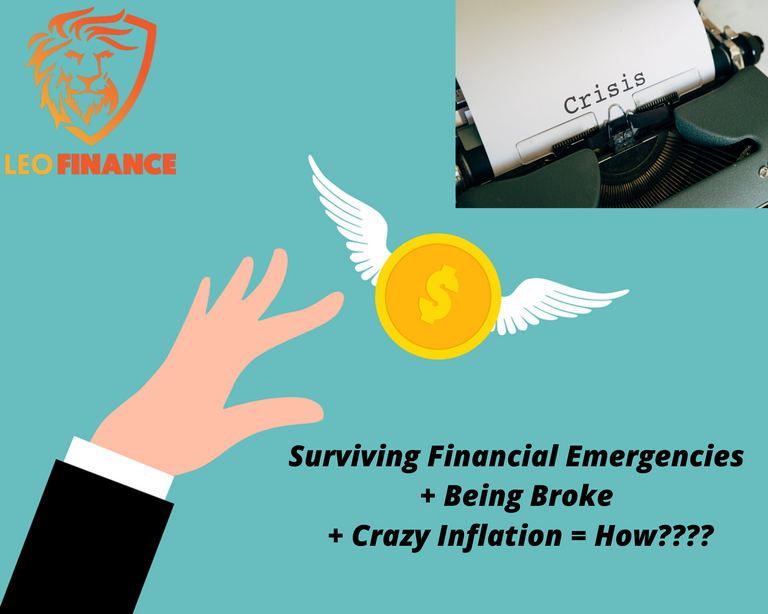 Main Image by Mohamed Hassan & Sub Image by Viarami From Pixabay
"Inflation destroys savings, impedes planning and discourages investment. That means less productivity and a lower standard of living".
–Kelvin Brady
---
---
The term "inflation" is not new to the majority of us. Some of us might not fully grasp its degree of impact on our lives daily but use the term fondly.
I would describe inflation as a situation when you currently pay or get charged $15 for the $8 sandwich you used to get for $3.50 when you were initially on the regular sandwich eating grind.
No one hopes for financial emergencies but life has her tricks up her sleeves regardless and would play her music for you to dance accordingly.
---
Your Personal Offer
---
For a person who is seemingly broke and without a savings or investment whatsoever, you might be wondering how would survive financial emergencies amidst inflation. Truth is, each and every one of us has something unique that we can offer. It could be a talent, a skill, an interest, or even something we are passionate about.
Now, the next thing to do is to explore all the way. That talent, skill, interest, or passion can be commercialized with the right idea and plan to execute. Some of us already have a head start on this one because we are currently aware of what our uniqueness and strengths are but for those still searching dig deeper.
List out your thoughts on what you think are your competencies.
---
Find a Platform
---
The next step is to find a platform that requires what you are offering. Thankfully, with the proliferation of the internet in which the world is a global village, you can be in one location and the internet will bridge the gap between you and someone who needs your skill.
Fortunately for most of us here, we are currently on this step as we found Hive blockchain and are currently exploring all it has to offer us. There are some people out there who are still broke, living from paycheque to paycheque, dissatisfied and unfulfilled with the jobs they are doing.
List out as many platforms that are in demand for your area of competence or strength.
---
Commence and Have Options
---
My final suggestion would be to put yourself out there. It does not have to be perfect when you start. The key is to just start. I remember when I started Hive, my contents were not the best I could offer in my opinion. However, as I kept at it and strived to remain consistent, slowly but surely my contents began to improve and perform better.
The part about having options requires you to also explore other platforms or even other options within a particular platform and make the most of your experience while active. The key here is to diversify your sources of income and have options per time.
What this does for you is that when financial emergencies hit or inflation seems to be getting the best of your economy, you have stacked up a bit to stay afloat and because you are busy creating more value for others, the value would also return to you one way or another. Of course, financial returns especially are not left out either.
Honestly, I am at the stage where I am currently exploring more options within the Hive blockchain platform. I am also exploring viable layer 2 tokens such as Leo, Cub, PolyCub, and other stable coins. I plan to branch out to other spaces within the cryptoverse soon.
---
Save Regularly
---
This is the most important part of all the steps. It is not enough to apply yourself and when things start working for you financially, you spend it all. Make sure you are saving and setting aside funds.
These savings can be with different things in mind. You can have savings set aside for your personal goals, for emergency funding, and for possible investment opportunities that may arise in the future.
---
"Care shouldn't start in the emergency room".
-James Douglas
---
Till I come your way again…
Thank you for your precious time!
Have an Amazing Day!
---
Contact Details:
Instagram: @pearlquasar_
Discord: peaq#5727
Telegram: Pea_q
Posted Using LeoFinance Beta
---
---