[Eng+Spa] Day 928: Google's 24th Anniversary + Día 928: Aniversario 24 de Google

Brief description of the daily life in the personal quarantine.
+++
Breve descripción de la cotidianidad en la cuarentena personal.
---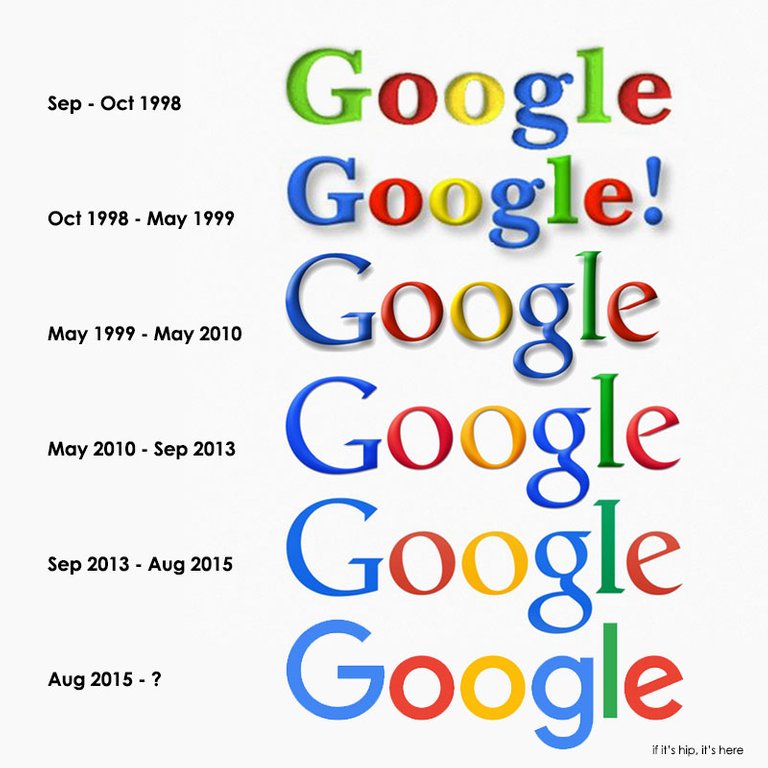 Image's Source - Fuente de la Imagen
---
There is heavy rain where I live, this Tuesday is with unstable electricity and an Internet signal that drops at times, but that is already something too 'normal' in
#Venezuela
. I have to try to write fast while the power lasts, because the thunderstorm outside my window is raging and I don't trust the power lines to withstand much rain.
This day 928 of the
#Quarantine
by
#Covid19
, when reviewing the ephemeris of
#History
, I found that it is the anniversary of the launch of the Google search engine on the
#Web
, the idea began in 1996 by Larry Page and Sergei Brin who had met at Stanford University, in Carolina
#USA
, ...
oops!!! The power almost went out completely, the UPS battery saved me, I have to publish and see if I have time to update later.
+++
Hay una lluvia fortísima en donde vivo, este martes es con electricidad inestable y señal de Internet que se cae por momentos, pero eso ya es algo demasiado 'normal' en
#Venezuela
. Tengo que tratar de escribir rápido mientras la electricidad dura, porque la tormenta eléctrica que se escucha por mi ventana está en apogeo y no confió que el tendido eléctrico aguante mucha lluvia.
Este día 928 de la
#Cuarentena
por
#Covid19
, al revisar las efemérides de la
#Historia
, encontré que es el aniversario del lanzamiento en la
#Web
del motor de búsqueda Google, la idea comenzó en 1996 por parte de Larry Page y Serguéi Brin que se habían conocido en la Universidad de Stanford, en Carolina
#EU
, ...
Ops!!! Casi se va la luz del todo, me salvó la batería del UPS, tengo que publicar y ver si me da tiempo de actualizar luego.
+++
---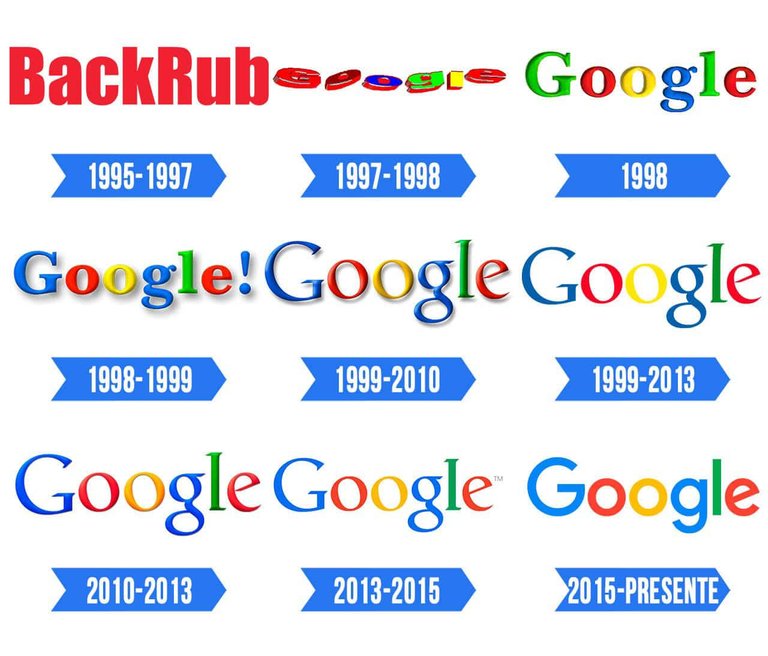 Image's Source - Fuente de la Imagen
---
Edit, thanks to the fact that I have electricity now :)
+++
Edito, gracias a que tengo electricidad ahora :)
---
Well, with the interruptions of the electrical service, the intermittent drop in the Internet signal, and having to start cooking as soon as the electricity comes back to be able to have food ready for when it is our turn to eat, in short, I have been late I have been updating a bit and I must confess that I have lost a bit of the idea of ​​what I wanted to complete, in truth, it is in these moments that I miss the old custom of making an outline before writing and having it on paper to guide the writing.
Anyway, I think what can be added is what refers to a peculiar thing that is noticeable in the second image of this publication, is that the first logo of the search engine had nothing to do with the ones that we know, In fact, I personally knew about this search engine when I was already using the logo that ends with an exclamation point, I had not known about the previous ones and, much less, I had found out that before giving it the name of
#Google
, in allusion to the mathematical term "gúgol" (a one followed by a hundred zeros) that serves as a simile that there is a lot of information on the
#Web
, and they were looking for a way to organize it.
It makes me wonder what led this couple of college kids to choose a name like 'Backrub' for their search engine, because the action of organizing the information with an
#algorithm
doesn't make me understand how it relates to the action of back scratching which is what this first attempt at a product name refers to... it may have to do with the old saying that 'if you scratch my back I'll scratch yours', where it is indicated that if you help me on one occasion, I could help you in the future, but the truth is that no matter how much I think about it, I don't understand what happened, in short, the later name of Google is not that it is less imaginative, but at least, I can make sense of it from the mathematical idea.
Today, Google has become part of the international
#Alphabeth
conglomerate, where its various products and divisions are grouped, many of them quite successful and others not so successful, as well as those that have been bought or absorbed by mergers and things similar, as is the case of
#Youtube
, which even today has a large share of visits to video content worldwide.
Again, I hear rain, I have to attend to the kitchen, so we will leave this post at this point. I wish you well and that we can read each other again another time.
+++
Bien, con las interrupciones del servicio eléctrico, la caída intermitente de la señal de Internet, y el tener que ponernos a cocinar en lo que regresa la electricidad para poder tener comida lista para cuando nos toque comer, en fin, que se me ha atrasado un poco la actualización y debo confesar que he perdido un poco la idea de lo que quería completar, en verdad que es en estos momentos en los que extraño la vieja costumbre de hacer un esquema antes de escribir y tenerlo en papel para ir guiando la redacción.
Como sea, creo que lo que se puede agregar es lo que se refiere a una cosa peculiar que se nota en la segunda imagen de esta publicación, es que el primer logo del motor de búsqueda no tenía nada que ver con los que nosotros conocemos, en efecto, yo en lo personal conocí este motor de búsqueda cuando ya usaba el logo que termina con un signo de exclamación, no había conocido de los anteriores y, mucho menos, me había enterado de que antes de darle el nombre de
#Google
, en alusión al término matemático "gúgol" (un uno seguido de cien ceros) que sirve de símil de que la información en la
#Web
es mucha y ellos estaban buscando un medio para organizarla.
Me deja pensando que llevó a este par de universitarios a escoger un nombre como 'Backrub' para su motor de búsqueda, porque la acción de organizar la información con un
#algoritmo
no me hace entender la relación que tiene con la acción de rascarse la espalda que es a lo que refiere este primer intento de nombre de producto... puede que tenga que ver con el viejo refrán de que 'si rascas mi espalda yo rascaré la tuya', en donde se indica que si tú me ayudas en una ocasión, yo podría ayudarte en un futuro, pero de verdad que por más que le doy vueltas no entiendo qué pasó, en fin que el nombre posterior de Google tampoco es que es menos imaginativo, pero por lo menos, puedo encontrarle sentido desde la idea matemática.
Hoy en día, Google ha pasado a ser parte del conglomerado internacional
#Alphabeth
, en donde se agrupan sus diversos productos y divisiones, muchos de ellos de bastante éxito y otros no tanto, así como también aquellos que han comprado o absorbido por fusiones y cosas similares, tal como es el caso de
#Youtube
, que aún hoy en día tiene una gran cuota de visitas de contenidos en vídeo a nivel mundial.
Nuevamente, escucho lluvia, tengo que atender la cocina, así que dejaremos esta publicación hasta este punto. Te deseo que tú estés bien y que nos podamos leer de nuevo en otra oportunidad.
+++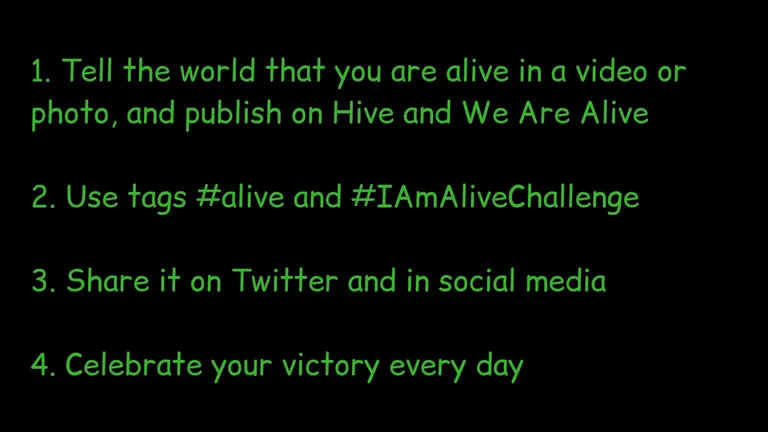 ---
---