Mi Amigo Enrique y el Multiverso, 2da Parte [Esp/Eng]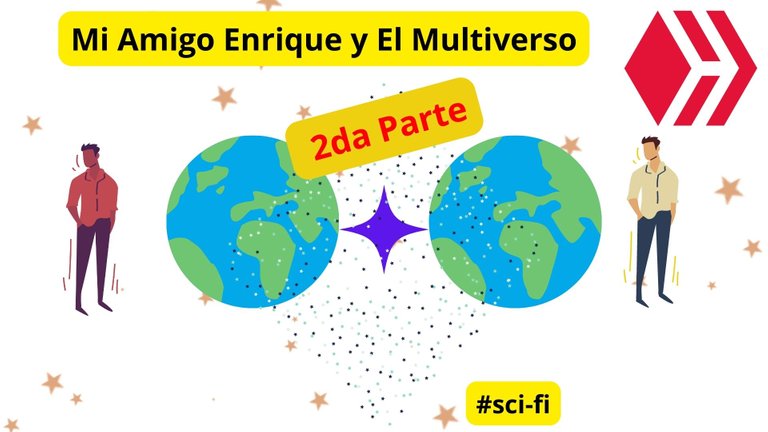 Era jueves y estaba retrasado para reunirme con Enrique, el lunes cuando nos reunimos, monopolizo la conversación, y solo que quede disfrutando del café y escucharlo, pero su viaje a otro universo se alargo mucho, y tenia otros compromisos que cumplir.
Caminaba lo más rápido que podía, tenia aun pocos minutos para llegar justo a tiempo. La calle estaba poco concurrida y flui en las cuadras hasta llegar al café, allí estaba Enrique.
Se levanto para saludarme con un abrazo y nos sentamos, pedimos lo de costumbre y le pregunte como se sentía hoy.
El pasado lunes me quede algo intrigado con la historia que me relatasteis, no me burlaba al decirte que podrías escribirla. También creo que debes ser prudente de con quien conversas esto, ya que podrían ponerte una camisa de fuerza por perder varios tornillos.
Te comprendo Carlos, No es sencillo de comprender, creo en primer lugar que todo lo que he leído, estudiado y aprendido me ha preparado para entender esto que me ocurre.
Es como si el camino transitado me brindo la experiencia para desenvolverme en este presente.
Pero Enrique, ¿no has ido a otros universos?
Respondió Enrique: Si he ido a un par de universos más. Pero Enrique, tomo tus propias palabras: "me quedé dormido en el estudio y soñé"
¿Desde cuando los sueños son viajes multiversales?
Es que estas redefiniendo el lenguaje, rebautizando términos comunes y eso no me parece correcto.
Respondió Enrique: Como lo veo ahora, Soñar es como despertar, es mi conciencia la que viaja, no mi cuerpo, fu mi conciencia la que ocupo mi cuerpo en otro universo. Mi cuerpo siempre estuvo en el estudio "dormido"
Le dije: Lo que me dices se parece a los viajes astrales, he leído poco sobre eso, pero entiendo que también lo hacen mientras duermen, su espíritu viaja a hasta donde lo desee, sin limitaciones. Incluso hay escuelas que enseñan esas prácticas.
Respondió Enrique: También he escuchado sobre ese tema. No lo he practicado nunca, no tendría un punto de comparación. En los siguientes días he tenido otros viajes a otros universos, pero solo me he limitado a observar, no he intervenido en el curso de los acontecimientos. Simplemente porque no lo he sentido necesario.
En cambio, esa primera vez, tenia un problema en este universo y al solucionar otro en otro universo, eso resonó hasta este y aquí la realidad cambio, es como si nunca hubiéramos discutido, nunca mas se menciono diferencia alguna. El haber logrado, en otro universo, mi unión con Martha, causo una resonancia en este universo y no teníamos diferencias.
Se, todo lo que te cuento, no tiene antecedentes o jurisprudencias registradas, que yo conozca, pero desde el punto de vista físico teórico, le consigo sentido. Pues experienciar un evento en este universo, y ese viaje o sueño, tiene que tener algún tipo de relación.
He ido a otros universos, y lo creo así, debido a lo vivido y reales que son estos "sueños" además en todos estoy con Martha, en algunos tenemos hijos, en otros solo uno, en otros no tenemos hijos, pero siempre estamos juntos. Y creo que allí estoy recibiendo información importante, Ahora siento certeza de un propósito de pareja con Martha, y no tiene que ver con amor, siempre la he amado, es algo que va más allá de este universo.
Le dije: Suena bonito, ahora estas romántico. Sin embargo, debo reconocer, que el amor es algo que no es sencillo de explicar, es algo como fuera de este mundo. Así lo último que me has dicho me hizo ruido en mi mente. Yo también siento con Tatiana, que nuestra relación viene desde otras vidas, si es que hemos vivido otras y quizás reencarnado, no lo se claramente. Pero te reitero es algo que siento, no es sencillo de describir.
Respondió Enrique: De eso se trata, "reencarnar" es un termino mas religioso que físico, yo lo describiría mas bien, como que todas las posibilidades se experiencian, todas, ejemplo: existe la opción de continuar mis estudios y graduarme en ingeniería y en este universo me retire y no culmine mi grado, pero en el momento que elegí retirarme, allí se creo el otro universo, allí esta la bifurcación, y las dos realidades existen, en la que estoy graduado y en la que no. Y a través de los sueños podemos acceder a otros universos o líneas temporales. Lo que no se es como dirigirme a una en específico, es como tener un superpoder y no saber cómo se usa.
Le dije: ósea que en cada decisión que he tomado, se han creado ambas posibilidades, he comprado muchos boletos de lotería, en este universo siempre pierdo, en el otro siempre ganan entonces, me gustaría ganar la lotería alguna vez en este universo.
Respondió Enrique: Créeme que a mí también, ja ja ja… — y reímos —
Le dije: como me cuentas las cosas hoy, le consigo un poco mas de sentido, se escucha como una tesis de investigación. Seria interesante investigar como podemos colapsar el efecto observador y materializar las cosas que queremos.
Respondió Enrique: Es que creo que lo hacemos mas seguido de lo que creemos, pero al hacerlo durante el sueño, la mayoría de las veces no los recuerdo. ¿Tu logras recordar todos tus sueños?
Le dije: No, claro que no, algunas que sobresalen de lo normal. Y ahora que lo mencionas, quiero comprar un vehículo, y antenoche soñé que tenia un vehículo nuevo rojo, y estábamos todos paseando en él, recorriendo la ciudad. Y hoy en la mañana el vendedor me ha llamado y dijo que tiene vehículo para entrega inmediata de color rojo, cualquier otro color debo esperar 3 meses.
Respondió Enrique: Lo vez, tu accedisteis a otro universo, en donde ya tienes el auto rojo nuevo.
Le dije: Pensé que estaba tan emocionado con la compra del auto, que hasta estaba soñando con él.
Respondió Enrique: Es que donde pones tu atención, pones tu energía, creo que tu estas revelando como se escoge el universo al cual viajar. En donde tengo mi foco, en donde pongo mi energía.
Le dije: Entonces todos tenemos ese superpoder, ja ja ja … — y reímos —
Respondió Enrique: Hoy la conversación ha sido muy buena, yo mismo me siento mas claro de todo. Yo tengo mi foco en las teorías físicas cuánticas y esos días estaba muy preocupado por la tensión con Martha que me dirigí hasta ese universo, a resolver algo entre ella y yo. Tu estabas entusiasmado con tu auto nuevo y lo sonasteis, te vistes teniéndolo de color rojo, y luego te llaman del concesionario para decirte que el color disponible es el rojo.
Creo que debemos enfocar y canalizar mejor nuestra energía a ver si nos ganamos la lotería, ja ja ja — y reímos —
Voy a investigar sobre: "El efecto observador" y luego te cuento…
Le dije: Me voy mas tranquilo que la reunión pasada, incluso le comenté a Tatiana que estabas como loco hablando de viajes multiversales y que habías viajado a otro universo.
Respondió Enrique: ¿Y qué te dijo Tatiana?
Ella dijo: Enrique siempre esta en otro mundo, ja ja ja … — y reímos —
Bueno Carlos, por lo menos ella esta mucho mas clara que nosotros ja ja ja… — y reímos —
Enrique te llamo para reunirnos la semana que viene, un saludo fraterno para Martha.
Respondió Enrique: Saludos a Tatiana desde este mundo y a los niños.
English Version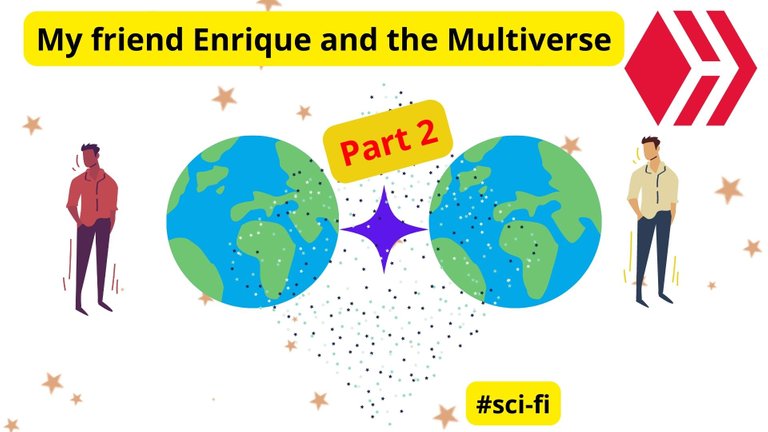 It was Thursday and I was late to meet with Enrique, on Monday when we met, he monopolized the conversation, and I was just enjoying the coffee and listening to him, but his trip to another universe took too long, and he had other commitments to fulfill.
I walked as fast as I could, I still had a few minutes to get there just in time. The street was not very busy and I flowed through the blocks until I reached the café, where Enrique was.
He got up to greet me with a hug and we sat down, we ordered the usual and I asked him how he was feeling today.
Last Monday I was somewhat intrigued with the story you related to me, I was not kidding when I told you that you could write it. I also think you should be cautious of who you discuss this with, as they could put you in a straitjacket for losing several screws.
It is not easy to understand, I think first of all that everything I have read, studied, and learned has prepared me to understand what is happening to me.
It is as if the road I have traveled has given me the experience to develop myself in the present.
But Enrique, haven't you gone to other universes?
Enrique replied: Yes, I have been to a couple of other universes. But Enrique, I take your own words: "I fell asleep in the studio and dreamed".
Since when are dreams multiversal travel?
You are redefining the language, renaming common terms and that doesn't seem right to me.
Enrique answered: As I see it now, Dreaming is like waking up, it is my consciousness that travels, not my body, it was my consciousness that occupied my body in another universe. My body was always in the studio "asleep".
I told him: What you are telling me is similar to astral travel, I have read little about it, but I understand that they also do it while they sleep, their spirit travels to wherever they wish, without limitations. There are even schools that teach these practices.
Enrique answered: I have also heard about that subject. I have never practiced it, I would not have a point of comparison. In the following days, I have had other trips to other universes, but I have only limited myself to observing, I have not intervened in the course of events. Simply because I have not felt it necessary.
Instead, that first time, I had a problem in this universe and when I solved another problem in another universe, it resonated with this universe and here the reality changed, it was as if we had never discussed it, no difference was ever mentioned again. Having achieved, in another universe, my union with Martha, caused a resonance in this universe and we had no differences.
I know, everything I am telling you, has no antecedents or jurisprudence on record, that I know of, but from a theoretical physical point of view, I make sense of it. Because experiencing an event in this universe, and that trip or dream, has to have some kind of relationship.
I have gone to other universes, and I believe so, because of how lived and real these "dreams" are, in all of them I am with Martha, in some we have children, in others only one, in others, we don't have children, but we are always together. And I believe that there I am receiving important information, now I feel the certainty of a couple of purposes with Martha, and it does not have to do with love, I have always loved her, it is something that goes beyond this universe.
I told him: It sounds nice, now you are romantic. However, love is not easy to explain, it is something out of this world. So the last thing you said to me made noise in my mind. I also feel with Tatiana, that our relationship comes from other lives, if we have lived other lives and perhaps reincarnated, I do not know clearly. But I reiterate it is something that I feel, is not easy to describe.
Enrique answered: That is what it is about, "reincarnate" is a term more religious than physical, I would describe it rather, as all possibilities are experienced, all, example: there is the option to continue my studies and graduate in engineering and this universe, I retired and did not finish my degree, but at the moment I chose to retire, there the other universe was created, there is the bifurcation, and the two realities exist, the one in which I am graduated and the one in which I am not. And through dreams, we can access other universes or timelines. What I don't know is how to go to a specific one, it's like having a superpower and not knowing how to use it.
I said to him: I have bought many lottery tickets, in this universe I always lose, in the other universe they always win, so I would like to win the lottery sometime in this universe.
Enrique answered: Believe me, so do I, ha ha ha... - and we laughed -.
I said: the way you tell me things today, I get a little more sense out of it, it sounds like a research thesis. It would be interesting to investigate how we can collapse the observer effect and materialize the things we want.
Enrique answered: I think we do it more often than we think, but when we do it during sleep, most of the time I don't remember them. Do you manage to remember all your dreams?
I said, "No, of course not, some that stand out from the norm. And now that you mention it, I want to buy a vehicle, and last night I dreamt that I had a new red vehicle, and we were all riding in it, going around town. And today morning the salesman called me and said he has a vehicle for immediate delivery in red, any other color I have to wait 3 months.
Enrique replied: You see, you accessed another universe, where you already have the new red car.
I told him: I thought he was so excited about buying the car, he was even dreaming about it.
Enrique replied: It is that where you put your attention, you put your energy, I think you are revealing how you choose the universe to travel to. Where I have my focus, where I put my energy.
I said: Then we all have that superpower, ha ha ha ha... - and we laughed -
Enrique answered: Today the conversation has been very good, I feel clearer about everything. I have my focus on quantum physical theories and in those days I was so worried about the tension with Martha that I went to that universe, to resolve something between her and me. You were excited about your new car and you sounded it up, you dressed it up in red, and then you get a call from the dealership to tell you that the color available is red.
I think we should focus and channel our energy better to see if we win the lottery, ha ha ha ha - and we laugh -
I'm going to do some research on: "The observer effect" and then I'll tell you...
I told him: I am leaving more relaxed than the last meeting, I even told Tatiana that you were like crazy talking about multiversal travel and that you had traveled to another universe.
Enrique answered: And what did Tatiana tell you?
She said: Enrique, he's always in another world, ha ha ha ha... - and we laughed -
Well Carlos, at least she is much clearer than we are ha ha ha ha... - and we laughed -
Enrique I will call you to meet next week, fraternal greetings to Martha.
Enrique replied: Greetings to Tatiana from this world and the children.
Translated with www.DeepL.com/Translator (free version)
---
---