Ladakh— The Place I am forward to visit.
I am from a UT of India named as Jammu & Kashmir which has two regions, one is Jammu and second is Kashmir. Back in August 2019, government changed the status of J&K state to Union Territory(UT) due to which third region of the so called state LADAKH was taken and announced it as a newly created Union Territory.
---
The place where I want to go is LADAKH, which is nearly 400 Kms from my home and the road passes through mountains and hills. Ladakh is placed at high altitude, also the airport in the UT is one the most high altituded Airport in the Asia.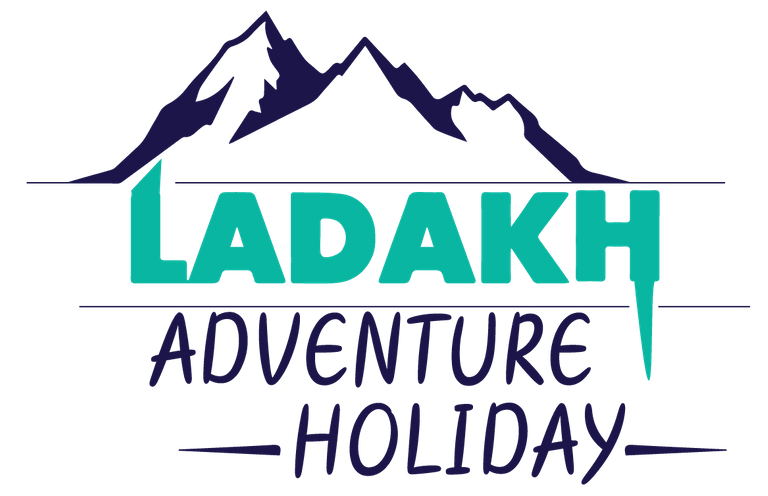 Source
---
From Kashmir to Ladakh, the road is made mountains of Himalayas and Pir Panjal. This road is considered among the dangerous roads of India. As Ladakh is high altitude destination, it keeps covered with snow most of the time in a year. Also its roads are being closed for 6 motnhs by snow which keeps people or Ladakh apart from Kashmir, only air transport can operate during these 6 months. On a way, there is a mountain through which tourists have to cross it named as the Zojila Pass. This pass is the most dangerous pass in the entire journey. One more important thing about going Ladakh is LMV cars are not suitable for journey, it needs heavy vehicles.
---
Places to Go In Ladakh
There are many places in Ladakh which are worth to visit, also some places are attractive as heart seeking. Some of the few places I would love to visit in Ladakh after this pandemic ends are: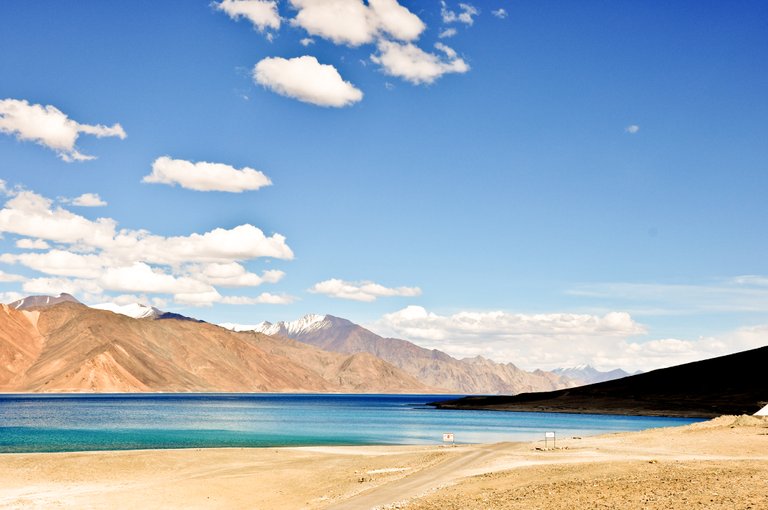 Image Source
Pangong Lake is 134 km long which starts from India and reaches Tibetan Autonomous Region in China. Most part of the Lake is within the Tibetan Autonomous Region.
During the winter season, despite of saline water, the lake freezes completely as temperature goes to minus degrees.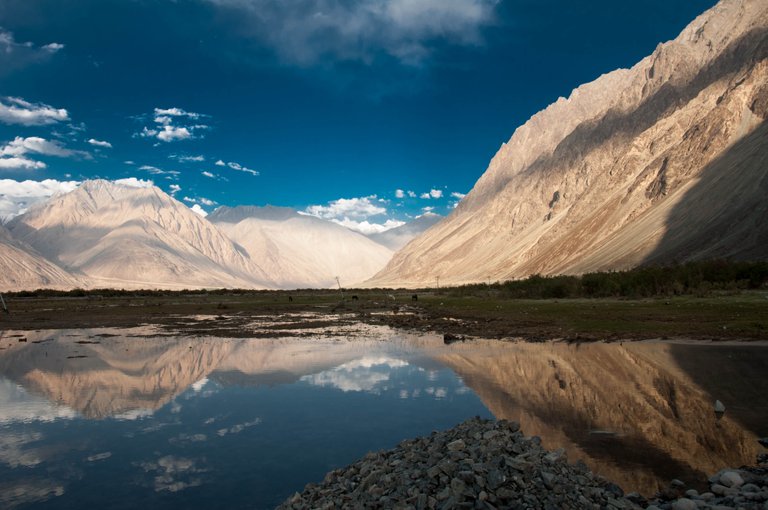 Image Source
Nubra valley is also high altitude cold desert where rare precipitation and scant vegetation are found along river beds. The average height of the valley is approximately 10,000 ft above sea level. The common route to reach the valley is through The Khardung La pass.
---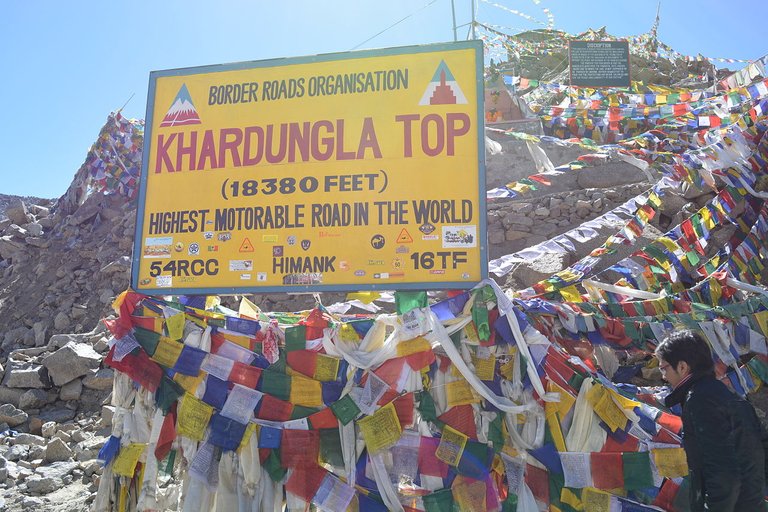 Image Source
I don't need to talk about this spot much more as the picture above tells everything by itself. This is the highest motorable road in The Globe. This pass lies in the Leh town of Ladakh. If you want to know more about it, have a look at this
---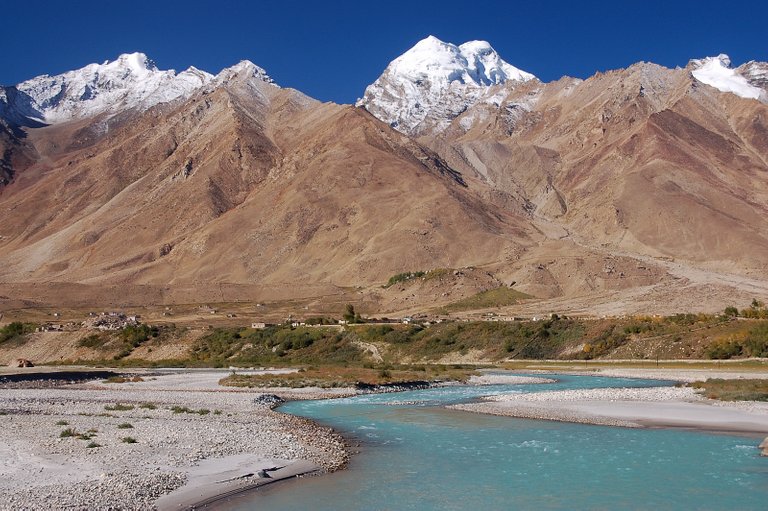 Image Source
Zanskar is also high altitude semi-desert which lies on the Northern flank of the Himalayan Range. This mountain acts as a climatic barrier to Ladakh from monsoon which results in a pleasent warm climate. When it is about winter, it is scary, it is mostly covered by snow which is high as 8 ft high during peak of winter.
---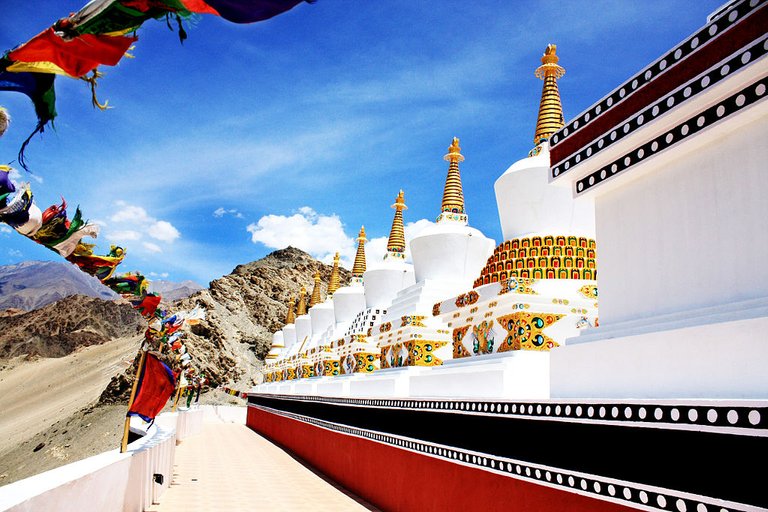 Image Source
There are 8 types of stupas in Buddhism, each one specifies major event in Lord Buddha's Life. There are many beautiful examples of this group of stupas.
In every day life, in Ladakh a stupa is highly respected and venerated and is of great importance.
Each and every stupa is considered in terms of religious belief and every Stupa is given a different name and its function. If you want to learn more about stupas, go through this.

Thank you. I hope you guys liked my post. Keep Supporting.

| UPVOTE | COMMENT | RESTEEM |
| --- | --- | --- |
| IF YOU | LIKED | MY POST |

Stay Home, Stay Safe

PEACE✌️✌️
---
---