Create an extra passive income with Betfury tokens!
I love passive income
We are all here on Hive and Leo to make an extra buck. The people that don't want to admit that, are lying to themselves. I am here to make an extra buck, I am not lying about that, and it hasn't been bad. I can tell you that.
But lately, due to one account I am following, @fullcoverbetting, I discovered Betfury.io. I played a bit around, and won some BTC in the meanwhile, but I discovered something way more important. The BFG tokens, this is a token that is mined through gambling on the site, but it is also possible to just buy some. Now I have mined some because of my betting on the site. And they pay out a decent income income every single day.
As a percentage of the winnings is paid out to the BFG holders. They call it staking, but if you just buy some, transfer them to your account on Betfury.io, they are as liquid as any other coin. You can withdraw them at any time. But as long as they are on your account, you get a percentage of the winnings. Which is really nice. I am no big holder yet, but I build my BFG every day. And right now I get paid out around 0.16 USD in crypto daily.


This is the estimated payout for 100k BFG tokens, per day!
I am looking to tenfold that by the end of the month. And maybe 100 X that by the end of the year.
And there is another good side part, since I am holding BFG tokens, they have risen 25 % in value too. Always nice to have that extra bit too.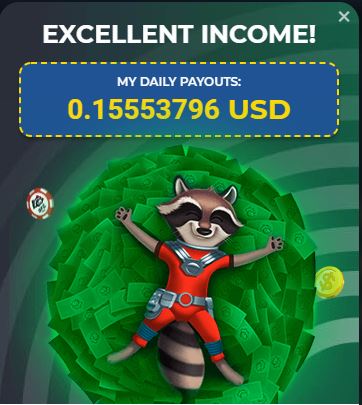 My income today
Even if you don't gamble or bet, I surely recommend it to people that are looking for some extra income. Right now I am holding 2460 BFG tokens, which bring me around 0.16 USD per day, that is almost 90 % APY. Not bad if you ask me...
If you want to try it, you can use my referral link, which of course brings me an extra buck too! Here it is: Referral link
Sincerely,
Pele23
Posted Using LeoFinance Beta
---
---