Do sports players earn too much money for their efforts?
Panem et circenses
Panem et circenses, latin for bread and games, was the infamous motto in the Roman Empire. As long as the common people had food and entertainment, they wouldn't complain. Hence the immense colloseum in Rome, and the horrific games that were held there to entertain and sweeten the common man.
And the Romans were right, it worked for centuries, until it didn't work anymore...
If you extrapolate that to today, you see a huge world of sports entertainment, with huge organisations behind them, NBA, NFL, UEFA, FIFA, MLB, MLS, ATP, WTA,... Whether it is basketball, football or tennis, the wages of the players have been exploding in the last two decades.
Yesterday, Cristiano Ronaldo was offered 216 million EUR to play for a Saudi Arabian club for the next 3 years. The club will probably get a return on investment by selling merchandising, season tickets, exhibition games and television rights for their games, but that is not what I really want to talk about.
Is a football player worth the paycheck of 216 million EUR just to play and train with a certain club? It is a question asked a lot, but nobody has a real answer to it. Because there are different answers, economically and ethically.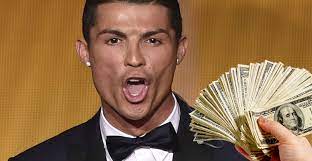 Economically
In a recent interview, Kevin De Bruyne was asked by the interviewer if his 450k EUR per week he earns at Manchester City was too much for a football player. KDB answered with a clear NO. And I understand his answer on an economic basis. His paycheck is decided on scale of supply and demand. And he is sure worth that kind of money for Manchester City, as the television rights they receive are determined by their performances. So the best players play at the best teams and get the best contracts, just a matter of supply and demand. The merchandising sales of all KDB memorabilia probably outweighs the price tag of his paycheck. So Kevin is right, he is worth the 450k a week, if you look at from a pure economic point of view.
Ethically
When ethics come into play, there is whole different discussion going on. In my opinion no person that isn't curing cancer or solves the environmental issues in the world is worth that kind of money. Others may think otherwise, I won't blame them. It is a complete personal stand I am taking here. But would Kevin De Bruyne understand what it takes for some families to give their kid a Manchester City shirt with KDB's name on it for Christmas and pay 100 EUR for it? I don't think so.
And that is where I have issues with. Most of those millionaire sports players have no clue anymore what an average person earns. They don't know what it is to go to the office, get jelled at by the boss every single day from nine to five, for a measly 1850 EUR per month or less.
There are other ethical issues with all of this. Is it normal that a 20 year old player in the NFL gets drafted as 53rd or something and receives a first paycheck of 1.6 million USD? In my opinion, that is just criminal. 99 % of those young lads have no clue how to handle money, and spend it faster than it came into their hands. With devestating consequences. In which 1 in 3 ex professional athletes go bankrupt within the first years of their "pension". Without decent financial advice, they are actually ruïning these athletes lives by paying them so much.
Last ethical issue is, where is the money coming from. The money the Saudis are willing to pay Cristiano Ronaldo is certainly of dubious origin. Especially in a country where last week 80 people were executed in the middle of a square. Same issue with Manchester City, the owners of the club are City Football Group, of which the largest stake holder is Sjeik Mansour from Abu Dhabi... A clear example of sportswashing. In which the image of people or countries gets cleaned up by investing their money into big sports events or clubs. All very dubious to me.
So, my answer is yes and no. But with a clear swing to the no side!
Sincerely,
Pele23
Posted Using LeoFinance Beta
---
---