I earned 430 HP over the last 30 days, my Hivestats report!
157 Dollar bills printed
Even though we are in a bear market and the price of Hive is low right now, I still managed to earn 157 USD worth of Hive Power over the last 30 days, just by posting and curation rewards. 430 HP or simply put, I printed 157 one dollar bills for myself, by being active on Hive. The earnings from HBD and HP interest aren't even calculated in yet, and so aren't the Hive Engine earnings. Those I consider as an extra.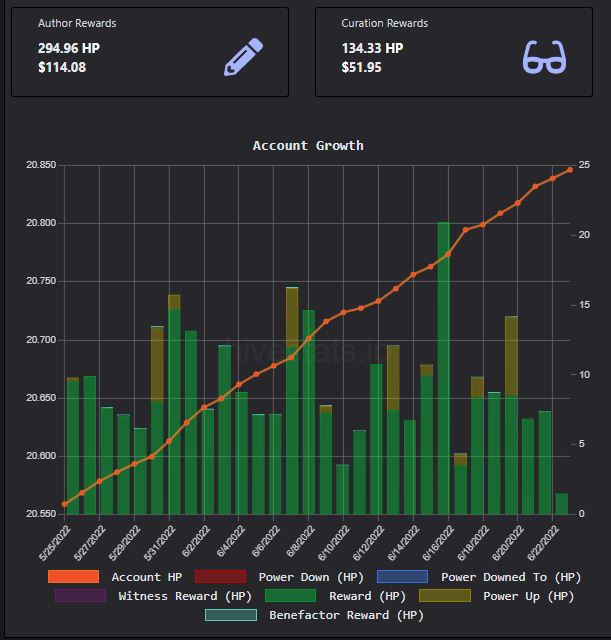 This improvement will once again make my curation rewards go up next month. Which is the awesome part of this snowball effect the Hive Power accumulation has. I am close to having 21000 Hive Power under my direct control. Which was impossible to imagine almost 5 years ago when I started with this awesome "side hustle". I just love that we can create our own currency. For people that don't know this place, that sounds very unreal and maybe even "criminal", but it isn't. It requires effort and consistency, but eventually you can really make a decent buck out here.
And you can have fun while doing it.
In the mean time I also managed to gain over 150 Leo Power, and other stakes grew like SPORTS, ARCHON, POB, VYB, CENT, etc... Those are all small gains, but once stacked together, they make a real difference.
Another real call to keep on posting and curating, because that is what eventually will create true wealth. I am 100 % convinced of that!
Sincerely,
Pele23
Posted Using LeoFinance Beta
---
---