LEO&HODL Contest – Focus: My Leo Price Prediction in a bull run($1)
There is definitely a lot to look at when it comes to the #Leo token, its contributions to the development of the community is definitely massive, many might not really understand what the Leo token is, mostly those joining for the very first time.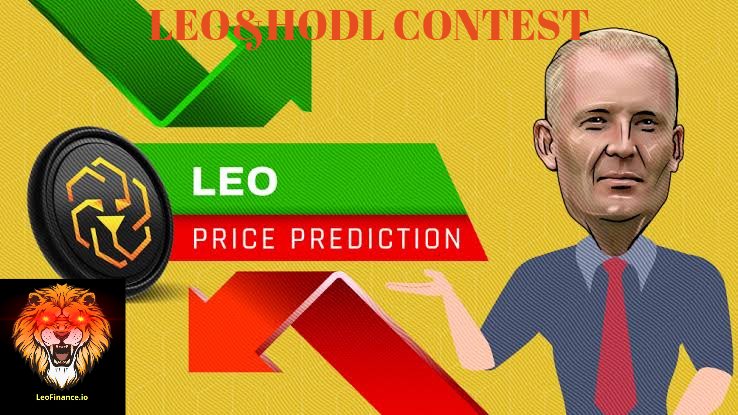 Recently have gotten to see that number's keeps on increasing in the community and that has show how well the Leofinance #community as gone.
What's Leo token
This is the token earned as reward in the Leofinance community, which means every of your activities using the Leofinance #interface automatically earned you this token once you receive an upvote and aside from earning via upvote you can get or buy Leo token from hive exchanger such as https://leodex.io , https://hive-engine.com and other crypto wallet that's listed on (coinGecko)
The interface
https://leofinance.io
There has been a lot about the #Leo token recently, even have found myself among users who were present as at when the Leo token was bigger than #hive in the market, but unfortunately over the year a lot has changed and today the community token is where it is today, but regardless of that there is absolutely a lot of things to be excited about as there has being lot of initiatives and structures put in place to revive it glory back to the #olden days.
There is so much to talk about on this token, and thanks to #hodlcontest for this opportunity again this week.
What price targets can be reached by LEO token?
It has indeed been a trying time for the #crypto market recently and the Leo token is not expected either, but for me, since it drastic reduction in price, have seen the token trying to gain back it markets strength, the level of the #bull market we do have recently might have not been the best at all, but of all I still so much believe that the community token called Leo token will absolutely gain it market strength again.
There are thousands of questions I do ask myself recently
can we have a market where the price of Leo will be greater than that of hive or equivalent?
Undoubtedly it's a yes for me, and as at the time of writing this content, #hive is currently trading at $0.4011 compare to #Leo at $0.00011839.
I honestly believe that base on the look of things and structures put in place so far in the community, the token can reach #$1 with time, there have being a lot of things to be happy about the token and with no doubt it will certainly get to that level when market is stable.
How to assess the value of LEO token in this market condition?
Looking at the level of how bad the market as being so far, I will certainly say kudos to the community token and the Leofinance team also, because a lot of work and initiatives as being put in place to ensure that the token still become relevant, there have being a lot of up and down in the market, even coin like Bitcoin as suffer one of their biggest fall recently, a bit with the level of how bad the market as being, I will definitely say the token as indeed proven itself to be worthy of investing on as it is future outcome will definitely be profitable with time.
What are your price for your price targets? Any strategies?
We must undoubtedly developed another means not making sure that the community gains some value in the market, to me, the team as indeed done well in ensuring that the token regain it value.
The #lpud is definitely one of the biggest strategies:
Since it Introduction this as being of good advantage to the community, not just the token alone, but users too, holding more of this token will certainly help in gaining a good market value, over the years, some users don't really know it importance and they just exchange the token anyhow without looking at the rate they are selling.
Educate User's on the importance of having a long-time investment plan.
Only few knows that earning the token is not all about it market value today, but what the future will say, it is significant that we educate other user's, especially those who have fond of exchanging frequently just to meet their needs, it is essential that user's get to know that earning Leo is important and has a lot of benefits if they hold for the future, the #Leo token should be part of their long-time plan when it comes to investment.
Can Leo token be locked for a period of time after earning
This might sound too difficult, but I honestly think it's definitely one of the measures that can be used in ensuring a good market value for the token, earned token should be locked for a period of time and that will definitely help to make user's too to desist from selling at cheap prices and that will definitely encourage more of staking too in the community.
What kinds of differences do you expect in Hive ecosystem with the valuation?
Even at it current value, there are a lot of differences, but having One Leo token at $1 or more will absolutely bring more value, there have being talks about promoting the community all the time, rise in the community token will definitely enhance more community members and users will be willing to join at whatever fee is charged for registration.
Profit making is vital and all users are absolutely after that, a good market value for the Leo token will also lead to more staking as user's will definitely want to double whatever they are holding, there will be more of buying than selling, causing a constant rise in it price will definitely not allow selling.
There is certainly more to look into when it comes to talking about the Leo token as its advantages are much, because it can be exchanged to other tokens like #bleo and the rest also, so to me, its level of potential will definitely help in increasing it market value too.
This is my entry for this week #LEO&HODL Contest, hey @kolawole93 and @houseofdavid be free to join
Posted Using LeoFinance Beta
---
---