FLYFF UNIVERSE: The mustachioed in action, back to this incredible world | El dúo imparable de los MMORPG lineales y no lineales [ENG - ESP]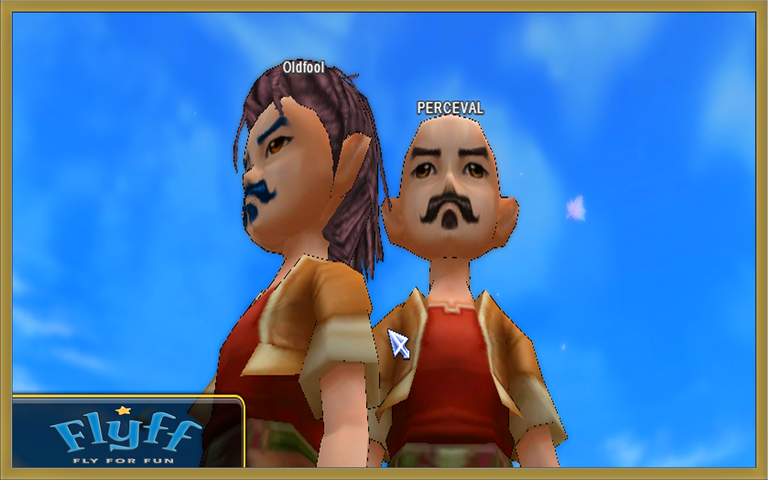 ---

These days have been totally crazy in our Albion adventures, from advancing by leaps and bounds to fighting against two of the best players in Albion in an unexpected way. This story will be left for another post, I'm really excited for the things to come in this new season of the famous non-linear MMO.
As usual, @oldfool almost always accompanies me to any game, although this time I decided to accompany him. Some time ago he made a post where he played Flyff or Fly For Fun, a MMORPG game that was very popular a long time ago. Its servers closed and many of its players felt sad, since all their effort and all those hours they had invested in the game, had been in vain. I had the opportunity to play it a long time ago, but to be honest, I barely have any memories of this game, so I decided to play it again.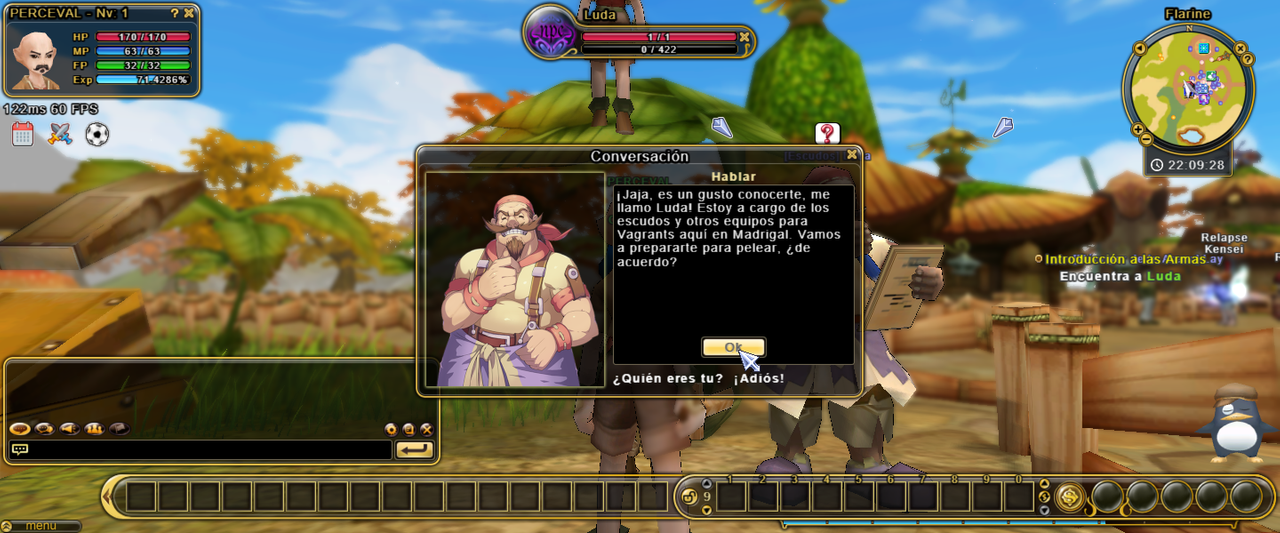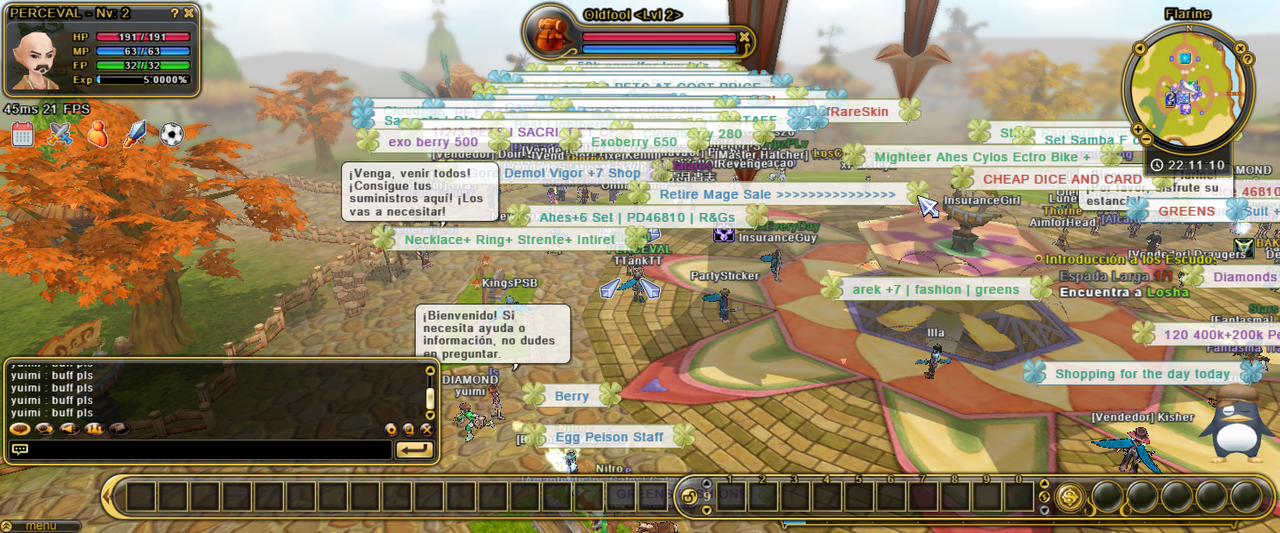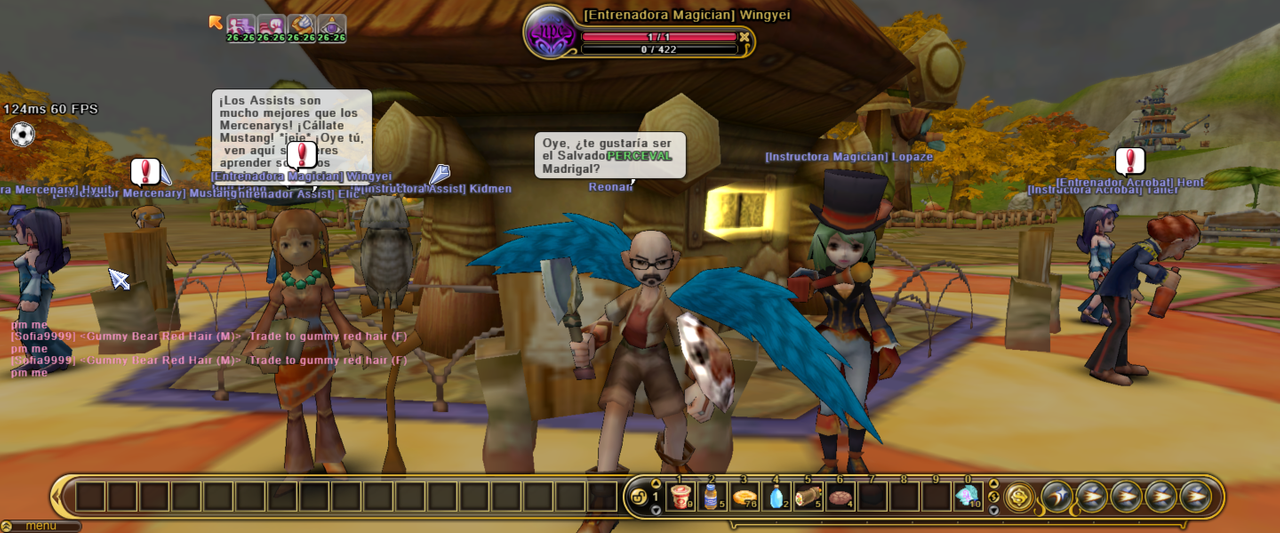 ---
Before you needed to download a Launcher to be able to play, nowadays you can play without downloading directly from the browser. The fact that you can play from the browser without the need of a launcher or a download seemed pretty good to me, this way I save more space on my hard drive and enjoy the game in just one click.
The game was modified and received several changes and improvements. Currently it is still the same, its essence is still intact although it is true that it is a rather old-fashioned game, but I love that aspect. One of my favorite MMORPG is Tales Of Pirates, because this game maintains a very similar visual style, its gameplay is also very similar.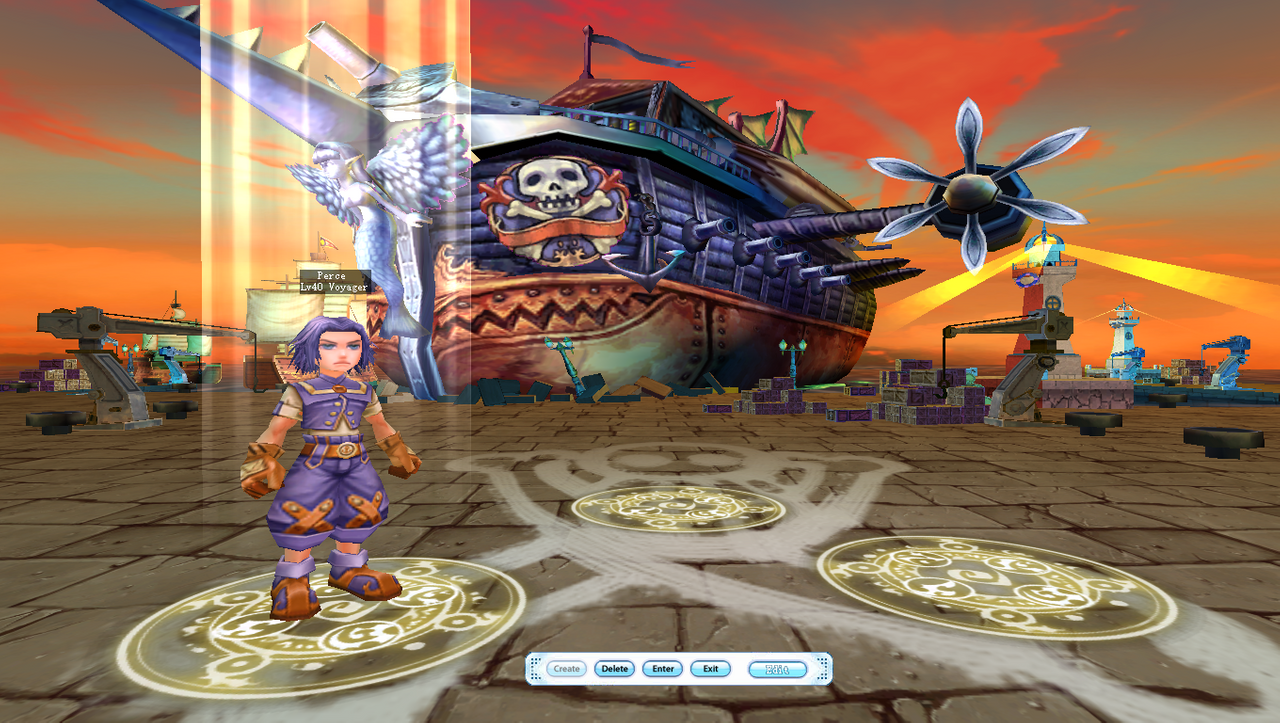 The customization in this game is not too extensive, at least not at first, and then you have a lot of skins and modifications for your character. I decided to make a somewhat funny character, so I gave him a fancy mustache and gave him a beautiful bald head.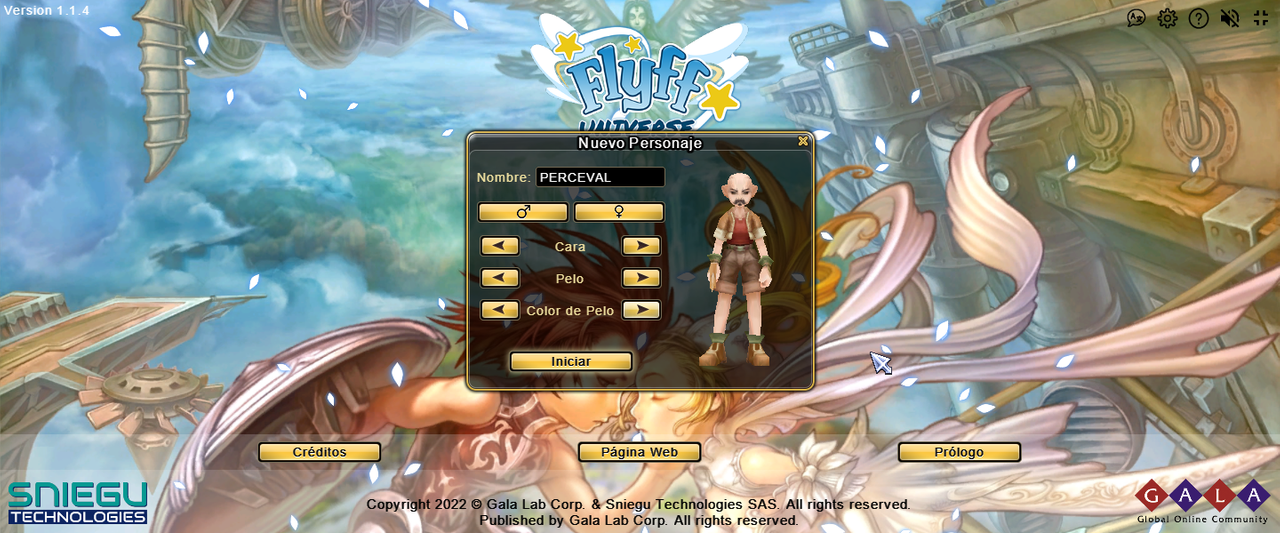 At first @oldfool and I thought we would level up flying, as we came with a lot of enthusiasm, it was not what we expected. Oldfool decided to play a little Tryhard, so he created an Alt that would function as a personal buffer and healer, but having him in our party meant we didn't gain the experience we needed.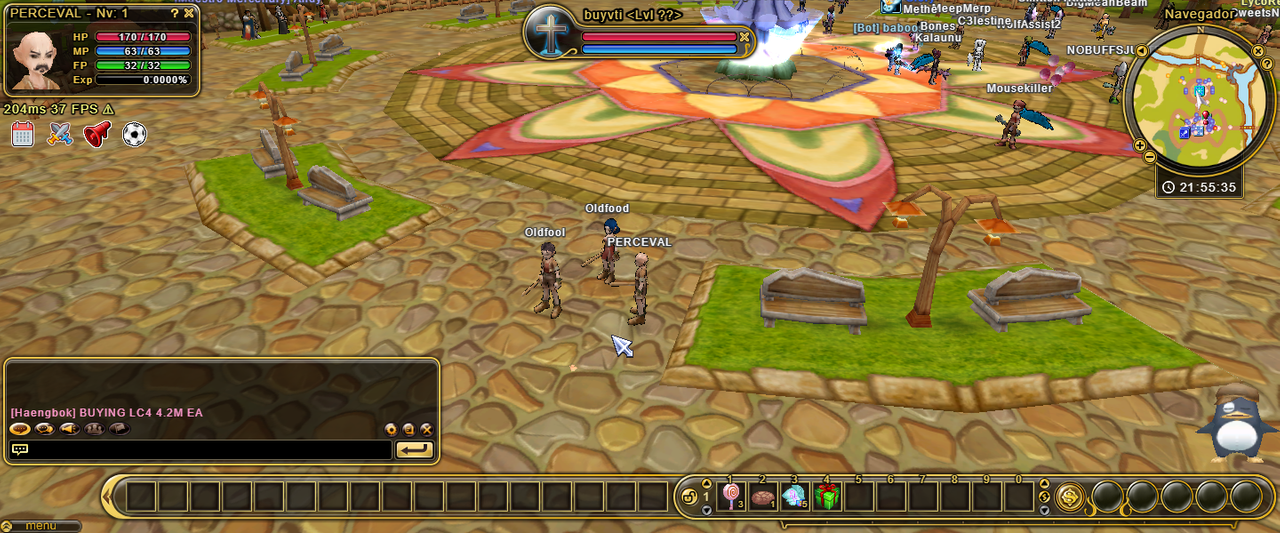 After seeing that having an Alt wasn't working, oldfool decided to just play with one account as long as we were together and level up his Alt individually. Our path has been straightforward, it's a fairly simple game with lots of quests to do and lots of monsters to kill. I don't think this game will appeal to everyone, let alone new generations, but it's fun.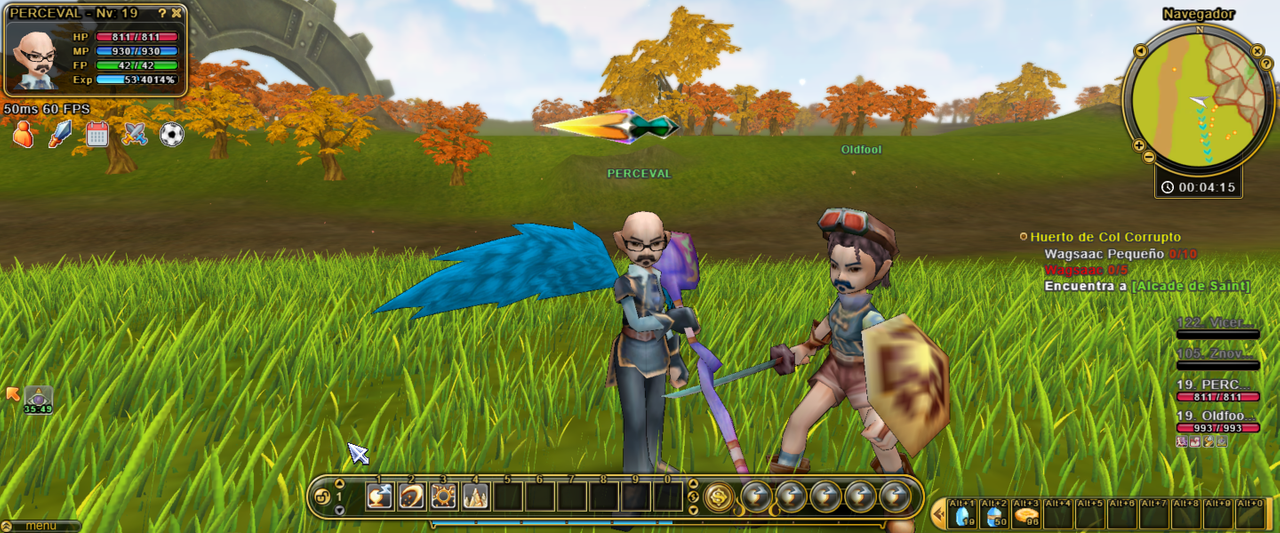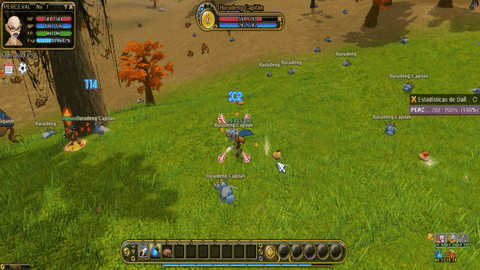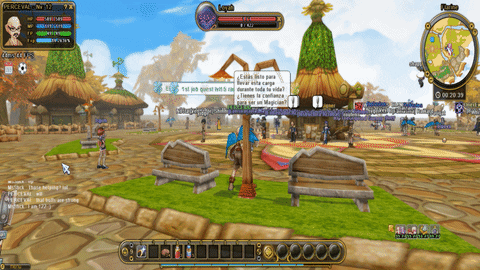 ---
I'm still not quite used to the controls, they're a bit old fashioned, nothing that can't be solved with hours of play. I don't know how far we'll get in this adventure, I just hope we keep having fun as we are. In a couple of days I'll bring you a pretty extensive post about the new Albion update, I have a lot to say about it, see you in my next post! Cya, boomers!
𝙸'𝚖 𝚊 𝟸𝟺 𝚢𝚎𝚊𝚛 𝚘𝚕𝚍 𝚐𝚊𝚖𝚎𝚛 𝚠𝚒𝚝𝚑 𝚊 𝚙𝚊𝚜𝚜𝚒𝚘𝚗 𝚏𝚘𝚛 𝚖𝚞𝚜𝚒𝚌 𝚊𝚗𝚍 𝚊𝚕𝚜𝚘 𝚑𝚘𝚛𝚛𝚘𝚛 𝚌𝚘𝚗𝚝𝚎𝚗𝚝. 𝙸 𝚊𝚕𝚜𝚘 𝚞𝚜𝚞𝚊𝚕𝚕𝚢 𝚖𝚊𝚔𝚎 𝚜𝚘𝚖𝚎 𝚖𝚞𝚜𝚒𝚌, 𝚊𝚕𝚝𝚑𝚘𝚞𝚐𝚑 𝚗𝚘 𝚘𝚗𝚎 𝚕𝚒𝚜𝚝𝚎𝚗𝚜 𝚝𝚘 𝚒𝚝. 𝙸𝚏 𝚢𝚘𝚞 𝚕𝚒𝚔𝚎 𝚖𝚢 𝚙𝚘𝚜𝚝𝚜, 𝚍𝚘𝚗'𝚝 𝚏𝚘𝚛𝚐𝚎𝚝 𝚝𝚘 𝚏𝚘𝚕𝚕𝚘𝚠 𝚖𝚎 𝚊𝚗𝚍 𝚕𝚎𝚊𝚟𝚎 𝚖𝚎 𝚊 𝚌𝚘𝚖𝚖𝚎𝚗𝚝. 𝙸 𝚙𝚕𝚊𝚢 𝚊𝚕𝚖𝚘𝚜𝚝 𝚊𝚗𝚢 𝚟𝚒𝚍𝚎𝚘 𝚐𝚊𝚖𝚎, 𝚜𝚘 𝚒𝚏 𝚢𝚘𝚞 𝚗𝚎𝚎𝚍 𝚜𝚘𝚖𝚎𝚘𝚗𝚎 𝚝𝚘 𝚝𝚛𝚘𝚕𝚕 𝚢𝚘𝚞𝚛 𝚐𝚊𝚖𝚎𝚜, 𝚕𝚎𝚝 𝚖𝚎 𝚔𝚗𝚘𝚠. 𝙶𝙶!

Español

Estos días han sido una total locura en nuestras aventuras de Albion, desde avanzar a pasos agigantados hasta pelear contra dos de los mejores jugadores de Albion de manera inesperada. Esta historia quedará para otro post, estoy realmente emocionado por las cosas que se vienen en esta nueva temporada del famoso MMO no lineal.
Como es costumbre, @oldfool casi siempre me acompaña a cualquier juego, aunque esta vez yo decidí acompañarlo a él. Hace un tiempo el realizó un post en donde jugó Flyff o Fly For Fun, un juego MMORPG que fue muy jugado hace bastante tiempo atrás. Sus servidores cerraron y muchos de sus jugadores se sintieron tristes, ya que todo su esfuerzo y todas esas horas que habían invertido al juego, habían sido en vano. Yo tuve la oportunidad de jugarlo hace bastante tiempo, pero siendo honesto, apena tengo recuerdos de este juego, así que decidí volver a jugarlo.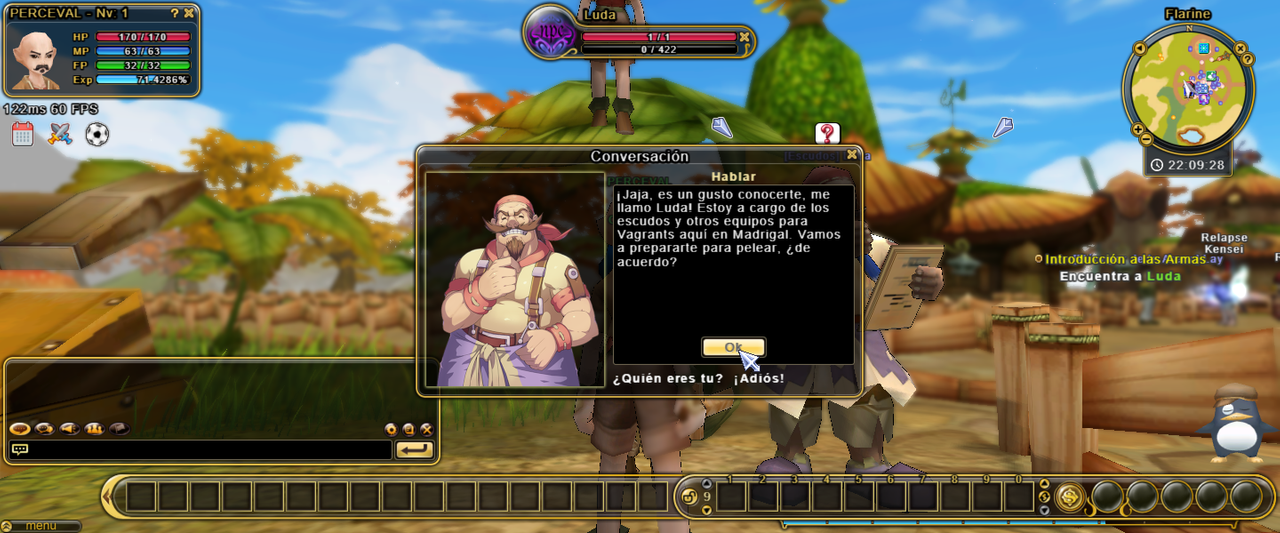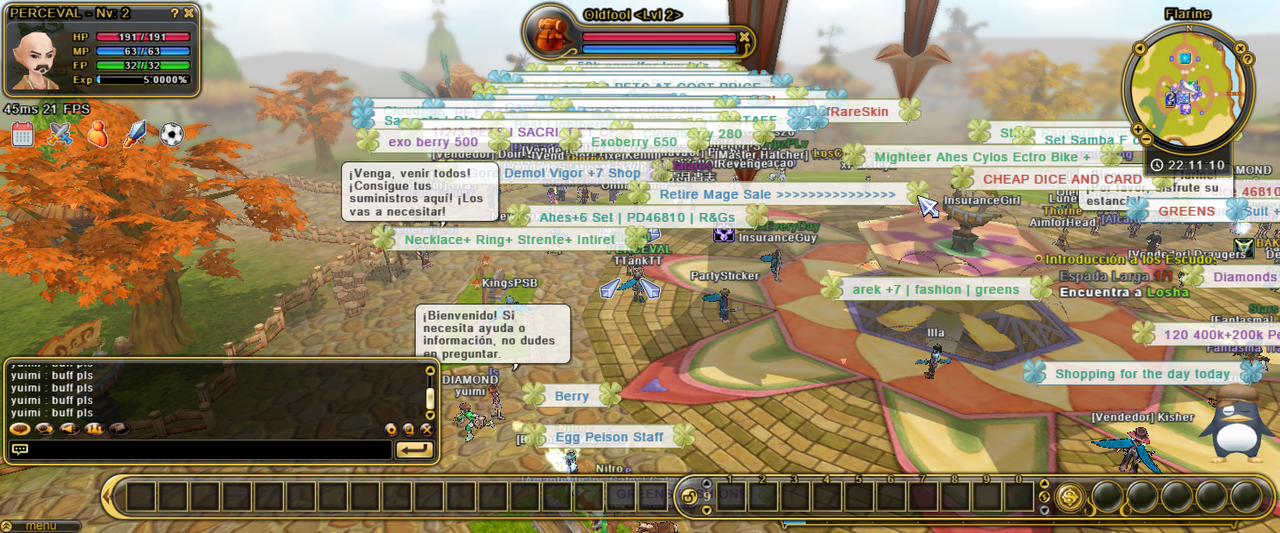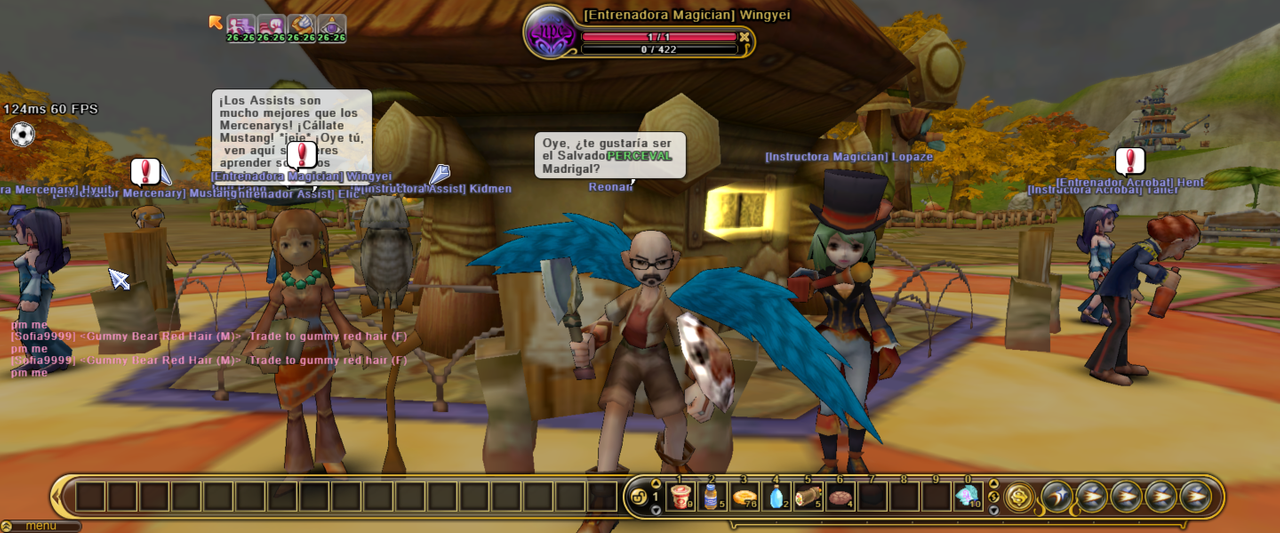 ---
Antes para poder jugar necesitabas descargar un Launcher, actualmente puedes jugar sin descargar directamente desde el navegador. Que puedas jugar desde el navegador sin necesidad de algún launcher o alguna descarga me pareció bastante bueno, de este modo ahorro más espacio en mi disco duro y disfruto del juego en tan solo un click.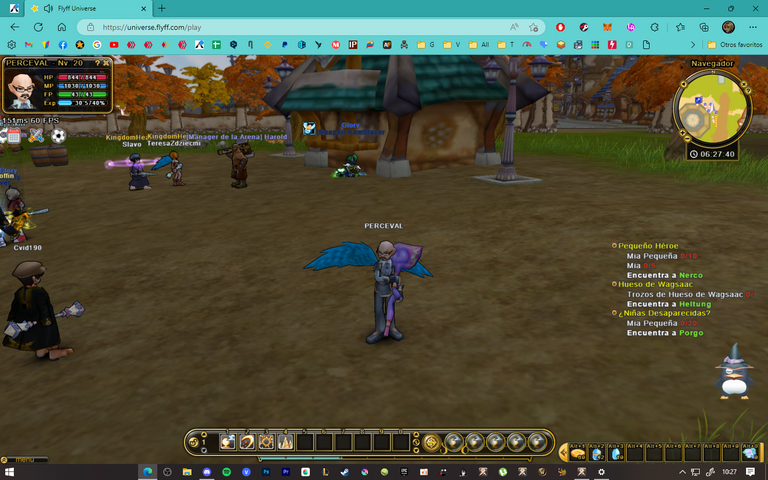 El juego fue modificado y recibió varios cambios, también mejoras. Actualmente sigue siendo el mismo, su esencia sigue intacta aunque es verdad que se nota que es un juego bastante anticuado, pero ese aspecto me encanta. Uno de mis MMORPG favoritos es Tales Of Pirates, pues este juego mantiene un estilo visual bastante similar, su estilo de juego también lo es.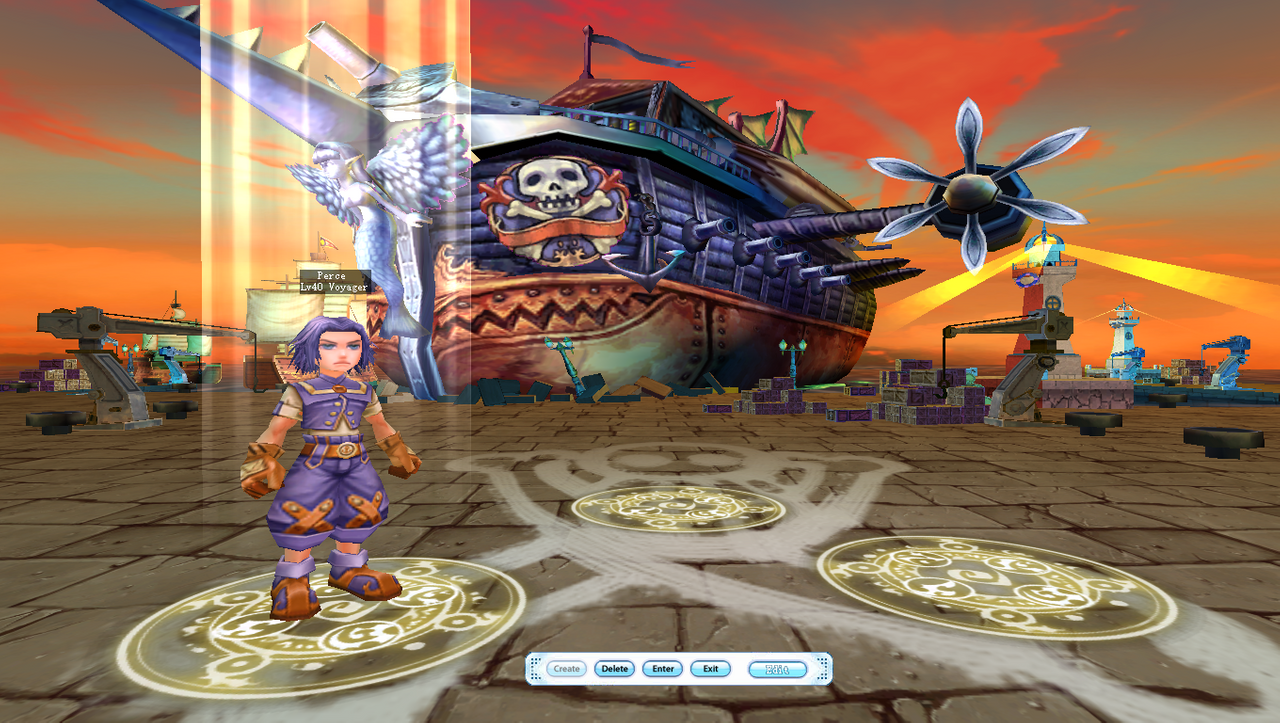 La personalización en este juego no es demasiado amplia, al menos no al principio, ya luego cuentas con un montón de skins y modificaciones para tu personaje. Yo decidí hacer un personaje algo gracioso, así que le puse un bigote elegante y le dejé una hermosa calva.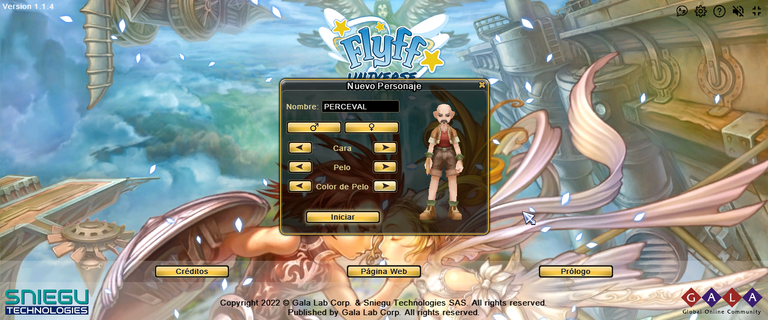 Al principio @oldfool y yo creíamos que subiríamos de nivel volando, pues veníamos con mucho entusiasmo, no fue lo que esperábamos. Oldfool decidió jugar un poco Tryhard, así que creó un Alt que funcionaría como buffer y healer personal, pero tenerlo en nuestra party hizo que no ganáramos la experiencia que necesitábamos.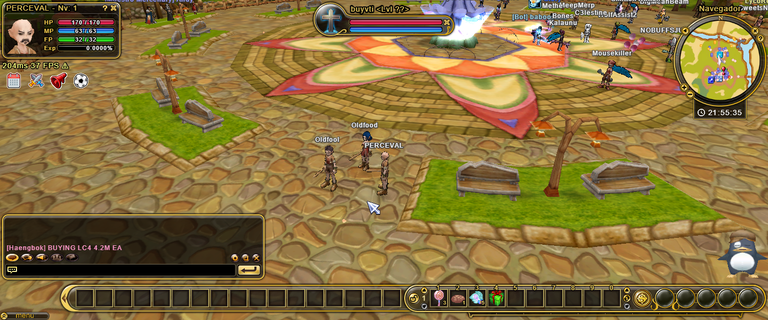 Después de ver que tener un Alt no estaba funcionado, oldfool decidió jugar solo con una cuenta mientras estuviésemos juntos y subir de nivel a su Alt de forma individual. Nuestro camino ha sido sencillo, es un juego bastante simple con muchas misiones que hacer y muchos monstruos que matar. No creo que este juego sea atractivo para todo el mundo, mucho menos para las nuevas generaciones, pero está divertido.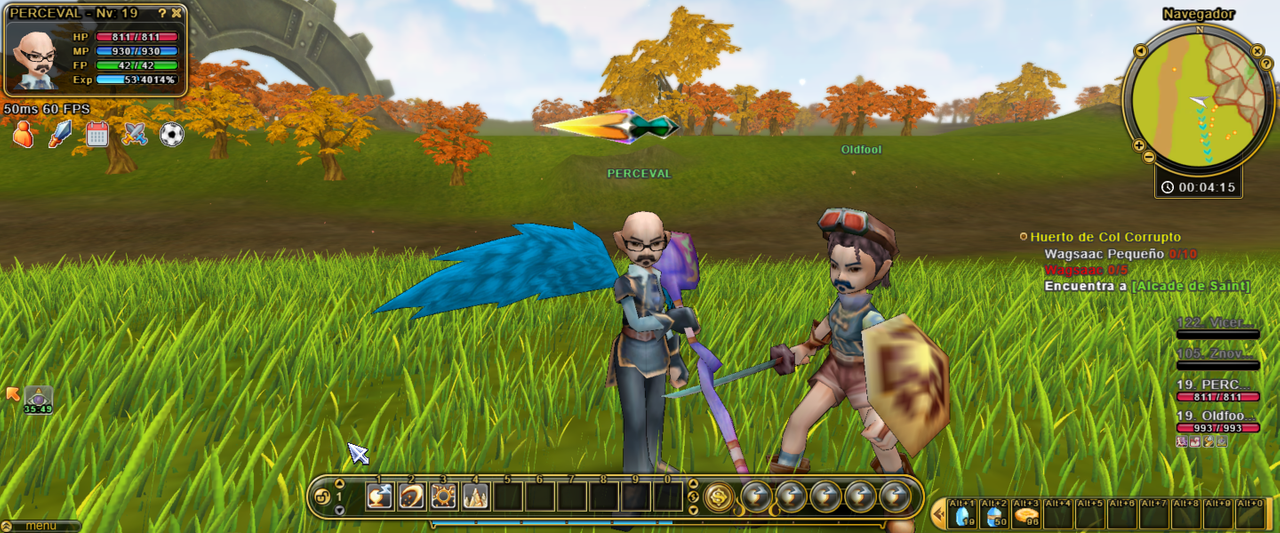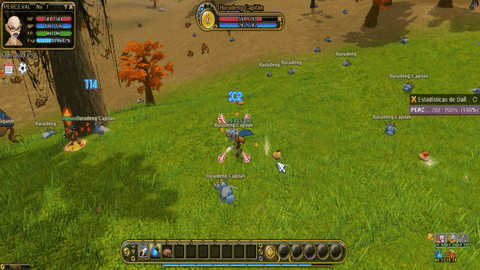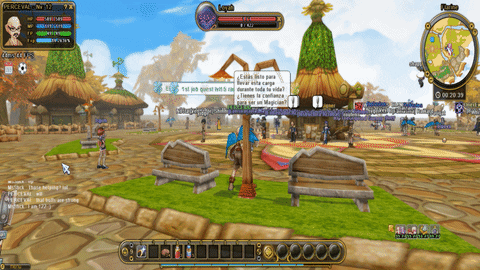 ---
Aún no me acostumbro del todo a los controles, son algo anticuados, nada que no se pueda resolver con horas de juego. No sé hasta donde lleguemos en esta aventura, solo espero que nos sigamos divirtiendo como lo estamos haciendo. Dentro de un par de días les traeré un post bastante amplio acerca de la nueva actualización de Albion, tengo mucho que decir al respecto. ¡Nos vemos en mi siguiente post! Cya, boomers!
𝚂𝚘𝚢 𝚞𝚗 𝚓𝚞𝚐𝚊𝚍𝚘𝚛 𝚍𝚎 𝟸𝟺 𝚊ñ𝚘𝚜 𝚊𝚙𝚊𝚜𝚒𝚘𝚗𝚊𝚍𝚘 𝚙𝚘𝚛 𝚕𝚊 𝚖ú𝚜𝚒𝚌𝚊 𝚢 𝚝𝚊𝚖𝚋𝚒é𝚗 𝚙𝚘𝚛 𝚎𝚕 𝚌𝚘𝚗𝚝𝚎𝚗𝚒𝚍𝚘 𝚍𝚎 𝚝𝚎𝚛𝚛𝚘𝚛. 𝚃𝚊𝚖𝚋𝚒é𝚗 𝚜𝚞𝚎𝚕𝚘 𝚑𝚊𝚌𝚎𝚛 𝚊𝚕𝚐𝚘 𝚍𝚎 𝚖ú𝚜𝚒𝚌𝚊, 𝚊𝚞𝚗𝚚𝚞𝚎 nadie 𝚕𝚊 𝚎𝚜𝚌𝚞𝚌𝚑𝚊. 𝚂𝚒 𝚝𝚎 𝚐𝚞𝚜𝚝𝚊𝚗 𝚖𝚒𝚜 𝚙𝚘𝚜𝚝, 𝚗𝚘 𝚘𝚕𝚟𝚒𝚍𝚎𝚜 𝚍𝚎 𝚜𝚎𝚐𝚞𝚒𝚛𝚖𝚎 𝚢 𝚍𝚎 𝚍𝚎𝚓𝚊𝚛𝚖𝚎 𝚞𝚗 𝚌𝚘𝚖𝚎𝚗𝚝𝚊𝚛𝚒𝚘. 𝙹𝚞𝚎𝚐𝚘 𝚌𝚊𝚜𝚒 𝚌𝚞𝚊𝚕𝚚𝚞𝚒𝚎𝚛 video𝚓𝚞𝚎𝚐𝚘, 𝚊𝚜í 𝚚𝚞𝚎 𝚜𝚒 𝚗𝚎𝚌𝚎𝚜𝚒𝚝𝚊𝚜 𝚊 𝚊𝚕𝚐𝚞𝚒𝚎𝚗 𝚚𝚞𝚎 𝚝𝚎 𝚝𝚛𝚘𝚕𝚎𝚎 𝚕𝚊𝚜 𝚙𝚊𝚛𝚝𝚒𝚍𝚊𝚜, 𝚑á𝚣𝚖𝚎𝚕𝚘 𝚜𝚊𝚋𝚎𝚛. 𝐆𝐆!
---
---