HAWKED, Open Beta | Will this game be worth it after the beta? [ENG - ESP]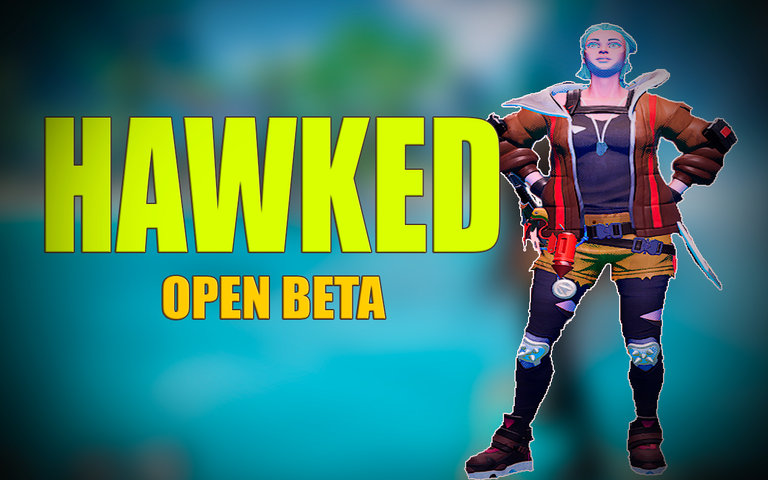 ---

A few days ago I was looking for some different game to play with my friends and @dog3zz told me there was an interesting game we could play at launch. I looked up the game on Steam and it looked interesting, although honestly the interface looked like a copy of Fortnite and visually it did too. Within the game page there was a button that let you apply to the beta, so I took the opportunity to apply to try it out.
I had forgotten about this, but yesterday morning I checked my mail and found a message from the game saying that you could already access the Open Beta, so today I'll tell you a bit about that game.
HAWKED
My first impressions were not too good to tell the truth, let's say it was a 50/50, at least the game worked well, that's the important thing. At the beginning I had some inconveniences when trying to read some dialogues in the introduction of the game, as they appeared out of my screen. I thought it was a resolution problem, but it wasn't, as my resolution was fine in the settings.
The story of the game is somewhat simple. We are on an island called similar to Twitter: X, because this island is just as dangerous as Twitter, is the most dangerous place that exists. In this game inhabit all kinds of dangerous creatures who want to take possession of valuable relics. Our duty is to get ahead of them and loot the whole island. That is the concept of the games, you enter a game, get relics and head towards the extraction points to escape from the island, simple.
The problem is that it's not really simple, as you will have to solve some annoying puzzles to acquire the relics, at least I found the in-game puzzles interesting, but I feel that they take up a lot of your time and you have to be careful that other players don't kill you for trying to get an artifact. I must say that my gaming experience was quite affected because of my keyboard, as the most important key is failing(W), so I had to press it too hard to be able to move forward and sometimes I was stuck, it's quite annoying. At one point I changed this key to another one that worked to try to make my gameplay more comfortable, but I couldn't get used to it, I've been pressing the W key to move forward for as long as I can remember, so some people will understand my problem.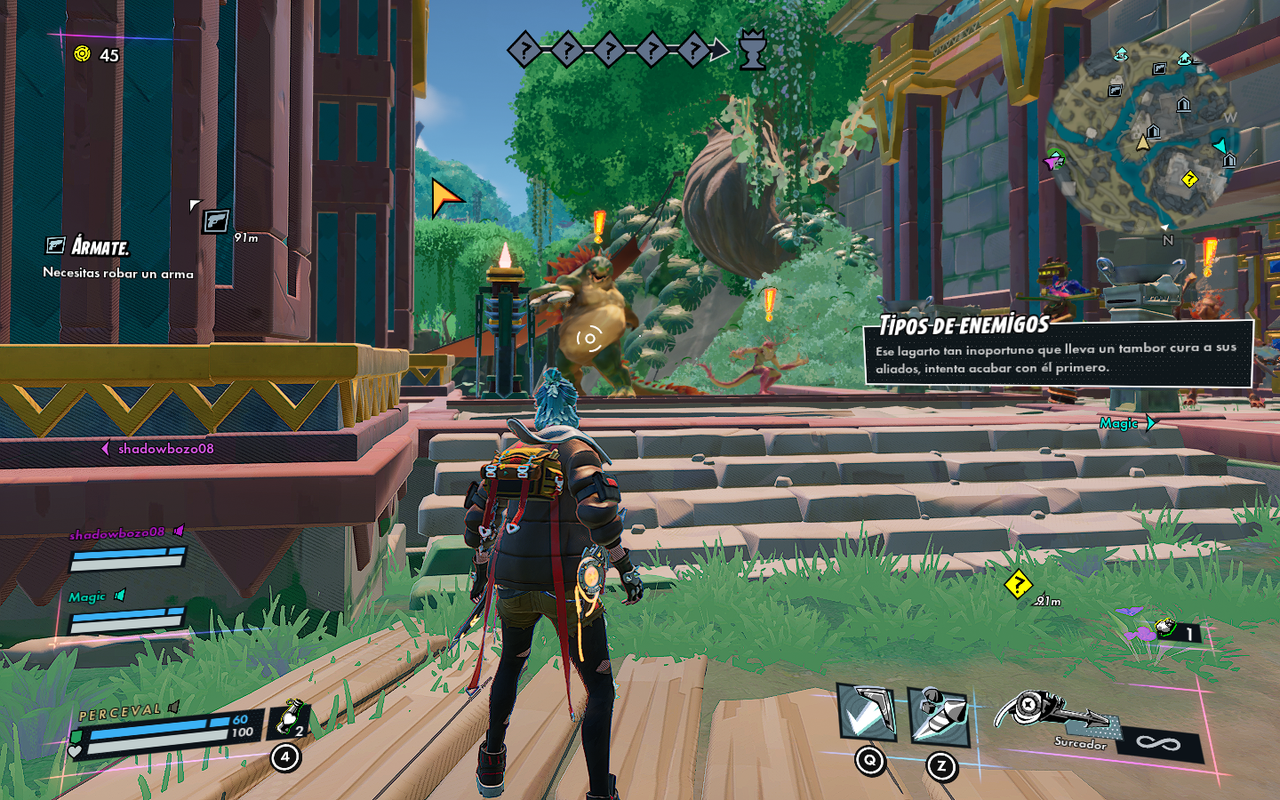 Beyond the fact that it was a little difficult for me to move, the game doesn't feel too good, at least the sensitivity along with the way the guns shoot is quite uncomfortable. I know that my shooting skills are not very good, but in this game I missed a lot of bullets that I shouldn't have missed, unbelievable.
Visually I think the game is quite attractive, at least the map looked very nice to me, it's very similar to the islands in Sea of Thieves, so I give it points for that. I think the water and the whole setting was what I enjoyed most about the game. The graphics that the game set for me by default were the maximum, and still there was something strange with the textures of the characters, I guess it will be something from the beta or some incompatibility with my old GPU, I even spent some time in trying to lower the settings to see if I noticed any difference in terms of textures but it didn't work. I thought it was the FSR, disabling it only got a small improvement in resolution, but no huge improvement.
When finding game and finishing the game, there are bugs, the textures are horribly buggy, I guess it's a normal beta thing, nothing to ruin your gaming experience, just a little scary.
I think as a game concept it's okay, it has attractive designs, there are monsters, a nice island, weapons, but still there's something that doesn't grab me. I already mentioned that the game's interface looks like a copy of Fortnite, well visually it looks a bit like it too. Lately I've played several games that look like Fortnite and I was in the mood for something different, I think this game is no exception. All that's left is the customization and sound, both are decent, in fact, the customization is very similar to the game - Dauntless.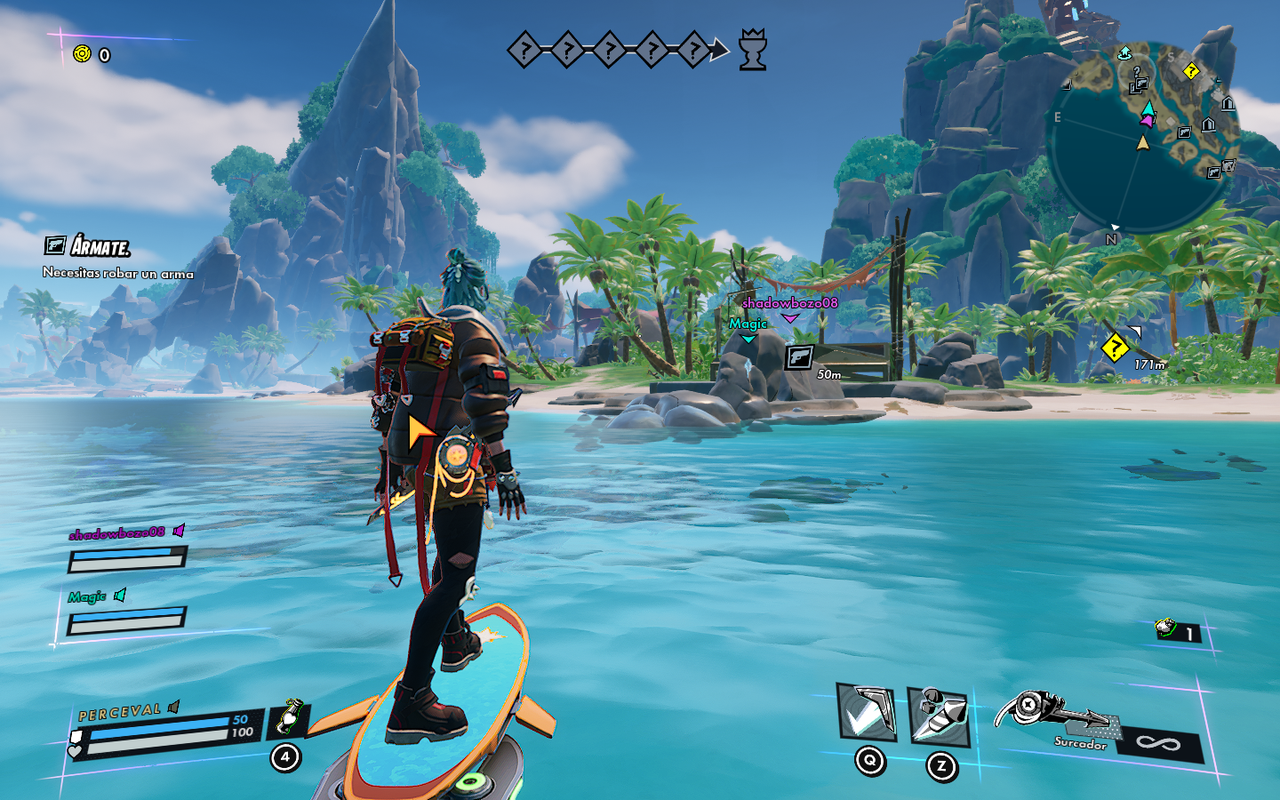 Anyway, I hope you can try this game and also see opinions about it. I hope the game does well and can improve over time, but for now I'll stay away, what do you think, do you think it's worth it? Let me know in the comments, I'll see you tomorrow with a game I've been looking forward to for a long time and am excited to try! Thanks for reading, boomers.
---
𝙸'𝚖 𝚊 𝟸5 𝚢𝚎𝚊𝚛 𝚘𝚕𝚍 𝚐𝚊𝚖𝚎𝚛 𝚠𝚒𝚝𝚑 𝚊 𝚙𝚊𝚜𝚜𝚒𝚘𝚗 𝚏𝚘𝚛 𝚖𝚞𝚜𝚒𝚌 𝚊𝚗𝚍 𝚊𝚕𝚜𝚘 𝚑𝚘𝚛𝚛𝚘𝚛 𝚌𝚘𝚗𝚝𝚎𝚗𝚝. 𝙸 𝚊𝚕𝚜𝚘 𝚞𝚜𝚞𝚊𝚕𝚕𝚢 𝚖𝚊𝚔𝚎 𝚜𝚘𝚖𝚎 𝚖𝚞𝚜𝚒𝚌, 𝚊𝚕𝚝𝚑𝚘𝚞𝚐𝚑 𝚗𝚘 𝚘𝚗𝚎 𝚕𝚒𝚜𝚝𝚎𝚗𝚜 𝚝𝚘 𝚒𝚝. 𝙸𝚏 𝚢𝚘𝚞 𝚕𝚒𝚔𝚎 𝚖𝚢 𝚙𝚘𝚜𝚝𝚜, 𝚍𝚘𝚗'𝚝 𝚏𝚘𝚛𝚐𝚎𝚝 𝚝𝚘 𝚏𝚘𝚕𝚕𝚘𝚠 𝚖𝚎 𝚊𝚗𝚍 𝚕𝚎𝚊𝚟𝚎 𝚖𝚎 𝚊 𝚌𝚘𝚖𝚖𝚎𝚗𝚝. 𝙸 𝚙𝚕𝚊𝚢 𝚊𝚕𝚖𝚘𝚜𝚝 𝚊𝚗𝚢 𝚟𝚒𝚍𝚎𝚘 𝚐𝚊𝚖𝚎, 𝚜𝚘 𝚒𝚏 𝚢𝚘𝚞 𝚗𝚎𝚎𝚍 𝚜𝚘𝚖𝚎𝚘𝚗𝚎 𝚝𝚘 𝚝𝚛𝚘𝚕𝚕 𝚢𝚘𝚞𝚛 𝚐𝚊𝚖𝚎𝚜, 𝚕𝚎𝚝 𝚖𝚎 𝚔𝚗𝚘𝚠. 𝙶𝙶!

Español

Hace unos días buscaba algún juego diferente que jugar con mis amigos y @dog3zz me dijo que había un juego interesante que podríamos jugar en su lanzamiento. Busqué el juego en Steam y se veía interesante, aunque honestamente la interfaz parecía una copia de Fortnite y visualmente también lo hacía. Dentro de la página del juego había un botón que te dejaba aplicar a la beta, así que aproveché de aplicar para probarlo.
Había olvidado esto, pero ayer por la mañana revisé mi correo y encontré un mensaje del juego diciendo que ya se podía acceder a la Beta Abierta, así que hoy les hablaré un poco de ese juego.
HAWKED
Mis primeras impresiones no fueron demasiado buenas a decir verdad, digamos que fue un 50/50, por lo menos el juego funcionaba bien, eso es lo importante. Al principio tuve algunos inconvenientes al intentar leer algunos diálogos de la introducción del juego, ya que aparecían fuera de mi pantalla. Creí que era un problema de resolución, pero no fue así, ya que mi resolución estaba bien en las configuraciones.
La historia del juego es algo sencilla. Nos encontramos en una isla llamada como Twitter: X, pues esta isla es igual de peligrosa que Twitter, es el jugar más peligroso que existe. En este lugar habitan todo tipo de criaturas peligrosas que quieren adueñarse de reliquias valiosas. Nuestro deber es adelantarnos a ellos y saquear toda la isla. Ese es el concepto de las partidas, entras a una partida, consigues reliquias y te diriges hacia los puntos de extracción para escapar de la isla, sencillo.
El problema es que no es realmente sencillo, ya que deberás de resolver algunos puzzles molestos para adquirir las reliquias, al menos a mi me pareció interesante lo de los puzzles in-game, pero siento que te quitan mucho tiempo y debes de estar atento a que los demás jugadores no te maten por estar intentando conseguir un artefacto. Debo decir que mi experiencia de juego se vio bastante afectada por culpa de mi teclado, ya que la tecla más importante está fallando(W), así que debía de presionarla demasiado fuerte para poder avanzar hacia delante y algunas veces me quedaba parado, es bastante molesto. En un momento cambié esta tecla a otra que si funcionaba para intentar hacer mi gameplay mucho más cómodo, pero no terminaba de acostumbrarme, llevo desde que tengo memoria presionando la tecla W para avanzar, así que algunos entenderán mi problema.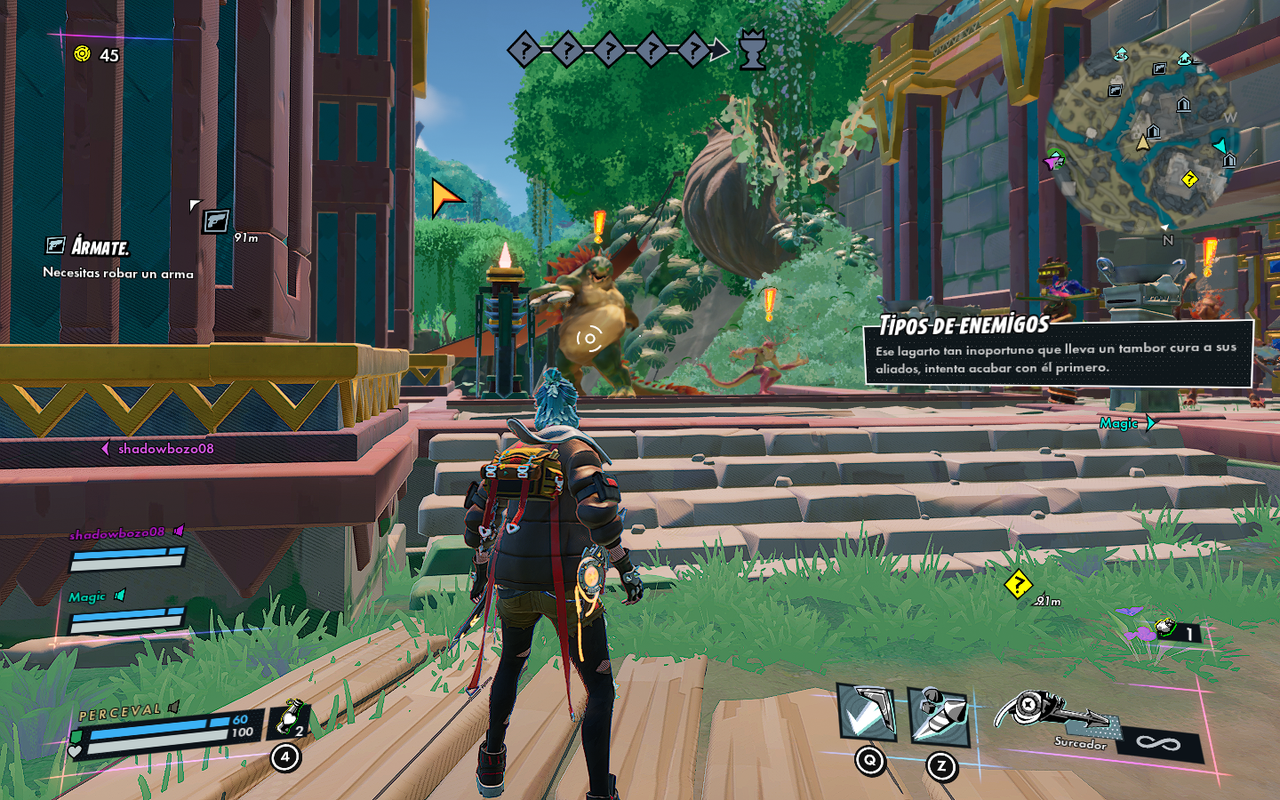 Más allá de que me costaba un poco moverme, el juego no se siente demasiado bien, al menos la sensibilidad junto con la forma en la que las armas disparan es bastante incomoda. Yo sé que mis habilidades a la hora de disparar no son demasiado buenas, pero en este juego he fallado muchas balas que no debía de fallar, increíble.
Visualmente creo que el juego es bastante atractivo, al menos el mapa me pareció muy bonito, es muy parecido a las islas en Sea of Thieves, así que le doy puntos por eso. Creo que el agua y toda la ambientación fue lo que más disfruté del juego. Los gráficos que el juego me configuró por defecto fueron los máximos, y aún así había algo extraño con las texturas de los personajes, supongo que será algo de la beta o alguna incompatibilidad con mi vieja GPU, incluso estuve algo de tiempo en probar bajar los ajustes para ver si notaba alguna diferencia en cuanto a las texturas pero no funcionaba. Creí que se trataba del FSR, desactivándolo solo conseguía una pequeña mejora en la resolución, pero ninguna mejora enorme.
Al encontrar partida y finalizar la partida, hay bugs, las texturas se buguean horriblemente, supongo que es algo normal de la beta, nada que arruine tu experiencia de juego, solo asusta un poco.
Creo que como concepto de juego está bien, tiene diseños atractivos, hay monstruos, una isla bonita, armas, pero aún así hay algo que no me atrapa. Ya mencioné que la interfaz del juego parece una copia de Fortnite, pues visualmente también lo parece un poco. Últimamente he jugado a varios juegos que lucen como Fortnite y me apetecía algo diferente, creo que este juego no es la excepción. Ya solo queda el tema de la personalización y del sonido, ambos están decentes, de hecho, la personalización es muy parecida al juego: Dauntless.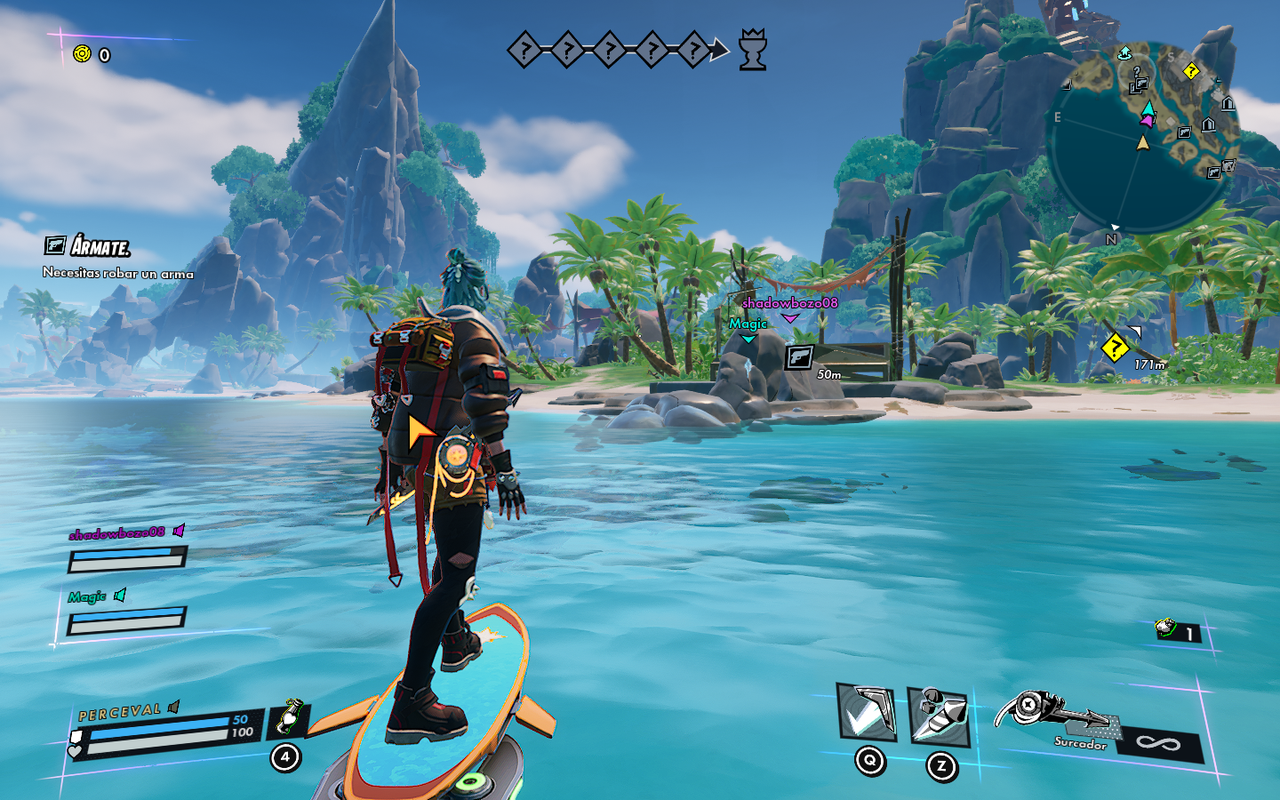 En fin, espero que puedas probar este juego y también ver opiniones acerca de él. Espero que al juego le vaya bien y pueda mejorar con el tiempo, pero por los momentos me mantendré alejado. ¿Qué opinas tú? ¿Crees que valga la pena? Házmelo saber en los comentarios. ¡Nos vemos mañana con un juego que estuve esperando mucho tiempo y estoy emocionado por probar! Gracias por leer, boomers.
---
𝚂𝚘𝚢 𝚞𝚗 𝚓𝚞𝚐𝚊𝚍𝚘𝚛 𝚍𝚎 𝟸5 𝚊ñ𝚘𝚜 𝚊𝚙𝚊𝚜𝚒𝚘𝚗𝚊𝚍𝚘 𝚙𝚘𝚛 𝚕𝚊 𝚖ú𝚜𝚒𝚌𝚊 𝚢 𝚝𝚊𝚖𝚋𝚒é𝚗 𝚙𝚘𝚛 𝚎𝚕 𝚌𝚘𝚗𝚝𝚎𝚗𝚒𝚍𝚘 𝚍𝚎 𝚝𝚎𝚛𝚛𝚘𝚛. 𝚃𝚊𝚖𝚋𝚒é𝚗 𝚜𝚞𝚎𝚕𝚘 𝚑𝚊𝚌𝚎𝚛 𝚊𝚕𝚐𝚘 𝚍𝚎 𝚖ú𝚜𝚒𝚌𝚊, 𝚊𝚞𝚗𝚚𝚞𝚎 nadie 𝚕𝚊 𝚎𝚜𝚌𝚞𝚌𝚑𝚊. 𝚂𝚒 𝚝𝚎 𝚐𝚞𝚜𝚝𝚊𝚗 𝚖𝚒𝚜 𝚙𝚘𝚜𝚝, 𝚗𝚘 𝚘𝚕𝚟𝚒𝚍𝚎𝚜 𝚍𝚎 𝚜𝚎𝚐𝚞𝚒𝚛𝚖𝚎 𝚢 𝚍𝚎 𝚍𝚎𝚓𝚊𝚛𝚖𝚎 𝚞𝚗 𝚌𝚘𝚖𝚎𝚗𝚝𝚊𝚛𝚒𝚘. 𝙹𝚞𝚎𝚐𝚘 𝚌𝚊𝚜𝚒 𝚌𝚞𝚊𝚕𝚚𝚞𝚒𝚎𝚛 video𝚓𝚞𝚎𝚐𝚘, 𝚊𝚜í 𝚚𝚞𝚎 𝚜𝚒 𝚗𝚎𝚌𝚎𝚜𝚒𝚝𝚊𝚜 𝚊 𝚊𝚕𝚐𝚞𝚒𝚎𝚗 𝚚𝚞𝚎 𝚝𝚎 𝚝𝚛𝚘𝚕𝚎𝚎 𝚕𝚊𝚜 𝚙𝚊𝚛𝚝𝚒𝚍𝚊𝚜, 𝚑á𝚣𝚖𝚎𝚕𝚘 𝚜𝚊𝚋𝚎𝚛. 𝐆𝐆!
---
---