Teamfight Tactics has changed | More changes are coming in the new Set [ENG - ESP]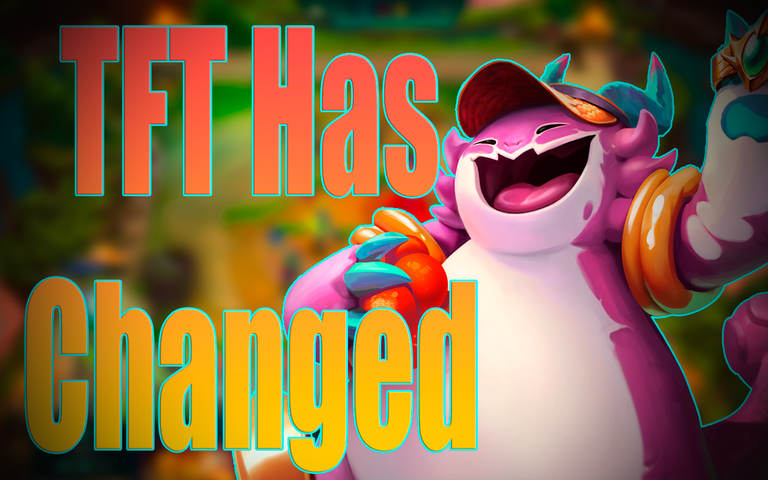 ---

It's amazing how far Teamfight Tactics has come since its release. Before League Of Legends was just a MOBA, but now you can find several games of different types and with the lore characters, which is great. On one hand I feel like time has flown by, and on the other hand I'm excited to see what will happen soon. Right now we can see LoL in summoner shout, aram, other modes, but there are also other games like LOR and TFT, soon a fighting game from Riot.
TFT is a game I spent quite a bit of time on in its early days, getting quite far in the rank system. However, I wouldn't say that my skill got me that far, at that time it was as simple as finding a strong unit and equipping it with the right items, that alone would get you to the top ranks and move up. I was still one of those players who understood the game more than the average, so winning games back then was easy, but things have changed a lot.
The updates and changes that have been made in TFT seem to me to be for the better, making TFT a much more complete game with many more possibilities, but there is something that does not convince me in the Sets and I do not usually play as I did before. Soon there will be an update of the Set, where the meta will change and maybe I will give it another chance to master it well. I also hope to learn about compositions together with my friends, since in the Hive Gaming community there are many TFT players and playing together with people you know makes everything more fun.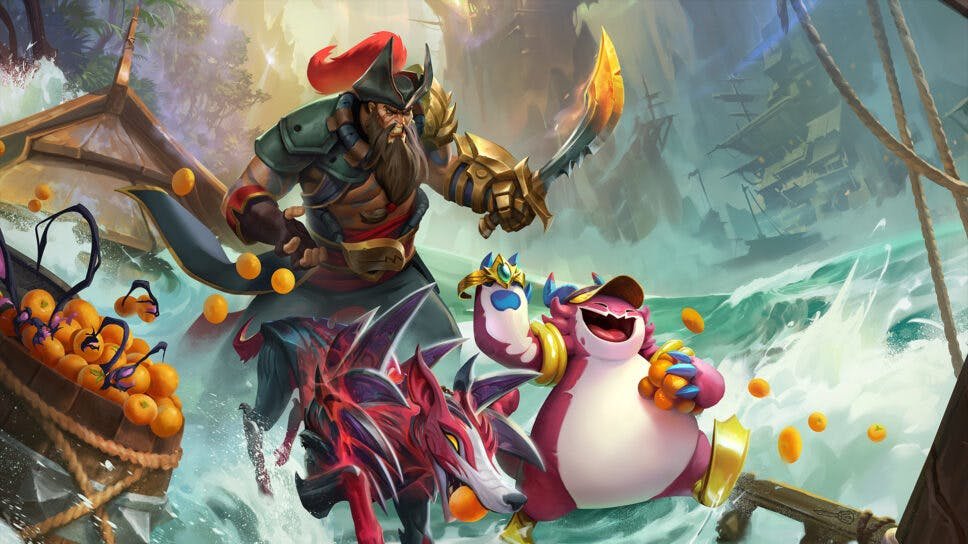 A big thanks to @incublus for organizing the TFT tournament for the second time, unfortunately I couldn't attend the first tournament, but I couldn't miss it again. I had the chance to have a lot of fun together with my friends and other users, it was really exciting and quite close.
@incublus two days before the start of the tournament, he was my coach in several games, where he taught me to master a basic composition and to understand it completely, in fact, it was the only composition I used in the tournament and I did not do badly at all. Thanks to him I was able to do something, as I was quite lost and didn't know anything about the TFT set. @oldfool also explained another pretty strong composition, but this one was a bit more complicated, at least I could see its potential and it was a composition I wouldn't want to have against it.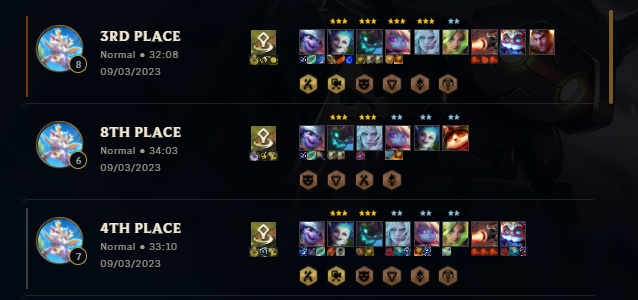 I recorded some of the games where @incublus played as Coach, so I'll leave you one where I was second place, although I could have won it if I didn't make some mistakes by misunderstanding, sorry master. After that game there was another one where we were first place, but unfortunately I wasn't recording anymore.
The composition consisted of maximizing as much gold as possible without leveling up in the first rounds, and then raising at least 3 units to their maximum level at the exact moment, so that when adding the "Yordles", the unit with more items and more powerful could overcome the barrier of 3 stars and pass 4 stars (this gives much more power to the unit). The units were of cost "1", so being able to take them to the maximum is quite simple, unless another player has in mind to play a similar composition.
Already in the tournament things changed a lot, since I was not facing casual players, I was facing beasts that have reached a good rank in almost all TFT sets, I knew that things would not be easy. Even so there was only one game out of the three we played, only in one I was in last place, let's say I got quite nervous and I was not so lucky, I made a lot of mistakes in that game. If you like and want to enjoy all our tournament, you can watch it all from here:
https://youtube.com/live/31hjOLin6II
I'm sure more tournaments like this are to come, even with more participants and many more great compositions, so I hope you'll get ready for the next one. This post was supposed to be for yesterday, but I cut out a part of my Youtube stream as it was not part of the tournament and it took quite a while for the video to be processed again. Already next week we should have the new TFT Set and I will probably bring a post talking about my first impressions of the Set and testing things. I hope you liked my post, see you in the next one!
---
𝙸'𝚖 𝚊 𝟸5 𝚢𝚎𝚊𝚛 𝚘𝚕𝚍 𝚐𝚊𝚖𝚎𝚛 𝚠𝚒𝚝𝚑 𝚊 𝚙𝚊𝚜𝚜𝚒𝚘𝚗 𝚏𝚘𝚛 𝚖𝚞𝚜𝚒𝚌 𝚊𝚗𝚍 𝚊𝚕𝚜𝚘 𝚑𝚘𝚛𝚛𝚘𝚛 𝚌𝚘𝚗𝚝𝚎𝚗𝚝. 𝙸 𝚊𝚕𝚜𝚘 𝚞𝚜𝚞𝚊𝚕𝚕𝚢 𝚖𝚊𝚔𝚎 𝚜𝚘𝚖𝚎 𝚖𝚞𝚜𝚒𝚌, 𝚊𝚕𝚝𝚑𝚘𝚞𝚐𝚑 𝚗𝚘 𝚘𝚗𝚎 𝚕𝚒𝚜𝚝𝚎𝚗𝚜 𝚝𝚘 𝚒𝚝. 𝙸𝚏 𝚢𝚘𝚞 𝚕𝚒𝚔𝚎 𝚖𝚢 𝚙𝚘𝚜𝚝𝚜, 𝚍𝚘𝚗'𝚝 𝚏𝚘𝚛𝚐𝚎𝚝 𝚝𝚘 𝚏𝚘𝚕𝚕𝚘𝚠 𝚖𝚎 𝚊𝚗𝚍 𝚕𝚎𝚊𝚟𝚎 𝚖𝚎 𝚊 𝚌𝚘𝚖𝚖𝚎𝚗𝚝. 𝙸 𝚙𝚕𝚊𝚢 𝚊𝚕𝚖𝚘𝚜𝚝 𝚊𝚗𝚢 𝚟𝚒𝚍𝚎𝚘 𝚐𝚊𝚖𝚎, 𝚜𝚘 𝚒𝚏 𝚢𝚘𝚞 𝚗𝚎𝚎𝚍 𝚜𝚘𝚖𝚎𝚘𝚗𝚎 𝚝𝚘 𝚝𝚛𝚘𝚕𝚕 𝚢𝚘𝚞𝚛 𝚐𝚊𝚖𝚎𝚜, 𝚕𝚎𝚝 𝚖𝚎 𝚔𝚗𝚘𝚠. 𝙶𝙶!

Español

Es increíble lo lejos que ha llegado Teamfight Tactics desde su salida. Antes League Of Legends solo era un MOBA, pero ahora puedes encontrar varios juegos de distintos tipos y con los personajes del lore, lo cual es grandioso. Por un lado siento que el tiempo ha pasado volando, y por el otro estoy emocionado de ver lo que sucederá pronto. Ahora mismo podemos ver a LoL en la grita del invocador, aram, otros modos, pero también están otros juegos como LOR y TFT, pronto un juego de luchas por parte de Riot.
TFT es un juego al que le dediqué bastante tiempo en sus inicios, llegando bastante lejos en el sistema de rangos. Sin embargo, no diría que mi habilidad me llevó tan lejos, en ese momento era tan sencillo como encontrar una unidad fuerte y equiparle los items correctos, solo con eso podrías asegurarte los primeros puestos y subir. Aún así era de esos jugadores que entendía el juego más que la media, así que ganar partidas en ese entonces era sencillo, pero la cosa ha cambiado muchísimo.
Las actualizaciones y los cambios que han habido en TFT me parecen que son para mejor, haciendo de TFT un juego mucho más completo con muchas más posibilidades, pero hay algo que no me termina de convencer en los Sets y ya no suelo jugar como lo hacía antes. Pronto vendrá una actualización del Set, en donde el meta cambiará y tal vez le de otra oportunidad para dominarlo bien. También espero aprender de composiciones junto a mis amigos, ya que en la comunidad de Hive Gaming hay muchos jugadores de TFT y jugar junto a personas que conoces hace que todo sea más divertido.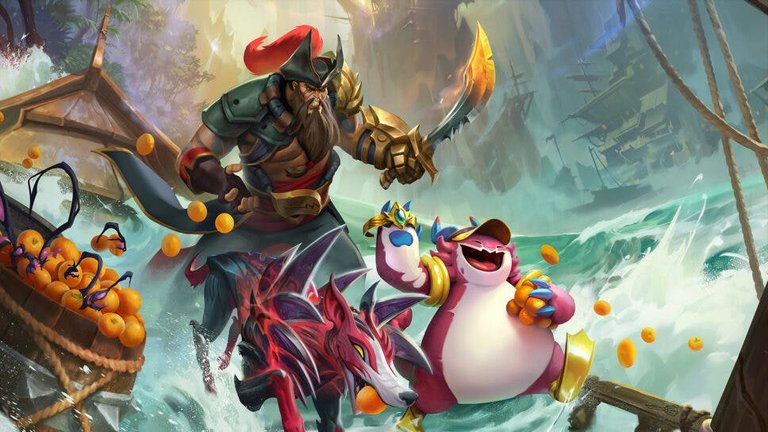 Agradezco mucho a @incublus por haber organizado el torneo de TFT por segunda vez, lamentablemente no pude asistir al primer torneo, pero no podía perdérmelo otra vez. Tuve la oportunidad de divertirme un montón junto a mis amigos y otros usuarios, realmente fue emocionante y bastante reñido.
@incublus dos días antes de empezar el torneo, fue mi coach en varias partidas, en donde me enseñó a dominar una composición básica y a entenderla completamente, de hecho, fue la única composición que utilicé en el torneo y no me fue nada mal. Gracias a él pude hacer algo, ya que estaba bastante perdido y no sabía nada del set de TFT. @oldfool también me explicó otra composición bastante fuerte, pero esta era un poco más complicada, al menos pude ver su potencial y era una composición que no querría tener en contra.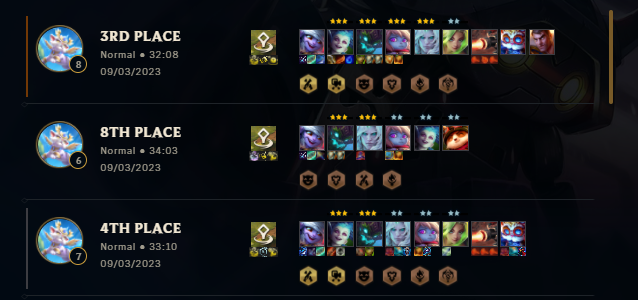 Grabé algunas de las partidas en donde @incublus hizo de Coach, así que les dejaré una en donde quedé de segundo lugar, aunque pude haberla ganado si no cometía algunos errores por entender mal, perdón maestro. Después de esa partida hubo otra en donde quedamos de primer lugar, pero lamentablemente ya no estaba grabando.
La composición consistía en maximizar la mayoría de oro posible sin subir de nivel en las primeras rondas, y luego subir al menos 3 unidades a su máximo nivel en el momento exacto, para que así al añadir a los "Yordles", la unidad con más items y más poderosa pudiese superar la barrera de 3 estrellas y pasar 4 estrellas(esto le da mucho más poder a la unidad). Las unidades eran de coste "1", así que el poder llevarlas al máximo es bastante sencillo, al menos que otro jugador tenga en mente jugar una composición similar.
Ya en el torneo la cosa cambió bastante, ya que no me estaba enfrentando con jugadores casuales, me enfrentaba a bestias que han alcanzado un buen rango en casi todos los sets de TFT, sabía que la cosa no estaría fácil. Aún así solo hubo una partida de las tres que jugamos, solo en una quedé de último lugar, digamos que me puse bastante nervioso y no tuve tanta suerte, cometí muchos errores en esa partida. Si gustan y quieren disfrutar de todo nuestro torneo, puedes verlo todo desde aquí:
https://youtube.com/live/31hjOLin6II
Estoy seguro que más torneos como este están por venir, incluso con más participantes y muchas más composiciones geniales, así que espero que te prepares para la siguiente. Este post debía de ser para ayer, pero recorté una parte de mi transmisión en Youtube ya que no era parte del torneo y se demoró bastante en procesarse el vídeo otra vez. Ya la semana que viene tendríamos el nuevo Set de TFT y probablemente traiga un post hablando de mis primeras impresiones del Set y probando cosas. Espero que te haya gusta mi post, ¡nos vemos en la siguiente!
! [Sources] Images and resources used from other sites.
1
---
𝚂𝚘𝚢 𝚞𝚗 𝚓𝚞𝚐𝚊𝚍𝚘𝚛 𝚍𝚎 𝟸5 𝚊ñ𝚘𝚜 𝚊𝚙𝚊𝚜𝚒𝚘𝚗𝚊𝚍𝚘 𝚙𝚘𝚛 𝚕𝚊 𝚖ú𝚜𝚒𝚌𝚊 𝚢 𝚝𝚊𝚖𝚋𝚒é𝚗 𝚙𝚘𝚛 𝚎𝚕 𝚌𝚘𝚗𝚝𝚎𝚗𝚒𝚍𝚘 𝚍𝚎 𝚝𝚎𝚛𝚛𝚘𝚛. 𝚃𝚊𝚖𝚋𝚒é𝚗 𝚜𝚞𝚎𝚕𝚘 𝚑𝚊𝚌𝚎𝚛 𝚊𝚕𝚐𝚘 𝚍𝚎 𝚖ú𝚜𝚒𝚌𝚊, 𝚊𝚞𝚗𝚚𝚞𝚎 nadie 𝚕𝚊 𝚎𝚜𝚌𝚞𝚌𝚑𝚊. 𝚂𝚒 𝚝𝚎 𝚐𝚞𝚜𝚝𝚊𝚗 𝚖𝚒𝚜 𝚙𝚘𝚜𝚝, 𝚗𝚘 𝚘𝚕𝚟𝚒𝚍𝚎𝚜 𝚍𝚎 𝚜𝚎𝚐𝚞𝚒𝚛𝚖𝚎 𝚢 𝚍𝚎 𝚍𝚎𝚓𝚊𝚛𝚖𝚎 𝚞𝚗 𝚌𝚘𝚖𝚎𝚗𝚝𝚊𝚛𝚒𝚘. 𝙹𝚞𝚎𝚐𝚘 𝚌𝚊𝚜𝚒 𝚌𝚞𝚊𝚕𝚚𝚞𝚒𝚎𝚛 video𝚓𝚞𝚎𝚐𝚘, 𝚊𝚜í 𝚚𝚞𝚎 𝚜𝚒 𝚗𝚎𝚌𝚎𝚜𝚒𝚝𝚊𝚜 𝚊 𝚊𝚕𝚐𝚞𝚒𝚎𝚗 𝚚𝚞𝚎 𝚝𝚎 𝚝𝚛𝚘𝚕𝚎𝚎 𝚕𝚊𝚜 𝚙𝚊𝚛𝚝𝚒𝚍𝚊𝚜, 𝚑á𝚣𝚖𝚎𝚕𝚘 𝚜𝚊𝚋𝚎𝚛. 𝐆𝐆!
---
---