Terraria | We're almost at the end, but Calamity is coming 😈 [ENG - ESP]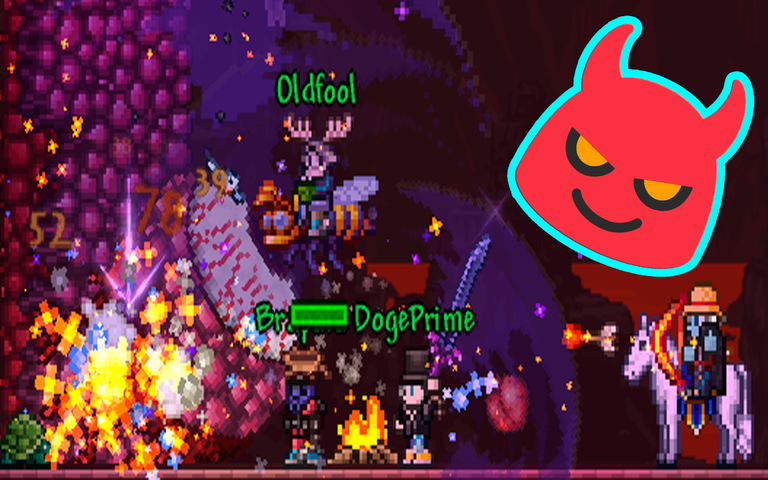 ---

These days in Terraria have been completely crazy. It will sound a bit "insane", but my friends and I have played for many hours straight non-stop to this game. We have reached a point where we have almost finished the game as such and we are very strong. A single day of Terraria means making a lot of progress and I like that, as I hate to leave things in the middle.
In the previous chapter we had been able to beat the skeleton boss, which was a bit tricky to beat, but like the other bosses, nothing that was out of our hands. Definitely the solo experience must be quite complicated.
Our game flow has been a bit complicated, because we depend on @dog3zz to host our world and he has been a bit busy, but it's not only him, @brataka is also usually busy and coinciding can be a miracle. Obviously we can play without him, but it's not the same, we don't want to leave him too far behind, we want him to face the amazing bosses together with us.
A few days ago we didn't have @dog3zz, so we had to improvise and put together a new world from 0 and play with a new character. @therealflaws was with us and @mrwisu was in charge of hosting the server this time. Starting this time was not at all the same as the first time, I felt that everything was much simpler and at least I already had an idea of what to do. I leave you the gameplay of that day here:
---
Something curious happened with my last gameplays, and that is that you can hear my voice, but not my friends, I don't know what could have happened, but I apologize.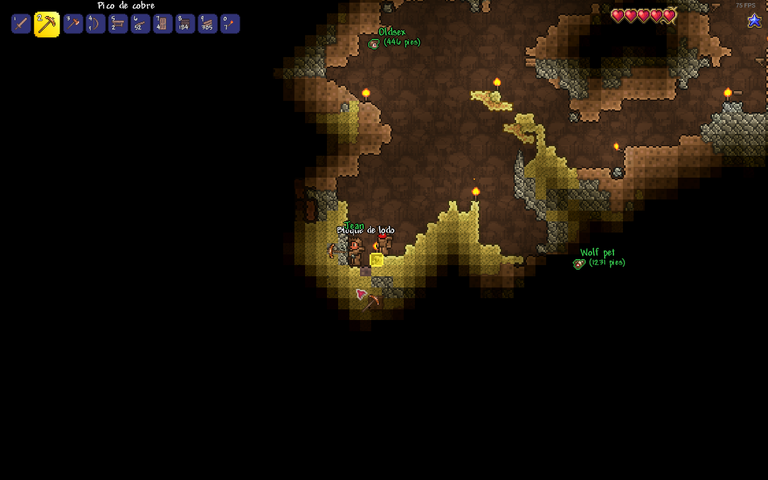 I think I haven't mentioned this in any of my previous Terraria posts, but this game has one of the best soundtracks I've ever heard, I also know I'm not the only one who thinks this, since there are Terraria memes referring to its amazing music, 10/10.
If I were to do reviews again, I would say that this game deserves a 11/10, as it is a game too cheap and at the same time it is so undemanding that it can run on computers with very few resources, being one of the most complete and beautiful games I've ever played, and there is still so much more to do, that's not counting the amount of mods and that you can play it with friends.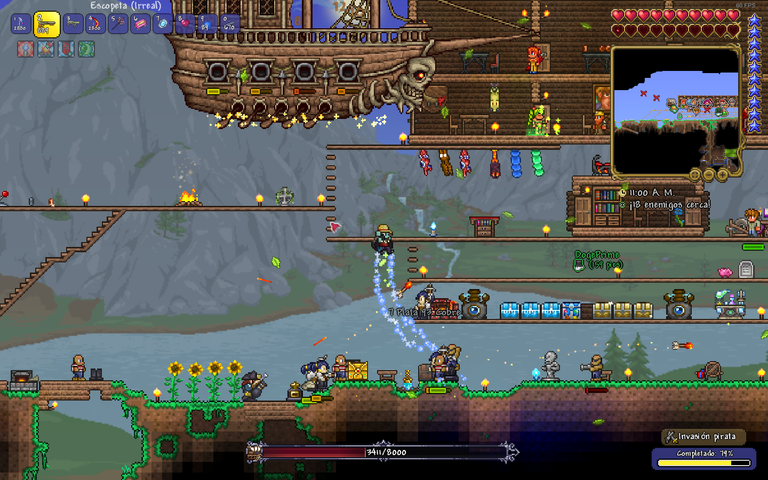 It's amazing, but every time we play there is something new to discover, there are even many other things you can do in terms of construction and curiosities that sell the NPCs, this game has everything. These curiosities can be from small easter eggs, pets with design from other places, musical instruments that you can use to create real music and record it, a drone to travel around the map and make content, infinite things.
This gameplay was about 5 hours, but we played much more. I think 5 hours of gameplay is my record so far, and not to mention that @dog3zz was streaming for 10 hours straight, crazy.
---
At first my look was totally random, I stole a wedding dress I found on a bloody moon and equipped it, really the dress was just aesthetic, it didn't give any advantage. Later one of the NPCs started selling various accessories and I decided on a small straw hat. Then I got a simple shirt and equipped it to look like Luffy from One Piece, I finished the Live Action and I've been encouraged to start with the anime. so you will see a little alien Luffy looking for adventure.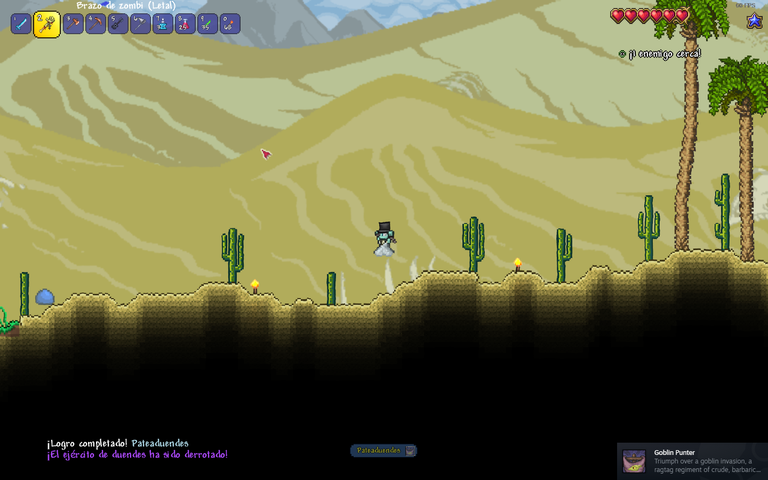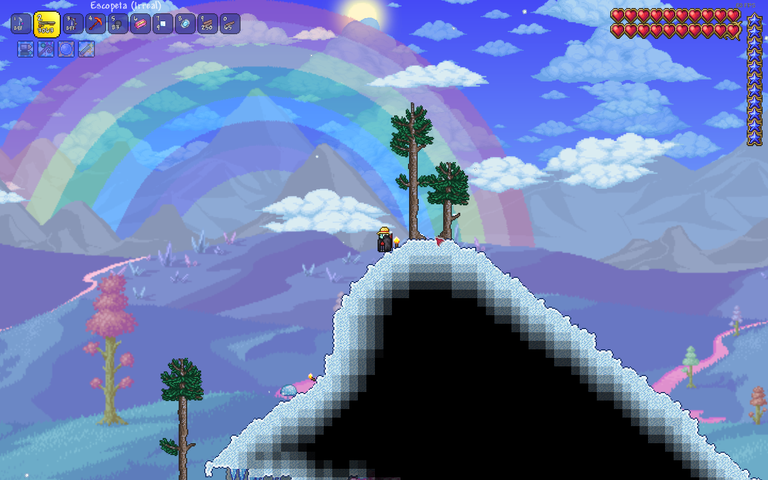 We each decided to occupy one of the four roles in the game, I decided to go hunter, since ranged weapons are always my thing. The disadvantage of going with bows and guns, is that I have to buy or make ammunition and at the beginning it's not that easy. Later on you can get items that help you save ammo and increase your damage.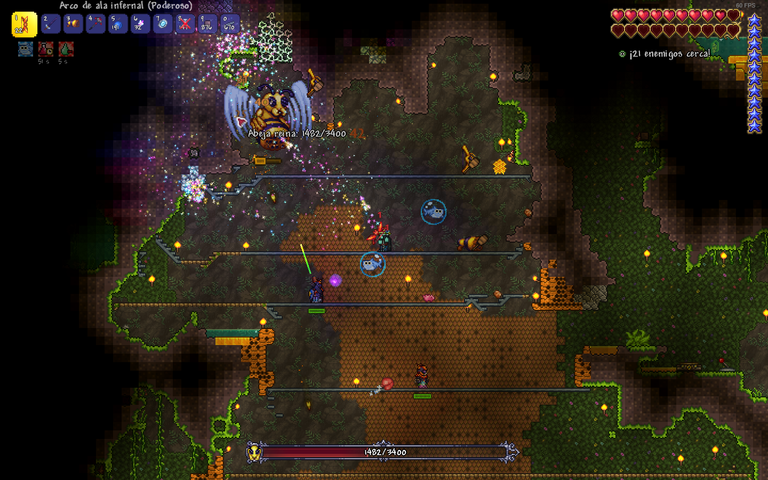 Currently my build is quite incomplete, but I have a bow that allows me to shoot arrows from the sky, which is great for when large waves of enemies come or the enemy is very large. Using it indoors is possible, but if an enemy accesses your roof, then the arrows won't be able to hurt him, that's the only disadvantage I found. I also make use of rifles and ranged weapons, I admit they are not the most fun weapons in the game, but they are very good.
By phasing and exploring the skies we were able to obtain wings, which make many things easier for us, besides avoiding falls, believe me, in Terraria it is very easy to die from falls. The wings together with the speed boots make an incredible combination to get to places much faster, although you can also make use of mounts such as horses and others. In my case, I present you my white horse:
We have faced many bosses, from normal skeletons to mecha skeletons, mecha snakes, flying eyes, hell itself, slimes with wings, flesh walls and much more, Terraria is amazing. We are getting closer and closer to the end of the game, but we still have a lot more to do, plus we will also play the Mod: Calamity, which will give us many more hours of fun, although I know it won't be easy.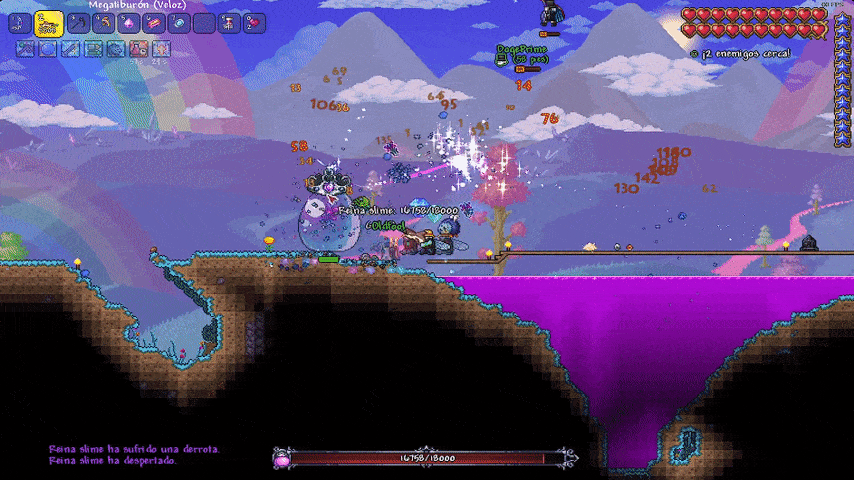 I hope you enjoyed my post, let me know if you did, have you ever played the Calamity Mod, I've read and seen many memes about the mod that make me a little scared 😂 Have a great day and see you soon with much more Terraria content. Cya, boomers.
---
𝙸'𝚖 𝚊 𝟸5 𝚢𝚎𝚊𝚛 𝚘𝚕𝚍 𝚐𝚊𝚖𝚎𝚛 𝚠𝚒𝚝𝚑 𝚊 𝚙𝚊𝚜𝚜𝚒𝚘𝚗 𝚏𝚘𝚛 𝚖𝚞𝚜𝚒𝚌 𝚊𝚗𝚍 𝚊𝚕𝚜𝚘 𝚑𝚘𝚛𝚛𝚘𝚛 𝚌𝚘𝚗𝚝𝚎𝚗𝚝. 𝙸 𝚊𝚕𝚜𝚘 𝚞𝚜𝚞𝚊𝚕𝚕𝚢 𝚖𝚊𝚔𝚎 𝚜𝚘𝚖𝚎 𝚖𝚞𝚜𝚒𝚌, 𝚊𝚕𝚝𝚑𝚘𝚞𝚐𝚑 𝚗𝚘 𝚘𝚗𝚎 𝚕𝚒𝚜𝚝𝚎𝚗𝚜 𝚝𝚘 𝚒𝚝. 𝙸𝚏 𝚢𝚘𝚞 𝚕𝚒𝚔𝚎 𝚖𝚢 𝚙𝚘𝚜𝚝𝚜, 𝚍𝚘𝚗'𝚝 𝚏𝚘𝚛𝚐𝚎𝚝 𝚝𝚘 𝚏𝚘𝚕𝚕𝚘𝚠 𝚖𝚎 𝚊𝚗𝚍 𝚕𝚎𝚊𝚟𝚎 𝚖𝚎 𝚊 𝚌𝚘𝚖𝚖𝚎𝚗𝚝. 𝙸 𝚙𝚕𝚊𝚢 𝚊𝚕𝚖𝚘𝚜𝚝 𝚊𝚗𝚢 𝚟𝚒𝚍𝚎𝚘 𝚐𝚊𝚖𝚎, 𝚜𝚘 𝚒𝚏 𝚢𝚘𝚞 𝚗𝚎𝚎𝚍 𝚜𝚘𝚖𝚎𝚘𝚗𝚎 𝚝𝚘 𝚝𝚛𝚘𝚕𝚕 𝚢𝚘𝚞𝚛 𝚐𝚊𝚖𝚎𝚜, 𝚕𝚎𝚝 𝚖𝚎 𝚔𝚗𝚘𝚠. 𝙶𝙶!

Español

Estos días en Terraria han sido una completa locura. Sonará un poco "insano", pero mis amigos y yo hemos jugado durante muchas horas seguidas sin parar a este juego. Hemos llegado a un punto en el que casi acabamos el juego como tal y estamos muy fuertes. Un solo día de Terraria significa avanzar mucho y eso me gusta, ya que detesto dejar las cosas por la mitad.
En el capítulo anterior habíamos podido vencer al jefe esqueleto, lo cual fue un poco complicado, pero al igual que los demás jefes, nada que se saliera de nuestras manos. Definitivamente la experiencia en solitario debe de ser bastante complicada.
Nuestro flujo de juego se ha complicado un poco, debido a que dependemos de @dog3zz para hostear nuestro mundo y ha estado algo ocupado, pero no es solo él, @brataka también suele estar ocupado y coincidir puede ser un milagro. Evidentemente podemos jugar sin él, pero no es lo mismo, no queremos dejarlo demasiado por atrás, queremos que se enfrente a los increíbles jefes junto a nosotros.
Hace unos días no disponíamos de @dog3zz, así que tuvimos que improvisar y armar un nuevo mundo desde 0 y jugar con un personaje nuevo. @therealflaws estuvo con nosotros y @mrwisu fue el encargado de hostear el servidor esta vez. Empezar esta vez no fue para nada igual que la primera vez, sentía que todo era mucho más sencillo y al menos ya tenía idea de lo que hacer. Les dejo el gameplay de ese día aquí:
---
Algo curioso pasó con mis últimos gameplays, y es que se puede escuchar mi voz, pero no la de mis amigos, no sé que pudo haber pasado, pero pido perdón.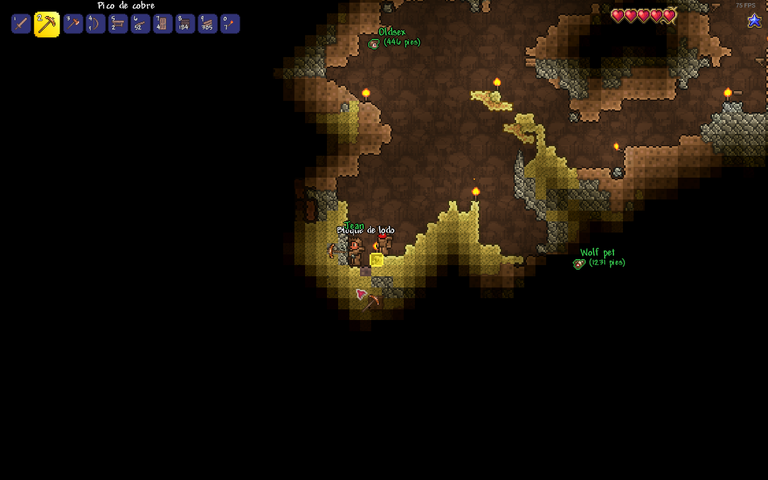 Creo que esto no lo he mencionado en ninguno de mis anteriores post de Terraria, pero este juego tiene una de las mejores bandas sonoras que jamás he escuchado, también sé que no soy el único que piensa esto, ya que hay memes de Terraria referentes a su increíble música, 10/10.
Si volviese a hacer reviews, diría que este juego se merece un 11/10, ya que es un juego demasiado barato y a la vez es tan poco exigente que puede correr en computadoras con muy pocos recursos, siendo uno de los juegos más completos y bonitos que he jugado, y aún queda muchísimo más por hacer, eso sin contar la cantidad de mods y que puedes jugarlo con amigos.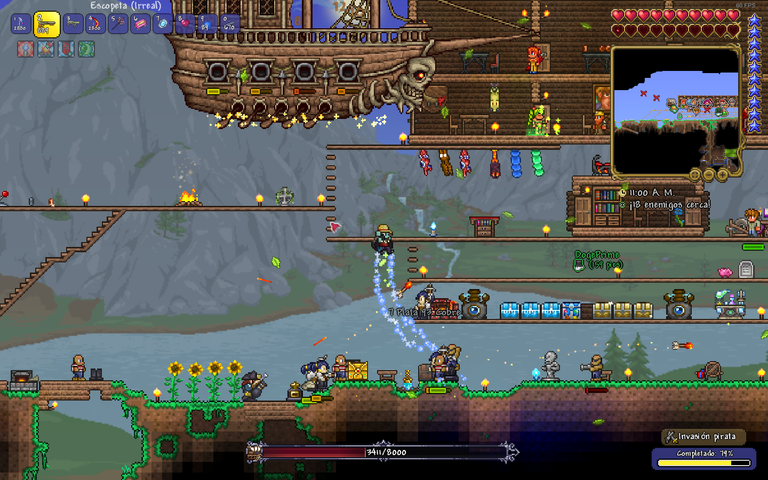 Es increíble, pero cada vez que jugamos hay algo nuevo que descubrir, incluso hay muchísimas otras cosas que puedes hacer en tema de construcción y curiosidades que venden los NPC, este juego tiene de todo. Estas curiosidades pueden ser desde pequeños easter eggs, mascotas con diseño de otros lugares, instrumentos musicales que puedes utilizar para crear música de verdad y grabarla, un dron para viajar por todo el mapa y hacer contenido, infinidades de cosas.
Esta grabación fue de aproximadamente 5 horas, pero jugamos mucho más. Creo que 5 horas de gameplay es mi record hasta ahora, y ni contar que @dog3zz estuvo en directo durante 10 horas seguidas, una locura.
---
Al principio mi aspecto era totalmente random, robé un vestido de novia que encontré en una luna sangrienta y me lo equipé. Realmente el vestido solo era estético, no daba ninguna ventaja. Más tarde uno de los NPC empezó a vender varios accesorios y me decidí por un pequeño gorro de paja. Luego conseguí una camisa simple y me la equipé para parecerme a Luffy de One Piece, terminé el Live Action y me he animado a empezar con el anime. así que verán a un pequeño Luffy alienígena en busca de aventuras.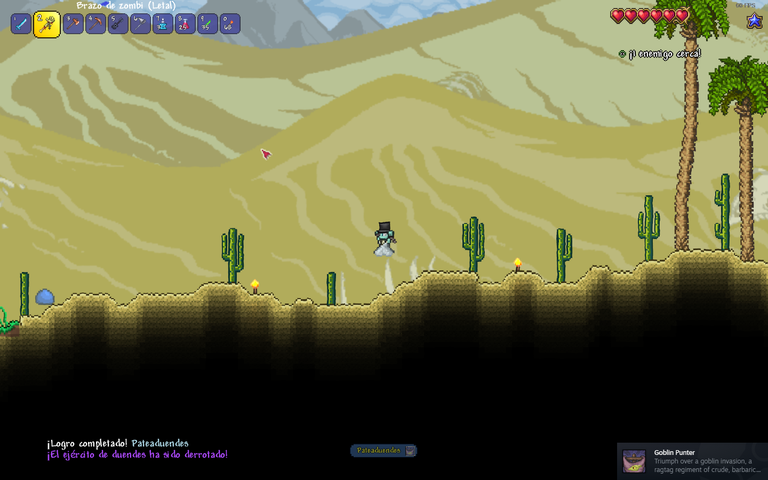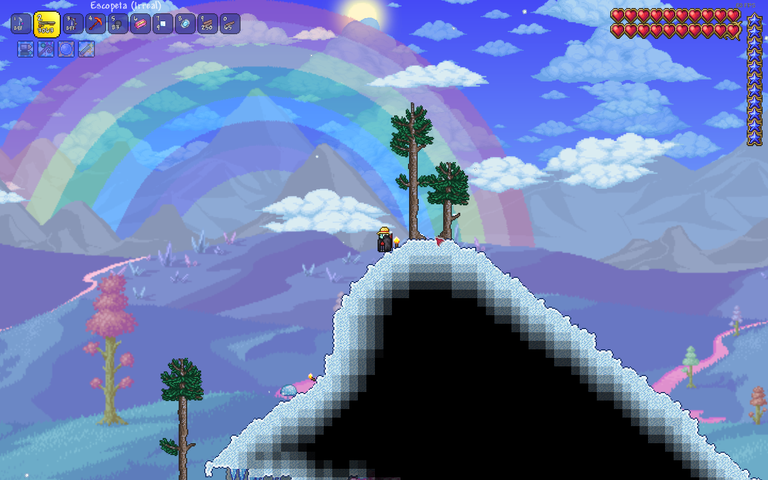 Cada uno decidimos ocupar uno de los cuatro roles del juego, yo decidí ir cazador, ya que las armas a distancia siempre son lo mío. La desventaja de ir con arcos y armas, es que debo de comprar o hacer la munición y al principio no es tan sencillo. Más adelante puedes conseguir items que te ayudan a ahorrar munición e incrementan tu daño.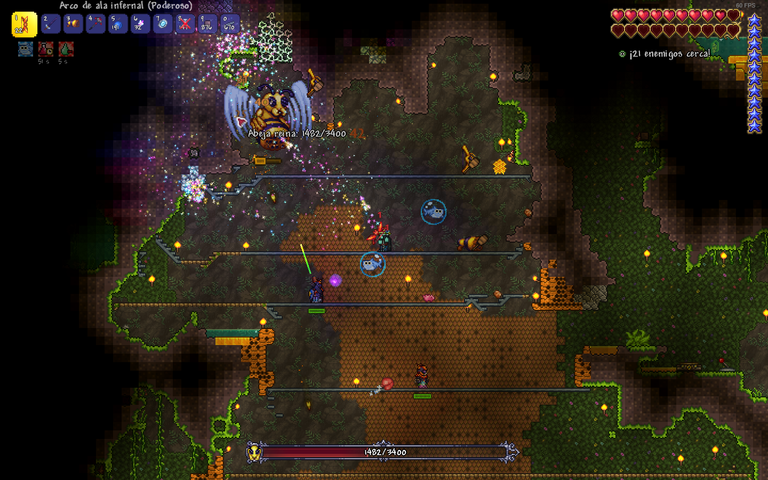 Actualmente mi build está bastante incompleta, pero tengo un arco que me permite disparar flechas desde el cielo, lo que es buenísimo para cuando vienen grandes oleadas de enemigos o el enemigo es muy grande. Usarlo en interiores es posible, pero si un enemigo accede a tu techo, entonces las flechas no podrán hacerle daño, es la única desventaja que le encontré. También hago uso de rifles y armas de distancia, admito que no son las armas más divertidas del juego, pero son muy buenas.
Farmeando y explorando los cielos pudimos obtener alas, las cuales nos facilitan muchas cosas, además de evitar caídas, créanme, en Terraria es muy sencillo morir por caídas. Las alas junto con las botas de velocidad hacen una increíble combinación para llegar a los lugares mucho más rápido, aunque también puedes hacer uso de monturas como caballos y otros. En mi caso, les presento mi caballo blanco:
Nos hemos enfrentado a muchos jefes, desde esqueletos normales hasta esqueletos mecha, serpientes mecha, ojos voladores, al propio infierno, slimes con alas, muros de carne y mucho más, Terraria es increíble. Cada vez más nos acercamos al fin del juego, pero aún nos quedan un montón de cosas más por hacer, además de que también jugaremos el Mod: Calamity, lo que nos dará muchas más horas de diversión, aunque sé que no será fácil.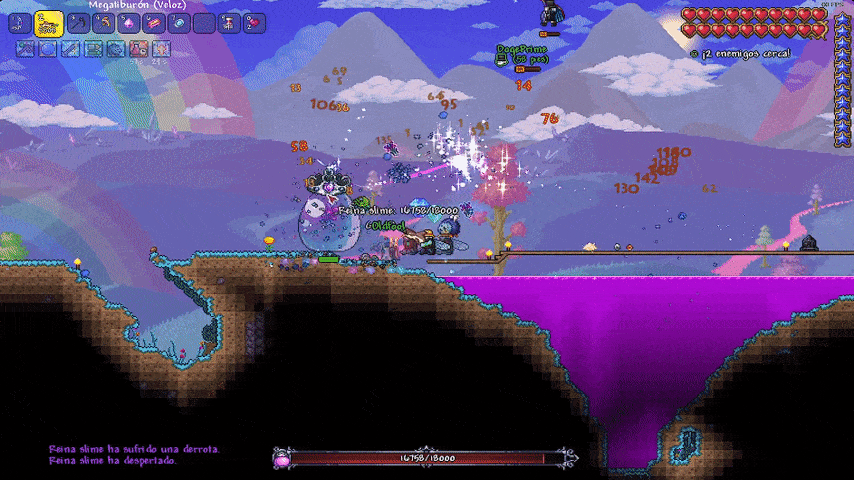 Espero que hayas disfrutado mi post, házmelo saber si fue así. ¿Alguna vez jugaste el Mod Calamity? He leído y he visto muchos memes acerca del mod que me hacen tener un poco de miedo 😂 Que tengas un excelente día y nos vemos pronto con mucho más contenido de Terraria. Cya, boomers.
---
𝚂𝚘𝚢 𝚞𝚗 𝚓𝚞𝚐𝚊𝚍𝚘𝚛 𝚍𝚎 𝟸5 𝚊ñ𝚘𝚜 𝚊𝚙𝚊𝚜𝚒𝚘𝚗𝚊𝚍𝚘 𝚙𝚘𝚛 𝚕𝚊 𝚖ú𝚜𝚒𝚌𝚊 𝚢 𝚝𝚊𝚖𝚋𝚒é𝚗 𝚙𝚘𝚛 𝚎𝚕 𝚌𝚘𝚗𝚝𝚎𝚗𝚒𝚍𝚘 𝚍𝚎 𝚝𝚎𝚛𝚛𝚘𝚛. 𝚃𝚊𝚖𝚋𝚒é𝚗 𝚜𝚞𝚎𝚕𝚘 𝚑𝚊𝚌𝚎𝚛 𝚊𝚕𝚐𝚘 𝚍𝚎 𝚖ú𝚜𝚒𝚌𝚊, 𝚊𝚞𝚗𝚚𝚞𝚎 nadie 𝚕𝚊 𝚎𝚜𝚌𝚞𝚌𝚑𝚊. 𝚂𝚒 𝚝𝚎 𝚐𝚞𝚜𝚝𝚊𝚗 𝚖𝚒𝚜 𝚙𝚘𝚜𝚝, 𝚗𝚘 𝚘𝚕𝚟𝚒𝚍𝚎𝚜 𝚍𝚎 𝚜𝚎𝚐𝚞𝚒𝚛𝚖𝚎 𝚢 𝚍𝚎 𝚍𝚎𝚓𝚊𝚛𝚖𝚎 𝚞𝚗 𝚌𝚘𝚖𝚎𝚗𝚝𝚊𝚛𝚒𝚘. 𝙹𝚞𝚎𝚐𝚘 𝚌𝚊𝚜𝚒 𝚌𝚞𝚊𝚕𝚚𝚞𝚒𝚎𝚛 video𝚓𝚞𝚎𝚐𝚘, 𝚊𝚜í 𝚚𝚞𝚎 𝚜𝚒 𝚗𝚎𝚌𝚎𝚜𝚒𝚝𝚊𝚜 𝚊 𝚊𝚕𝚐𝚞𝚒𝚎𝚗 𝚚𝚞𝚎 𝚝𝚎 𝚝𝚛𝚘𝚕𝚎𝚎 𝚕𝚊𝚜 𝚙𝚊𝚛𝚝𝚒𝚍𝚊𝚜, 𝚑á𝚣𝚖𝚎𝚕𝚘 𝚜𝚊𝚋𝚎𝚛. 𝐆𝐆!
---
---