ASK LEO:WHEN THERE'S HIGH COST OF PRODUCTION;IS THAT A BECKON TO INCREASE IN PRICE OF GOODS AND SERVICES?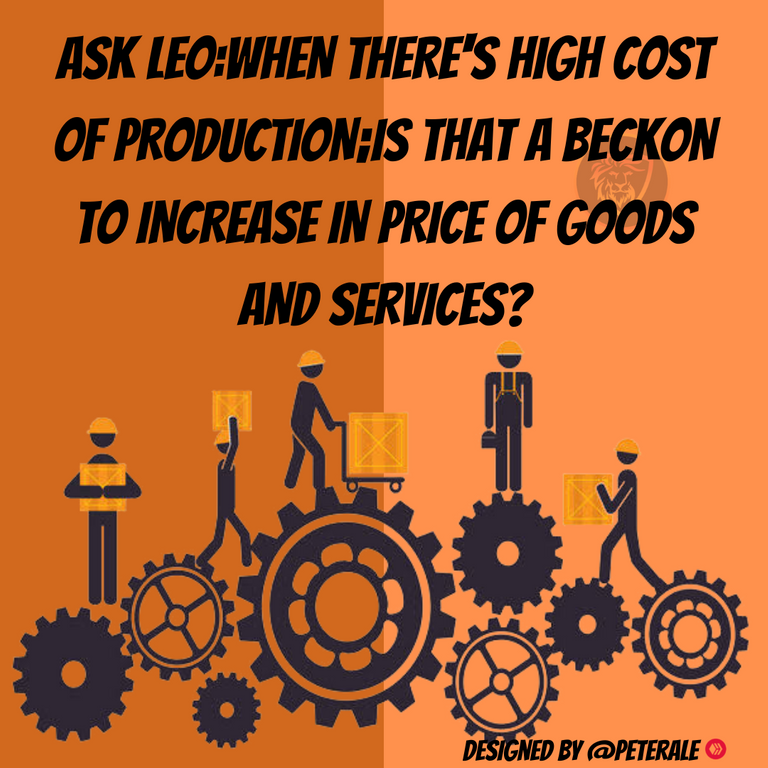 It's not something that's hidden because almost everyone including the laymen know what inflation means. Even the kids understand what inflation is all about. When as a kid you bought sweet of $1 and you given 5 pieces of candy sweet and in the next couple of days you went back there to buy the same candy sweet with the same amount of money and you are probably giving 3 instead of the previous 5 that you had. Such kid might not understand it but that's inflation. If you don't understand it on paper, you can understand it in practice.
What's high manufacture cost and what might likely happen?
High manufacture cost is the process whereby the cost of manufacturing a particular good is very high. Let's assume the cost of producing a biro is $10 before and later the cost of producing a biro moved to like $20. Definitely,the price of supply that particular price will surely inflates. It's the cost of manufacture that usually affect the price of goods and services. When the cost of production or manufacture is high, there is high probability that the cost of that goods in the market will surely be high too.
---
Please note that, this isn't a cryptocurrency, financial or business advice,it's just an opinion. If you need a cryptocurrency, financial or business advice, consult a cryptocurrency or financial experts. Thank you.
---
Thanks for stopping by to view my blog. Please do have a wonderful day ahead.@peterale cares🤭
Posted Using LeoFinance Beta
---
---