[EGN/SPN]Beef shank with vegetables-Jarrete de ternera con verduras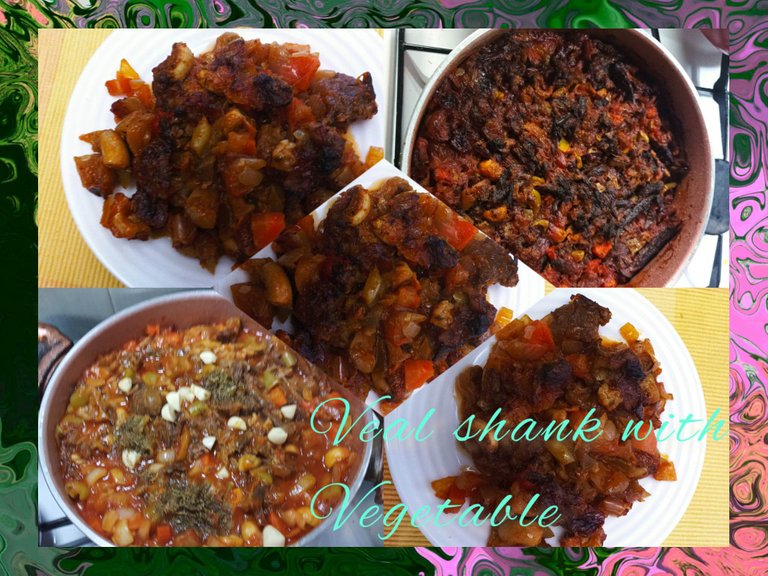 Hello to all the users and fans of the community for making delicious specialty dishes and desserts.
Another week of march a month with many celebrations in my home country bulgaria the first day of march is greeted with special excitement and joy little is big in my country. The reason is tying martenitsa which and a tradition deep antiquity.
Martenitsa is a white and red thread that is tied to everyone's hand to keep them healthy throughout the year. On March 3 was celebrated the national holiday of my country Bulgaria and so - On a holiday like on a holiday . The tables in each home were festively arranged with much care and love by the hostess of the home..
To your attention a popular dish I prepared for one of the holidays Veal shank with a palette of many vegetables useful and tasty dish with a unique flavor that filled my home.
Hola a todos los usuarios y fans de la comunidad para hacer deliciosos platos especiales y postres.
Otra semana de marzo un mes con muchas celebraciones en mi país bulgaria el primer día de marzo es recibido con especial emoción y alegría poco es grande en mi país. La razón es atar martenitsa que y una tradición profunda antigüedad.
Martenitsa es un hilo blanco y rojo que se ata a la mano de todos para mantenerlos sanos durante todo el año. El 3 de marzo se celebró la fiesta nacional de mi país Bulgaria y así - En un día de fiesta como en un día de fiesta . Las mesas en cada casa fueron arregladas festivamente con mucho cuidado y amor por la anfitriona de la casa..
Para su atención un plato popular que he preparado para uno de los días de fiesta Jarrete de ternera con una paleta de muchas verduras útil y sabroso plato con un sabor único que llenó mi casa.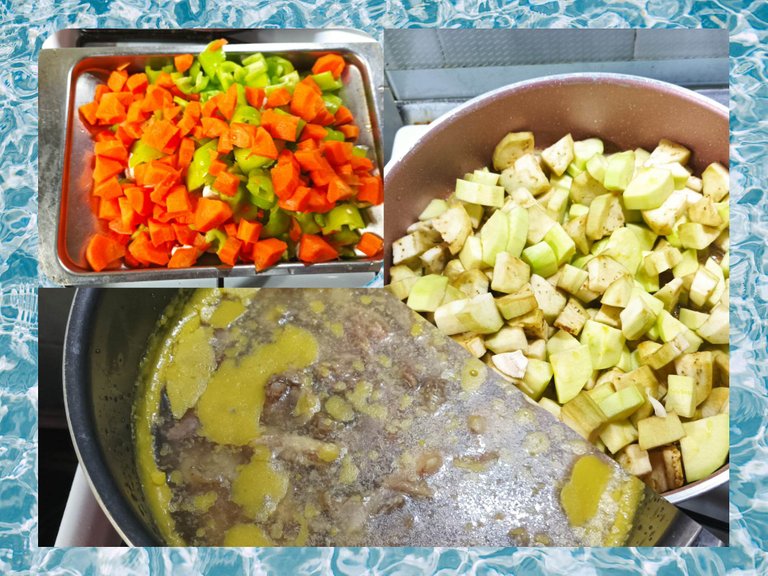 Ingredients for the dish:
700g / veal shank
2 pcs / blue aubergines
2pcs / zucchini
3pcs/carrots
3pcs / green pepper
250g / porcini mushrooms
4pcs/ onion
250g/ can tomatoes
4pcs/ garlic onion skeletons
20g/ rosemary
20g/ salt
200g/cow butter
Ingredientes para el plato:
700g / jarrete de ternera
2 piezas / berenjenas azules
2 piezas / calabacín
3 piezas / zanahorias
3 piezas / pimiento verde
250g / setas porcini
4 piezas / cebolla
250g/ lata tomates
4pcs/ ajo cebolla esqueletos
20g/ romero
20g/ sal
200g/mantequilla de vaca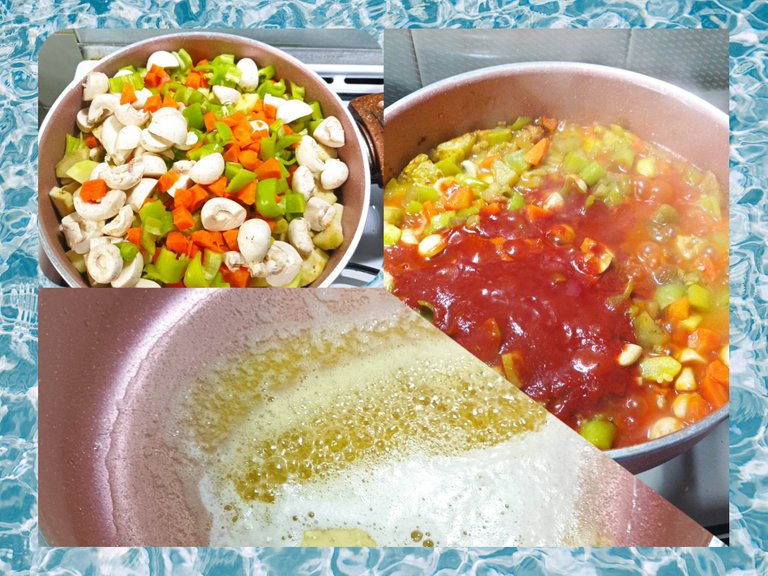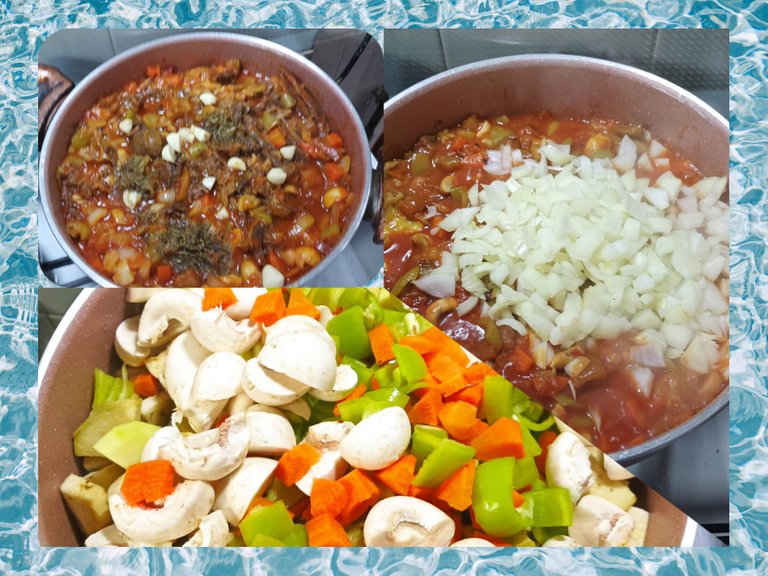 Method of preparation:
Boil well the beef cut into pieces
In a roasting pan, melt the cow's butter and sauté the chopped vegetables for a while.
Add the tomatoes and the crumbed onions at the end, along with the pieces of veal.
Roast in the oven until done.
Serve the dish warm.
Bon appetit to all who decide to try the recipe!
Modo de preparación:
Hervir bien la carne de vaca cortada en trozos.
En una sartén para asar, derretir la mantequilla de vaca y rehogar las verduras picadas durante un rato.
Añadir al final los tomates y las cebollas desmenuzadas, junto con los trozos de ternera.
Asar en el horno hasta que esté hecho.
Servir el plato caliente.
Buen provecho a todos los que se animen a probar la receta.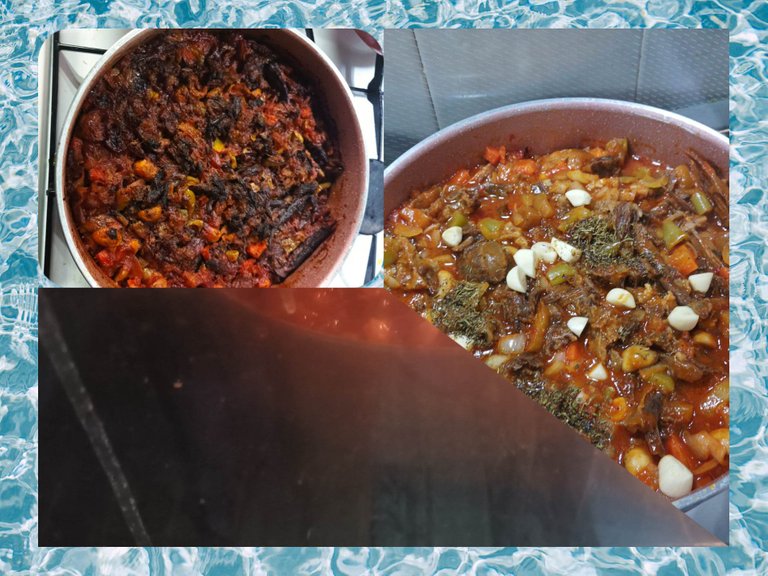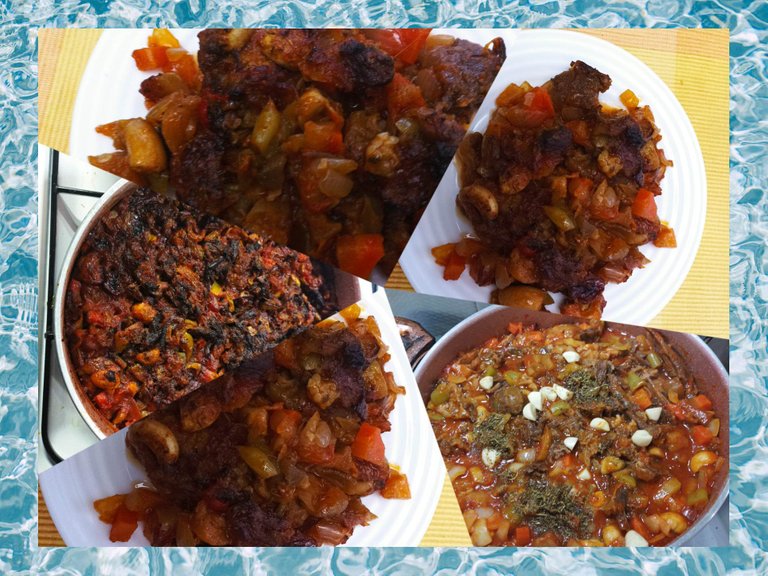 Thank you for your visit!
Gracias por su visita!
---
---