🔷 Taormina, Sicily's paradisiac jewel that you can't miss [ENG - ESP]
🔷 Taormina, Sicily's paradisiac jewel 🔷
Mostly known among tourists as Sicily's jewel... and no wonder why! Taormina can leave you speachless with its incredible beauty. From remainings of the Greek and Roman Empires to the most beautiful beaches you might ever see. Taormina has it all.

I still remember to hear over and over the same suggestion: you should visit Taormina, you can't miss Taormina, Taormina is a place you need to go... and so on. Glad I didn't ignore all those comments, 'cause they were incredibly true.
Mayormente conocida entre los turistas como la joya de Sicilia... ¡y no es de extrañar por qué! Taormina puede dejarte sin palabras con su increíble belleza. Desde restos de los imperios griego y romano hasta las playas más hermosas que puedas ver. Taormina lo tiene todo.

Todavía recuerdo escuchar una y otra vez la misma sugerencia: debes visitar Taormina, no puedes perderte Taormina, Taormina es un lugar al que debes ir... y así sucesivamente. Me alegro de no haber ignorado todos esos comentarios, porque eran increíblemente ciertos.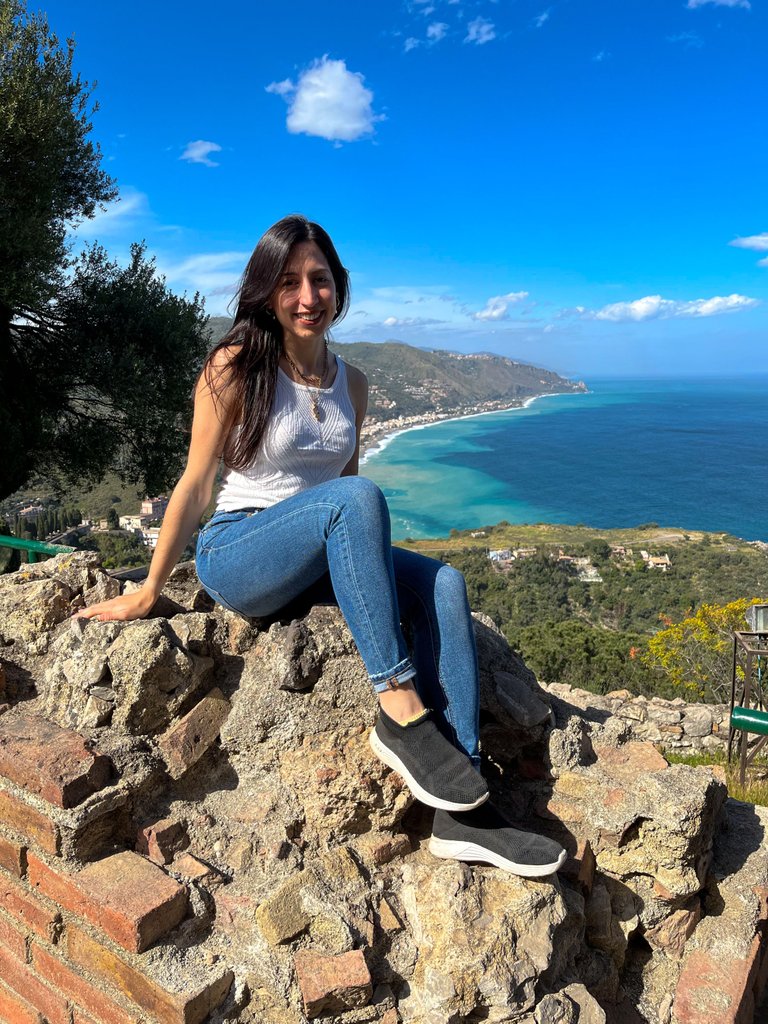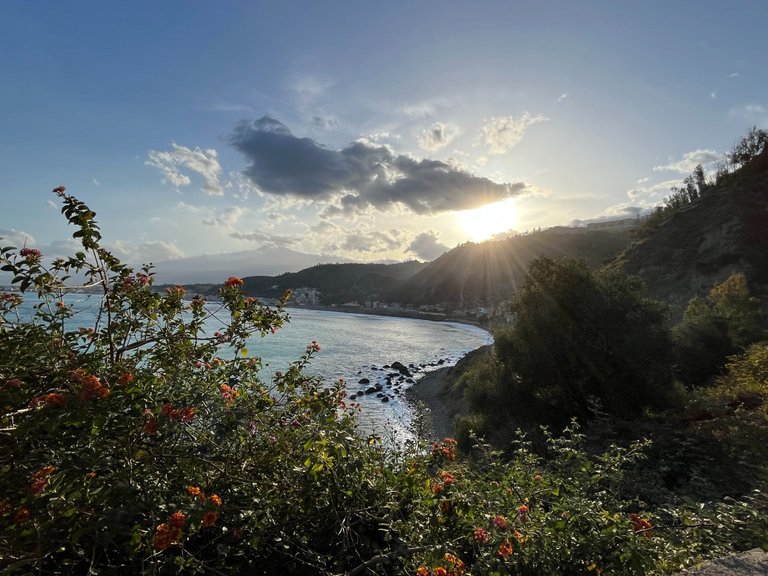 Taormina, Sicily
That photo isn't edited, it's simply the raw beauty of the place itself. Just pure nature, the sun about to set, flora showing up and the sea shining.
Let me tell you a bit more about what Taormina has to offer.


Esa foto no está editada, es simplemente la belleza natural del lugar en sí. Solo naturaleza pura, el sol a punto de ponerse, la flora apareciendo y el mar brillando.

Déjame contarte un poco más sobre lo que Taormina tiene para ofrecer.

Taormina is a very small village between Messina and Catania, in the island of Sicily. It's located on top of the Mount Tauro, which is almost 300m high regarding the rest of the nearby villages. Believe me, it's worth the effort! Lol.
I stayed in Giardini-Naxos (only 1km away from Taormina), which was the first city that the Greeks founded in the island, and at that time, it used to be as big as Athens. That's crazy even to think about it. But well, if you're coming from outside Taormina, it is quite an effort to hike the mount...
This was the first day I went to Taormina, the weather wasn't nice at all, but still you can see how high the city is:
Taormina es un pueblo muy pequeño entre Messina y Catania, en la isla de Sicilia. Está situado en lo alto del monte Tauro, que tiene casi 300m de altura respecto al resto de pueblos cercanos. Créeme, ¡vale la pena el esfuerzo! Lol.

Me quedé en Giardini-Naxos (a sólo 1 km de Taormina), que fue la primera ciudad que los griegos fundaron en la isla, y en ese momento era tan grande como Atenas. Es una locura incluso pensar en ello. Pero bueno, si vienes de fuera de Taormina, es bastante esfuerzo subir al monte...

Este fue el primer día que fui a Taormina, el clima no era nada agradable, pero aun así se puede ver lo alta que está la ciudad: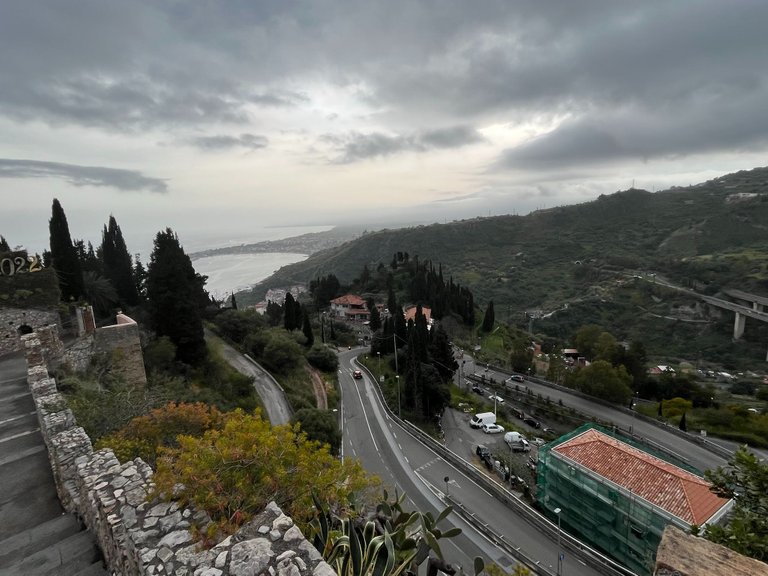 The view from the sea and Giardini Naxos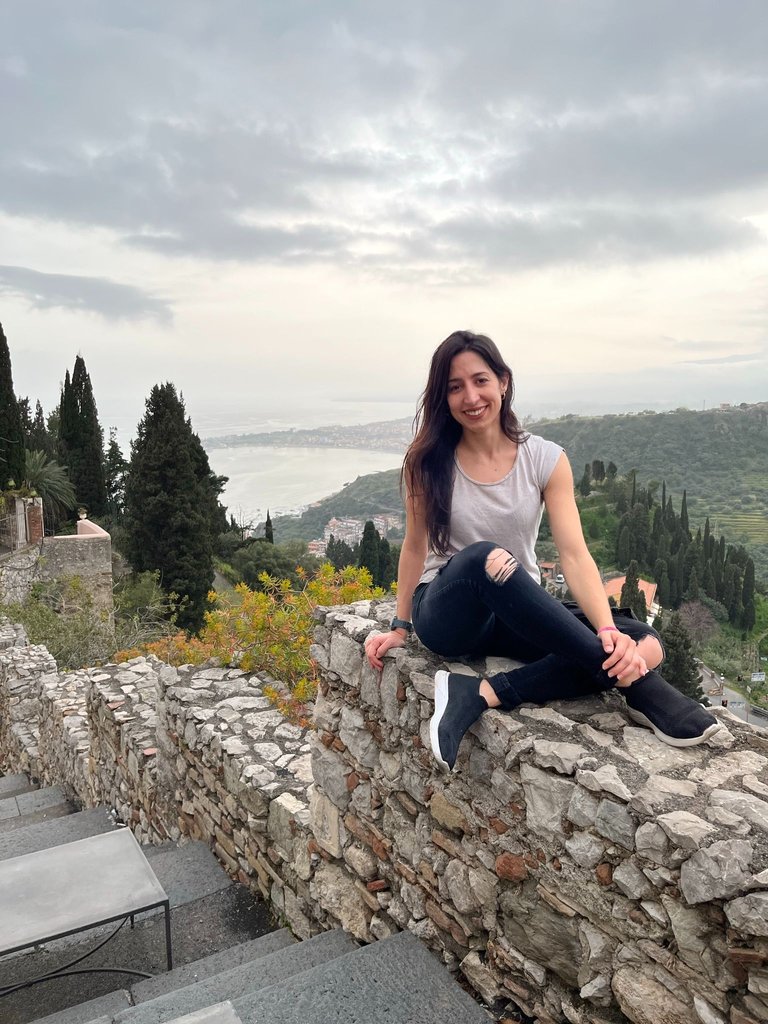 This is me after that 2km hike with 300m altitude... my hair was pretty messed up! Lol


The city itself is very vibrant, full of colour and there's this nice thing of seeing everyone happy, which I didn't have that impression in any other city before. Although that day it was pretty cold and about to rain, everything looked incredibly beautiful with it's houses painted in different colours and their balconies full of flowers in bloom.
La ciudad en sí es muy vibrante, llena de color y hay algo agradable de ver a todos felices, que no tuve esa impresión en ninguna otra ciudad antes. Aunque ese día hacía bastante frío y estaba a punto de llover, todo se veía increíblemente hermoso con sus casas pintadas de diferentes colores y sus balcones llenos de flores en flor.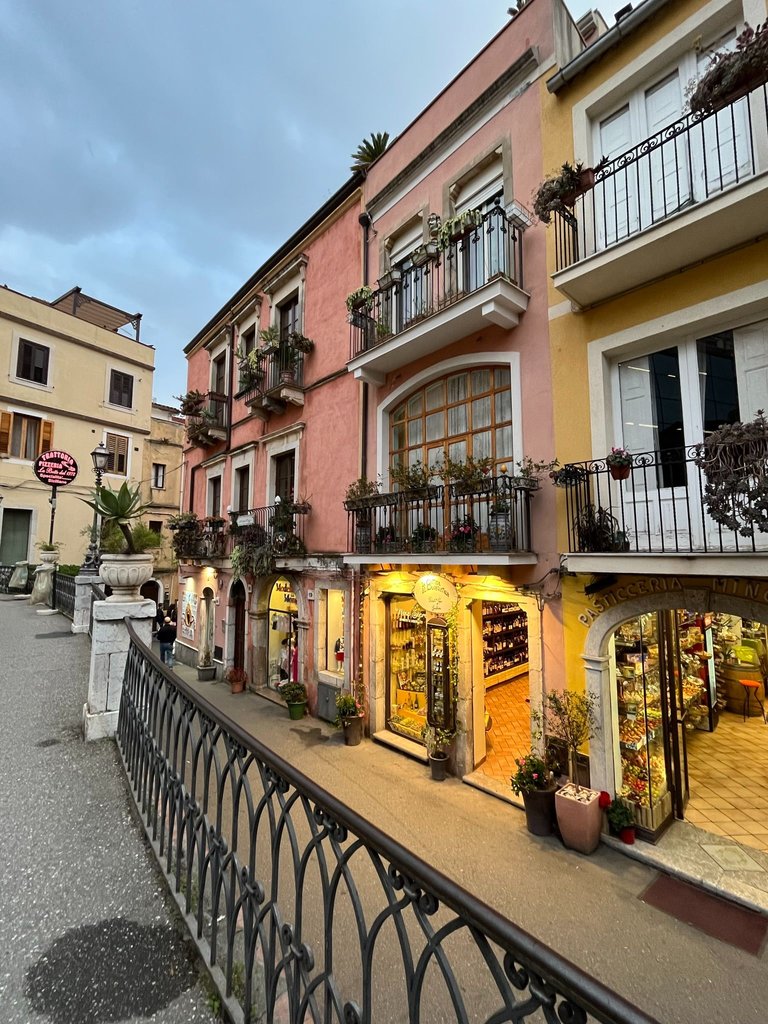 Architecture in Taormina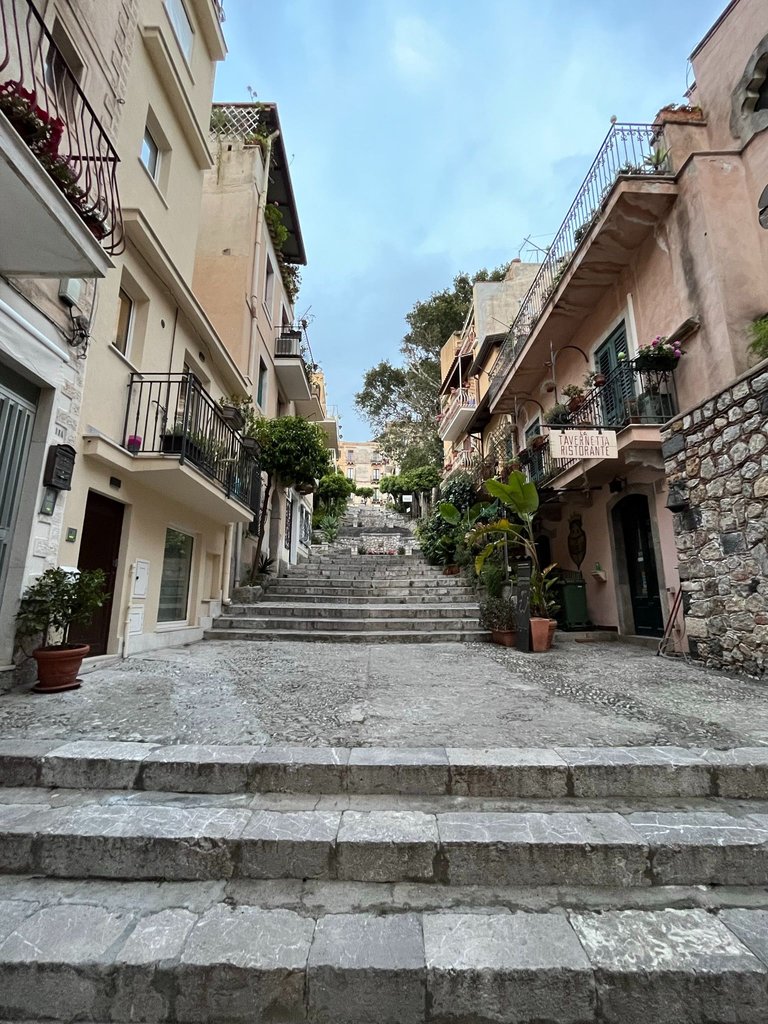 Architecture in Taormina

Landscapes


I believe this doesn't need any sort of introduction, right?
Creo que esto no necesita ningún tipo de presentación, ¿verdad?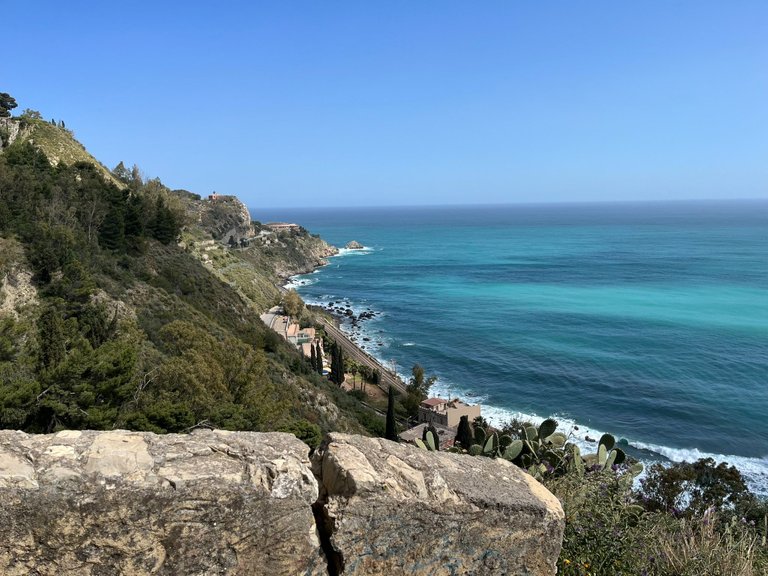 View from the sea in Taormina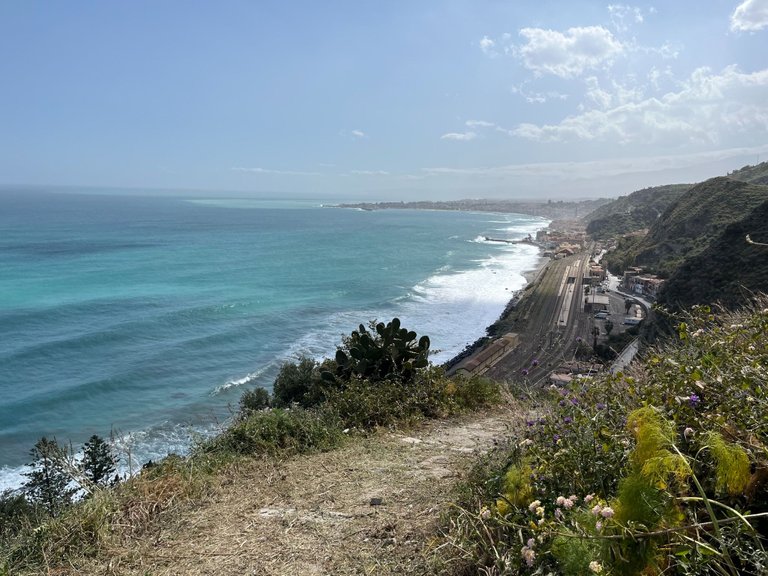 View from the sea in Taormina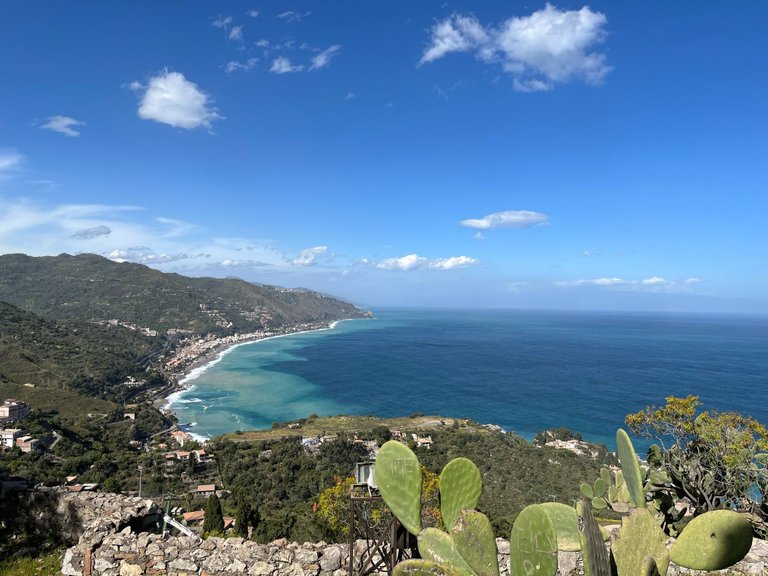 View from the sea in Taormina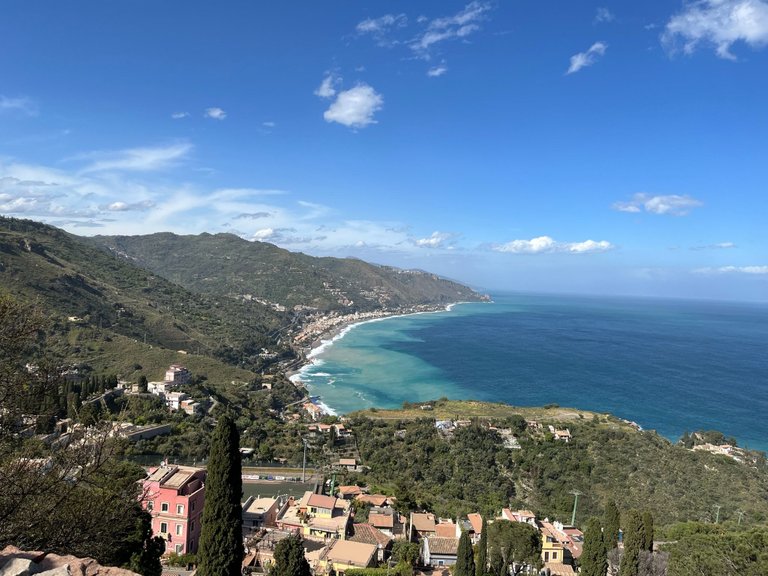 View from the sea in Taormina

That was the second day I went there, and I couldn't believe my eyes at first. How the sea could be so beautiful and still show all shades from blue?!
That view was simply amazing and of the bests I had seen so far. I fell in love with that place. At that moment, I had realized how worth it the hike was! Lol.


Ese fue el segundo día que fui allí, y al principio no podía creer lo que veía. ¡¿Cómo el mar puede ser tan hermoso y aun así mostrar todos los tonos de azul?!

Esa vista fue simplemente asombrosa y de las mejores que había visto hasta ahora. Me enamoré de ese lugar. ¡En ese momento, me di cuenta de lo que valía la pena la caminata! Jajaja.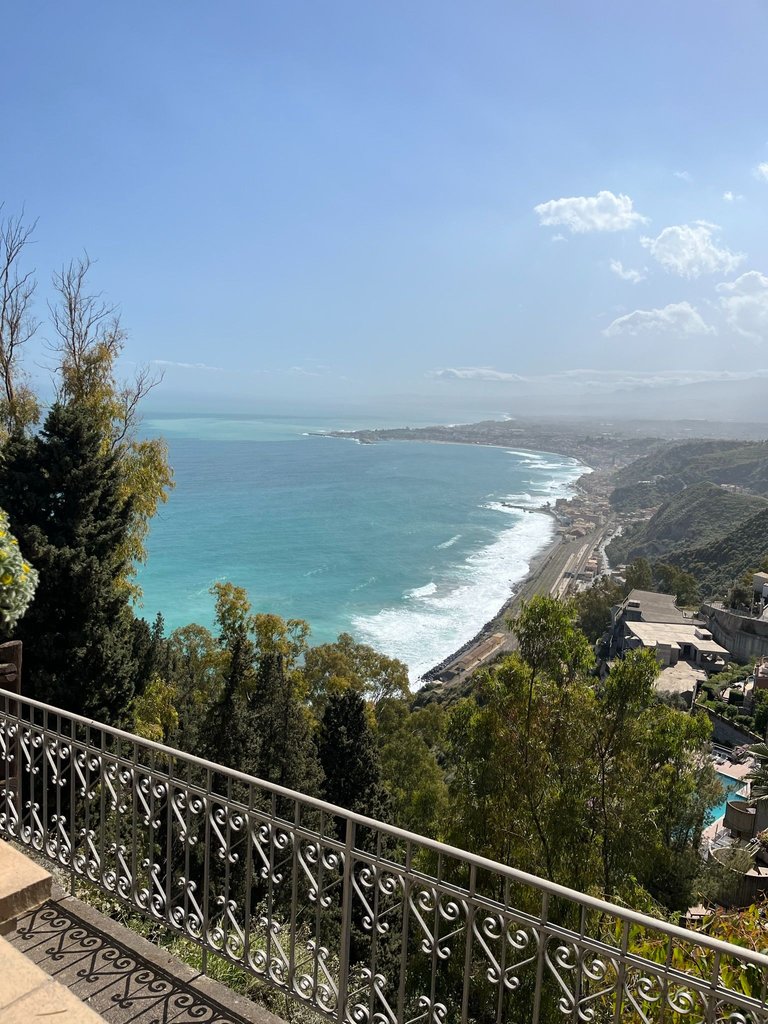 View from the sea in Taormina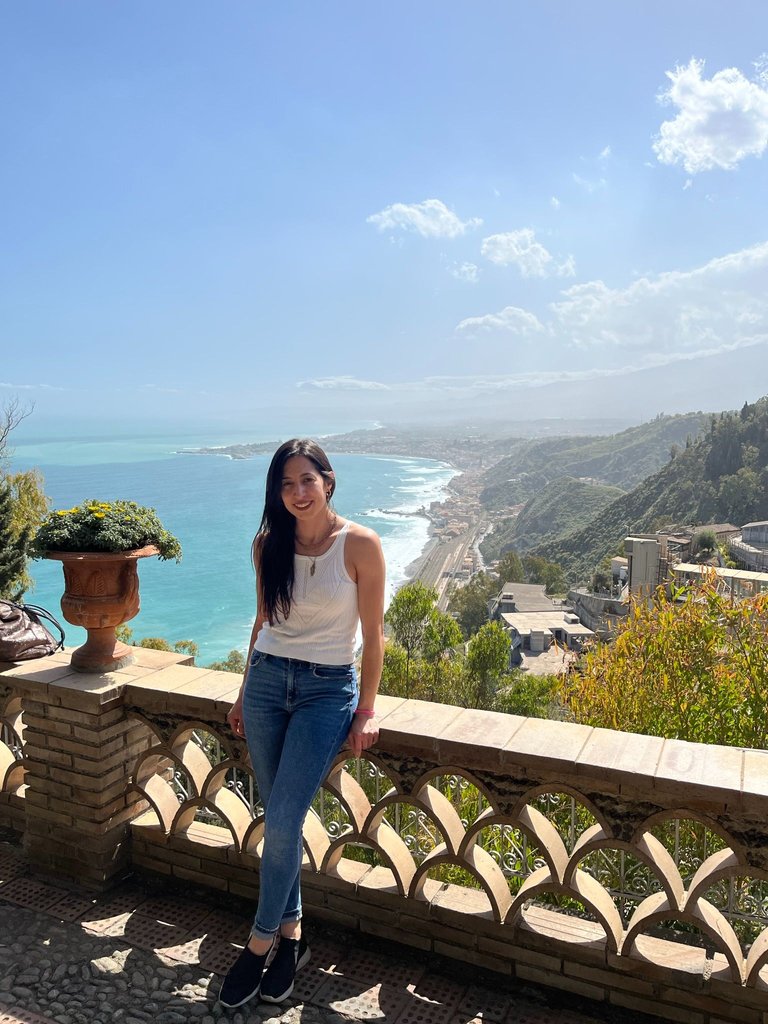 Enjoying!!
As Mount Etna is just a few kilometres away, you can see it from any part of the City. Although Taormina is located on top of Mount Tauro, Etna is a lot higher, with over 3.300masl, which makes it the highest point of the entire island.
Como el Monte Etna está a pocos kilómetros de distancia, puedes verlo desde cualquier parte de la ciudad. Aunque Taormina se encuentra en la cima del Monte Tauro, el Etna es mucho más alto, con más de 3.300 msnm, lo que lo convierte en el punto más alto de toda la isla.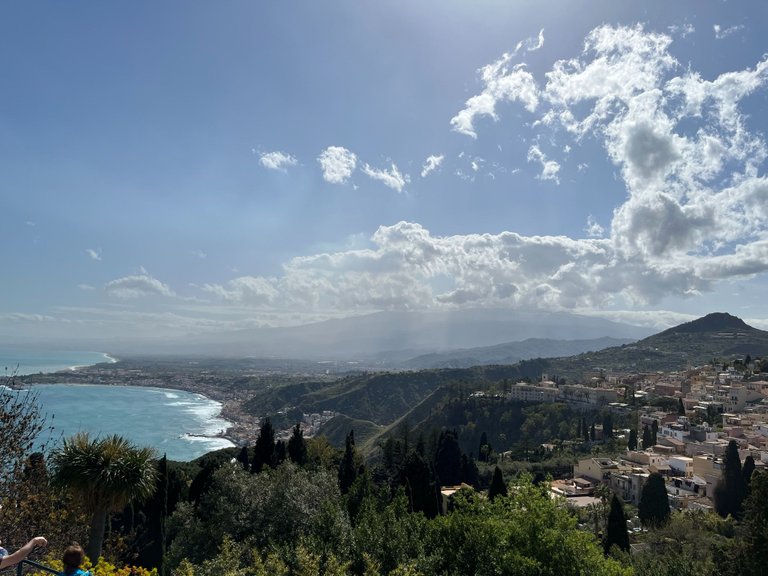 Mount Etna at the back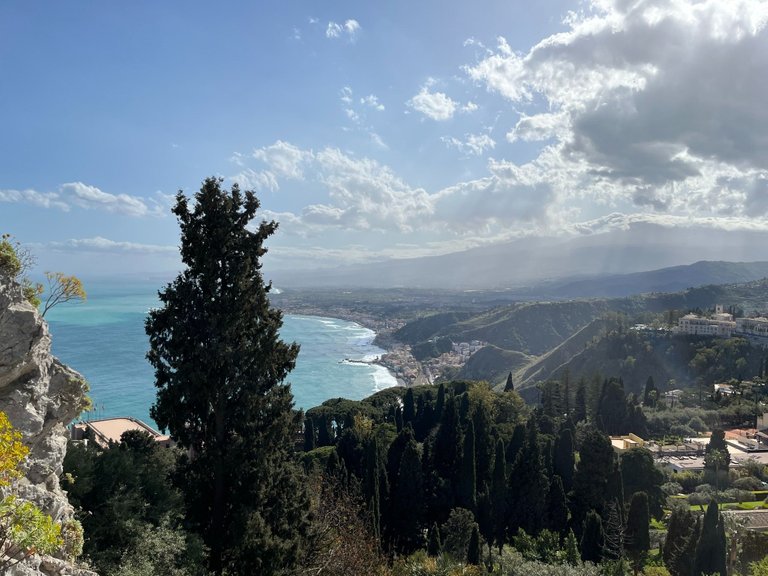 View from the sea!
Also, Taormina has different islands that are somehow close to the shore. Here is one of them, Isola Bella.
It's a very small island that allegedly, you can get to just by walking. Sounds weird, right? But truth is that you can. When the sea level is low, there's a sand path that leads to the island and it's nice to walk in there. But if the sea level is higher, you can still walk but with the water up to your knees.
Además, Taormina tiene diferentes islas que están de alguna manera cerca de la costa. Aquí está uno de ellos, Isola Bella.

Es una isla muy pequeña a la que supuestamente se puede llegar caminando. Suena raro, ¿verdad? Pero la verdad es que se puede. Cuando el nivel del mar es bajo, hay un camino de arena que conduce a la isla y es agradable caminar por allí. Pero si el nivel del mar es más alto, aún puedes caminar pero con el agua hasta las rodillas.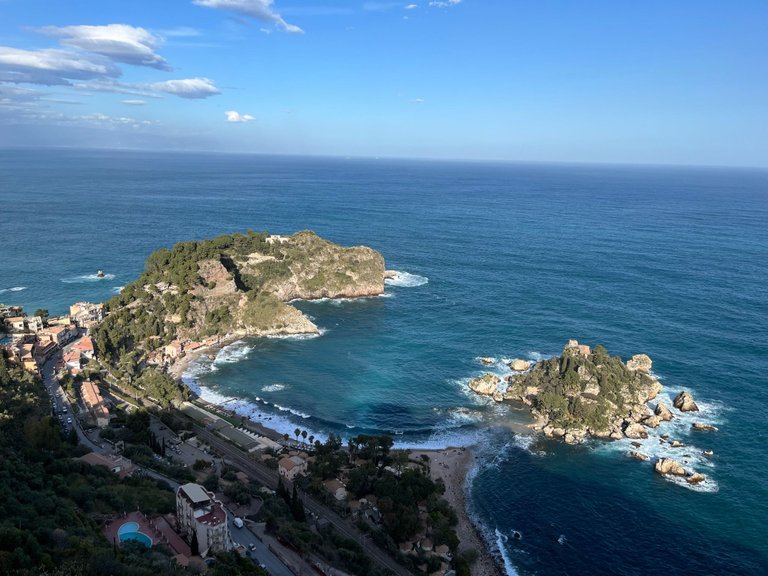 Isola Bella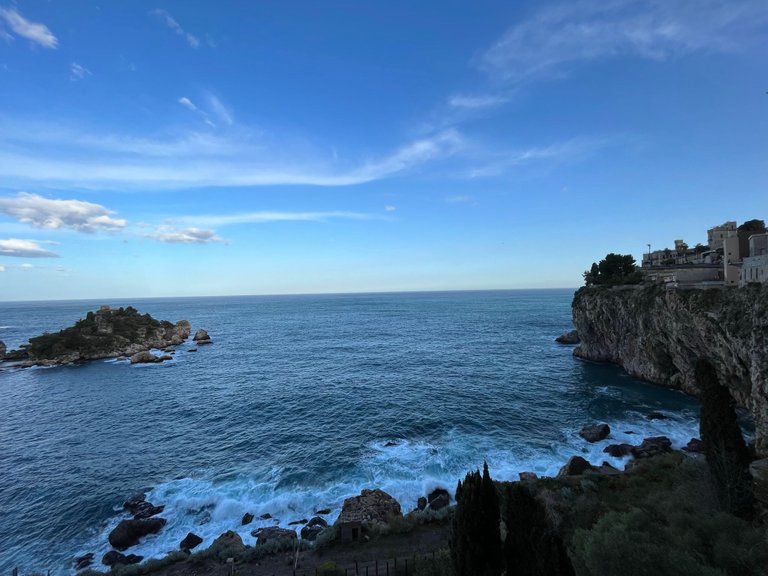 Isola Bella and the rocky shore

Ancient Greek Theater

This is, by far, one of the most impressive things Taormina has to offer. This huge theater can be divided into three parts: at first, the auditorium, in which people used to sit and enjoy the spectacles, and then the stage and orchestra, in which actors would perform their play.
There are remainings of an ancient Greek Theatre that are unbelievable. It's huge and very well kept. You get to see carved rocks for the seats, marble and stone for the columns... but it's simply crazy how much that construction went through and still remains in a perfect way.


Esta es, de lejos, una de las cosas más impresionantes que Taormina tiene para ofrecer. Este enorme teatro se puede dividir en tres partes: primero, el auditorio, en el que la gente solía sentarse y disfrutar de los espectáculos, y luego, el escenario y la orquesta, en la que los actores representaban su obra.

Hay restos de un antiguo teatro griego que son increíbles. Es enorme y muy bien cuidado. Puedes ver rocas talladas para los asientos, mármol y piedra para las columnas... pero es simplemente una locura lo mucho que pasó esa construcción y aún permanece en una forma perfecta.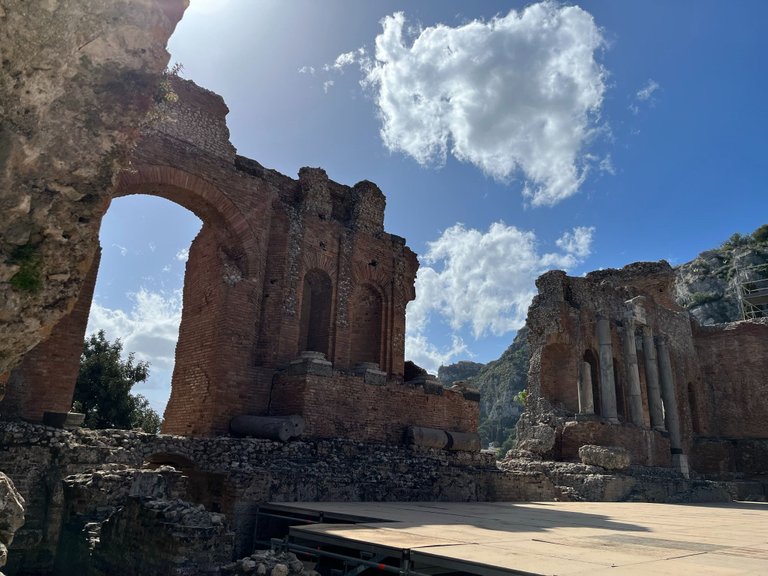 The stage and the outter phase of the Theater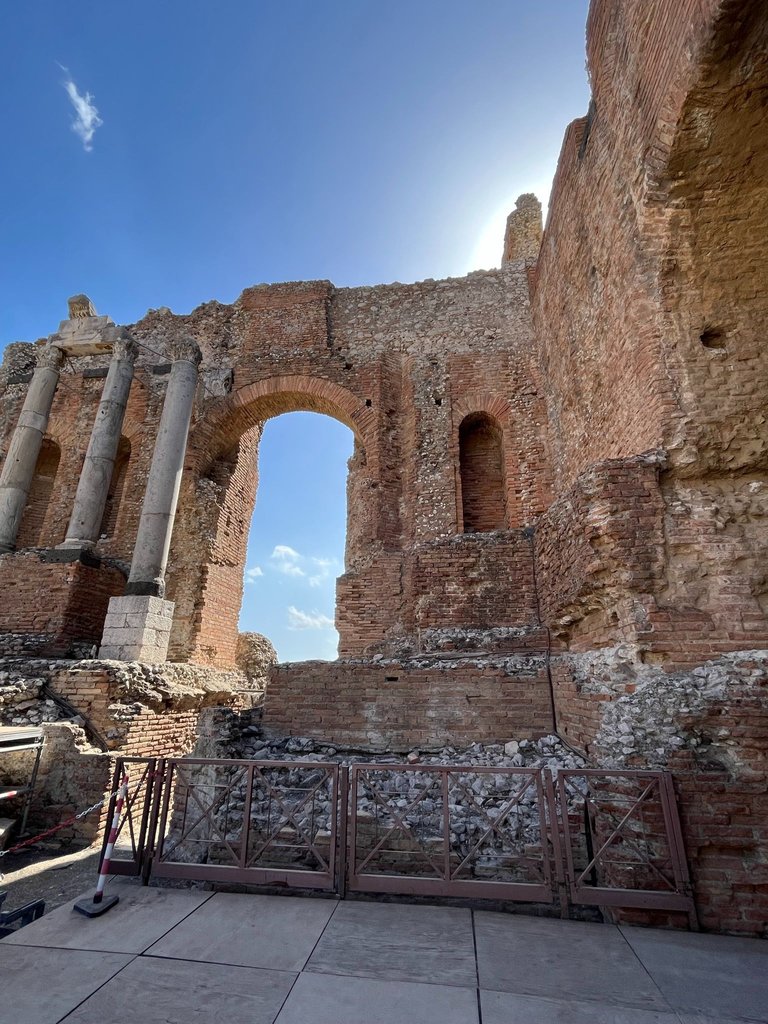 A more in depth look at one of the sides of the stage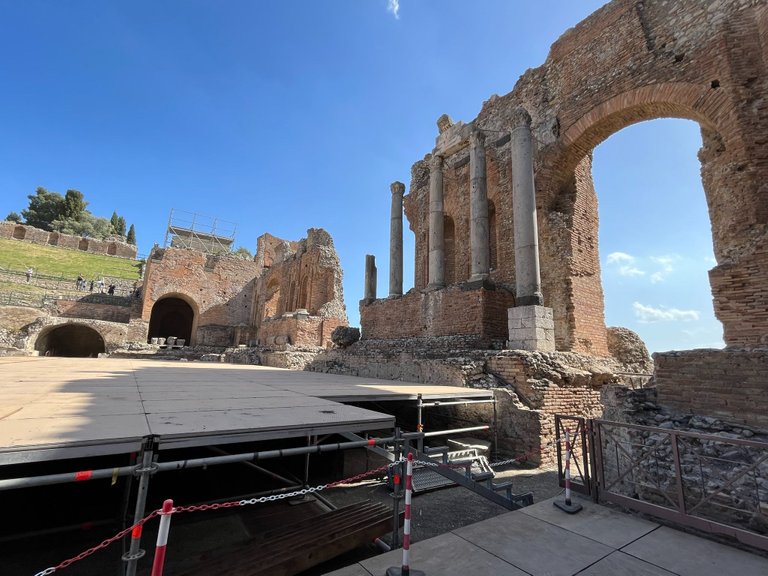 The stage... and the scaffoldings that were placed there to protect the construction

Here, you can see the auditorium, the part in which the spectators would take place and enjoy either the play or the music. If you see how small the people look in there, you will see how big it is. I had some fun going up and down the stairs, you can even get to the arches that are on top to see a beautiful view from the Theater, Taormina and Mount Etna!


Aquí puedes ver el auditorio, la parte en la que los espectadores se ubicaban y disfrutaban de la obra o de la música. Si ves lo pequeña que se ve la gente ahí dentro, verás lo grande que es. Me divertí mucho subiendo y bajando las escaleras, ¡incluso puedes llegar a los arcos que están en la parte superior para ver una hermosa vista desde el Teatro, Taormina y el Monte Etna!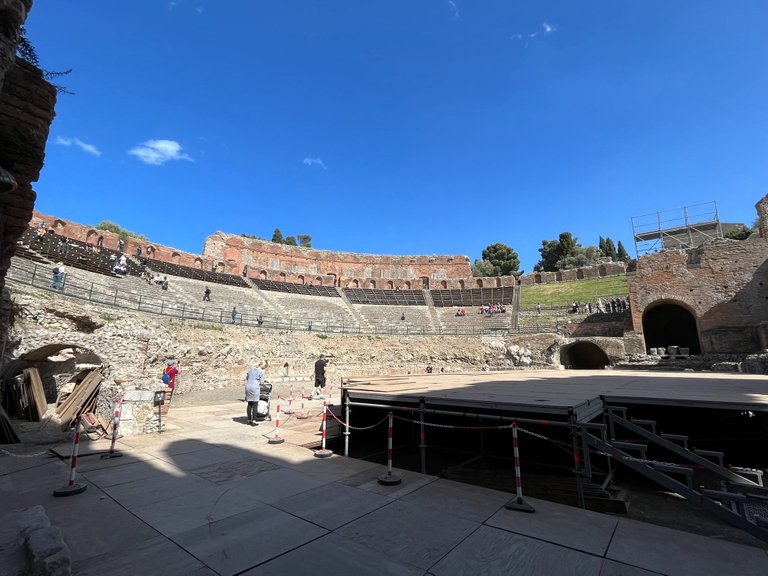 Stage and Auditorium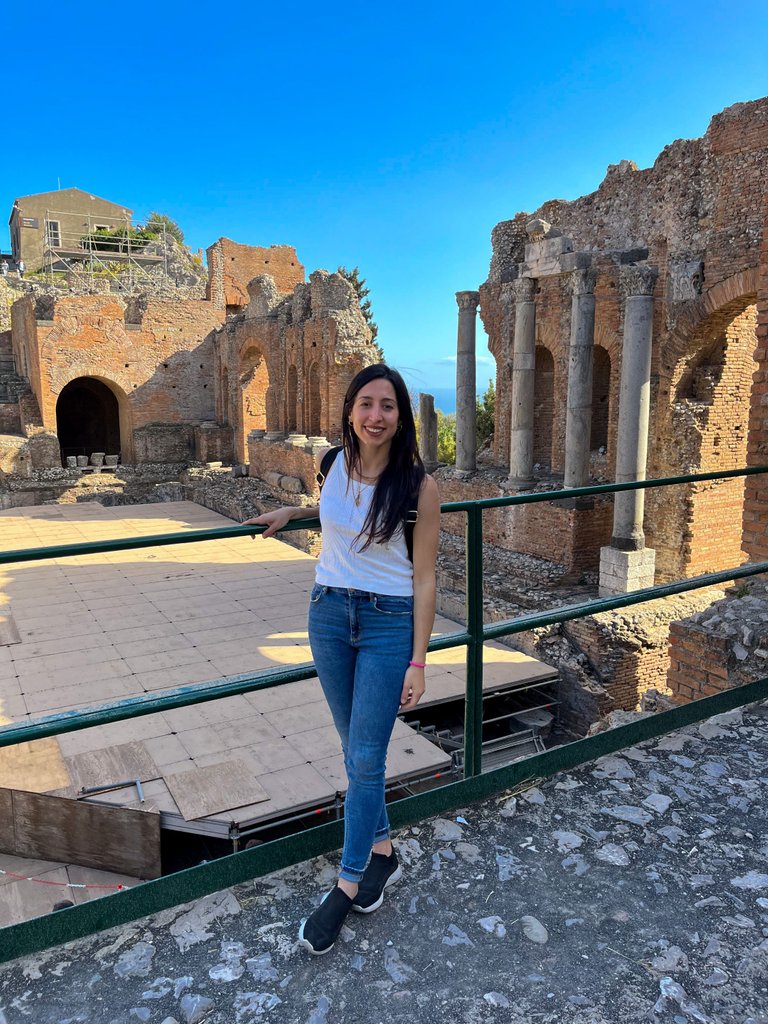 This is me!
In this particular arch that was next to the stage, you can see in detail the remainings of four columns that used to be standing in the stage part.
En este arco en particular que estaba al lado del escenario, se pueden ver en detalle los restos de cuatro columnas que solían estar de pie en la parte del escenario.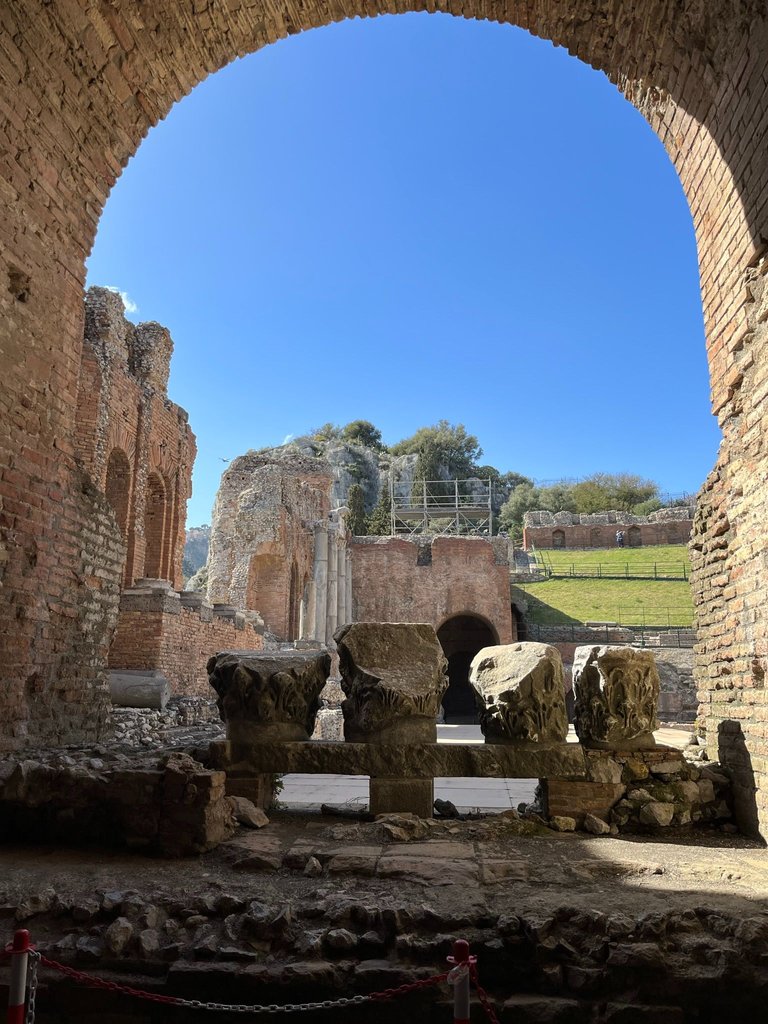 One of the arches that are next to the stage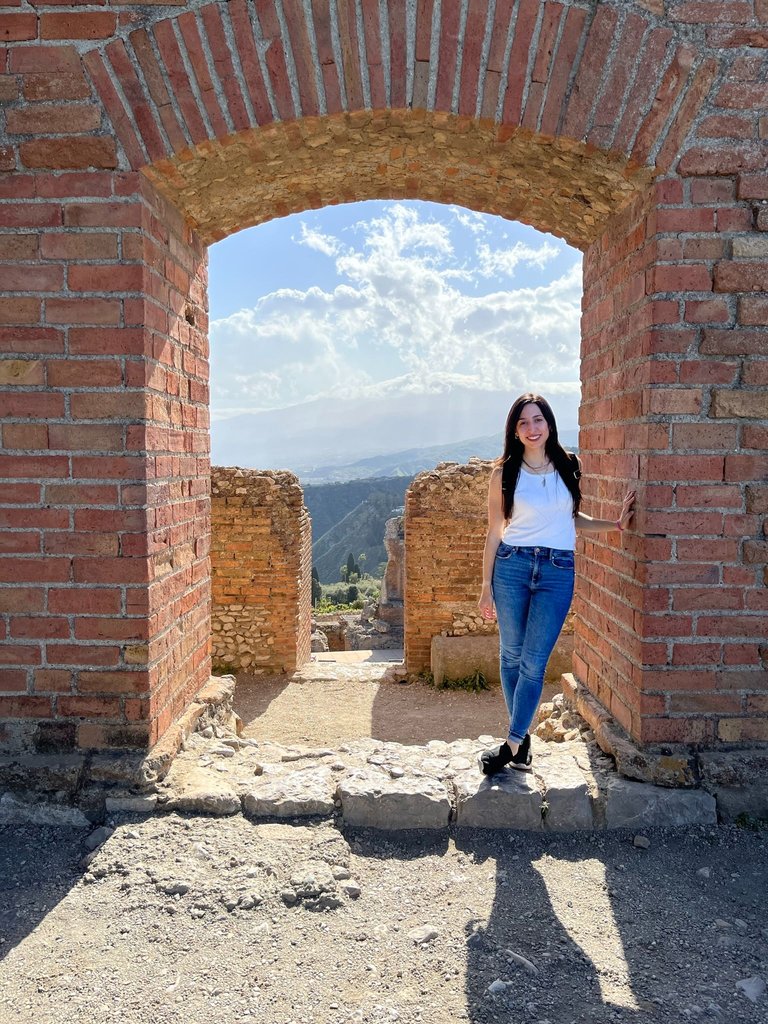 Arches from the top of the auditorium
Then, after some time walking around the different rock seats, you look up and this is what you see:
Luego, después de caminar un rato por los diferentes asientos de roca, miras hacia arriba y esto es lo que ves: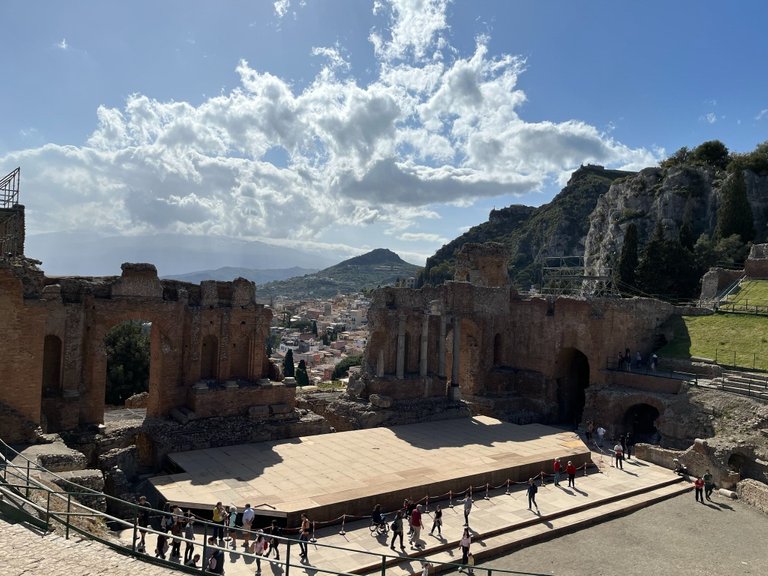 View from the top of the auditorium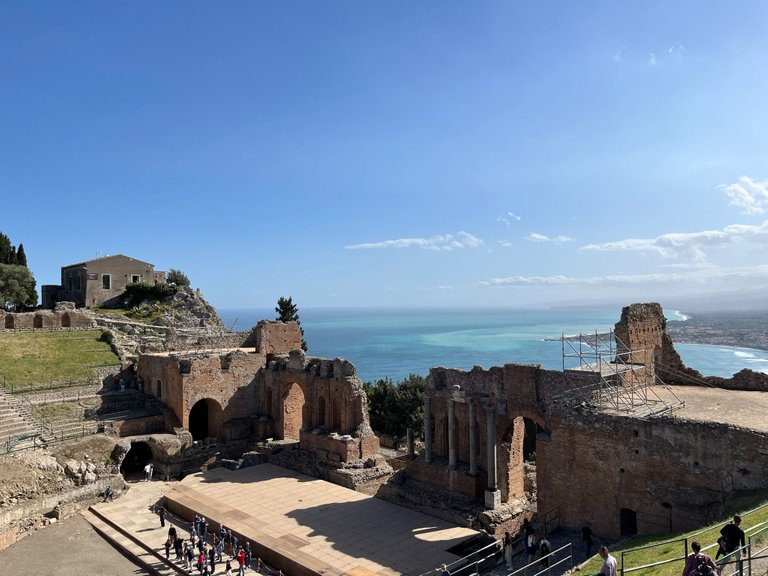 Sea view from the top of the auditorium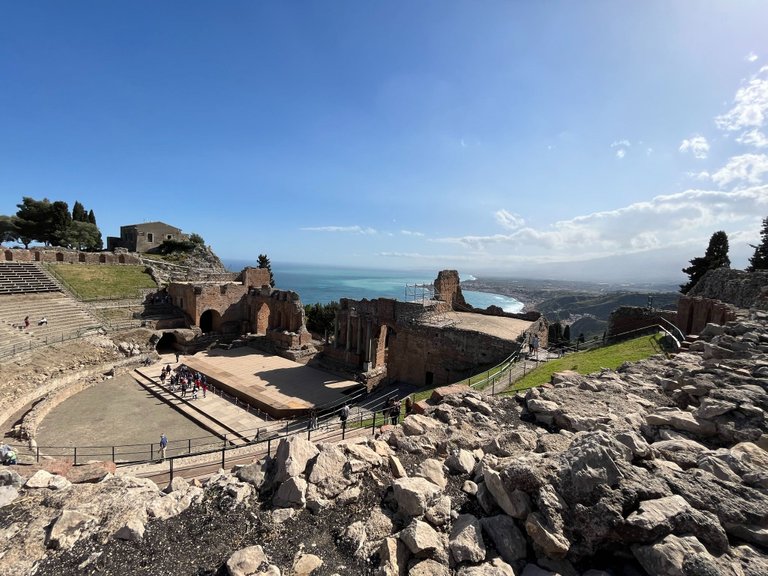 Sea view from the top of the auditorium
---
---

Hope you liked getting to know a bit more about Taormina as I did. It is for sure a beautiful place that, although it's quite touristic, it's completely worth it to give a try and visit it.
Thank you all so much for reading!
Espero que les haya gustado conocer un poco más de Taormina como lo hice yo. Sin duda es un lugar precioso que, aunque es bastante turístico, merece totalmente la pena probarlo y visitarlo.

¡Muchas gracias a todos por leer!


Disclaimer: All pictures were taken by me in Taormina, Sicily with an iPhone 13.

r
---
---