What's it about Birthdays?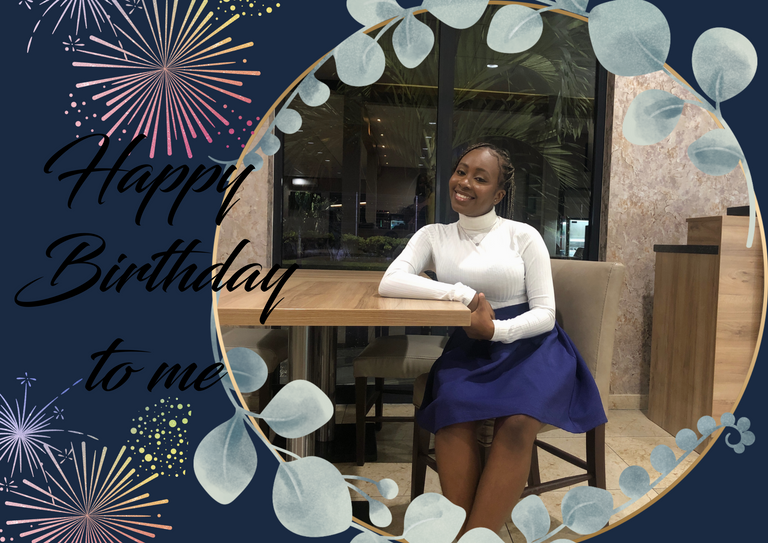 Image designed by me with Canva. The photo in the image is also mine.
I've had it in mind for a long time to do a post about birthdays. I finally decided to three days ago, on my birthday.
My birthday was really nice. It's not like I did anything extra special like celebrating it with friends or going out, but I really enjoyed it.
My sis asked me some weeks before if I wanted to do a shoot. It would have been nice to do one because the last time I did was during my matric. I haven't had professional pictures taken since then. But I didn't feel like it, so I said "no".
I didn't plan anything at all. I only decided to do my hair the night before just so I look fresher. So on my birthday morning, I went to the salon to do cornrows with hair extensions.

The Image is mine and was taken by me.
I usually have some sort of work to do. It's either I'm working on a post, some piece of writing, my crochet… but I just decided to make that day a rest day. The hair didn't take long, so I was soon home to relax and reply messages. There were so many of them. It was a wonderful feeling reading all the sweet things people had to say about me. I also got a few calls and some people sent money. I felt loved that day. It was a lovely day for me.
So guys, I want to know what you think about birthdays.
I think birthdays are a time for us to remember and appreciate people. A lot of people lead busy lives. We have so much to do, chasing money or our dreams. Sometimes it's even that we are too shy to tell people what they mean to us. But their birthday is a day for us to go out of our way to appreciate them. One sweet message is enough to make that person feel good despite however they felt before.
Despite what I've said, when a friend forgets my birthday, I try to be reasonable. I'm not so good with dates, and I also know how it is sometimes when I lose track of the date, so I try to understand them.
The idea for this post wasn't for me to do a lot of talking. I want to get your opinions. What do you think about birthdays, guys?
---
---