Review: Jujutsu Kaisen 0. Una maldición de un Amor Eterno. / Eng: Jujutsu Kaisen 0. A Curse of Eternal Love.
---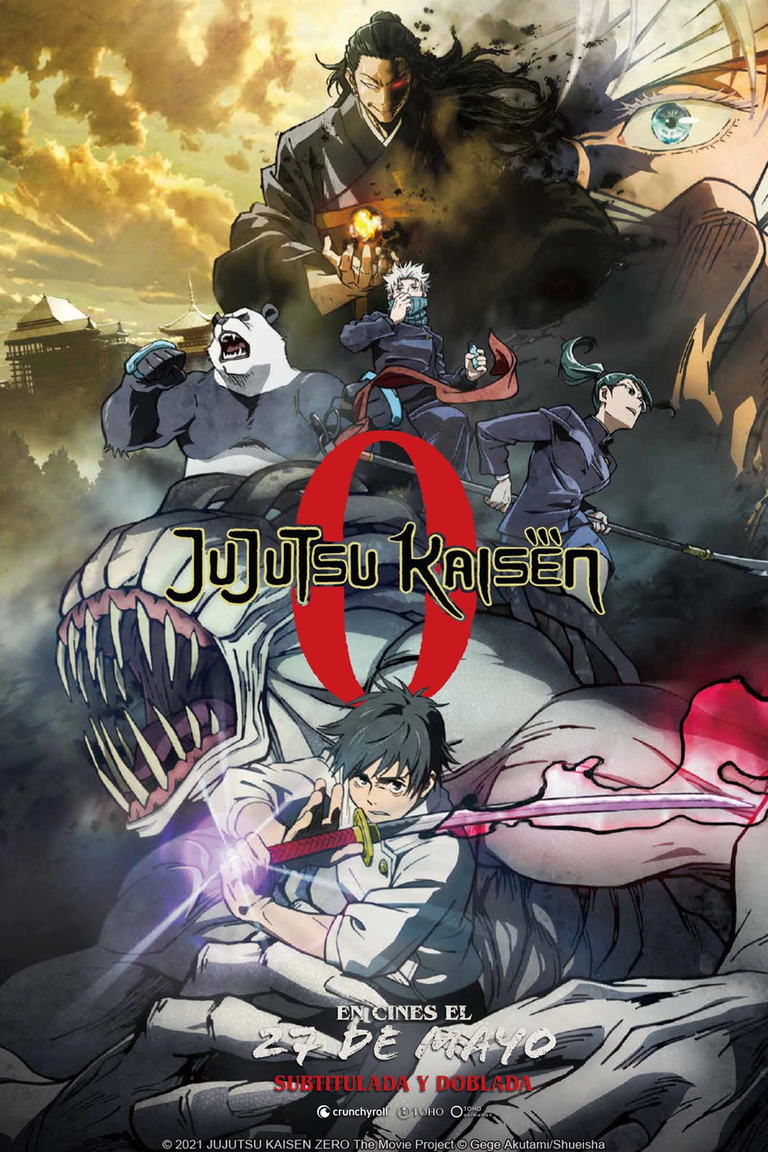 Fuente

---
Esta es una película precuela de un anime, que fue muy esperada y aclamada entre los fans. Según algunas de las estadísticas, se presenta como una de las más populares y taquilleras, además de una de las que mejor tenía gráficos, banda sonora e historia ímplicita. Realmente la película, es un absoluto deleite visual.
El film trata de un joven llamado Yuta Okkutsu que esta maldito, un ente del más allá esta anclado a él y no le deja llevar una vida normal. La maldición surge cuando la mejor amiga de Yuta muere a raíz de ser atropellada, ambos eran niños. El chico presencia lo sucedido y desde ese momento vió surgir la abominación. La maldición se activa cuando alguien atenta contra la vida o integridad de Yuta. En uno de los sucesos, unos bravucones estaban molestando al chico, la maldición se desató y casi los asesina, puesto que introdujo a cuatro en un casillero escolar, mientras Yuta lloraba en el piso, pidiendo que se detuviera.
Desde ese incidente, el chico fue señalado y por eso decidió suicidarse, hecho que la maldición también evitó. En vista de todo, y para evitar más daños a personas ajenas al contexto de Yuta, lo contacta un personaje llamado Satoru Gojo, quien le indica que lo ayudará a controlar su maldición y que puede usarla como un don para hacer buenas acciones. La idea era que Yuta, entre en una escuela de hechicería especial, dejara a un lado la soledad a la que se había confinado y aprendiera a dominar el poder que la maldición concedía. En dicha escuela conoce y comparte con tres compañeros, llamados: Panda, Maki Zenin y Toge Inumaki.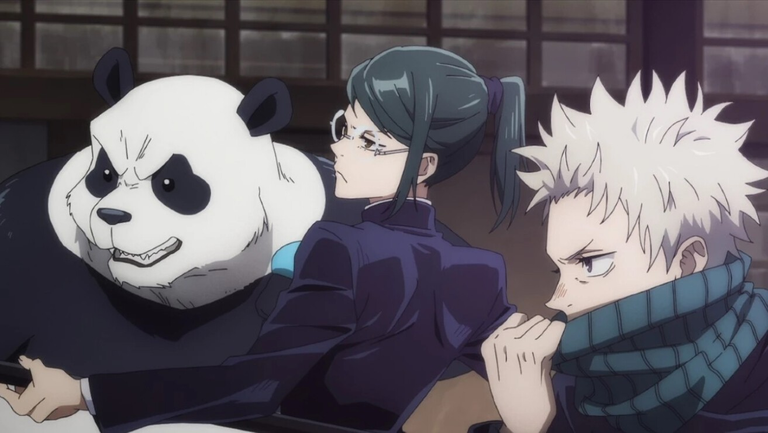 Fuente
En vista de la magnitud de la fuerza de la maldición Rika, Yuta se posiciona como centro de atención de un Hechicero perverso que tiene ideas locas sobre un mundo perfecto, éste tiene por nombre Suguro Geto. Es un personaje de piel clara, cabello oscuro y sonrisa terrorífica, que tiene pensamientos de asesinar a los civiles comunes, para solo dejar con vida a las personas que son hechiceros y que compartan sus ideales.
Para apoderarse del poder de Rika, debe asesinar a Yuta, hecho que desencadena una batalla donde casi mueren los compañeros de clase del joven. Pero con lo que Geto no contaba, era que Rika y Yuta eran muy poderosos, terminando el hombre malvado sin un brazo y al borde de la muerte. Finalmente en se revela que Yuta en realidad fue quien maldijo a Rika al morir, cuando no aceptaba el hecho de lo ocurrido. Por ello, Rika se mantenía a su lado, tal como lo habían prometido cuando eran niños y se obsequiaron un anillo de compromiso.
Después de revelar todo, Rika desvanece su versión demoníaca y es espiritualmente liberada, Yuta y ella se abrazan. Mientras, Rika le decía que no se apresurará a estar con ella aún. También se revela que Yuta, es un familiar lejano de Satoru Gojo, por ello las habilidades eran notables.
---
Fuente
---
La verdad, me ha encantado la película. La elegí al azar, en ocasiones suelo hacer elecciones sin investigar un poco antes de lo que veré, porque me le resta algo de emoción. Sinceramente no tenía idea de que había manga, serie y libros, para mí solamente era esa película. Entenderla no fue nada complicado, la trama y la historia te hacen engancharte inmediatamente con el personaje central que es Yuta. Aunado a ello, una de las cosas que más me ha gustado, es que no necesitas ver toda la serie para entender la película. Sino más bien, que el film te aporta personajes consolidados que vienen acompañados de una buena historia al mejor estilo de hechicería.
En cuanto a gráficos, sonidos y doblaje al español, no tengo quejas, puesto que es simplemente una pieza excepcional. Me ha gustado tanto, que investigaré los capítulos del anime para darle una continuidad a la misma, sin embargo no es expresamente necesaria, porque en el film de Jujutsu Kaisen 0 hay un inicio, desarrollo y fin notable.
---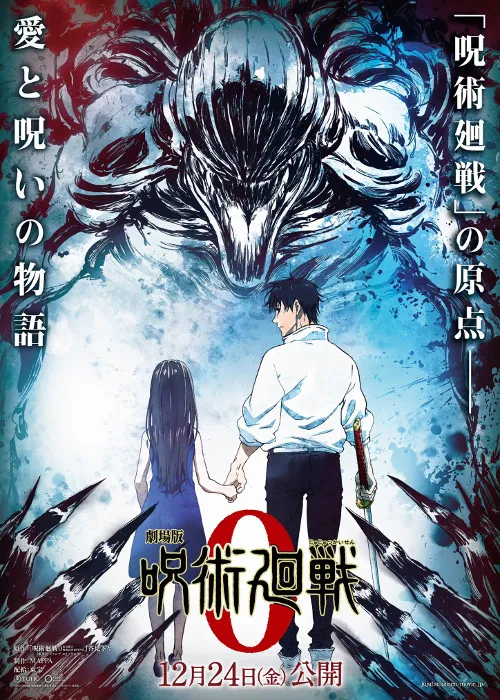 Fuente
Gracias por su atención, atentamente: Ana Pialejo, bajo mi usuario de: @pialejoana. Banner y separadores de textos creados con Canva. Textos de mi autoría. Traducción al inglés usando: Google Traductor.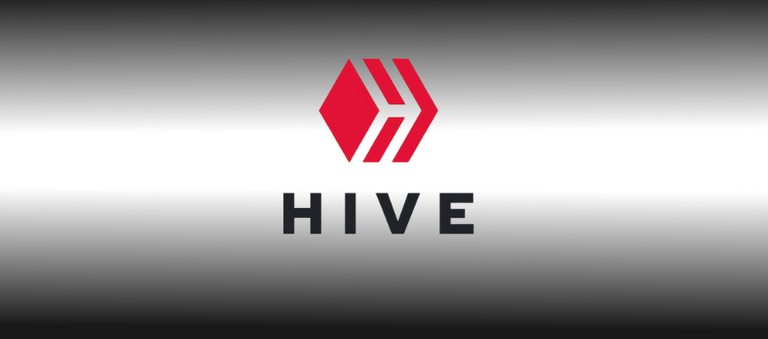 English:
---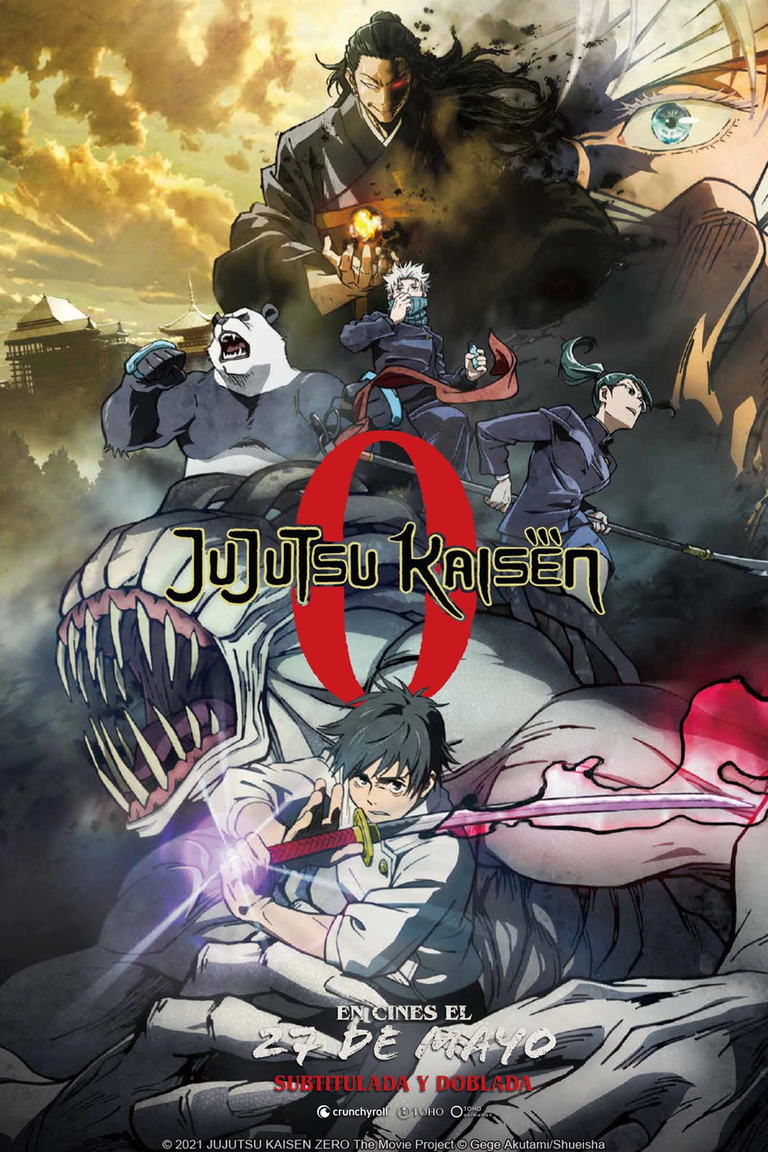 Source

---
This is a prequel movie of an anime, which was highly anticipated and acclaimed among fans. According to some of the statistics, it is presented as one of the most popular and blockbuster, as well as one of the ones with the best graphics, soundtrack and implicit history. The movie really is an absolute visual delight.
The film is about a young man named Yuta Okkutsu who is cursed, an entity from beyond is anchored to him and does not let him lead a normal life. The curse arises when Yuta's best friend dies as a result of being run over, both were children. The boy witnessed what happened and from that moment he saw the abomination emerge. The curse is activated when someone threatens Yuta's life or integrity. In one of the events, some bullies were harassing the boy, the curse was unleashed and he almost killed them, since he introduced four of them in a school locker, while Yuta cried on the floor, asking him to stop.
Since that incident, the boy was singled out and that is why he decided to commit suicide, a fact that the curse also prevented. In view of everything, and to avoid further harm to people outside Yuta's context, he is contacted by a character named Satoru Gojo, who tells him that he will help him control his curse and that he can use it as a gift to do Good actions. The idea was that Yuta, entering a special sorcery school, put aside the loneliness to which he had confined himself and learn to master the power that the curse granted. In this school he meets and shares with three classmates, called: Panda, Maki Zenin and Toge Inumaki.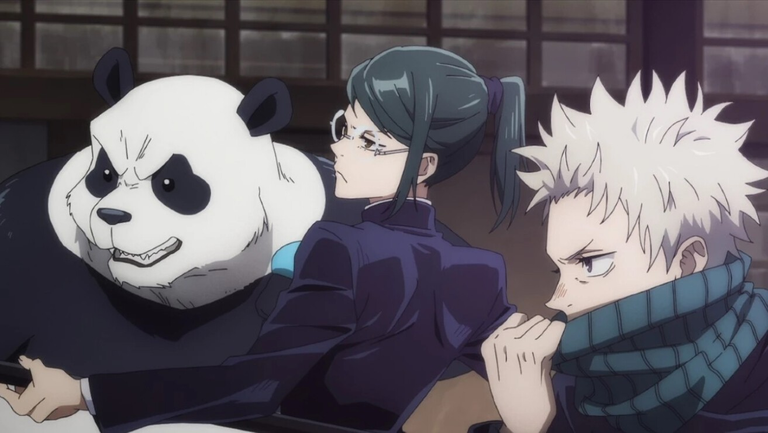 Source
In view of the magnitude of the force of the Rika curse, Yuta is positioned as the center of attention of an evil Sorcerer who has crazy ideas about a perfect world, this one is named Suguro Geto. He is a character with light skin, dark hair and a terrifying smile, who has thoughts of killing ordinary civilians, only to leave alive people who are sorcerers and who share his ideals.
In order to seize Rika's power, he must kill Yuta, which triggers a battle where Rika's classmates almost die. But what Geto didn't count on was that Rika and Yuta were very powerful, ending up with the evil man missing an arm and on the verge of death. Finally, it is revealed that Yuta was actually the one who cursed Rika when she died, when he did not accept the fact of what happened. Therefore, Rika stayed by her side, as they had promised when they were children and gave each other an engagement ring.
After revealing everything, Rika vanishes the demonic version of her and is spiritually released, Yuta and her hug. Meanwhile, Rika told him that he won't rush to be with her just yet. It is also revealed that Yuta is a distant relative of Satoru Gojo, thus his abilities were remarkable.
---
Source
---
Honestly, I loved the movie. I chose it at random, sometimes I usually make choices without doing a little research before what I will see, because it takes away some of the emotion. I honestly had no idea that there were manga, series and books, for me it was just that movie. Understanding her was not complicated at all, the plot and the story make you immediately hooked with the central character that is Yuta. In addition to this, one of the things that I liked the most is that you do not need to see the entire series to understand the movie. But rather, that the film gives you consolidated characters that are accompanied by a good story in the best style of sorcery.
In terms of graphics, sounds and Spanish dubbing, I have no complaints, since it is simply an exceptional piece. I liked it so much that I will investigate the anime chapters to give it continuity, however it is not expressly necessary, because in the Jujutsu Kaisen 0 film there is a notable beginning, middle and end.
---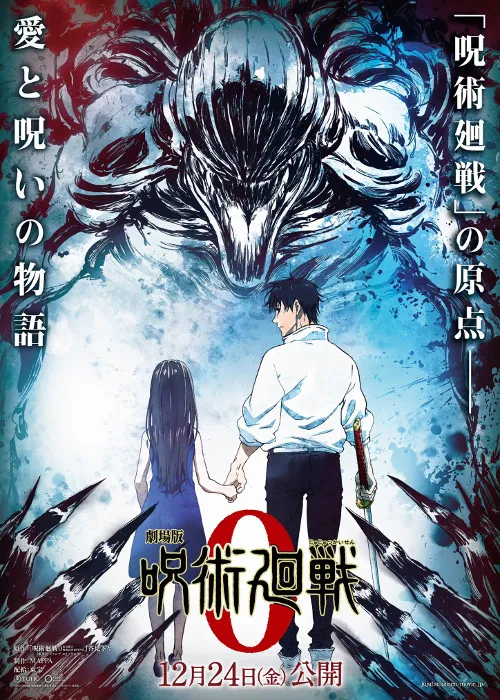 Source
Thank you for your attention, sincerely: Ana Pialejo, under my username: @pialejoana. Banner and text dividers created with Canva. Texts of my authorship. English translation using: Google Translate.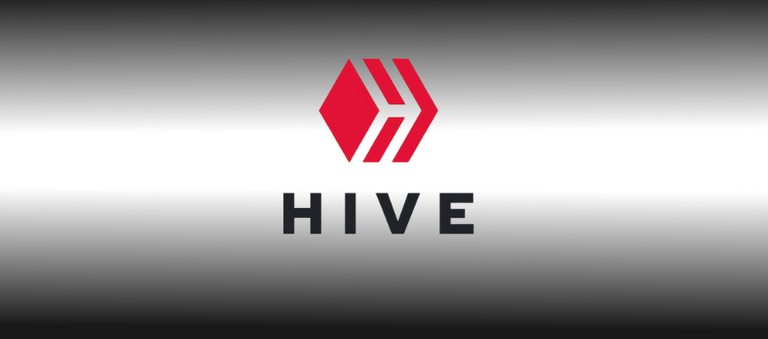 ---
---