Review: The Invitation (2022). A foreign wedding, which becomes their own and with a dark secret.
---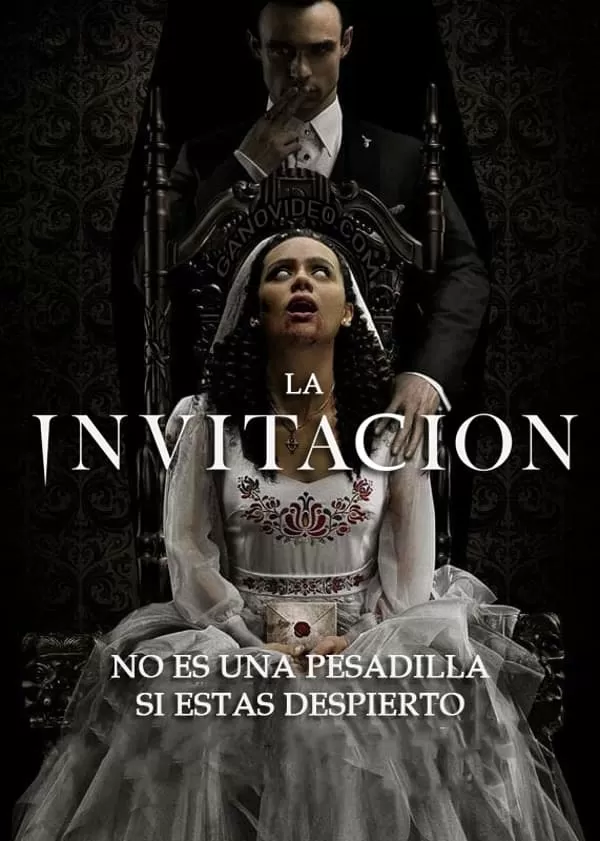 Source

The film begins with a tragic scene where a lady who looks sad and anxious ends up committing suicide by hanging. Apparently, it was a decision to end something quickly, but there are no further details. Now Evie appears on the scene, a young and beautiful girl who is practically alone in the world. Her father had died several years ago and her mother, she had died about a year ago. Evie, she worked as a waitress at different parties and meetings, when in one of them they give her a DNA test, so that she can get relatives.
The girl in the midst of curiosity accepts and performs the test, soon she receives results and has a close cousin. She contacts him and they decide to meet, they chat and he receives an invitation to the "wedding of the century". Evie a little surprised, but at the same time excited to meet her family, she decides to go on the trip. Being in England, she is cordially received by a Lord, the house is actually a mansion and the relatives are delighted with the presence of Evie.
The cordiality of all, in addition to an intense flirtation with the Lord of the mansion, surround Evie. But what she doesn't know is that the wedding wasn't exactly that of another couple, but rather a macabre plan to marry her off to the Lord of the mansion. This sexy Lord was not an ordinary man, but rather a "Dracula", who had a tradition of marrying women of certain lineages, including Evie's. At that time, he already had two more wives, but he needed a third one, which would be Evie (Alexander family).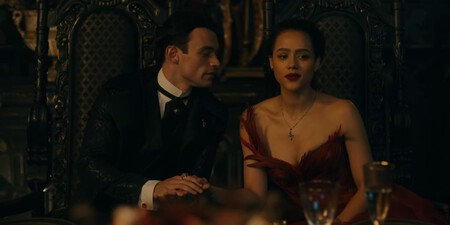 Source
Dracula was linked with the wives through blood, where the woman had to take the blood of the vampire and thus she adopted the force of a man multiplied and also free of diseases, aging. For Evie, one of the things that affected her the most and made her deny what was happening was that the Lord murdered women to take their blood, humans were objects for him, which she used.
Evie knows the other wives of the Lord, but she does not get out of her astonishment and escapes with the help of one of the servants of the mansion, who by the way was a friend of the girl's grandmother. Despite her efforts, Evie is again captured and forced to marry the Lord, where she only consumes the blood to take the multiplied force and thus kill Dracula.
Source

Thoughts around the Film:
It is a somewhat slow story, full of suspense because honestly initially we did not imagine that it is our main actress who will get married. However, the turns of the story and the events make you wonder if it is a gothic love story or a murder story, in addition to the fact that the appearances of a veiled entity indicate a specter of terror. Although, we cannot see that entity, which are actually vampires, it gives it a certain air that adds to the suspense.
The development of the story is done behind classic candle lights and courtesies to Evie, this fact reminds me a lot of the contexts where a wealthy man tries to make the girl fall in love with luxuries. But, after discovering all the macabre truth behind the attentions, Evie is scared and immediately does not accept anything and seeks to escape from her. As for shocking scenes, honestly there weren't any that made me emotional or shocked me.
On the other hand, in terms of scenery, it seems to me that the details, of space and scene, were very careful. In turn, the air of grandeur and power are confirmed by the presence of the dance and its detailed dresses. Another point, the scene where the Lord confirms to Evie what was happening in this regard and dismantles the entire blood covert operation.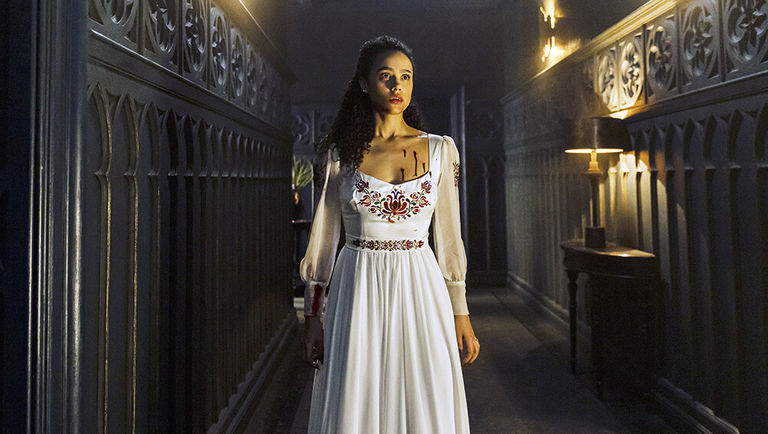 Source
Thank you for your attention, sincerely: Ana Pialejo, under my username: @pialejoana. Banner and text dividers created with Canva. Texts of my authorship. English translation using: Google Translate.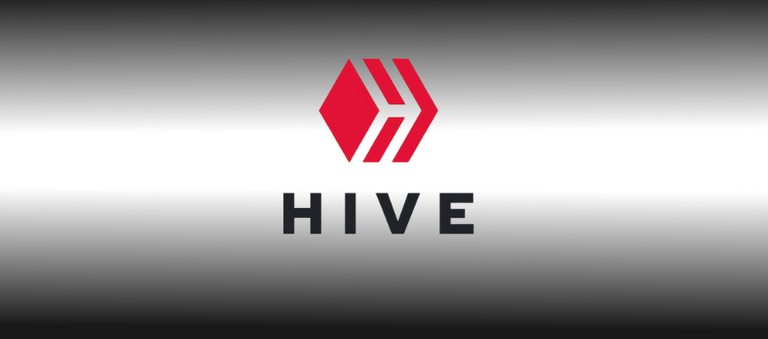 ---
Español
---
Título: La Invitación (2022). Una boda ajena, que se convierte en propia y con un oscuro secreto.
---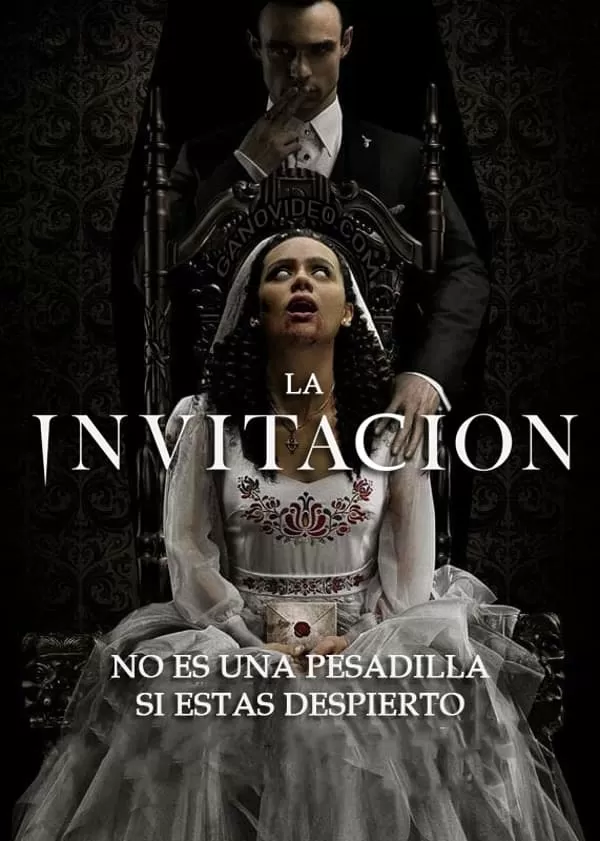 Fuente

---
El film inicia con una escena trágica donde una dama que se ve con tristeza y ansiedad termina suicidándose colgada. Al parecer, fue una decisión por terminar rápidamente con algo, pero no hay más detalles. Ahora aparece en escena Evie, una chica joven y hermosa que está prácticamente sola en el mundo. Su padre había muerto hace varios años y la madre, tenía aproximadamente un año de haber muerto. Evie, trabajaba como camarera en diferentes fiestas y reuniones, cuando en una de ellas le obsequian una prueba de ADN, para que pueda conseguir familiares.
La chica en medio de la curiosidad acepta y realiza la prueba, a la brevedad recibe resultados y tiene un primo cercano. Lo contacta y deciden verse, charlan y recibe una invitación a la "boda del siglo". Evie un poco extrañada, pero a la vez emocionada por conocer su familia, decide ir al viaje. Estando en Inglaterra, es recibida cordialmente por un Lord, la casa es en realidad una mansión y los familiares quedan encantados con la presencia de Evie.
La cordialidad de todos, además de un coqueteo intenso con el Lord de la mansión, envuelven a Evie. Pero, lo que ella no sabe es que la boda no era exactamente de otra pareja, sino más bien un plan macabro para casarla a ella con el Lord de la mansión. Éste sexy Lord, no era un hombre común, sino más bien un "Dracula", que tenía por tradición casarse con mujeres de ciertos linajes, incluido el de Evie. En ese momento, ya tenía dos esposas más, pero necesitaba una tercera, que sería Evie (familia Alexander).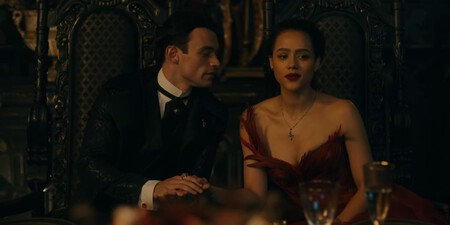 Fuente
Dracula se enlazaba con las esposas mediante la sangre, donde la mujer debía tomar de la sangre del vampiro y así ésta adoptaba fuerza de hombre multiplicada y además libre de enfermedades, envejecimiento. Para Evie una de las cosas que más le afectaron y le hicieron negarse de lo que pasaba, era que el Lord asesinaba mujeres para tomar de la sangre, los humanos eran objetos para él, de los cuales se servía.
Evie conoce a las otras esposas del Lord, pero no sale de su asombro y se escapa con ayuda de una de las sirvientas de la mansión, que por cierto era amiga de la abuela de la chica. Pese a los esfuerzos, Evie es nuevamente capturada y le obligan a casarse con el Lord, donde solo consume la sangre para tomar la fuerza multiplicada y así asesinar a Dracula.
Fuente

Pensamientos alrededor del Film:
Es una historia algo lenta, llena de suspenso porque sinceramente inicialmente no imaginamos que es nuestra actriz principal quien contraerá matrimonio. Sin embargo, los giros de la historia y de los acontecimientos te ponen en dudas, sobre si es una historia de amor gótico o de asesinatos, además de que las apariciones de un ente con velo, indica un espectro de terror. Aunque, no podamos ver ese ente, que en realidad son vampiros, le da un cierto aire que se suma al suspenso.
El desarrollo de la historia, se hace tras luces de velas clásicas y cortesías a Evie, este hecho me recuerda mucho a los contextos donde un hombre adinerado intenta enamorar a la chica mediante lujos. Pero, luego de descubrir toda la verdad macabra detrás de las atenciones, Evie se asusta e inmediatamente no acepta nada y busca escapar. En cuanto a escenas impactantes, sinceramente no hubo ninguna que me hiciera emocionar o me impactará.
Por otro lado, en cuanto a escenografía me parece que estuvieron muy cuidados los detalles, de espacio y escena. A su vez, el aire de grandeza y poder, se ven confirmados con la presencia del baile y de sus vestidos detallados. Otro de los puntos, la escena donde el Lord le confirma a Evie lo que sucedía al respecto y desmantela toda la operación encubierta de sangre.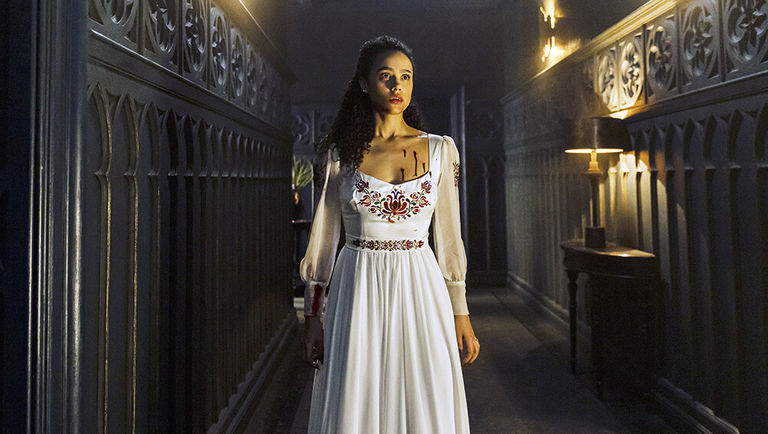 Fuente
Gracias por su atención, atentamente: Ana Pialejo, bajo mi usuario de: @pialejoana. Banner y separadores de textos creados con Canva. Textos de mi autoría. Traducción al inglés usando: Google Traductor.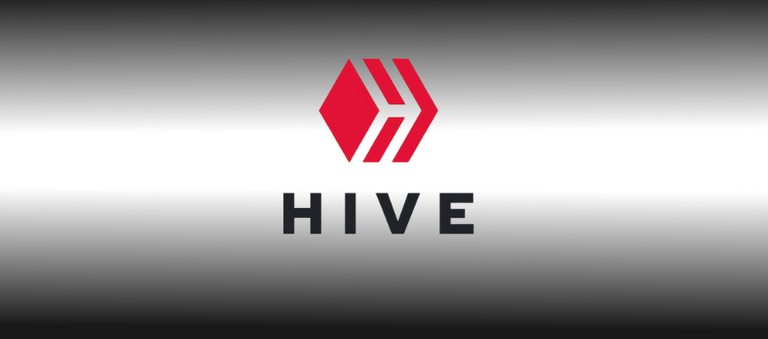 ---
---