Sausage Party: The 4th Dimension, Religion, Satire, and Sex (R-Rated Movie) / [Eng- Esp]
---
Generally animated movies link us immediately to children's themes or family themes, but there are some other exceptions that place a different humor on top. And this is the case of "The Sausage Parties", which is a different film, full of adult humor, disordered beliefs and sex.
---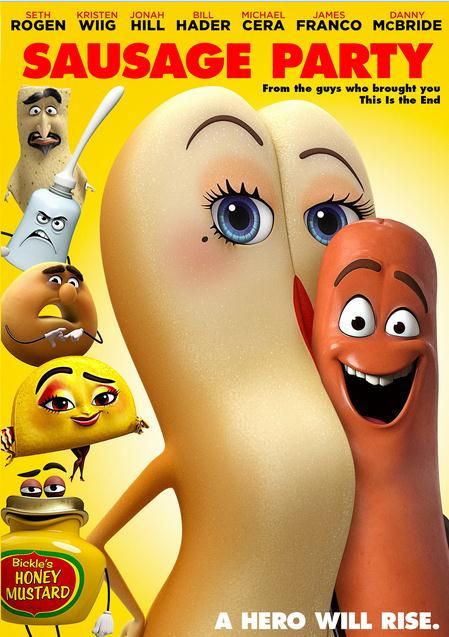 Source
---
Launched in 2016, it caused a stir in viewers, due to its characteristic humor dedicated to an adult audience. The receptivity was spectacular, because it not only contained humor, but also some off-color words, sex and how beings are reflected in the fact that they prefer pleasant lies to sad truths.
"People like to project their emotions to the things around them: their toys, their cars, their pets... So we thought: what if our food had feelings? We quickly realized that it would be very fucked ." (Rogen)
The film begins with a view of a supermarket, where the products are on the shelves. To our surprise, all the food and products have different characteristics such as eyes, nose, mouth, personalities and accents. A song begins and the joy of the products overflows for a "beyond". The humans here in this story are the "Gods" and the longed-for afterlife is when they leave the store to be bought.
---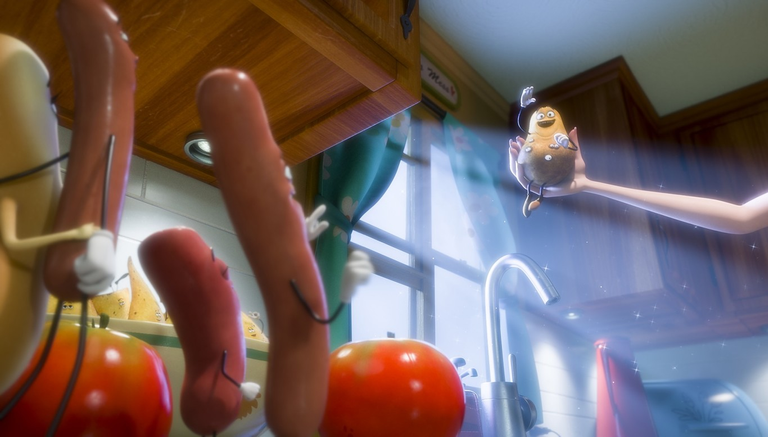 Source
---
In itself, the film has as its main characters a sausage and a bun, who have fallen in love and hope to consummate their love in the afterlife. But suddenly one of the products is returned, it was the honey mustard, so he had a clearer and more precise vision of what the true afterlife was. Half psychopath came screaming and professing what he saw, claiming that the gods were not taking them to a happy beyond paradise, but rather that they ate them (Well, in the end they were food, right?). All the fuss about this made Frank the Sausage think about the truth, starting a search for the truth.
While on that search, he comes across a group of imperishable foods, which are the ones that have been there the longest in the supermarket. They tell him the dark truth outside the store, and for him to confirm it with his own eyes he must go to the aisle after the cold, aisle of knives and cookbooks.
On the path of truth, both the sausage and the bun, other characters are obtained such as the omelette, the donut and an Arab-inspired bread. They finally part with the sausage on the way to discovery. Plus there's also the evil shower, who disowns our good-natured main characters.
---
Source
---
In itself, the Sausage Festival is a film that satirically alludes to religion, beliefs and prejudices that often fail to allow people to lead a happy, satisfied and fulfilling life. It is the picture of a struggle between what is right, wrong and what satisfies us both emotionally and sexually.
The characters that develop the story are happy, they question themselves within an environment and at the same time, they eagerly want to live life in freedom. But as the Jurassic Park programmer's computer says:
Source
You are food.! There is no other.
In the final scenes, a rebellion is unleashed on the part of the food against the gods or humans. Where after winning it a sexual party is unleashed that allows our characters to freely experience the most diverse occurrences.
---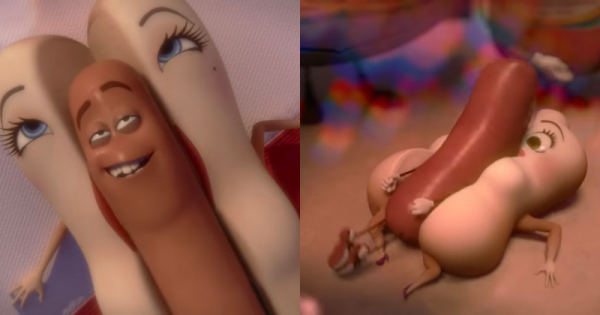 ---
Thank you for your attention, sincerely: Ana Pialejo, under my username: @pialejoana. Banner and text dividers created with Canva. Texts of my authorship. English translation using: Google Translate.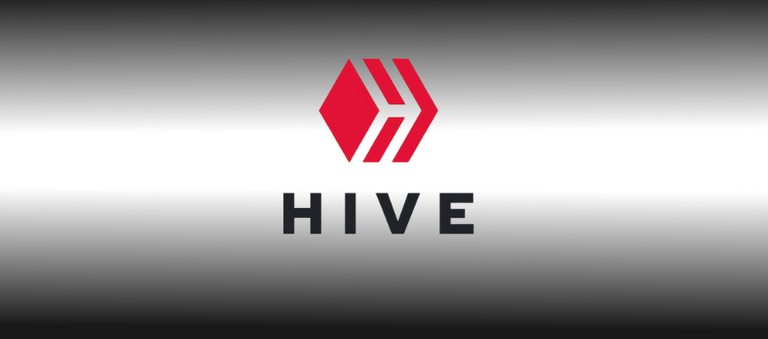 ---
Español:
Título: La fiesta de las Salchichas: La 4ta dimensión, religión, satira y sexo (Película de calificación R)
---
Generalmente las películas animadas nos enlazan inmediatamente a temas infantiles o temáticas familiares, pero hay unas que otras excepciones que colocan en lo alto un humor diferente. Y este es el caso de "Las fiestas de las Salchichas", que es un film diferente, lleno de humor adulto, desorden de creencias y sexo.
---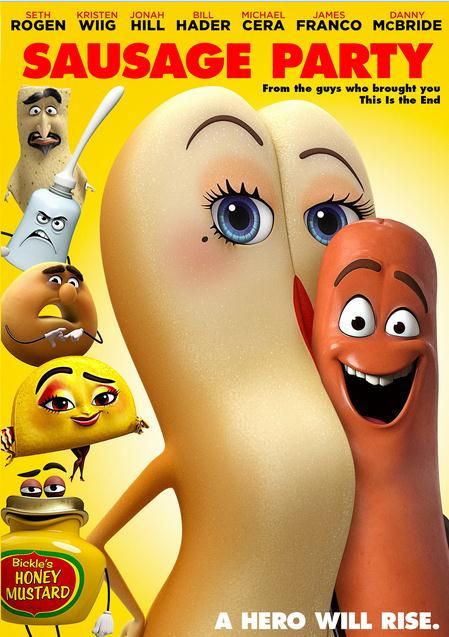 Fuente
---
Lanzada en el año 2016 causó un revuelo en los espectadores, por su característico humor dedicado a una audiencia adulta. La receptividad fue espectacular, debido a que no solo contenía humor, sino algunas palabras subidas de tono, sexo y como se refleja en los seres el hecho de que prefieren mentiras agradables a verdades tristes.
"A la gente le gusta proyectar sus emociones a las cosas que les rodean: sus juguetes, sus coches, sus mascotas... Así que pensamos: ¿qué pasaría si nuestra comida tuviera sentimientos? Rápidamente nos dimos cuenta que sería muy jodido." (Rogen)
El film inicia con una vista de un supermercado, donde los productos se encuentran en los anaqueles. Para nuestra sorpresa, toda la comida y productos tienen características como ojos, nariz, boca, personalidades y acentos diferentes. Una canción empieza y se desborda la alegría de los productos por un "más allá". Los humanos aquí en esta historia son los "Dioses" y el más allá anhelado es cuando salen de la tienda al ser comprados.
---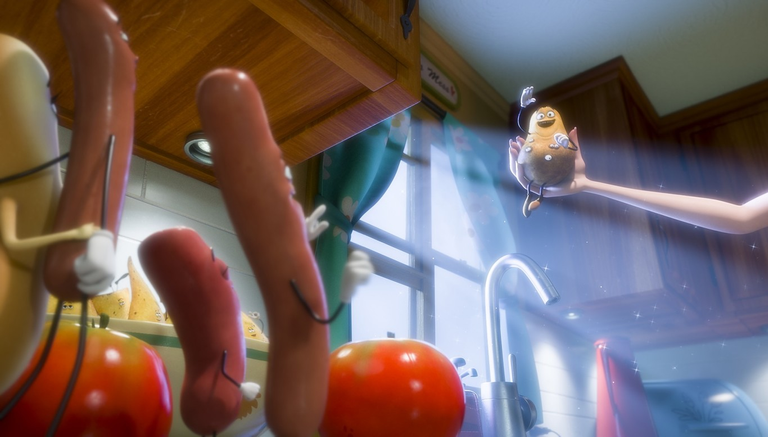 Fuente
---
En sí, el film tiene como principales personajes una salchicha y un bollo, que se han enamorado y esperan consumar su amor en el más allá. Pero repentinamente uno de los productos es retornado, era la mostaza con miel, así que tuvo una visión más clara y precisa de lo que era el verdadero más allá. Llegó medio psicópata gritando y profesando lo que vio, alegando que los dioses no los llevaban a un feliz más allá del paraíso, sino más bien que se los comían (Bueno, a la final eran alimentos, ¿no?). Todo el alboroto respecto a esto, generó pensamientos al respecto de la verdad a Frank, la salchicha, iniciando así una búsqueda de la verdad.
Estando en esa búsqueda, se topa con un grupo de alimentos imperecederos, que son los que más tiempo tienen allí en el supermercado. Éstos le cuentan la oscura verdad que hay fuera de la tienda, y para que lo confirme por sus propios ojos debe ir al pasillo que esta después del frío, pasillo de cuchillos y libros de cocina.
En el camino de la verdad, tanto la salchicha como el bollo, se consiguen otros personajes como la tortilla, la dona y un pan de tendencia árabe. Que finalmente, se separan de la salchicha en el camino del descubrimiento. Además también esta la ducha malvada, quien repudia a nuestros bonachones personajes principales.
---
Fuente
---
En sí, la Fiesta de las Salchichas es un film que hace alusión de forma satírica a la religión, las creencias y los prejuicios que muchas veces no logran dejar a las personas desarrollar una vida feliz, satisfecha y plena. Es la pinta de una lucha entre lo correcto, incorrecto y lo que nos satisface tanto emocional como sexualmente.
Los personajes que desarrollan la historia son alegres, se cuestionan dentro de un entorno y a la vez, desean con ansias vivir la vida en libertad. Pero como dice la computadora del programador de Jurassic Park:
Fuente
¡Sos comida.! No hay de otra.
En las escenas finales, se desata una rebelión de parte de los alimentos en contra de los dioses o humanos. Donde luego de ganarla se desata una fiesta sexual que les deja a nuestros personajes experimentar libremente las más diversas ocurrencias.
---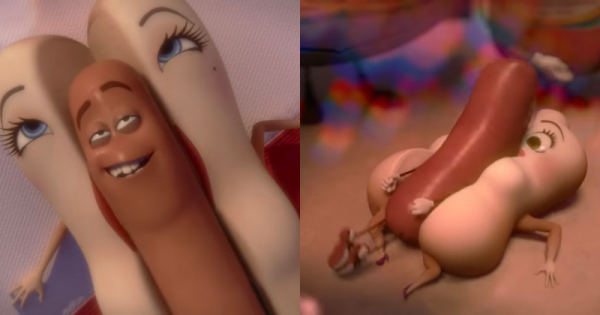 ---
Gracias por su atención, atentamente: Ana Pialejo, bajo mi usuario de: @pialejoana. Banner y separadores de textos creados con Canva. Textos de mi autoría. Traducción al inglés usando: Google Traductor.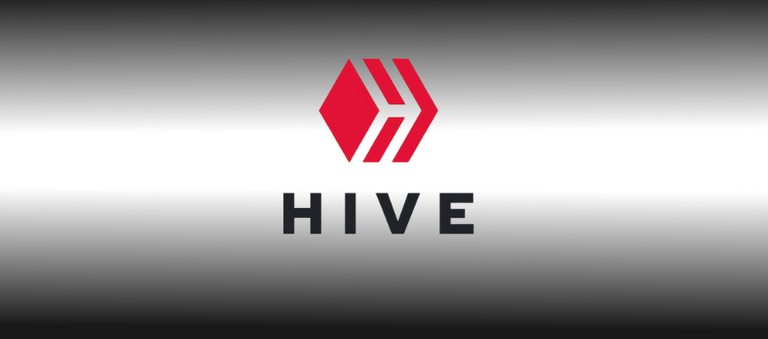 ---
---