A beautiful insect that can teach humans a thing or two
I was doing my early morning walk earlier for my actifit post later and I stumbled upon this huge grasshopper in one of the poles in my backyard.
I wanted to take a picture of it but it was quite hard as he was so high up. I am quite a short guy standing at only 5 feet and 1 inch tall. Despite that I still tried to take a picture of him since he was huge and quite rare to see these days.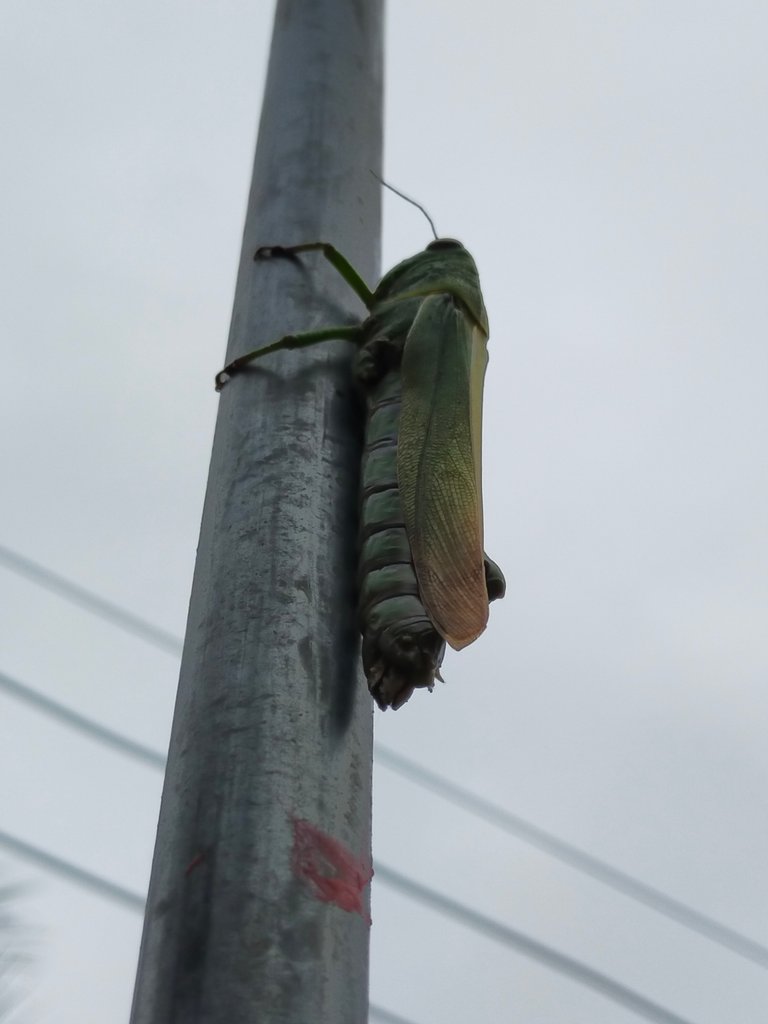 But as you can see I took a shot at it and it looks quite terrible from an angle below. Maybe it was because it was against the light that's why it looks like that.
I am only a newbie photographer so I still have so many things to learn but I felt like that was the reason why the shot is terrible.
---
I thought to myself it was a shame as it was a good thing to practice some macro shots.
So I just continued my walking and after an hour passed I came back to see him. To my surprise he was still there hanging around so I took the chance to practice macro shots on him.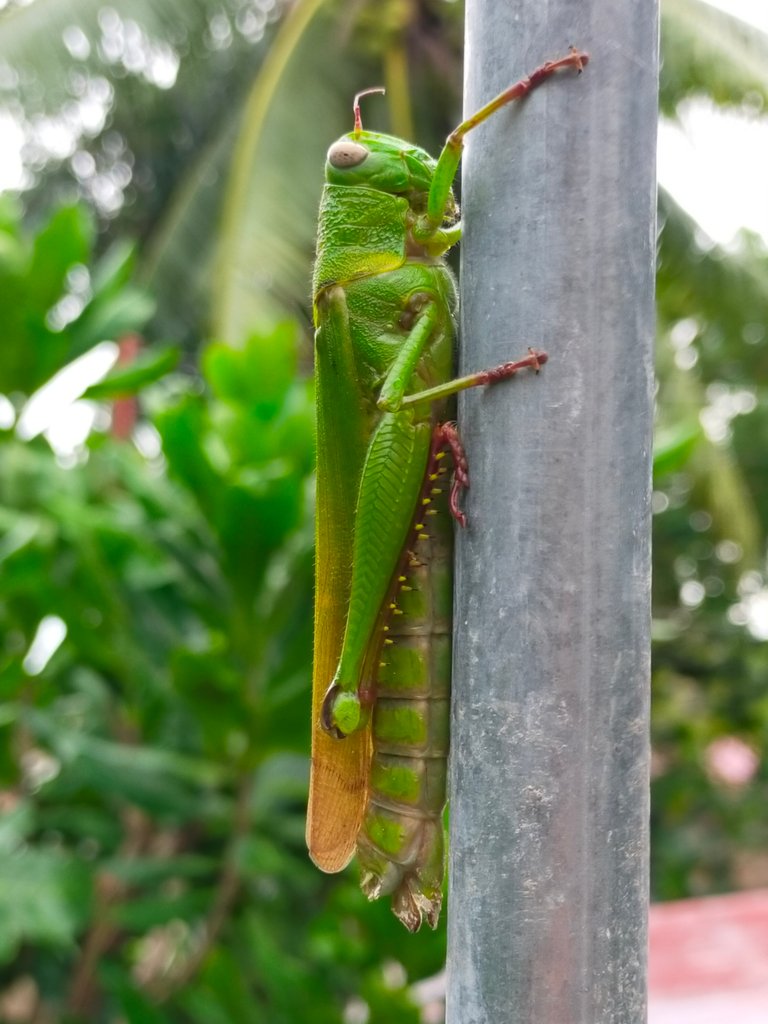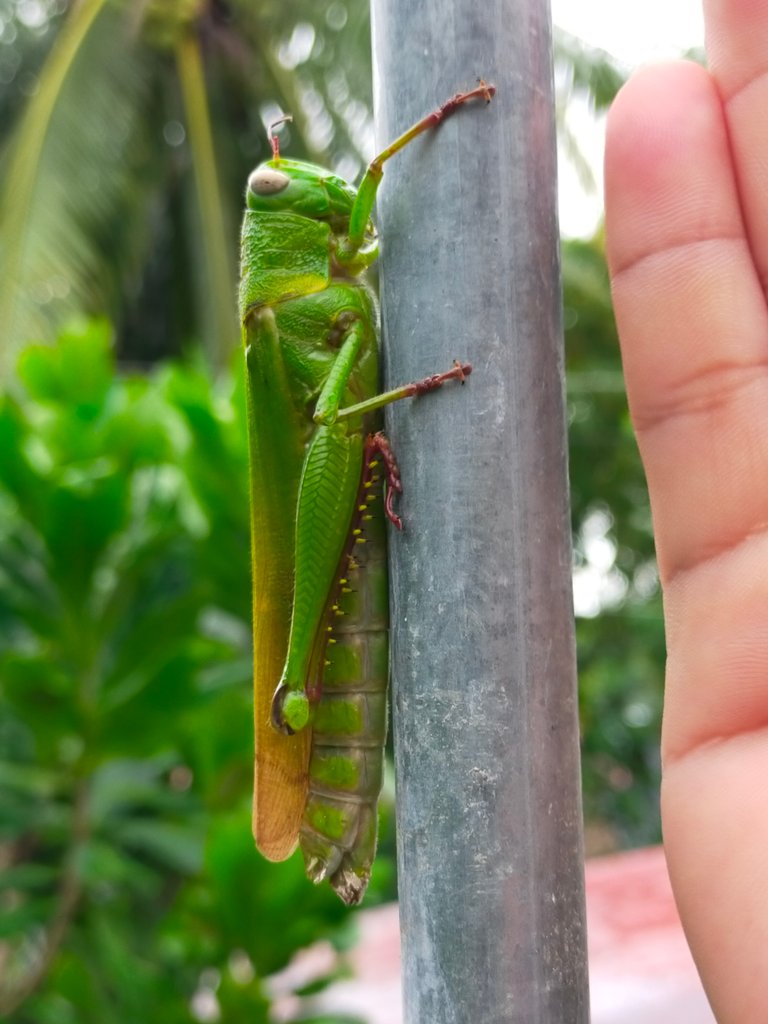 As you can see he is quite big. His body size is as big as my pinky finger and his length is probably around 4 inches more or less.
Most grasshoppers I see around here are only small ones probably less than half an inch long. Although this is not the first time I see grasshoppers as big as this one but it still amazes me whenever I see one.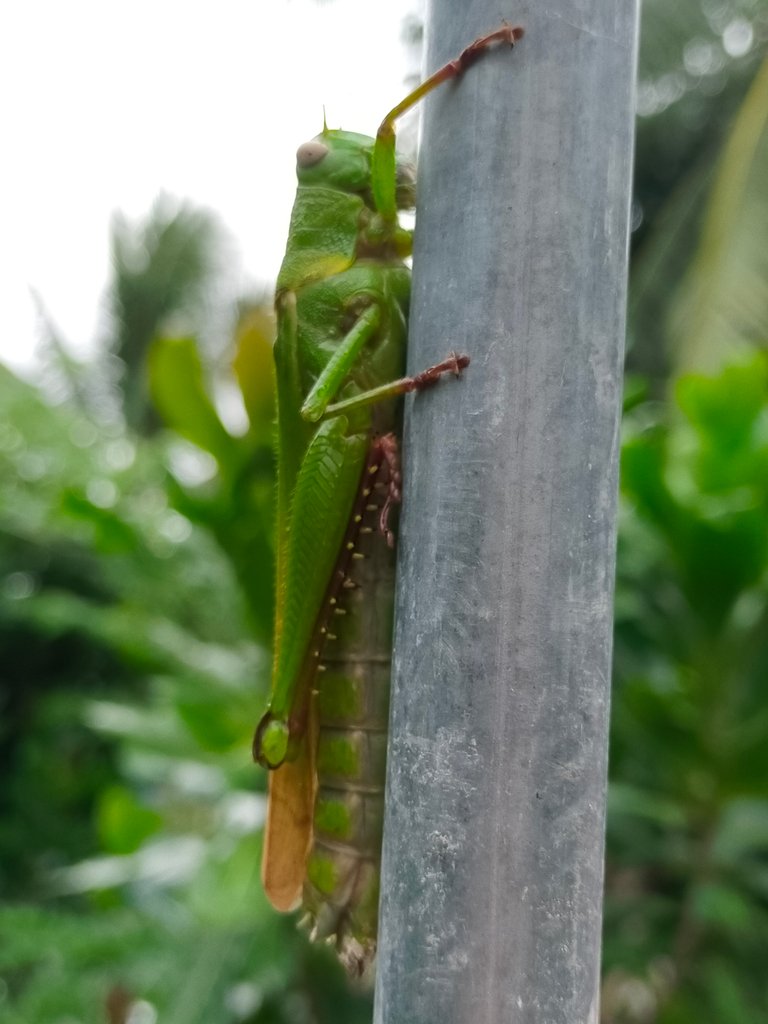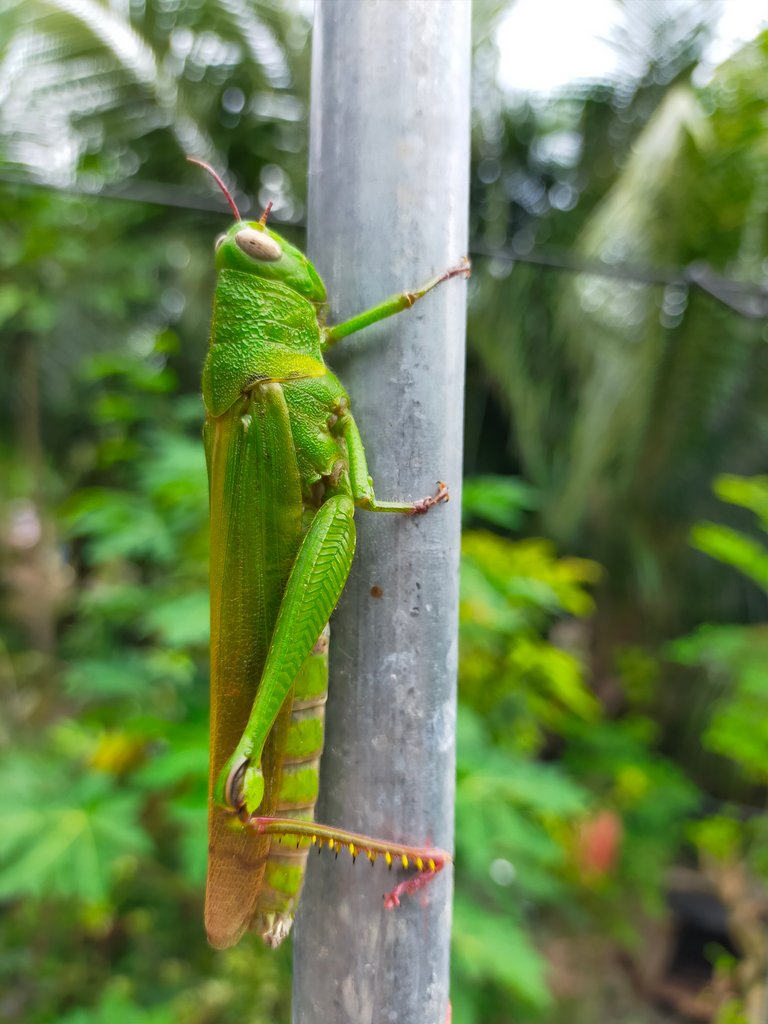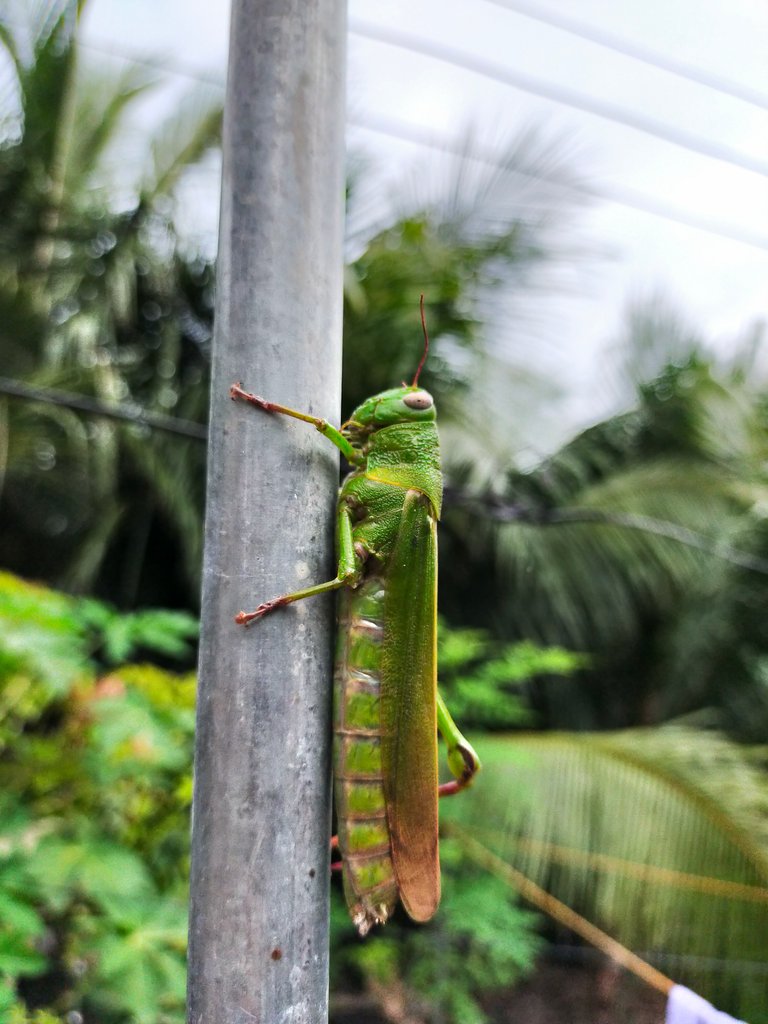 He was still going down and so I took probably one of my best shots so far even though I'm only using a phone to take these images.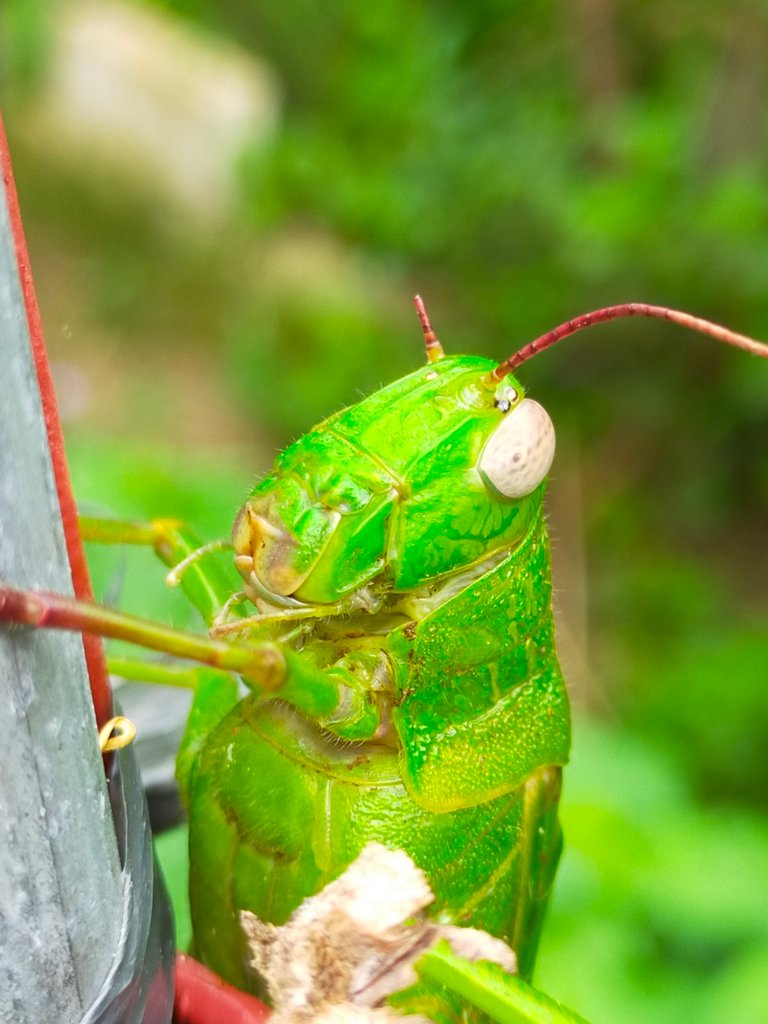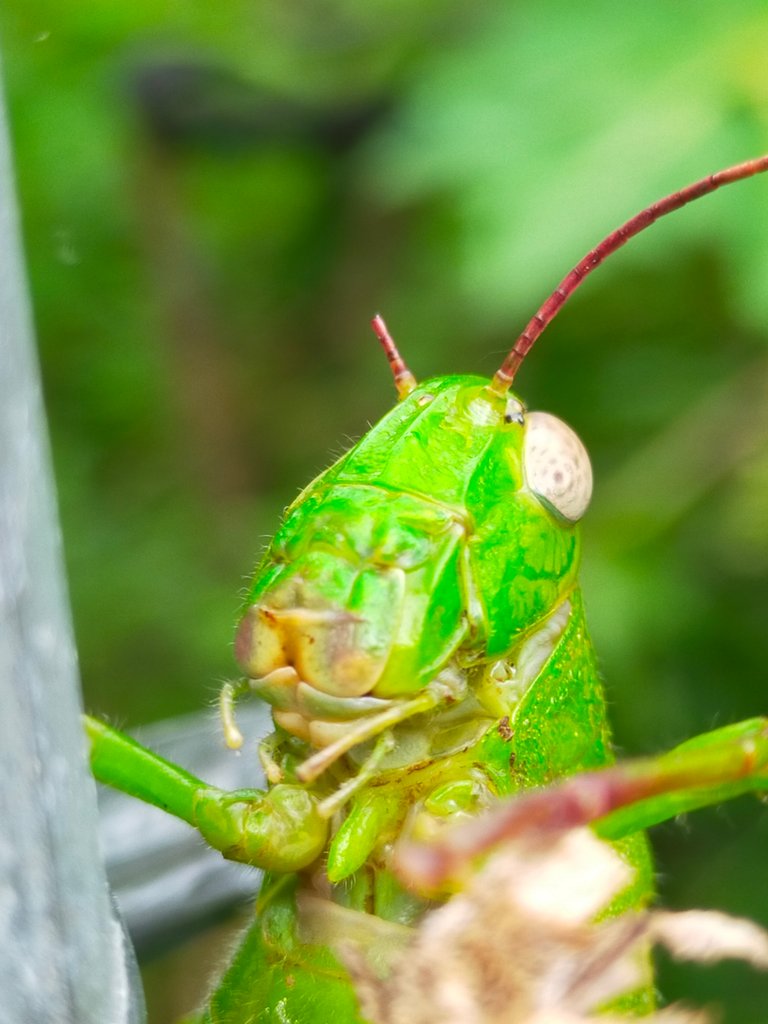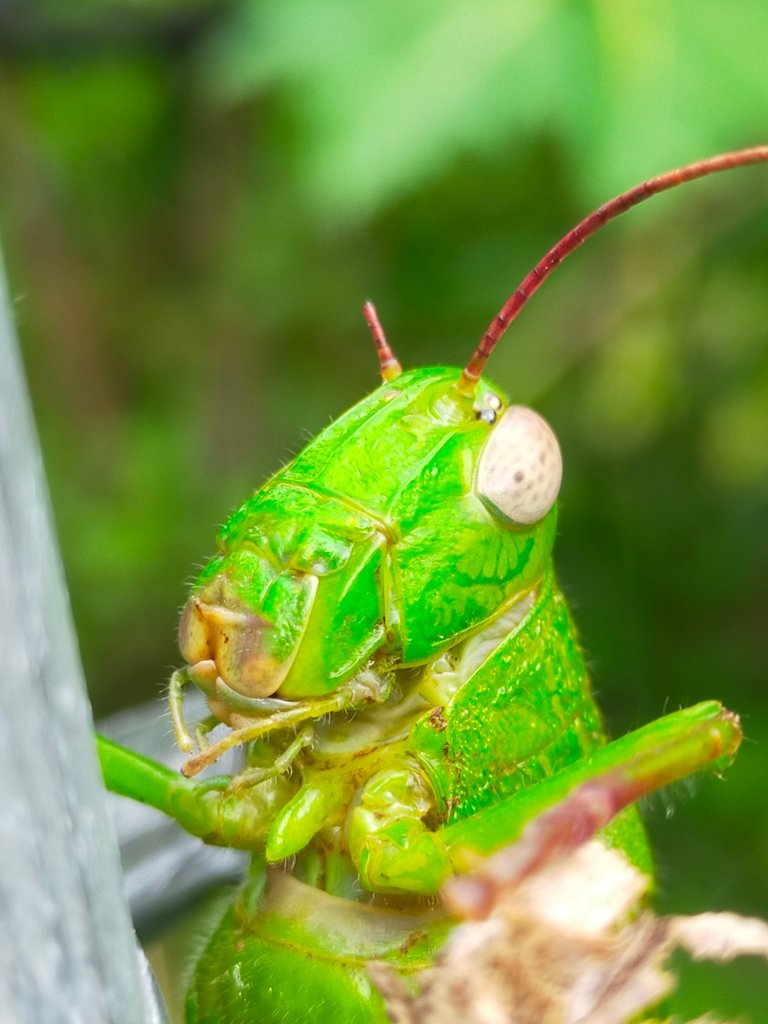 I love the second shot above as he was so cooperative with me and looked at the camera. He was probably wondering the heck I was doing and what is that thing that's so close to him 😅.
As I said I'm not a professional photographer so getting shots as these are really quite rare. So I was wondering why it didn't try to jump or fly away.
I'm pretty sure these grasshoppers have a lot jumping power and they can fly as well.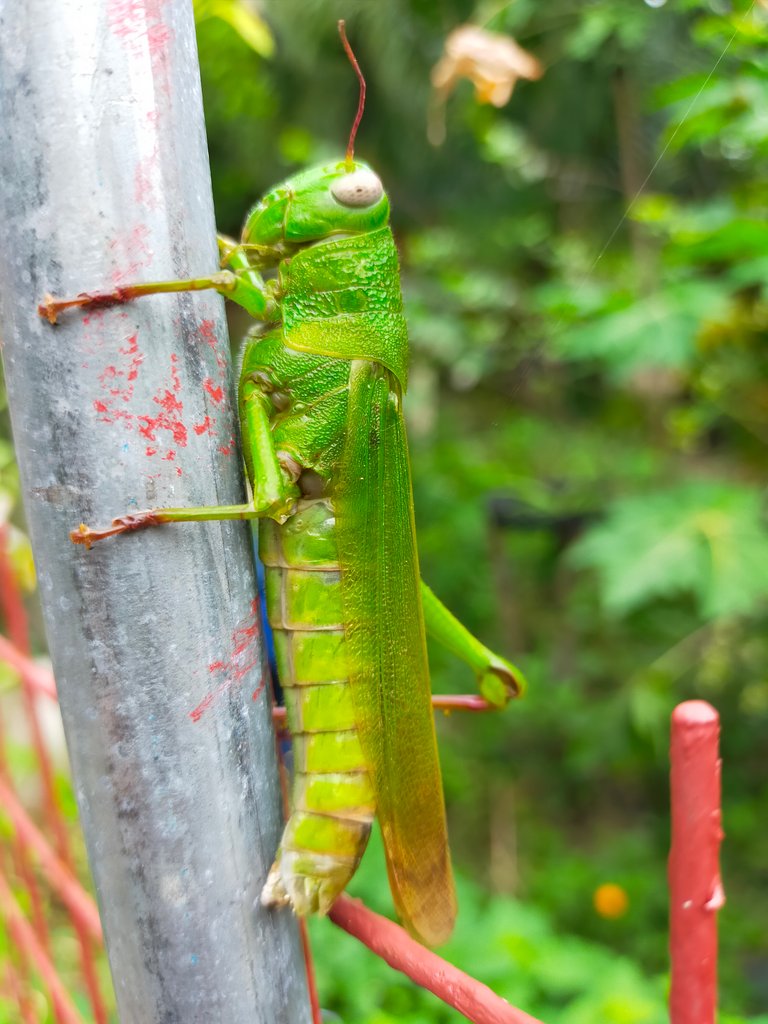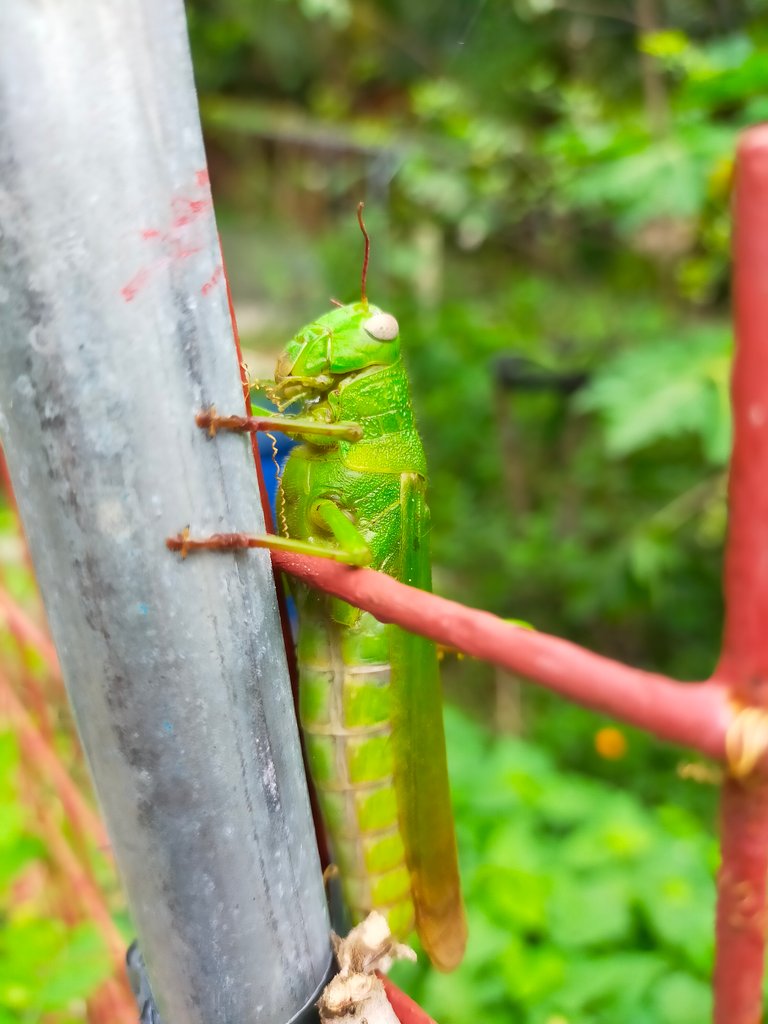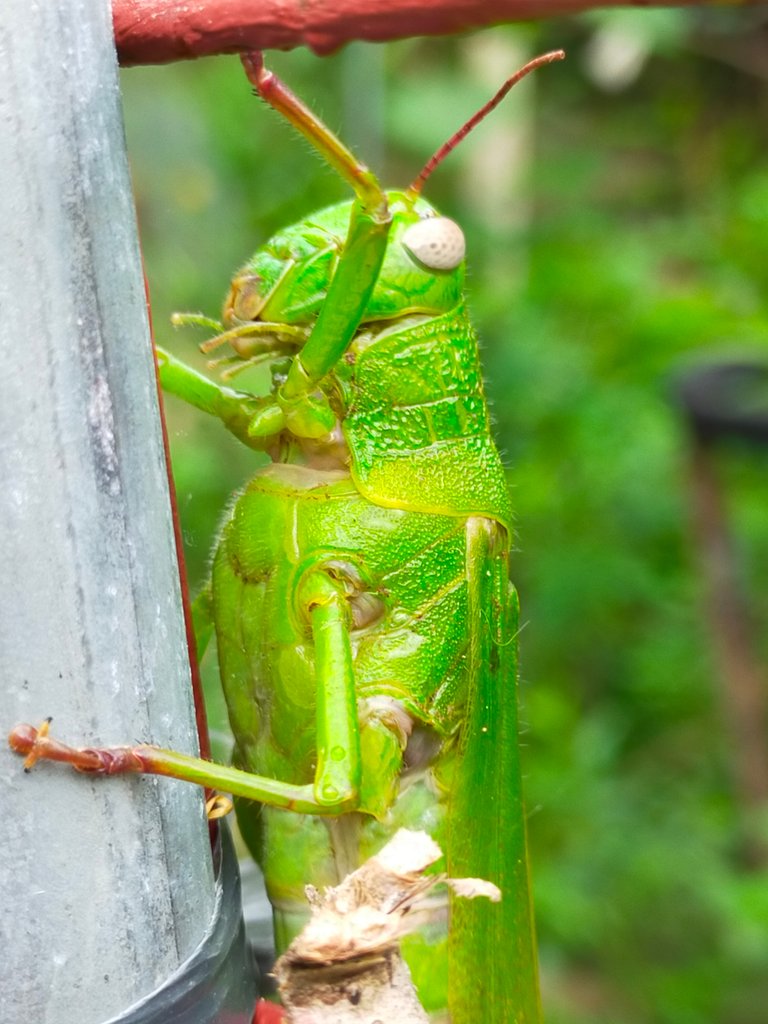 When I looked at him properly as I was doing the shots. He only had a single hind leg left😱. So that was the reason it didn't try to jump or fly away. He was probably too weak to do it. He just crawled his way down to the ground.
Looking at the wound it looked like it happened a while back as it was not a fresh wound. Poor grasshopper, what kind of monster would do that to him 🤬
I don't think there are any predators living around here that would eat grasshoppers as big as these. It looked to me some kid caught him and cut his hind leg off 😰
This guy is really amazing and is a great example to us humans. It never gave up, he is trying to live even with only one hind leg left. He is facing the difficulties of life head on and I love that determination and wanted to share this to you guys.
Thank you for reading this far and I hope you guys like my shots and my story until next time 😁
---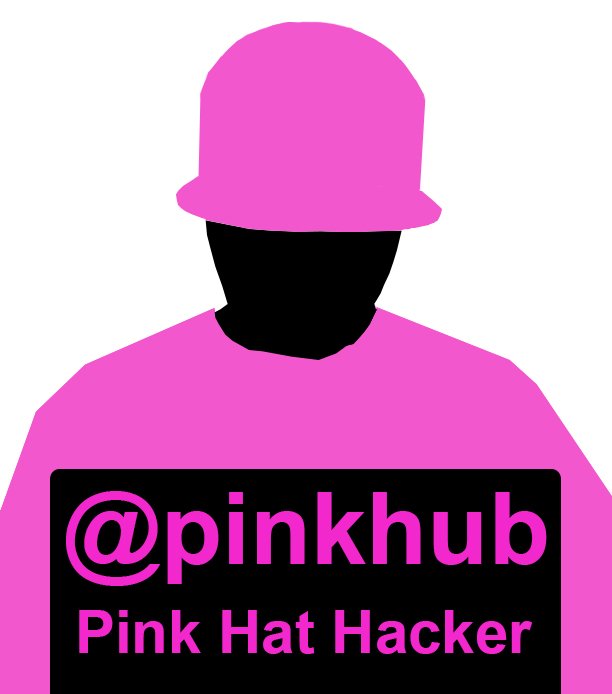 Hello guys I am Pink Hub and I love all that is pink.
Show me pink and I'll show you a 😍
Living in the province of Cebu in the Philippines.
I graduated in Bachelors of Science in Information Technology Major in Programming.
I'm a Businessman, a Computer Enthusiast, a Gamer and a Programmer.
I love to learn new things so reading is one of my passions. I'm an open-minded person so you can just go ahead and throw all your thoughts at me in the comments. I welcome all comments good or bad with open arms and legs 😁
Face your problems, but if the problem is your face. Worry not I can edit 😇
---
---