Giveaway token HIVE this week - ⭐️ 3000 SBT⭐️(ENG/ESP/PT-BR)

Bem vindo ao sorteio de tokens HIVE da semana e essa semana a roleta escolheu "SBT" voce pode conhecer melhor clicando no perfil deles https://peakd.com/@sbtofficial/posts ou https://peakd.com/c/hive-103179/created recentemente o criador do token tem procurado alguem que possa configurar um boot para quem for hold usar o comando !SBT e destribuir token para outros usuarios se vc saber fazer isso por gentileza entra no discord e procurar por "itzninjafool" @itzninjafool deixarei o link do discord abaixo https://discord.gg/Z9e95jeA
Welcome to the HIVE token draw of the week and this week the roulette wheel chose "SBT" you can find out more by clicking on their profile https://peakd.com/@sbtofficial/posts or https://peakd.com/c/hive -103179/created recently the creator of the token has been looking for someone who can configure a boot for whoever is hold to use the !SBT command and distribute token to other users if you know how to do this please join discord and search for "itzninjafool" @itzninjafool discord link below https://discord.gg/Z9e95jeA
Bienvenido al sorteo de fichas de HIVE de la semana y esta semana la rueda de la ruleta eligió "SBT". Puede obtener más información haciendo clic en su perfil https://peakd.com/@sbtofficial/posts o https://peakd.com/ c/hive -103179/creado recientemente, el creador del token ha estado buscando a alguien que pueda configurar un arranque para quien quiera usar el comando !SBT y distribuir el token a otros usuarios. Si sabe cómo hacerlo, únase a Discord y busque el enlace de discordia "itzninjafool" @itzninjafool a continuación https://discord.gg/Z9e95jeA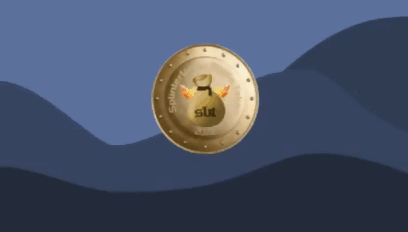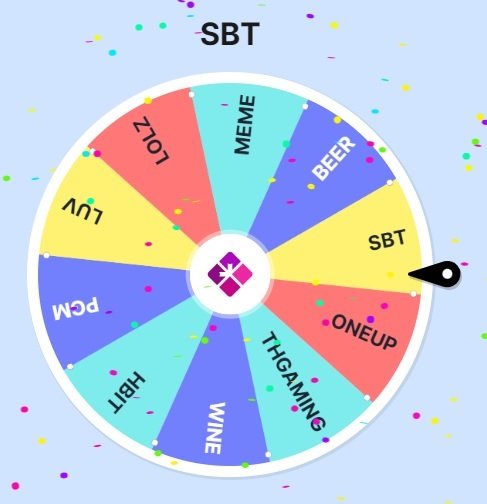 Agora ao fazer stake SBT vc desbloqueia sorteios entre 1000 SBT a 1.000.000 em sua cartaeira hive, basta entra no discord, de cartas splinterlands desde cartas comuns a cartas lendarias
Now when you stake SBT you unlock raffles between 1000 SBT to 1,000,000 in your hive wallet, just join the discord, from splinterlands cards from common cards to legendary cards
Ahora cuando apuesta SBT, desbloquea sorteos entre 1000 SBT y 1,000,000 en su billetera de colmena, solo únase a la discordia, desde tarjetas splinterlands desde tarjetas comunes hasta tarjetas legendarias
Common Tier: 1,000 SBT staked
https://wheelofnames.com/6ds-8yx
Rare Tier: 10,000 SBT staked
https://wheelofnames.com/zhc-che
Epic Tier: 100,000 SBT staked
https://wheelofnames.com/ztg-vnm
Legendary Tier: 1,000,000 SBT staked
https://wheelofnames.com/56w-5pq
❗️ ATENÇÃO PARA AS REGRAS❗️

❗️ ATENCIÓN A LAS NORMAS ❗️
❗️ ATTENTION TO THE RULES ❗️
1- Voce precisa ser meu seguidor (obrigatorio)
2- Comentar seu nome hive nos comentarios (obrigatorio)
3- Votar não é obrigatorio mas ajuda a melhora os premios das proxima semana
4- Reblogar nao é obrigatorio mas aumenta a sua chance de ganhar em 2x
1- You need to be my follower (required)
2- Comment your hive name in the comments (required)
3- Voting is not mandatory but it helps to improve next week's prizes
4- Reblogging is not mandatory but increases your chance of winning by 2x
1- Necesitas ser mi seguidor (requerido)
2- Comenta tu nombre de colmena en los comentarios (requerido)
3- Votar no es obligatorio pero ayuda a mejorar los premios de la próxima semana
4- Rebloguear no es obligatorio, pero aumenta 2 veces tus posibilidades de ganar 2x

O sorteio vai ser da seguinte forma todos os participantes terão seu nome colocado na roleta, 6 pessoas ganharão 500 SBT cada, os vencedores podem ser repetidos isso significa que se vc tiver sorte vc pode ganhar 2 vezes ou mais, o resultado será dia 26 de março daqui a 1 semana, todos os participantes serão marcados no sorteio seguinte se nao quiser mais apenas nao participe, o sorteio da semana que vem poderá ter um valor maior vai depender da quantidade de pessoas que participarem e das recompensas recebidas portante nao se esqueça de participar, boa sorte a todos!
The giveaway will be as follows: all participants will have their name placed on the roulette wheel, 6 people will win 500 SBT each, the winners can be repeated that means if you are lucky you can win 2 times or more, the result will be March 26st in 1 week, all participants will be marked in the next giveaway if you don't want more just don't participate, next giveaway's draw may have a higher value will depend on the amount of people who participate and the rewards received so don't forget to participate, good luck everyone!
El sorteo será el siguiente: todos los participantes tendrán su nombre colocado en la rueda de la ruleta,6 personas ganarán 500 SBT cada una, los ganadores se pueden repetir esto quiere decir que si tienes suerte puedes ganar 2 veces o mas, el resultado sera el 26 de marzo en 1 semana, todos los participantes seran marcados en el proximo sorteo si no quieres mas solo no lo hagas participa, el sorteo de la próxima semana puede tener un valor mayor dependiendo del número de personas que participen y las recompensas recibidas así que no olvides participar, ¡mucha suerte a todos!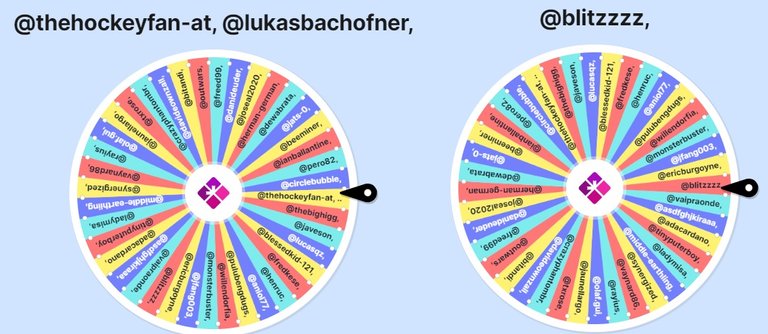 Winners: @willendorfia, @outwars, @thehockeyfan-at, @lukasbachofner, @blitzzzz, @aniol77
Other participants:
@rayius, @olaf.gui, @jaunellargo, @txrose, @crazyphantombr, @davideownzall, @bitandi, @outwars, @freed99, @danideuder, @joseal2020, @herman-german, @dewabrata, @jats-0, @beeminer, @ianballantine, @pero82, @circlebubble, , @thebighigg, @javeson, @lucasqz, @blessedkid-121, @fredkese, @henruc, @pulubengdugs, @willendorfia, @monsterbuster, @jfang003, @ericburgoyne, @blitzzzz, @vaipraonde, @asdfghjkiraaa, @adacardano, @tinyputerboy, @ladymisa, @middle-earthling, @synergized, @vaynard86,
Vc quer ou deseja que algum token seja adiconado a roleta?se sinta livre pra dizer uma desde que seja dentro da hive blockchain
Do you want or want some token to be added to roulette? feel free to say one as long as it is within the hive blockchain
Quieres o quieres que se agregue algún token a la ruleta? Siéntete libre de decir uno siempre que esté dentro de la cadena de bloques de Hive.
Lembrando que existem outros 6 sorteios ainda em aberto de uma olhada e entre antes que o tempo acabe
Remembering that there are 6 other giveaway still open, take a look and enter before the time runs out
Recordando que quedan otros 6 sorteos abiertos, échale un vistazo y entra antes de que se acabe el tiempo
Giveaway 1 click 👇

Giveaway 2 click 👇

Giveaway 3 click 👇

Giveaway 4 click 👇

Giveaway 5 click 👇

Giveaway 6 click 👇

*exchange tokens*

!Oneup 
!Pizza
!Alive !Luv 
!Lolz !Pgm !Meme

whetever you use...


---
---