Wrestling Organization Online ⭐️ Sorteio de 100 $WOO token -⭐️[ENG/ESP/PT-BR] - UPDATES ZELY EVENT

Bem vindo ao sorteio do projeto WOO (Wrestling Organization Online)
Welcome to the giveaway of the WOO (Wrestling Organization Online)
Bienvenidos al sorteo del proyecto WOO (Wrestling Organization Online)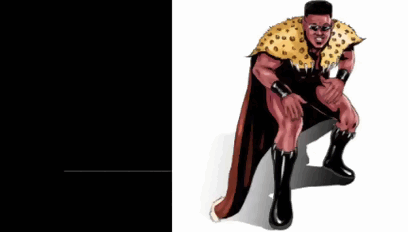 Hoje ha 4 maneiras de ganhar woo tokens: "stake" seus "Woo" dentro da hive engine, "stake" suas cartas no "mining pool" se vc for sorteado os tokens serao enviados pra vc esse stake vai ate o dia 13 de julho de 2023. Outra maneira e delegar HP para @wrestorgonline e por fim, por vc manter dentro da sua carteira packs WOO fechado esses tokens vc ganha por dia a depender da quantidade de packs que vc tem
today there are 4 ways to win woo tokens "stake" your "woo" inside the hive engine, "stake" cards in the "mining pool" if you are drawn the tokens will be sent to you, this stake will last until July 13, 2023. Another way is to delegate HP to @wrestorgonline and finally, for you to keep WOO packs in your wallet closed, these tokens you earn per day depending on the number of packs that you have
hoy en día hay cuatro formas de ganar woo tokens "stake" tu tokens en el interior de tu hive,"stake"tus cartas en el "mining pool" si sales sorteado los tokens te serán enviados, esta apuesta durará hasta el 13 de julio de 2023. Otra forma es delegar HP a @wrestorgonline y finalmente, para que mantengas cerrados los paquetes WOO en tu billetera, estos tokens los ganas por día dependiendo del cantidad de paquetes que tienes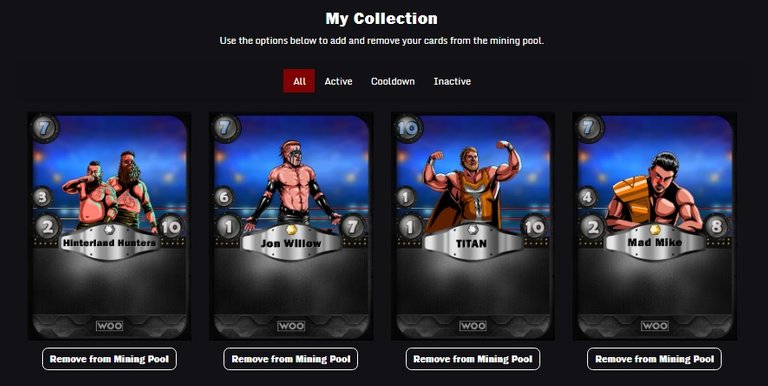 7 pessoas disseram A e 3 B logo terá novamente 5 sorteios de 20 woo
7 people said A and 3 B soon there will be 5 draws of 20 woo again
7 personas dijeron A y 3 B pronto habra 5 sorteos de 20 woo otra vez
❗️ ZELY EVENTS❗️

O Wrestling Organization Online tem um evento muito interessante no site https://zealy.io/c/woo é uma plataforma que ajuda as comunidades web3 a impulsionar o crescimento e o engajamento, transformando seus membros em colaboradores e assim ganhar boas recompensas e token woo , existe missoes que vc precisa fazer diariamente e algumas semanais e a medida que vc for subindo seu XP vc vai desbloquendo novas coisas e melhorando suas recompensas
Wrestling Organization Online has a very interesting event on the website https://zealy.io/c/woo is a platform that helps web3 communities to support growth and engagement, invite their members in collaborators and thus earn good rewards and token woo, there are missions that you need to do daily and some weekly and as you increase your XP you will unlock new things and yes your rewards
Wrestling Organization Online tiene un evento muy interesante en el sitio web https://zealy.io/c/woo es una plataforma que ayuda a las comunidades web3 a apoyar el crecimiento y el compromiso, invitar a sus miembros en colaboradores y así ganar buenas recompensas y token woo, allí son misiones que debes hacer diariamente y algunas semanalmente y a medida que aumentas tu XP desbloquearás cosas nuevas y sí tus recompensas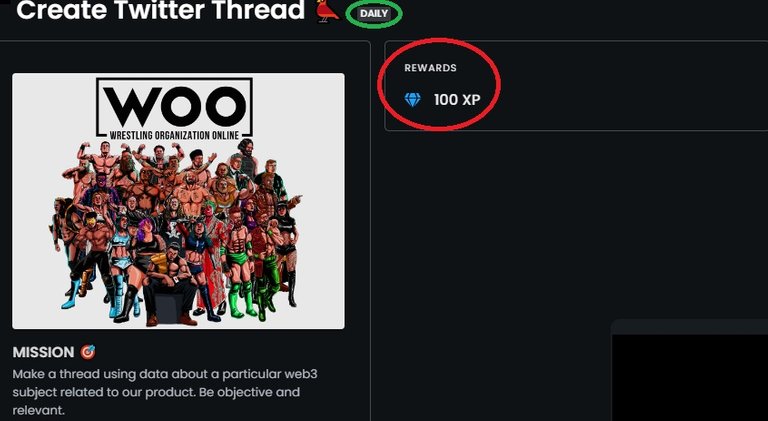 Por exemplo no print acima mostra uma tarefa diaria circulado em "verde" isso significa que vc pode fazer uma vez por dia e a circulada em vermelho significa seu XP para participar de alguns eventos ou tarefas vc precisa ganhar niveis e vc ganha niveis fazendo tarefas
For example, the print above shows a daily task circled in "green" that means you can do it once a day and the one circled in red means your XP to participate in some events or tasks you need to gain levels and you gain levels by doing tasks
Por ejemplo, la impresión de arriba muestra una tarea diaria en un círculo en "verde" que significa que puede hacerla una vez al día y la que está en un círculo en rojo significa su XP para participar en algunos eventos o tareas que necesita para ganar niveles y gana niveles por haciendo tareas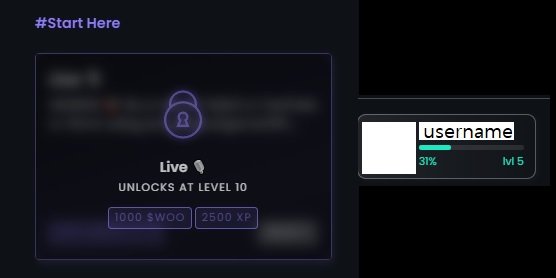 Quando uma tarefa tiver com cadeado vc precisa alcançar o nivel permitido para desbloquear premissoes e recompensas
When a task has a padlock, you need to reach the allowed level to unlock premises and rewards
Cuando una tarea tiene un candado, debe alcanzar el nivel permitido para desbloquear locales y recompensas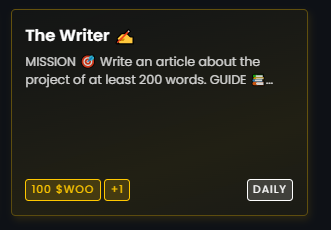 Ja outras darão premios em token WOO
Others will give prizes in WOO token
Otros darán premios en token WOO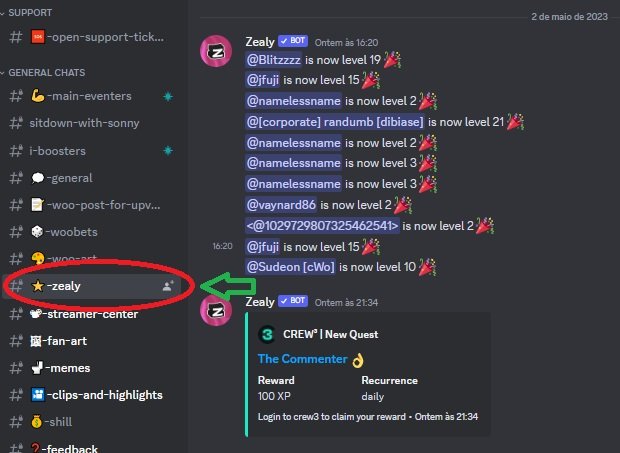 Voce pode acompanhar o seu processo dentro da comunidade do discord e assim desbloquear o seu papel
You can follow your process within the discord community and thus unlock your role
Puedes seguir tu proceso dentro de la comunidad de discord y así desbloquear tu rol

Entao o que vc esta esperando? ajude a comunidade a crescer e junte se a nós, deixarei o link abaixo, fiquem bem!
So what are you waiting for? help the community grow and join us, I'll leave the link below, stay well!
Entonces, Qué esperas? ayude a la comunidad a crecer y únase a nosotros, dejaré el enlace a continuación, ¡manténgase bien!

Join us discord Wrestling Organization Online click HERE

Join us ZELY EVENTS WOO click HERE

❗️ ATENÇÃO PARA AS REGRAS❗️
❗️ ATENCIÓN A LAS NORMAS ❗️
❗️ ATTENTION TO THE RULES ❗️
1- Voce precisa ser meu seguidor (obrigatorio)
2- Comentar seu nome hive nos comentarios (obrigatorio)
3- Votar não é obrigatorio mas ajuda a melhora os premios das proxima semana
4- Reblogar nao é obrigatorio mas aumenta a sua chance de ganhar em 2x
1- You need to be my follower (required)
2- Comment your hive name in the comments (required)
3- Voting is not mandatory but it helps to improve next week's prizes
4- Reblogging is not mandatory but increases your chance of winning by 2x
1- Necesitas ser mi seguidor (requerido)
2- Comenta tu nombre de colmena en los comentarios (requerido)
3- Votar no es obligatorio pero ayuda a mejorar los premios de la próxima semana
4- Rebloguear no es obligatorio, pero aumenta 2 veces tus posibilidades de ganar 2x

O sorteio vai ser da seguinte forma todos os participantes terão seu nome colocado na roleta, vc deve escrever "A" se deseja "5 premios de 20 $WOO" ou vc deve escrever "B" se deseja "10 premios de 10 $WOO" a letra mais repetida será a divisão dos premios os vencedores podem ser repetidos isso significa que se vc tiver sorte vc pode ganhar 2 vezes ou mais, o resultado será dia 10 de Maio daqui a 1 semana, todos os participantes serão marcados no sorteio seguinte se nao quiser mais apenas nao participe, o sorteio da semana que vem poderá ter um valor maior vai depender da quantidade de pessoas que participarem e das recompensas recebidas portante nao se esqueça de participar, boa sorte a todos!
The giveaway will be as follows: all participants will have their name placed on the roulette wheel, you must write "A" if you want "5 prizes of 20 $WOO" or you must write "B" if you want "10 prizes of 10 $WOO" the most repeated letter will be the division of the prizes the winners can be repeated that means if you are lucky you can win 2 times or more, the result will be May 10st in 1 week, all participants will be marked in the next giveaway if you don't want more just don't participate, next giveaway's draw may have a higher value will depend on the amount of people who participate and the rewards received so don't forget to participate, good luck everyone!
El sorteo será el siguiente: todos los participantes tendrán su nombre colocado en la rueda de la ruleta, debes escribir "A" si quieres "5 premios de 20 $WOO" o debes escribir "B" si quieres "10 premios de 10 $WOO" la letra más repetida será la división de los premios los ganadores pueden repetirse eso quiere decir que si tienes suerte puedes ganar 2 veces o mas, el resultado sera el 10 de Mayo en 1 semana, todos los participantes seran marcados en el proximo sorteo si no quieres mas solo no participes, siguiente El sorteo de la semana puede tener un valor mayor dependerá de la cantidad de personas que participen y las recompensas recibidas, así que no se olviden de participar, ¡buena suerte a todos!


~

Winners: @kahyazhe,@outwars,@rayius,@danideuder,@joseal2020
Others Participants:
@henruc,@javeson, @joseal2020, @daethical, @ericburgoyne, @blitzzzz, @bechibenner, @jhuleader, @kryptofire, @tinyputerboy, @bitandi, @ebastion, @scfather, @yeckingo1, @pero82, @synergized, @jfang003, @sbtofficial, @fredkese, @new.things, @ladymisa, @eddqq, @eternalpaw, @outwars, @circlebubble, @rayius, @syel25, @herman-german, @pulubengdugs, @danideuder, @vaynard86, @monsterbuster, @zer0requiem, @kahyazhe, @stonemountain69, @baburamg,

Giveaway 1 click 👇

Giveaway 2 click 👇

Giveaway 3 click 👇

Giveaway 4 click 👇

Giveaway 5 click 👇

Giveaway 6 click 👇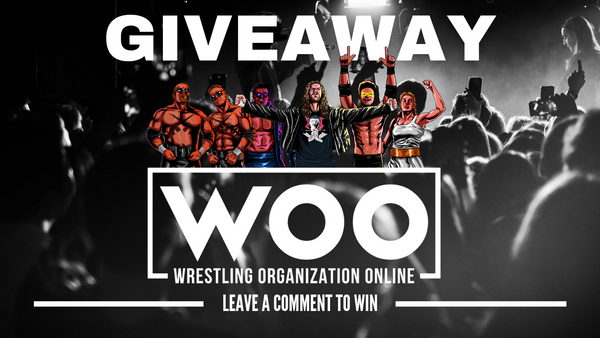 *exchange tokens*

!Oneup 
!Pizza
!Alive !Luv 
!Lolz !Pgm !Meme

whetever you use...
---
---