Twisted by the wind...😉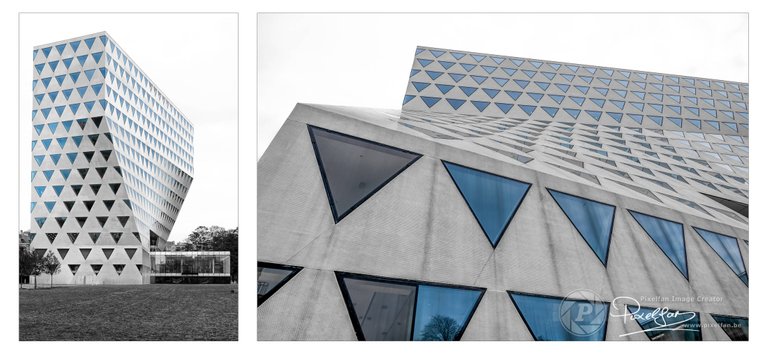 ---
Those who follow me have known for some time that I am not a fan of the latest architecture. Especially not when it comes to concrete high-rise buildings that bear a lot of resemblance to block boxes ...
Especially in a city like Antwerp, where there are still so many beautiful historic buildings, those concrete constructions are a thorn in my side.
In addition, we do not have a high-rise tradition here in Belgium. And apparently we're not very good at it either...
Just look at this building. It only dates from 2018 and was commissioned in 2019. And already, 3 years later, you can see that it cannot withstand the elements. The whole colossus is "twisted" by the wind... 😉
Just kidding of course...
Some new buildings have my approval, especially when they have "something" special like this.
And then I'm not even mentioning the fact that those triangular windows are placed at such an angle that the blue sky is beautifully reflected...and thus gives me the opportunity to make a nice color-splash edit of it 😉
The building is used by the administration and employees of the province of Antwerp and apparently you can visit it by appointment... fact that I will certainly look into as I can imagine that you can take interesting pictures inside...
If I succeed you will be able to admire the result here... I keep you posted 😁
---
You liked this post?
Right you are 😉
Just follow me here to make sure you don't miss any new work. As you can see below, you will be in good company... my 3 skinny friends are waiting for you 😉


BTW: I will not ask you to upvote my posts… deep down inside you know you have to 😉
Curious to see my other work?
Although I spend most of my time here, you can also find me in other places… just take your pick…






---
---