Platypus-Dundee's Hints & Tips post #4

So while doing my last hints and tips post Hints & Tips #3 about the Splinterlands official docs site, there was a section about the Hive Keychain extension. This makes using the Hive Network and it's varied apps like peakmonsters.com, a doddle when setup but can be very confusing to actually setup. So hopefully this guide will help take out some of the confusion as I start the process from the very beginning.
So I'll run you through a complete startup with logging into the game all the way through to installing the Hive Keychain. One very important thing to always remember is that your Splinterlands Account name IS your hive wallet address, wierd I know but this is important to remember when inputting your user name as if you ever want to transfer crypto to your hive account that is the address you will be sending it to. Trust me it is super wierd having to send crypto to my hive account address "Platypus-Dundee" from my exchange LMAO!
So first things first lets get your game account started. Go to the website Splinterlands.com (This will use my affiliates link) and click on the Log In button.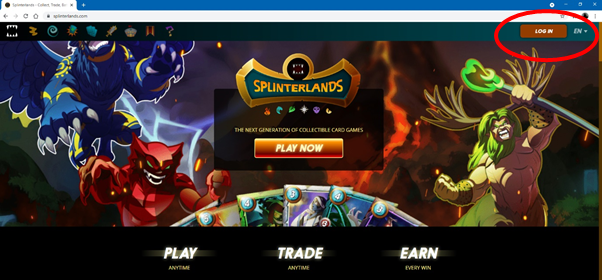 This will bring up a Create Account / Log In page. We want to click on the Create Account button. As you can see at this point you can still play for free, more on that later.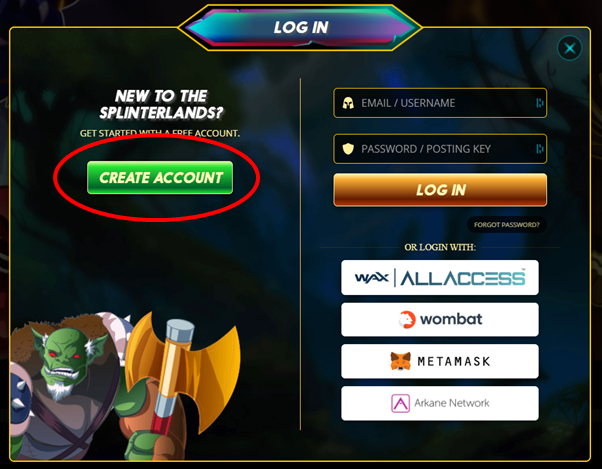 Next a Create Account window will appear, this is where you put in your email address and confirm the ToS by checking the little box at the bottom. Then click the Continue button once complete.
This brings us to the Creat Password page. There are other options to use other wallets to authorise the account but today we will use the create password option. Those other wallets can be linked in game at a later stage if that's your jam.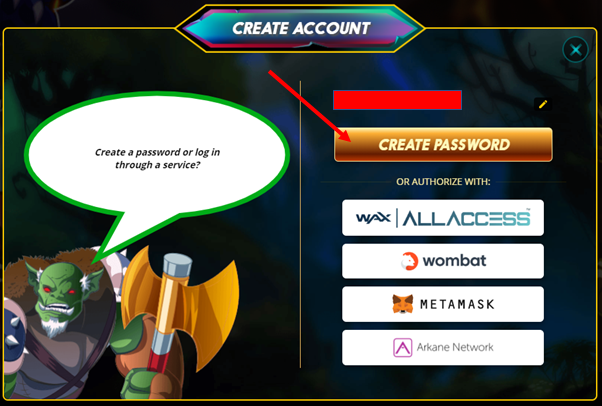 So now your logged in using your email / password option, which is fine, except later on when you wish to start using peakmonsters or other HIVE network Dapps. Here is also where you get the option to buy the spell book for $10US or just learn and play the game for free. The learn button will guide you through a tutorial, let you have a some practice matches or start the ranked battles. While you can participate in ranked battles you won't start earning the game rewards (DEC, reward cards, potions) until you have purchased the spell book. So it's kind of a try before you buy deal.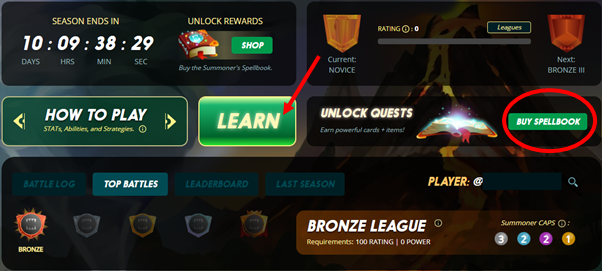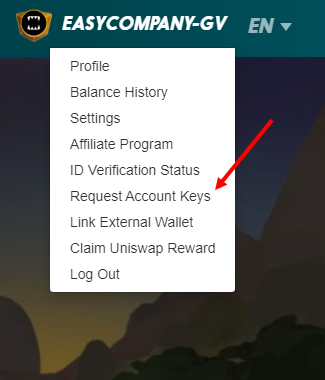 Moving forward I'm going to assume you love the game as much as the rest of us and have said "heck yeah, take my money!" and bought the spell book, which can be purchased with fiat through paypal or crypto if so inclined. Once that's done, we get to the milk and biscuits of the post! **Setting up the Hive Keychain.** Hover your mouse over and click on your user name in the top right corner, a drop down menu will appear, what we are looking for is "Request Account Keys".
A Request Keys window will appear, which outlines the process, generally the email is sent within 30 secs but due to node and network issues it can take longer. If there are any issues, contact support in the Splinterlands discord #tech-support channel to check for email issues. Once you've read and understood, click the submit request button.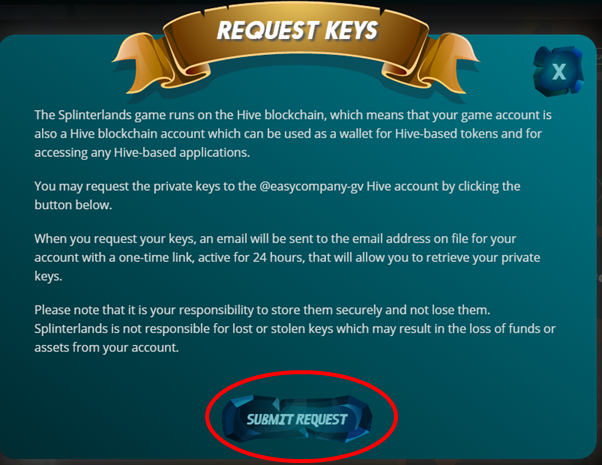 So now you have to go to your registered email address and you should find an email with a request keys link.

Which will open up a page where you can loggin in with your email and password that you set up to create the splnterlands account. Which will then display your Master Password and 4 keys. Write these down somewhere safe and don't lose them, and never show them to anyone! For more information about what each key is for check out Account Keys Official Docs.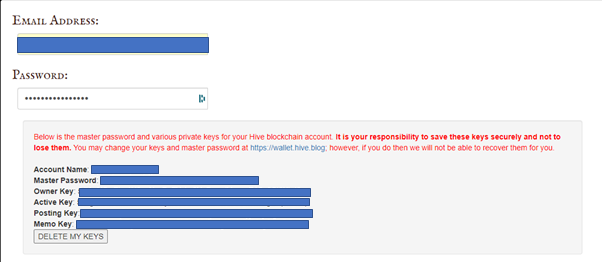 So now we have our Hive keys secured, safe and backed up! We can now install the Hive Keychain Extension. For this example we will use the chrome browser but I have also installed this on Brave and Firefox and the process is very similar. Go to your browsers web store or where ever extensions are found and look up the Hive Keychain, don't get it confused with the steem keychain or hive-signer. and install it.

If you have extensions visable it should look like this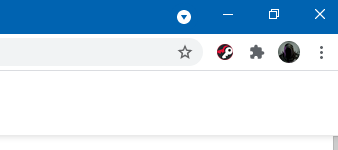 Clicking on the Hive Keychain icon will bring up the Set up window, it will ask you for a password (image on the left). This will be a completely new password and has nothing to do with any of the previous keys so far. Think of it as a password manager where one master password allows you to unlock all your apps. The window on the right will appear next and click on the Use Keys/Pwd button.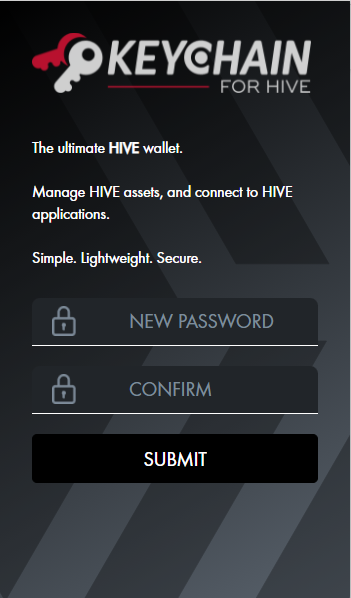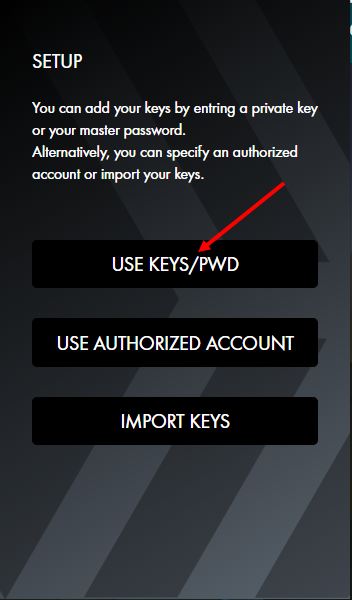 This next window is where we put in your splinterlands account username and key. You can either use your Active or Posting key here and in this example I chose my Active key but they will both be installed later on in the guide. We are nearly there! The window next to the last one will appear and here is where we need to install the other key (active /post) that wasn't prior. Click on the hamburger to open up the settings menu.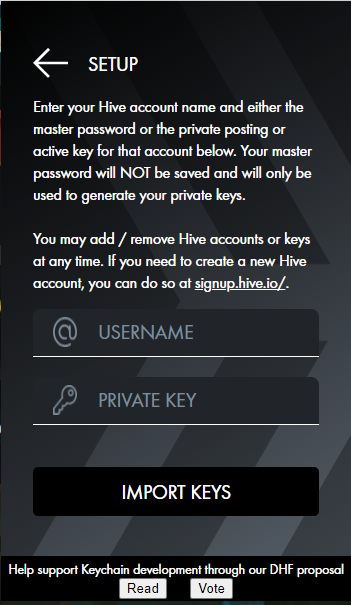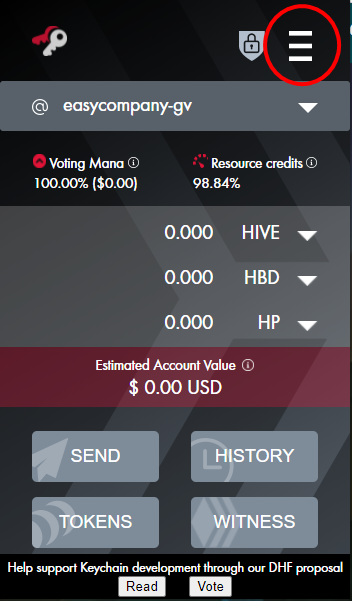 In the settings menu select Manage Accounts, which will bring up the Manage Accounts window. There will be 3 keys, Posting / Active / Memo. Since in our example we used the active key to setup the hive keychain the posting key slot should be empty with a plus sign. Click on this.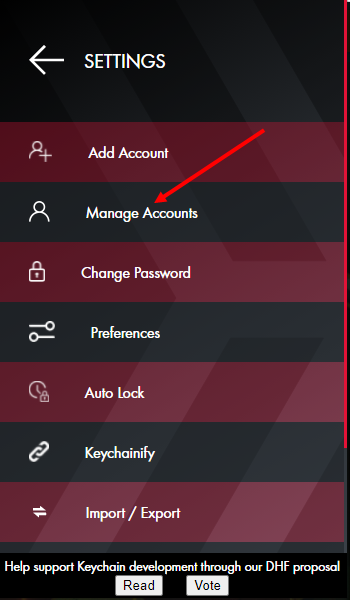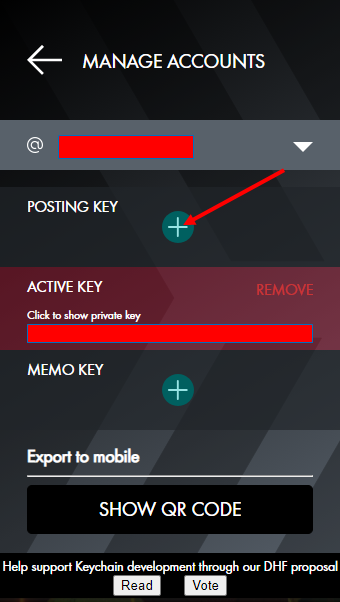 And that's it you are all done! You can now with a few simple clicks log into and access any and all Dapps on the Hive network using the Hive keychain browser extension.
Happy Trails Campers!
---
---