Power UP PGM, Use Swap to power up/staking in Hive Engine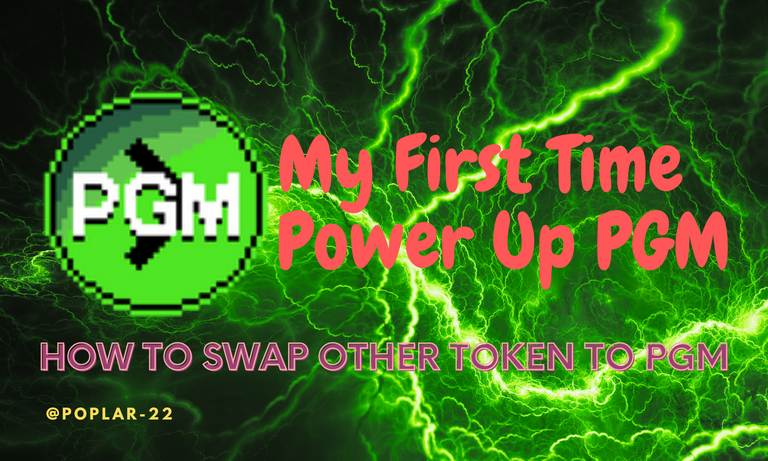 This is my first Time doing Power Up in PGM. My friend already used it before but i'm still thinking about whether I will power up or not, then i found this post PGM Power up Week while browsing in Leofinance, after read it i decided to do power up maybe i can get upvote or win the prizes 😃.
I already know that i can buy PGM in the Hive Engine, maybe little about myself, i'm Splinterlands player, so i use often Hive engine to sell pack, swap sps to dec to rent or buy card, and 2-3 month ago starting to make a blog. When my friend upvote me they said to always include pgm tag in my blog so they can upvote and get pgm share with me.
At first i confused how to do power up, because in the PGM Power UP Week post not included the link how to power up, then i ask my friend they said to used https://hive-engine.com/ or https://tribaldex.com/. After further search using google for more detail about how to power up i found this post https://peakd.com/hive-146620/@zottone444/pgm-the-new-token-outpost-how-to-buy-and-stake-itaeng.
I used Hive Keychain in my computer to login and do transaction.
I don't do exact step like the guide to buy token, instead i swap token i already have with PGM.
This is how i do it :
First go to Hive Engine to swap token i have.


Then Follow this step, i already give number.


Click the no 1 according what token do u have, it can be hive/sps/dec/leo or any other token.
Change the no 2 to PGM
at no 3 change this number according how much sps you want to convert to PGM.
After you reach no 4 click that swap button.

You will see below picture just click confirm


Then you need to wait until that red circle disappear. :


When finish u will see picture like this :

Wait 2-5 minute and then just refresh / reload you browser by using right click your mouse and click reload :

---
If you see picture like this below it mean already done, but if not you must refresh / reload again until you see it

---
After that do this step :

Almost finish , click that stake button


Put whatever number u want to stake / Power Up :


As usual need confirmation from Hive keychain, click that confirm button :

I like browsing and reading blog in several community i always do upvote before my Vote Power reach 100. Sometimes i comment interesting blog , i think now is the time to comment and try that cool command !PGM 😁.
Thanks all for reading to the end. I hope you all can successfully do the PGM Power Up. And please let me know if i'm doing mistake, i will fix it as soon as possible.
All picture in Hive Engine and cover is mine. I took and edit it myself.
Credit
Cover made by using Canva.
PGM logo i forget where i took that i think from the PGM post/profile. Please let me know if need to put the credit here.
---
---