Azucena en la casa del abuelo (ESP/ENG)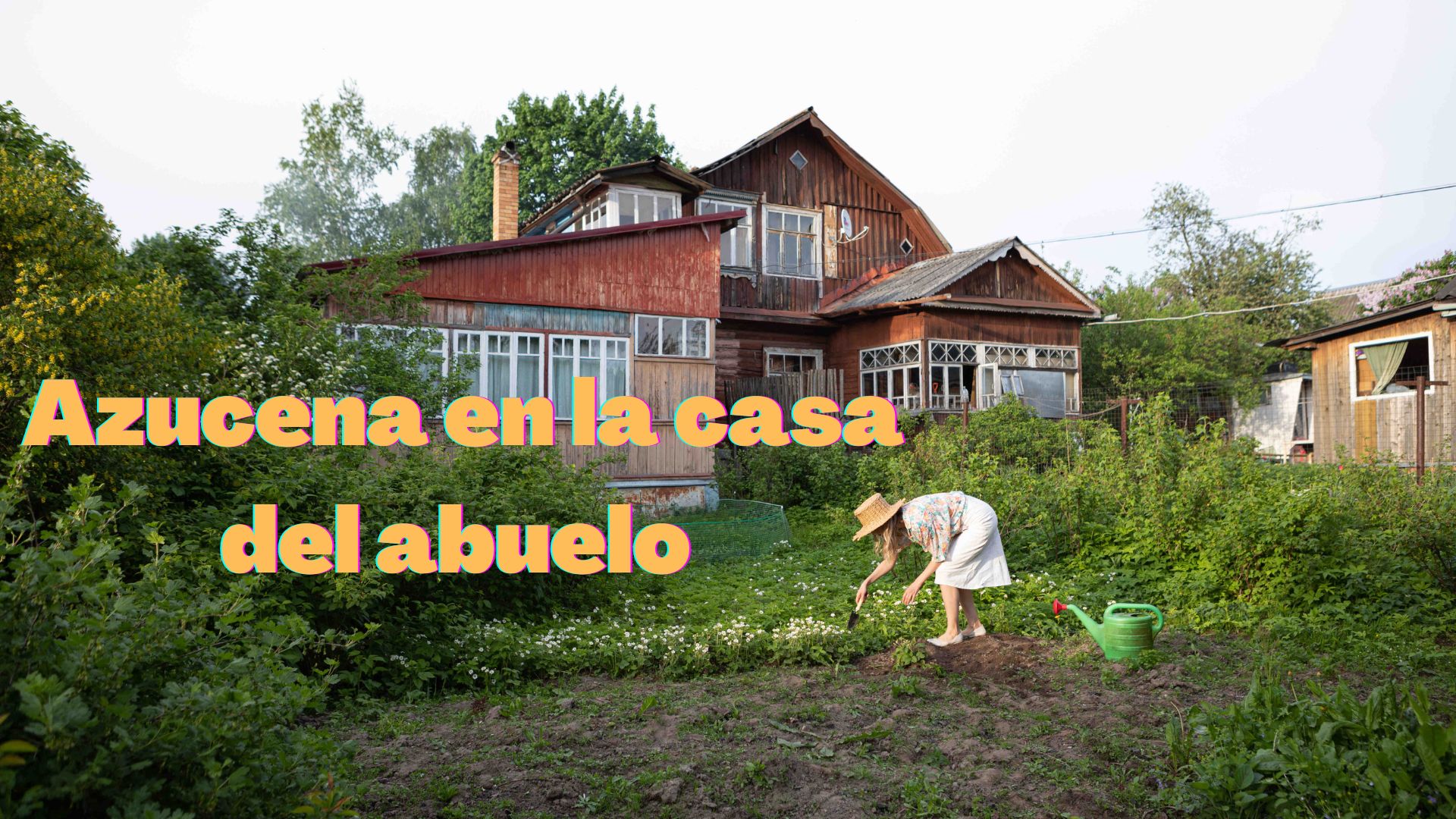 Azucena llegó en la mañana de un día gris, donde grandes nubarrones y una brisa muy fuerte agitaba las hojas de los cedros que bordeaban el camino de entrada a la casa y el olor fétido de sus flores se esparcía en el ambiente. Aquella casona de campo la esperaba, con sus techos de teja y paredes de bahareque rodeada de un corredor donde aún permanecían las tinajas de barro, con el agua más fresca y sabrosa que había tomado en su vida. Observó los grandes helechos, las orquídeas colgando de los materos y las hamacas amarradas a los muros, quietas, esperando para ofrecer el descanso a quien lo quisiera, meciéndose en un continuo vaivén. Este era un acontecimiento especial, la celebración de los noventa años del abuelo Matías, un anciano fuerte de cabellera blanca y ojos grises penetrantes, quien todavía caminaba con fuerza apoyado de un bastón. Pero la llegada de Azucena coincidió con algo inesperado que iba a entristecer la fiesta de Matías.
Su madre María Luisa, la recibió con los brazos abiertos y la llevó al interior de la casa, fresca y clara con sus ventanas adornadas con primorosas cortinas, los muebles de madera hechos por el abuelo y tallados a mano por él, a los cuales la tía Isabel les había colocado unos hermosos cojines en tela estampada. La gran mesa familiar y retratos y adornos en cuanta mesita se encontraba en la estancia.
—¡Que alegría que hayas podido venir! y dejar por unos días ese trabajo que tienes tan absorbente en el hospital.
—Madre acuérdate que el trabajo de médico requiere mucha dedicación y también sacrificio. Pero bueno no hablemos de trabajo, lo importante es que pude venir a celebrar el cumpleaños del abuelo y a compartir con la familia. Y por cierto donde está él para felicitarlo.
—Está en el patio sentado viendo sus animales, en estos días le ha dado por estar allí. La vaca acaba de parir un par de becerros y la yegua zaina tiene un potrillo de lo más hermoso con una estrella en la frente. Vamos... te acompaño.
Al llegar al patio detrás de la casa, vieron al abuelo recostado de la mecedora como si durmiera plácidamente. Azucena y su madre se acercaron y descubrieron con gran pesar y asombro que había muerto de un infarto al corazón. Lo que iba a ser una celebración se convirtió por obra del destino en una triste despedida. Pero parecía que el abuelo se resistía a irse y extraños acontecimientos comenzaron a suceder.
Después de las respectivas exequias, la familia se reunió en la casa para recordar al abuelo. Allí estaban sus cuatro hijos. Rodolfo, con su esposa Clara y sus dos hijos Manuel y Matías, quienes vivían en su casa en el pueblo. Miguelina y su esposo José con su hija Marlene, vivían en otra ciudad, María Luisa había enviudado hace cuatro años y se mudó para vivir con su padre y Gerardo el menor que estaba soltero, también vivía en la casa familiar. La madre Clara había muerto hace diez años.
—Papá era un hombre muy fuerte y testarudo. Me cuesta creer que haya muerto, se siente como si todavía estuviera en la casa, —comentó Rodolfo, y sus palabras parecieron ser ciertas.
En la mañana, los cojines de los muebles aparecieron en el piso y la fotografía del abuelo y la abuela estaba colocada en la mesa cerca de la ventana y no en la repisa del comedor. El reloj de pared que el abuelo detestaba porque se lo había regalado su cuñado con quien había peleado, estaba volteado.
Todos estaban asombrados por los cambios y fueron recordando que al abuelo Matías no le agradaba ver esas cosas donde estaban. Gerardo comentó que tal vez alguien les estaba echando una broma. Y por esta razón no le hicieron mucho caso. Al terminar los novenarios cada uno regreso a su casa, solo Azucena se quedó acompañando a su madre pues todavía le quedaban treinta días de vacaciones.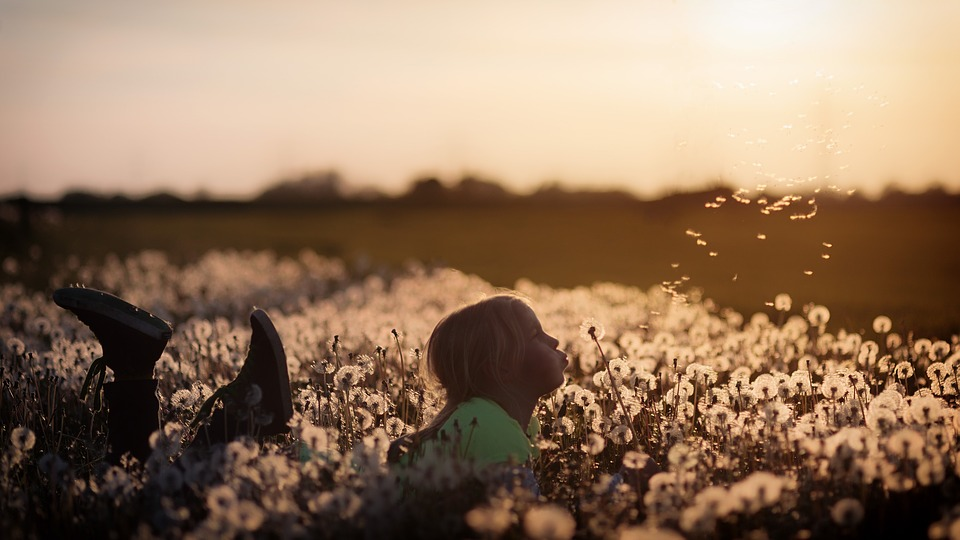 Fuente
Azucena aprovechó de caminar las tierras, de bañarse en la laguna, de atender la huerta y los animales de la granja. Al potrillo con la estrella en la frente le puso por nombre Lucero y este la seguía a donde fuera. Había recordado lo maravillosa que había sido su niñez y lo mucho que le gustaba la casa. Se sentía feliz. Los días fueron pasando, las vacaciones de Azucena habían terminado, pero a ella eso no parecía importarle, su mundo se había reducido a la casa y sus alrededores. Su madre preocupada le pregunto cuando iba a regresar al trabajo, pero ella le respondió que cual era la prisa, que todavía no quería volver. Y así fueron pasando los días. Su madre intuyó que algo raro estaba ocurriendo. Fue a conversar con el cura del pueblo y le contó lo sucedido. El cura le dijo que había que bendecir la casa para liberarla de cualquier presencia que estuviera afectando a Azucena.
Al día siguiente el cura llegó a la casa, pero no pudo entrar. Un ventarrón que llegó de golpe le cerraba la puerta cada vez que iba a pasar. Las ventanas se abrían y cerraban con estrépito. El cura pensó que aquello era más fuerte que él y abandonó la casa.
Entonces la madre recurrió a Mercedes la curandera y le contó lo que sucedía. Esta se comunicó con los espíritus y ellos le dijeron que había una fuerza en la casa que no quería dejar ir a Azucena. Le recomendó que colocara incienso de palo santo en toda la casa y que rezaran por la liberación de las almas. Pero nada de esto dio resultado y Azucena se resistía a abandonar la casa.
Una noche la señora María Luisa escuchó voces en el cuarto de Azucena, como si ella hablara con otra persona.
—No te preocupes que yo nunca te voy a abandonar, amo todo lo que eres, me gusta estar acá entre tus paredes, eres acogedora y cálida a pesar de que afuera haga frío. Contigo tengo todo lo que necesito para ser feliz.
La madre de Azucena comprendió lo que estaba ocurriendo, no era el espíritu del abuelo lo que mantenía a su hija allí, ni tampoco el de su madre, ni ninguna otra presencia… era la casa. Les contó a sus hermanos lo que estaba ocurriendo y entre todos tomaron una decisión.
El fuego se inició en la cocina y mientras Azucena era arrastrada a salir de la casa por su madre y su tío Gerardo, las llamas se propagaron por toda la casa hasta acabar con todo lo que con tanto esfuerzo había construido el abuelo. Todo quedó reducido a cenizas.
Un año ha pasado desde ese día y en la familia todo volvió a la normalidad. En el terreno donde estuvo la casa ahora hay un campo de azucenas blancas.

Muchas gracias por leer esta historia donde la añoranza por el hogar traspasa la realidad
---
ENGLISH VERSION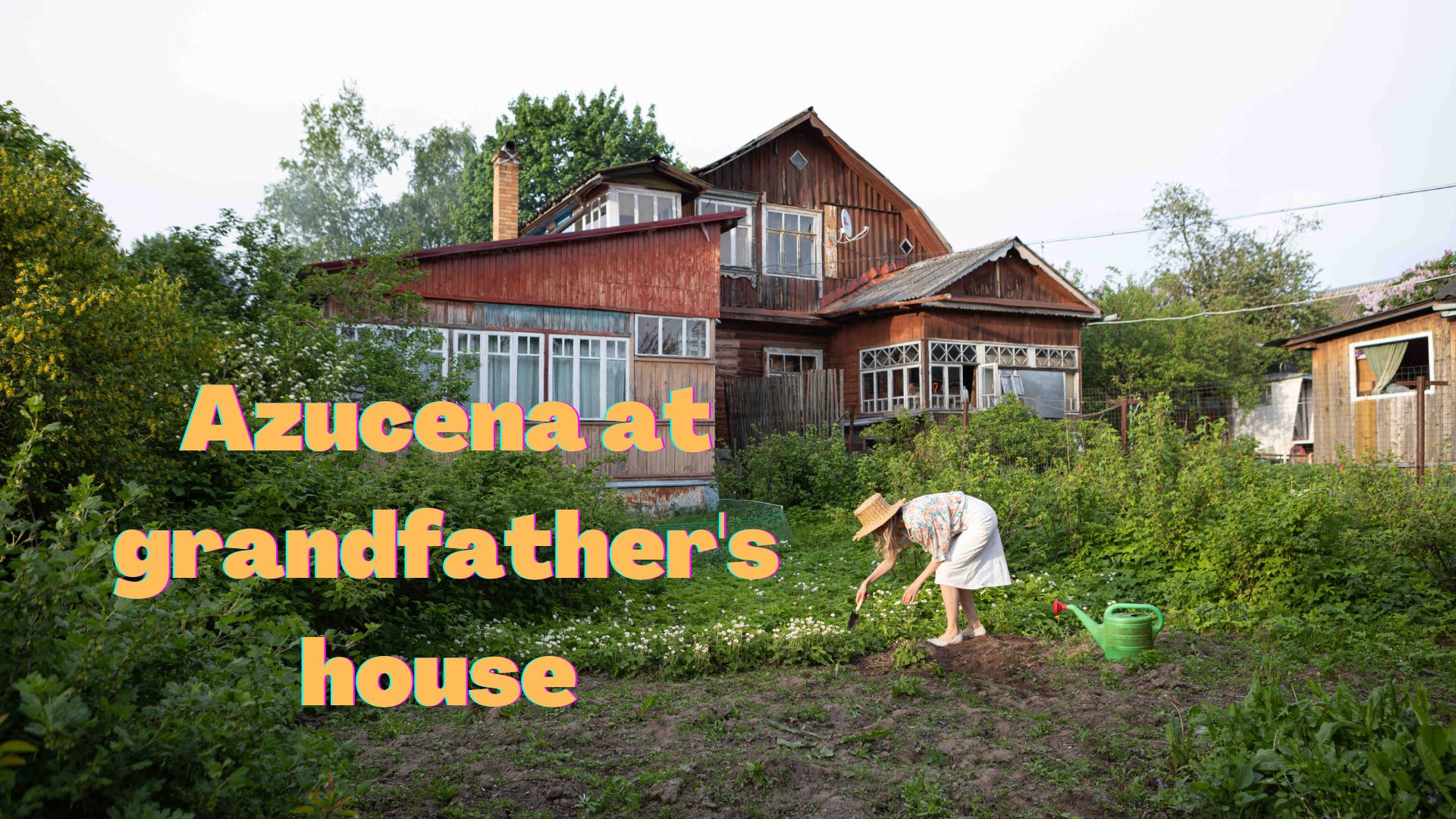 Azucena arrived on the morning of a gray day, where large clouds and a strong breeze stirred the leaves of the cedar trees that lined the driveway to the house and the foul smell of their flowers spread in the air. That country house awaited her, with its tile roofs and walls of wattle and daub surrounded by a corridor where the clay jars still remained, with the freshest and tastiest water she had ever drunk in her life. He observed the large ferns, the orchids hanging from the materos and the hammocks tied to the walls, still, waiting to offer rest to whoever wanted it, rocking in a continuous swaying. This was a special event, the celebration of the ninetieth birthday of grandfather Matías, a strong old man with white hair and piercing gray eyes, who still walked with strength supported by a cane. But Azucena's arrival coincided with something unexpected that would sadden Matias' party.
Her mother, Maria Luisa, welcomed her with open arms and took her inside the house, fresh and clear with its windows adorned with beautiful curtains, the wooden furniture made by her grandfather and hand carved by him, to which Aunt Isabel had placed beautiful cushions in printed fabric. The large family table and portraits and ornaments on every little table in the room.
-What a joy that you were able to come and leave for a few days that work you have so absorbing in the hospital.
-Mother, remember that a doctor's work requires a lot of dedication and sacrifice. But let's not talk about work, the important thing is that I was able to come and celebrate Grandpa's birthday and share with the family. And by the way, where is he to congratulate him?
-He's sitting in the yard looking at his animals, these days he's been sitting there. The cow has just given birth to a couple of calves and the chestnut mare has a beautiful foal with a star on her forehead. Come on... I'll go with you.
When they reached the yard behind the house, they saw Grandpa leaning back in the rocking chair as if he were sleeping peacefully. Azucena and her mother approached and discovered with great sorrow and astonishment that he had died of a heart attack. What was to be a celebration turned by fate into a sad farewell. But it seemed that grandfather was reluctant to leave and strange events began to happen.
After the respective funeral services, the family gathered at the house to remember grandfather. His four children were there. Rodolfo, with his wife Clara and his two sons Manuel and Matías, who lived in their house in town. Miguelina and her husband José with their daughter Marlene, lived in another city, María Luisa had been widowed four years ago and moved to live with her father and Gerardo, the youngest who was single, also lived in the family home. Their mother Clara had died ten years ago.
-Dad was a very strong and stubborn man. It's hard to believe he's dead, it feels like he's still in the house," Rodolfo commented, and his words seemed to be true.
In the morning, the furniture cushions appeared on the floor and the photograph of grandfather and grandmother was placed on the table near the window and not on the dining room shelf. The wall clock, which Grandpa hated because it had been given to him by his brother-in-law with whom he had quarreled, was turned upside down.
Everyone was amazed by the changes and remembered that Grandpa Matias did not like to see those things where they were. Gerardo commented that maybe someone was playing a joke on them. And for this reason they did not pay much attention to him. At the end of the novenarios each one returned home, only Iris stayed with her mother because she still had thirty days of vacation left.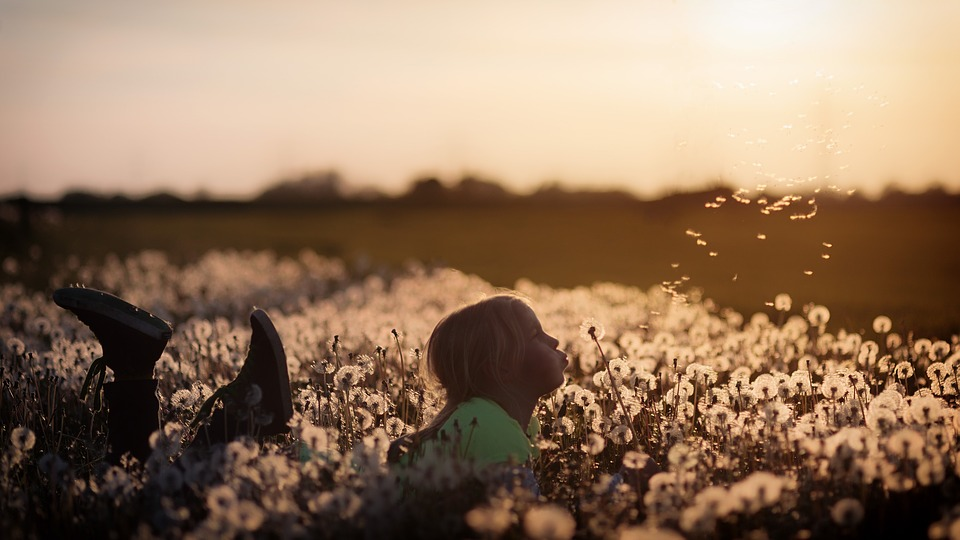 Fuente
Azucena took the opportunity to walk the land, to bathe in the lagoon, to tend the vegetable garden and the farm animals. She named the little foal with the star on its forehead Lucero and it followed her wherever she went. She remembered how wonderful her childhood had been and how much she liked the house. She felt happy. The days went by, Azucena's vacations were over, but she didn't seem to care, her world had been reduced to the house and its surroundings. Her worried mother asked her when she was going to go back to work, but she answered that there was no hurry, that she still didn't want to go back. And so the days went by. Her mother sensed that something strange was happening. She went to talk to the village priest and told him what had happened. The priest told her that the house had to be blessed to free it from any presence that was affecting Azucena.
The next day the priest arrived at the house, but was unable to enter. A sudden windstorm slammed the door shut every time he went through. The windows opened and closed noisily. The priest thought it was stronger than he was and left the house.
Then the mother went to Mercedes the healer and told her what was happening. She communicated with the spirits and they told her that there was a force in the house that did not want to let Iris go. She recommended that she place palo santo incense throughout the house and that they pray for the release of the souls. But none of this worked and Azucena was reluctant to leave the house.
One night Mrs. Maria Luisa heard voices in Azucena's room, as if she was talking to someone else.
-Don't worry, I will never leave you, I love everything you are, I like being here within your walls, you are cozy and warm even though it is cold outside. With you I have everything I need to be happy.
Azucena's mother understood what was happening, it was not her grandfather's spirit that kept her daughter there, nor her mother's, nor any other presence... it was the house. She told her siblings what was happening and together they made a decision.
The fire started in the kitchen and while Azucena was dragged out of the house by her mother and her uncle Gerardo, the flames spread throughout the house until they destroyed everything that her grandfather had built with so much effort. Everything was reduced to ashes.
A year has passed since that day and everything has returned to normal in the family. On the land where the house once stood there is now a field of white lilies.

Thank you very much for reading this story where homesickness transcends reality
.

La imagen de la presentación la edite en Canva con una fotografía libre de uso/The image of the presentation was edited in Canva with a free photo.
Translated with www.DeepL.com/Translator (free version)
---
---