FINDING WAYS TO UNDERSTAND HBD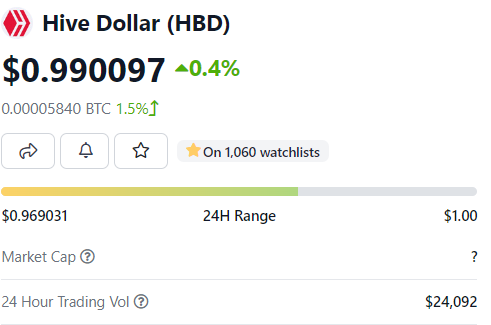 source
Every month I cannot wait to read the post from @geekgirl about the state of Hive backed dollar. It is an interesting trend to see a token backed by Hive within Hive blockchain. It takes me a while to fully grasp with what HBD can offer. After all it has a value well defined around the dollar and you can get it if permit when you post and if everything is right. The sole existence of HBD at the beginning rose a lot of questions. Many did not know why we need it.
Without going deep into HBD, it is a token that should roam around the dollar with Hive in mind. You cannot use it to vote like Hive but lately you can put it on saving and earn 20%. Last time I check only 15 top 20 witnesses did vote for it to be at the 20% mark. The rest five may have a different opinion. After top 20, there are 10 more that put their marker to 20%. If you look closely #leofinance witness did not vote at all. This is a choice each witness has to put it where they think it is right.
Since the last hard fork, the debt ratio of HBD to Hive has been set at 30%. Hard to explain cause prior it was around 10%. From what I gather as information, we need to go up to 30% in order to generate more HBD. As a #stablecoin it is more feasible to do business with HBD than Hive. Sending HBD to someone is like sending an amount that fluctuates a little where Hive can fluctuate more.
Here is the latest post from @geekgirl about HBD every month.
https://leofinance.io/@geekgirl/hbd-interest-payouts-for-november-2022. It may take time to understand HBD. You might need mighty patience to reap the reward every month. I follow the trend about her post and I see the list of Hive holders. The names on the list, are hivers that have been around. I mean the ones I know. HBD lately makes sense if you understand where Hive is heading. HBD needs Hive and vice versa.
There is not a huge market for it. It does not stop me from holding it and take my earning of 20%. Some folks do not understand the term of 20%. It is per year so you take any amount of HBD you want to hold into saving, multiply by 20 and divide by 12. From there you will see what you may earn every month. Patience is the key to open the world for Hive.
Hive and HBD may appear small now. Within 5 years the game will shift. If you stay around and do your homework, it may work for you.
Just like any blockchain everyone needs to play their part.
It is a marathon where the longer you wait, more you will see and leave a trail for the newcomers.
Posted Using LeoFinance Beta
---
---