HIVE IS FINDING WAYS TO HOLD ON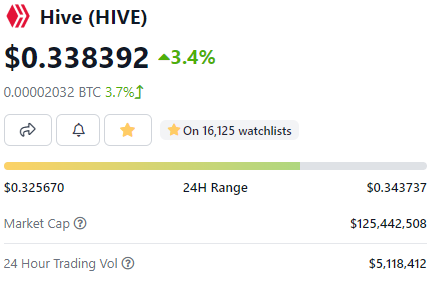 source
#Hive blockchain has so many strong holders, the variation does not deter them a bit. Everyone wishes for the price to jump back to the dollar. I had the same mindset before I realize what I can do to make it happen. Fortunately what I do is part of a solid group of #hivers are doing. Use the blockchain/community, accumulate as much #hive as possible. Follow the trend. By the way my connection to #hive lately has a lot to do with #leofinance.
I sometimes checked in #peakd to read other posts. I get lost easily to see #hive in itself is holding quite well. Just look through a post where #hive could jump in value. This is not the first time it will happen and it may happen the minute the trust factor jumps back in form. Cryptocurrencies will drag for a good 6 months before we can even see a momentum of growth.
When the market is calling on the bear anything will happen to change the status quo.
It does matter to see #hive gravitating around a dollar all the way to $5 as a start. I don't think holding alone will rise the price of #hive. #holding will benefit the holders in long term scenario. It will allow the holders to share more in the future aspect of the blockchain. There is one analysis many forget. #cryptocurrency is the newest technology for the internet that allow you and I to transact without a middleman. It will take time to grow and be stable.
I will not be surprised if #hive remains in the same price bracket for a while. Just look at the daily volume and tell me how you can bring yourself to participate more actively. It is hard to explain #hive concept in a few words. The new user needs to try it and see if long term is part of the game. I was reading about the #WEB 3.0. #Hive is the most advance blockchain ready for this technology.
Ideas we have a lot. Turning them to code are where the buck stops. While we are building a decentralized system, it takes time and it needs support from all ranges to fully leave the ground.
Few can code and bring awareness to #hive. many can do the little thing like hold, remain positive and be yourself. If there is one thing you can do in #hive is be yourself. What will come next is really up to you.
Posted Using LeoFinance Beta
---
---