TIME TO PAY ATTENTION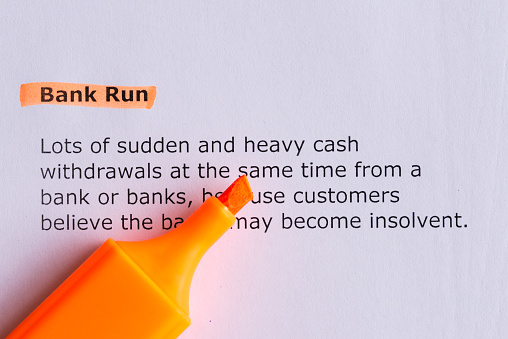 source
I know the focus is ideal for many to learn and understand the situation around the banking system. In the States it is uncommon to witness banks becoming insolvent unless there is something triggering the effect. I am talking about 2008 when the main event was the collapsing of the real estate and quite a few banks was going under.
It could be the same scenario that may repeat itself. So far two banks are on the trench line to to their inability to service clients.
We ae talking about businesses needed for payroll by Monday. California is a big state, hopefully they can find way with Federal to enable business as usual. The latest news on the matter, they are looking for a buyer for the 16th bank in the country. As you know #SVB is broke short term. But long term they have sizable fund to manage. As you can read the definition of bank run it changes the atmosphere before you know it.
While crypto has little to do with all of this, you could read it has something to do with it. Fortunately crypto in itself is the safest way to manage your funds as long you know how to understand risk and be prudent to truly be your own boss. If you are learning something about this, you are doing good. Crypto is a tool that can allow you to understand risk with no third party.
While banks have their use and plus, they are hurting people when management act greedy by investing with zero to no risk in mind. As you know interest rate has a lot to do with this debacle. Let's hope there are no banks falling into that trap of bonds as the safest way to earn. Indeed they are when circumstances are right. I can say the same with real estate, safe for investment when you do it right.
A buyer is the sense of urgency for #SVB. When you try to add everything together, you can proactively mount the fragility of the financial system. Everyday people are losing money. The minute a big institution is part of the news, the story changes drastically. I wonder if this is the reason #BTC has seen some positive this Sunday night.
You can find comfort the cryptos despite its volatility are the place where you know a bank run may not affect it all the way. Trust comes to trust, trustless will win first hand.
Keep in mind the human part in every system is by default the weakest point. The intention is always right at the limit we are satisfied with the plan in place.
It is very important to understand the rapport between centralized system versus decentralized.
Keep your risk educated. As you know surprise may come but you will be ready to assess and make a move promptly. Let's hope this run gets controlled and the party continues.
Posted Using LeoFinance Beta
---
---