Exploring the Ancient Pathway to Kangra Valley from Kullu Valley. Kalihani Pass Expedition.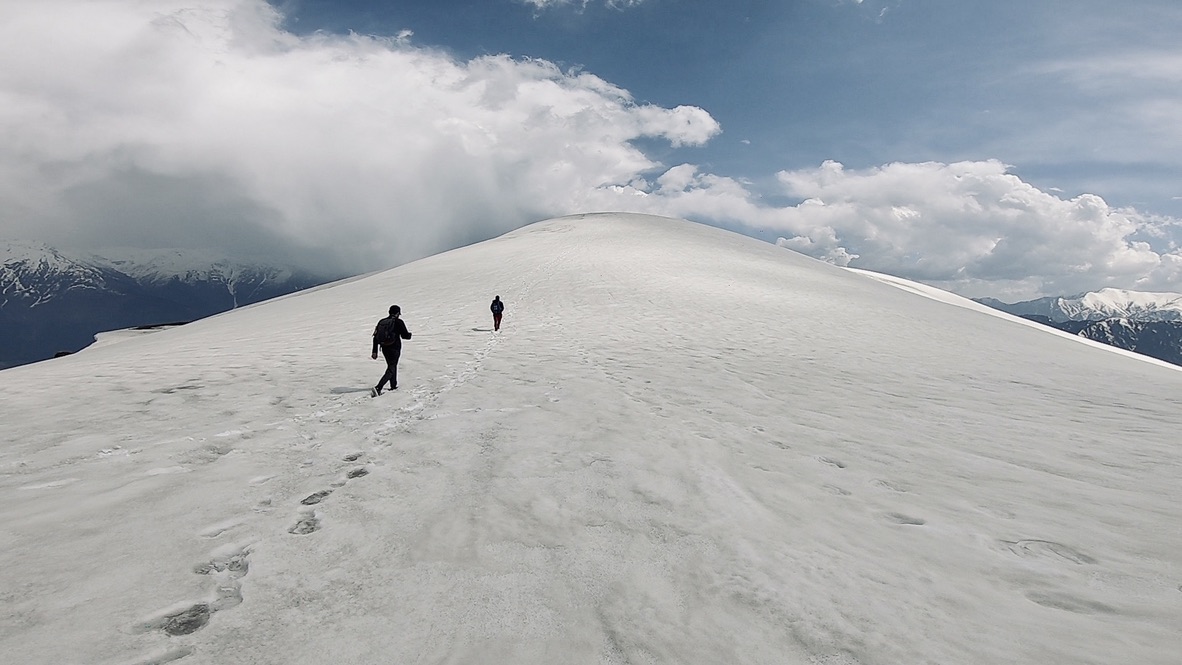 Hello Everyone,
In this blog I will be sharing some of the memories of my Expedition to the end of Kullu Valley. When I was a child I use to hear from my grand parents that there is an ancient pathway to the valley opposite to Kullu Valley which is Kangra Valley and I always use to wonder that where could that ancient pathway be.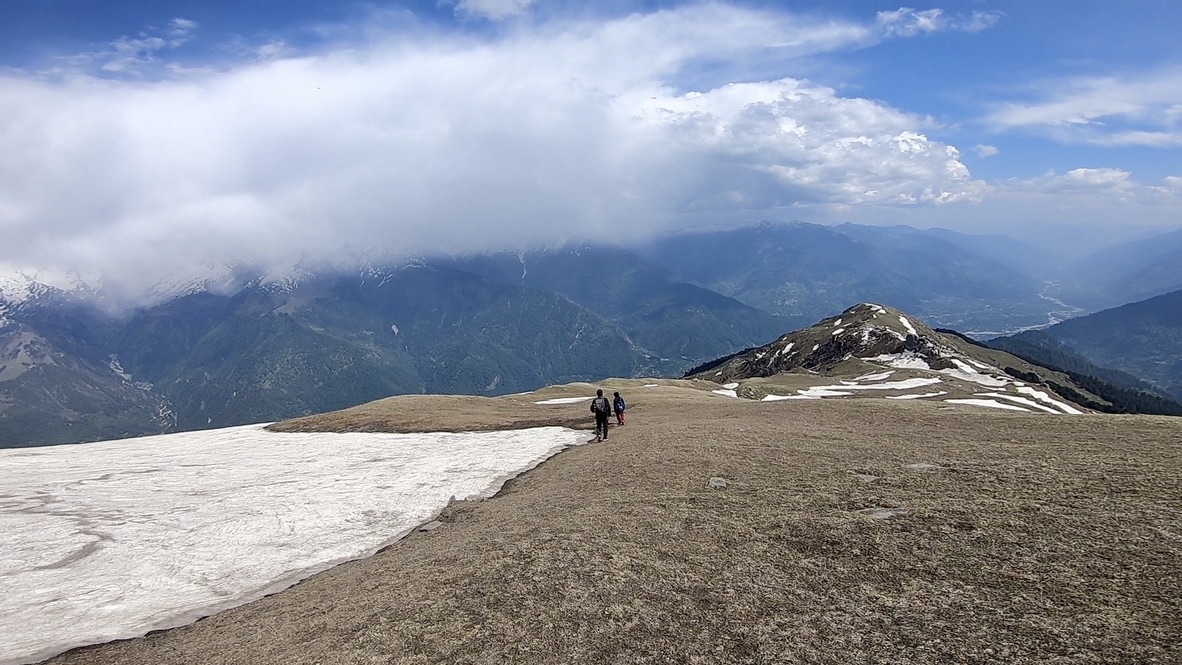 So finally it was the time when I decided to explore the ancient pathway to the most oldest village named Bara Bangal of Kangra Valley. The months of October and November are the only months in which last years snow has melt and if the precipitation take place then there is a lot of risk of getting numb in snow because of high altitude of around 5000m there is just the wind blowing at a tremendous speed and suffocation take place by which one can loose his precious life.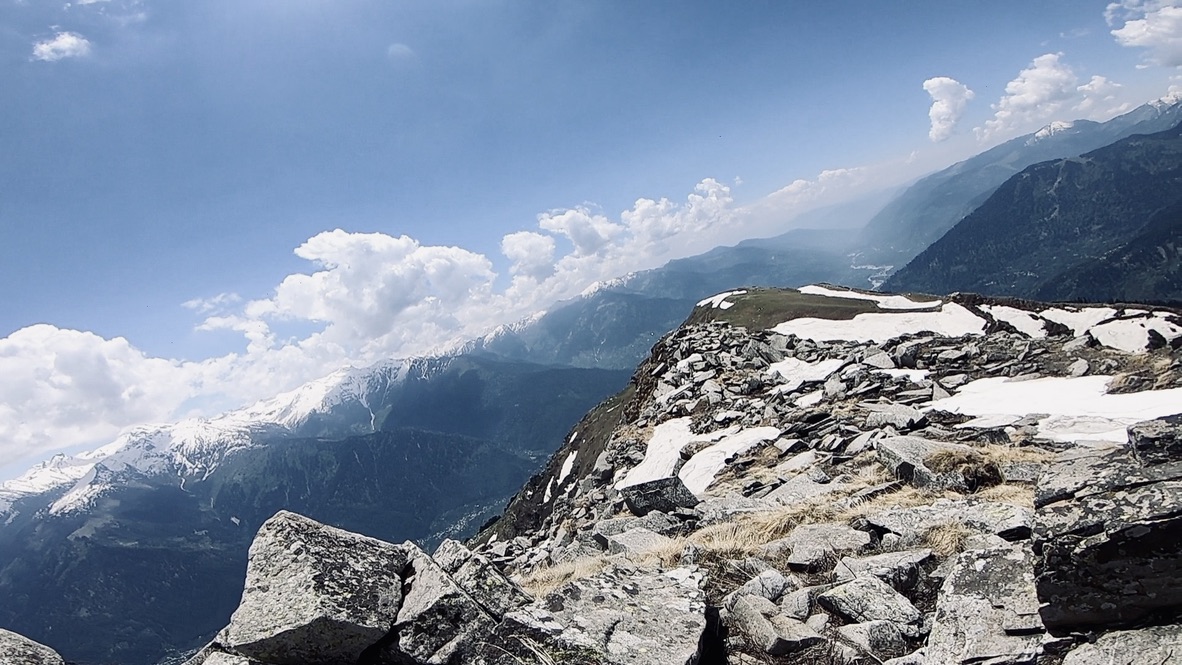 Our expedition started from Mahile Theel, the most beautiful medows of the whole valley. When we crossed Mahile Theel we encountered the huge ancient rocks bigger that our houses too.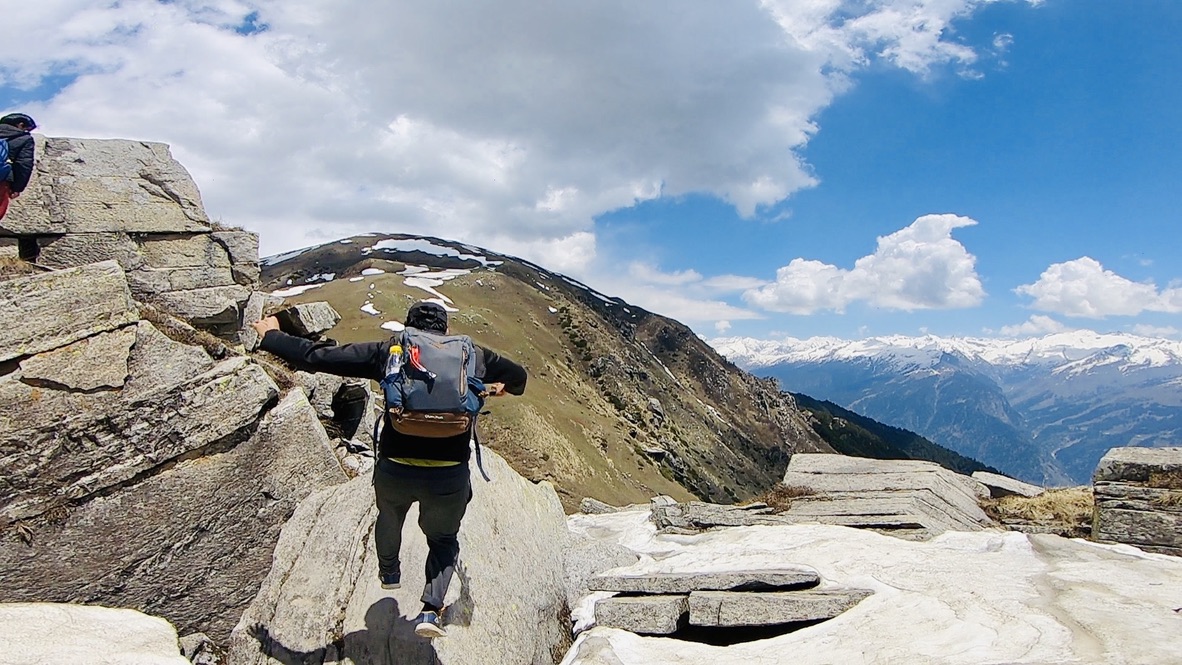 We had to cross them either by finding the way under the rocks of climbing the huge rocks and jumping over them. We decided to climb them because under these rocks there may be homes to many wild animals.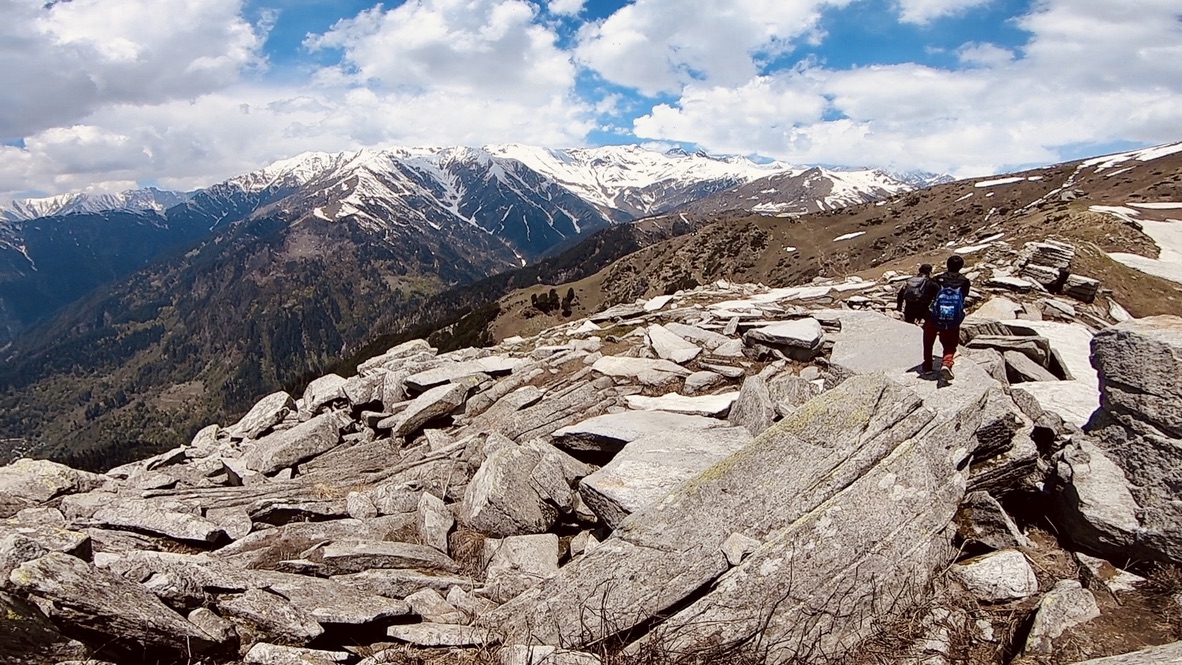 It almost took around an hour for us to cross there huge rocks. As we were gaining our altitude view of the mountains was getting magical and magical.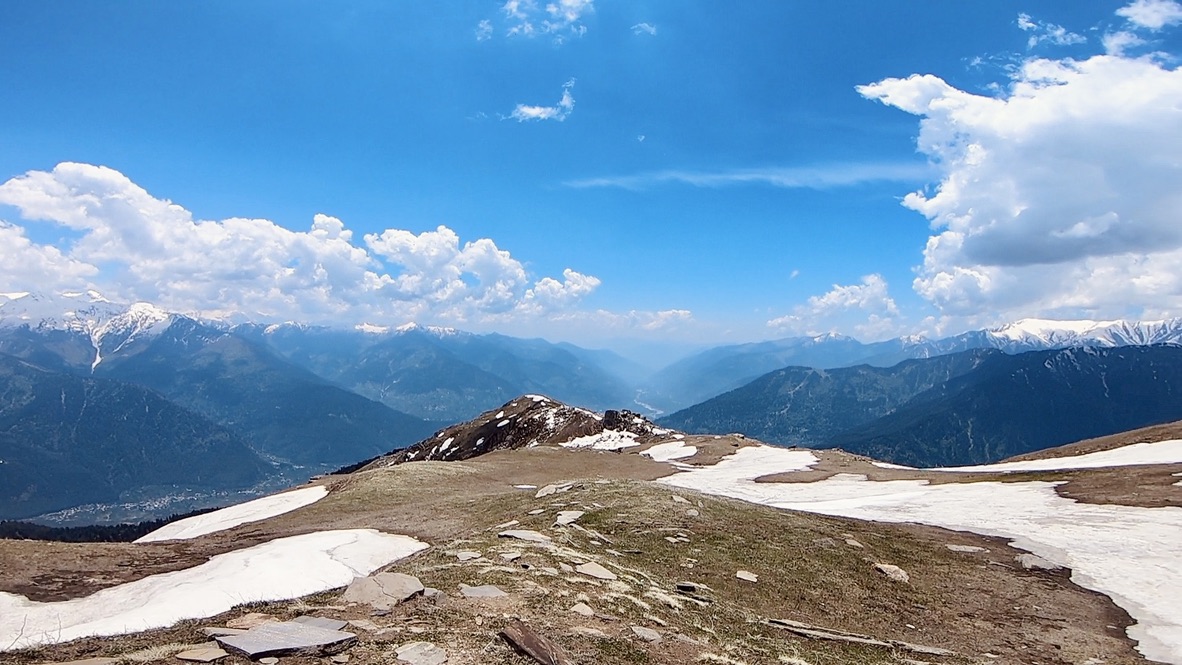 After crossing the rocks and Mahili Theel when I looked back the view was just of Million Dollars. The whole Kullu Valley was visible and the Pir Panjal Range Mountains and Dhauladhar Mountain Ranges were seen crystal clear.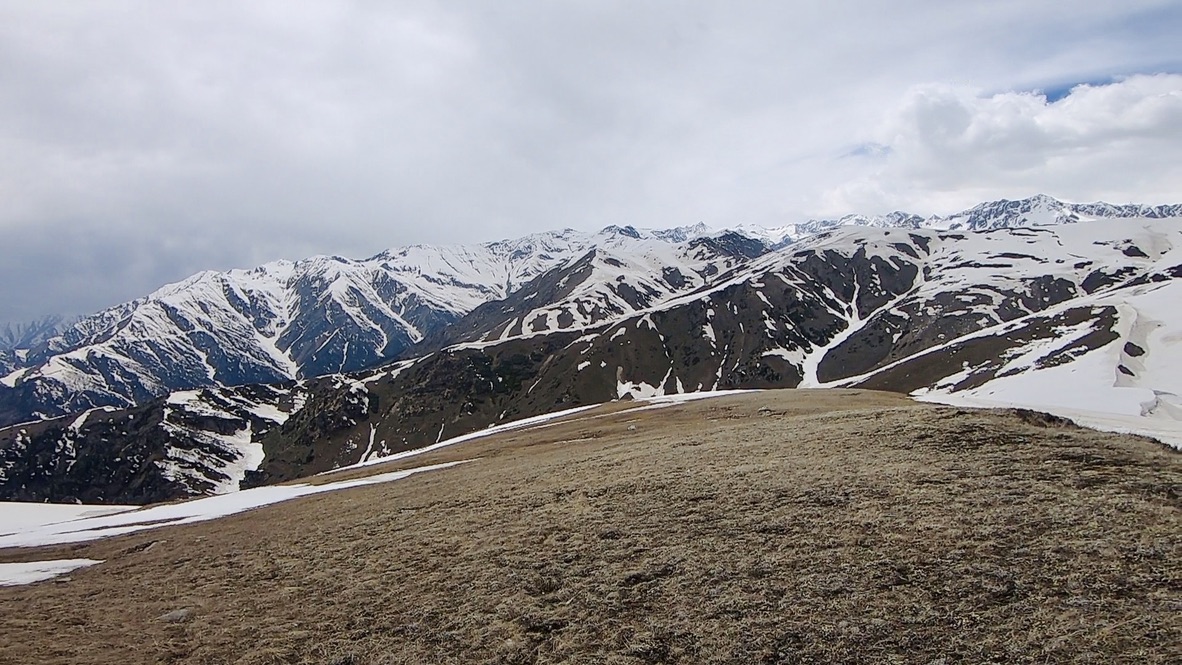 After climbing the Mountain right after the Rocks, we entered to the zero zone where there was no plantation not even the grass grew here. What you could see in the picture was the frozen mud with very little grass over it which never grew bigger than this.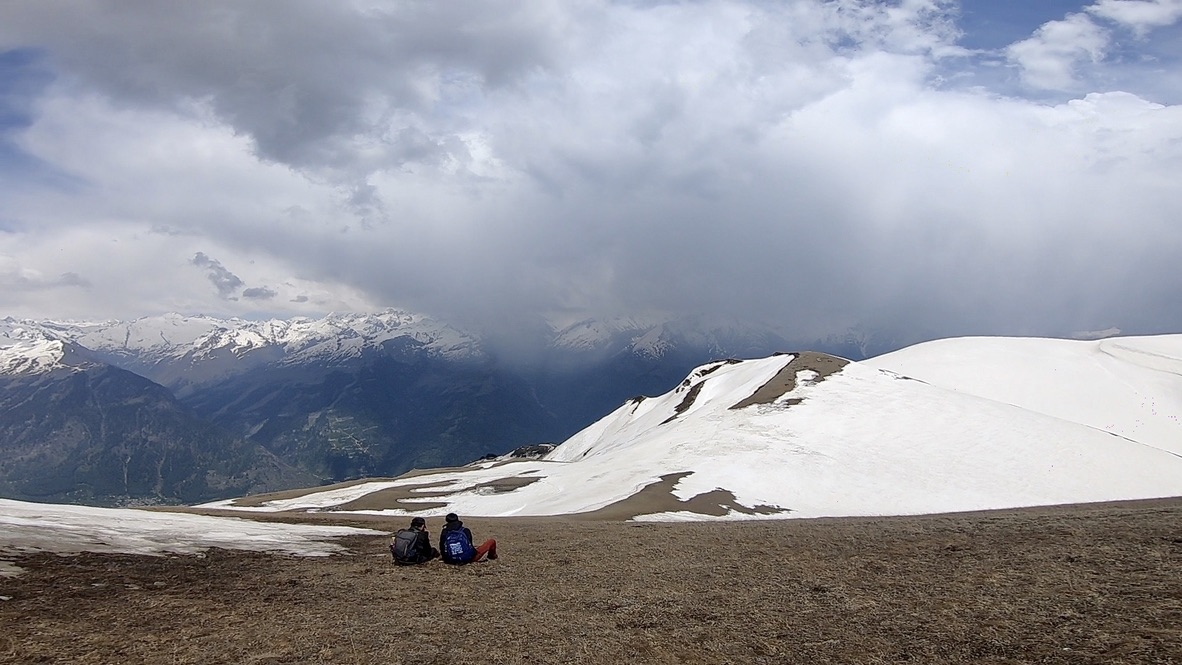 We decided to take rest because this was the only place where we could sit on the dry land. In front of us huge meadows of snow was visible. Which were of Kilometres in dictance.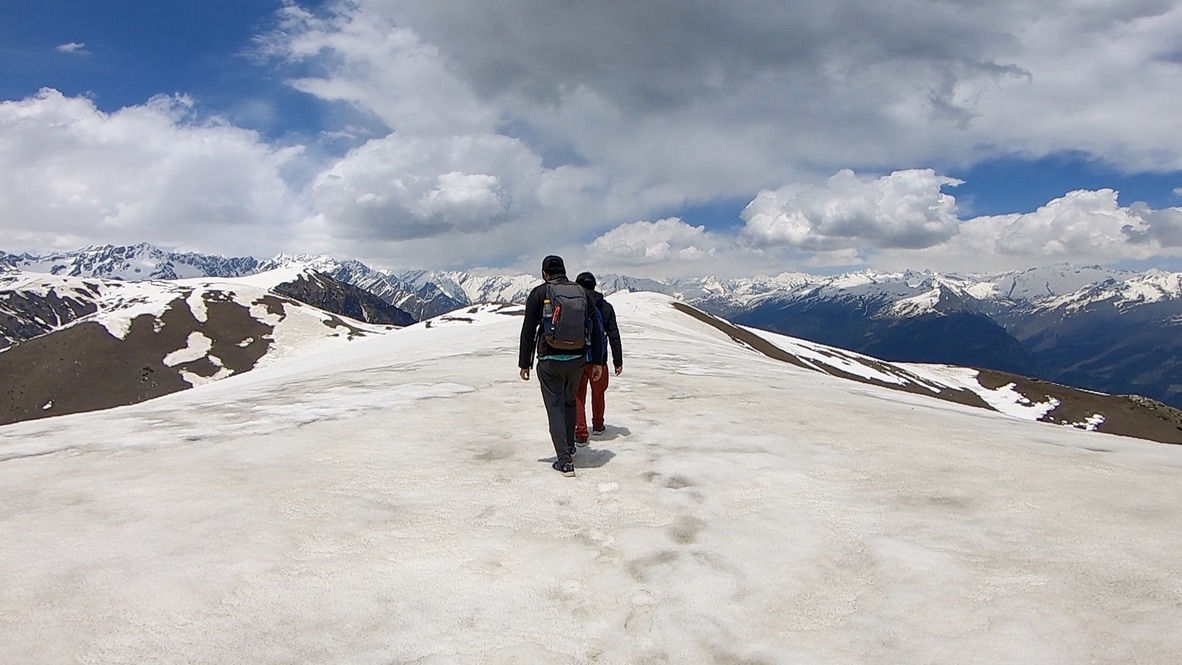 After taking rest for a while we encountered the ridge of snow which seemed to be so close but as we went closer the distance became far and far.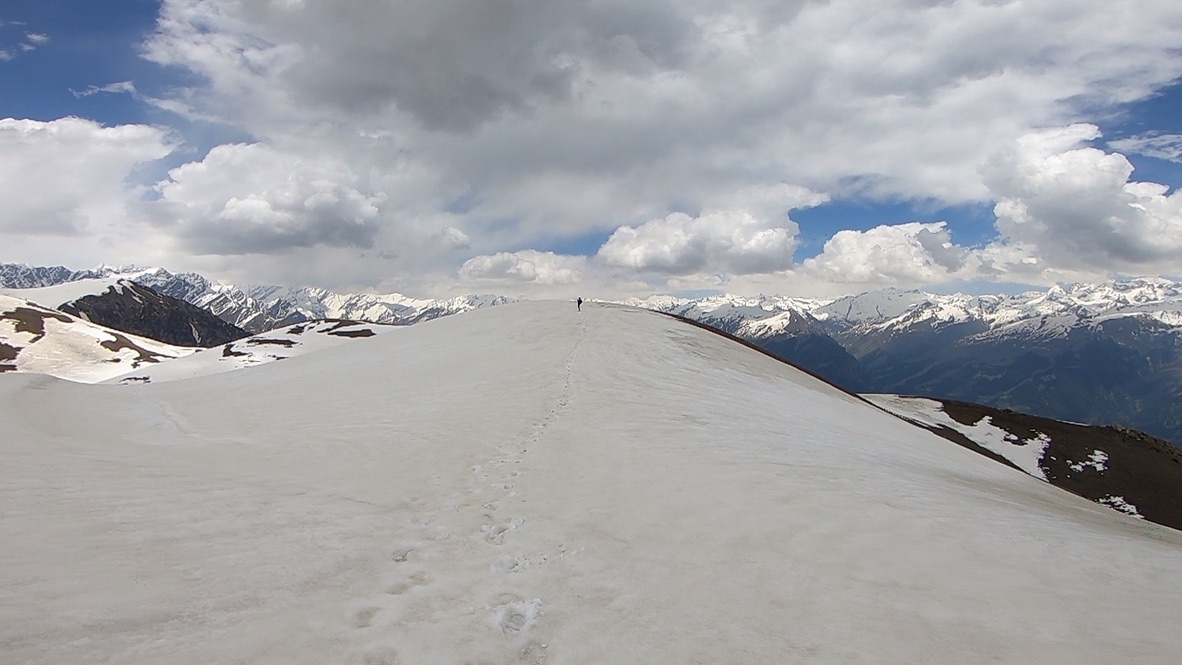 Just look at this picture guys my brother ran a mile away but distance looks so close and you can see that how tiny does he looks in this picture.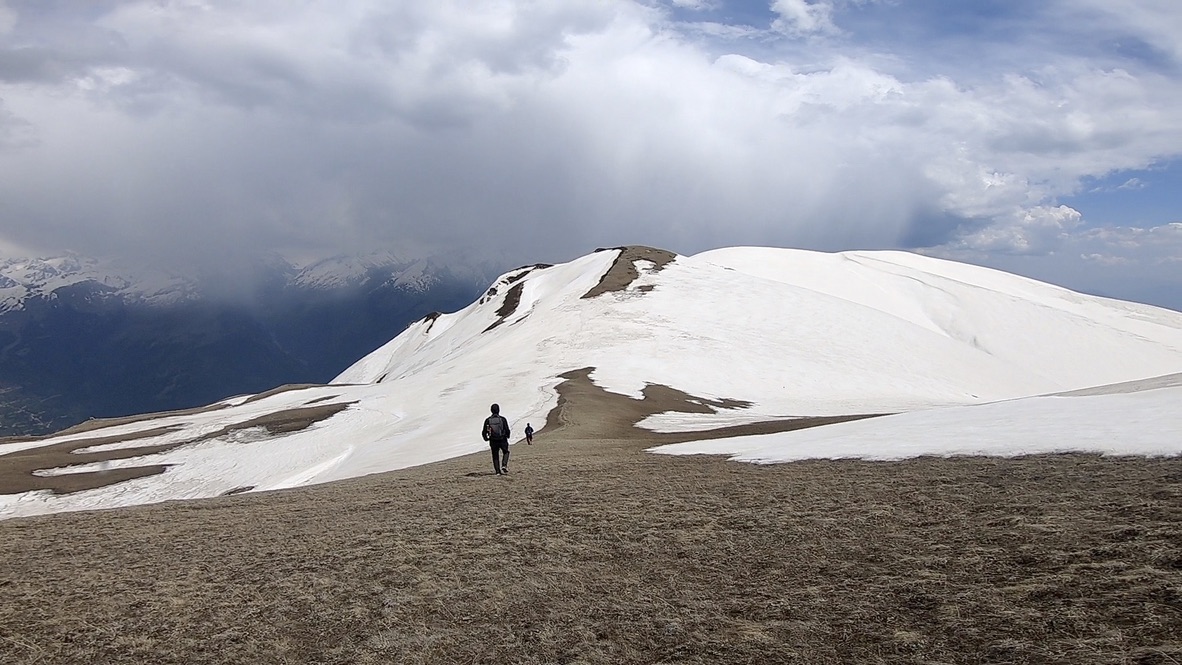 When we crossed the huge ridge of snow we saw deep slope to downward which does not even have snow on the ground due to deep slope.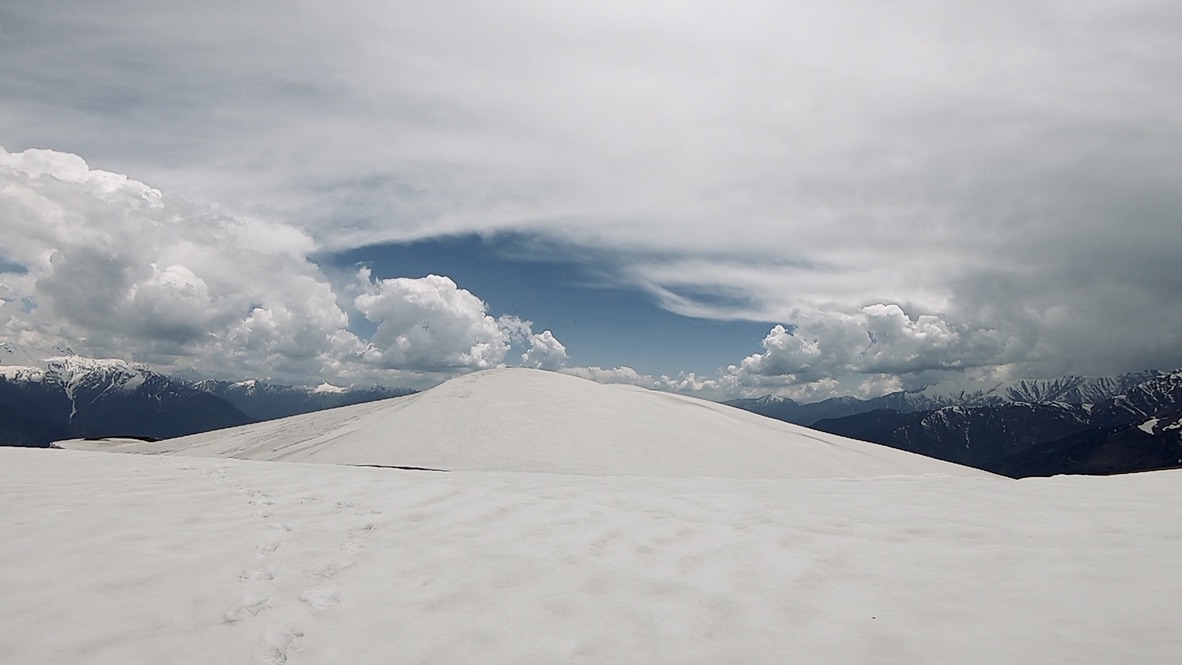 When I looked that this was the kinda and footsteps we left behind, For a while I had a feeling that we were at the top of the world even the huge mighty mountains were looking small. When I looked back I not even a single second waited for clicking this amazing view in my GoPro Camera.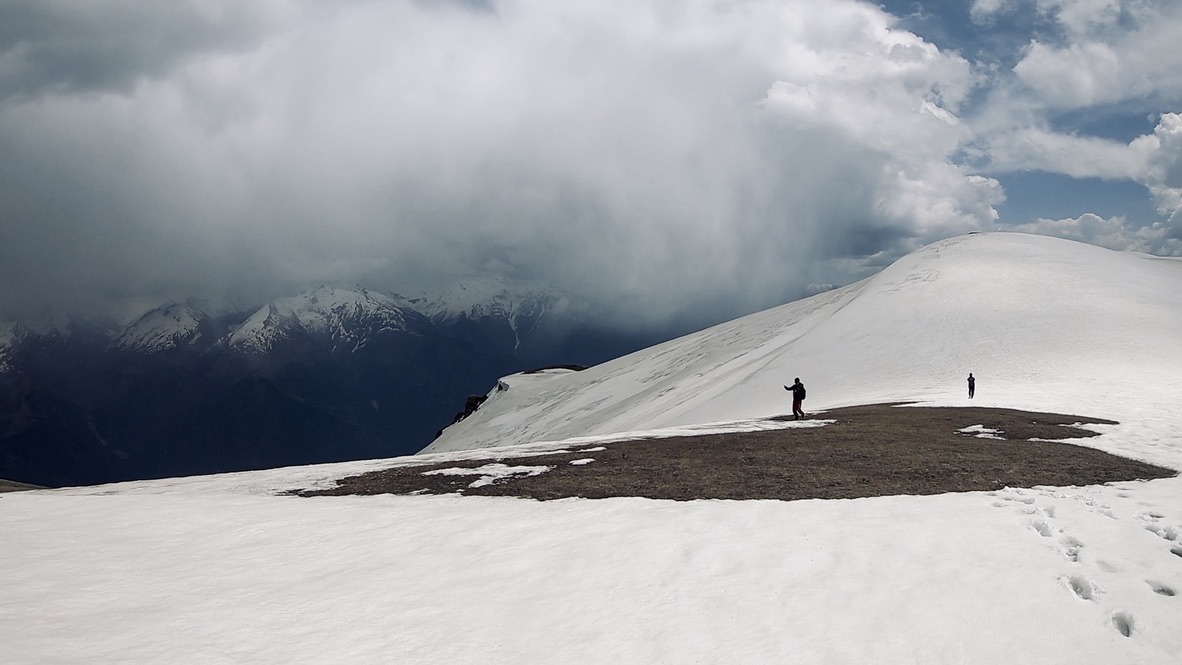 I tried to capture photographs with my mobile phone but I just hanged maybe due to cold weather. When I measured the temperature It was around -5 C.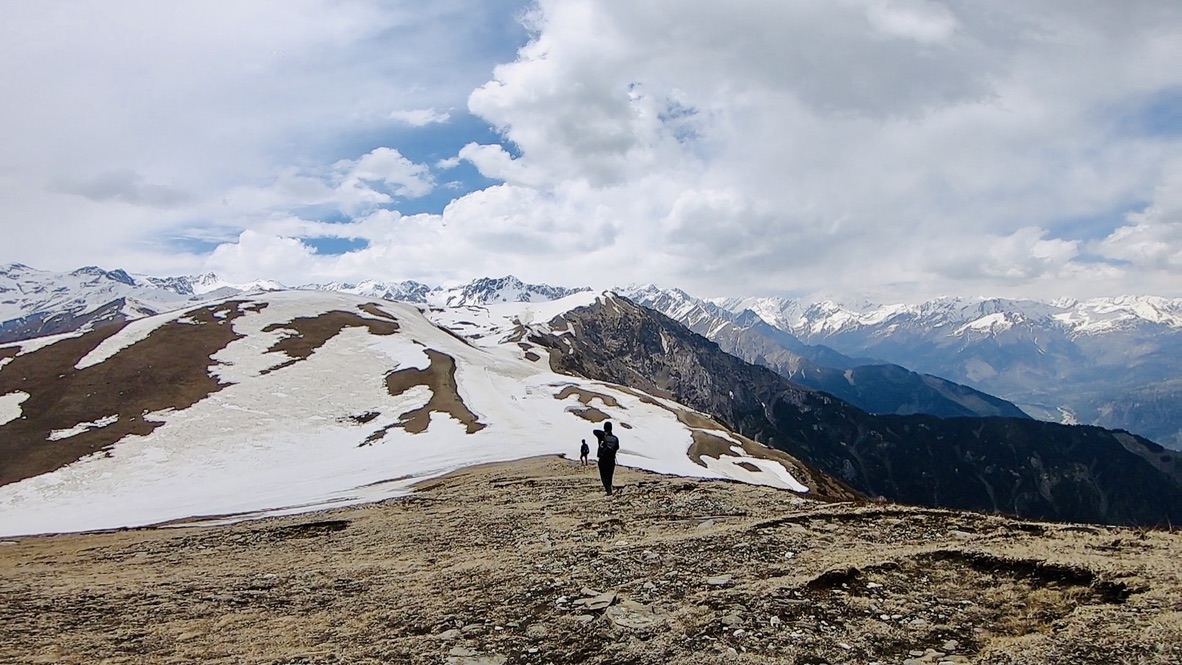 Weather was getting colder and colder. Wind was blowing at a tremendous speed. When I checked the location in my GPS device according to the old people this place was know as Rani Sui Lake or Sour Kundi Lake and we had reached out first base camp point were ancient people use to stay and spend their Night and keep them protected from Cold.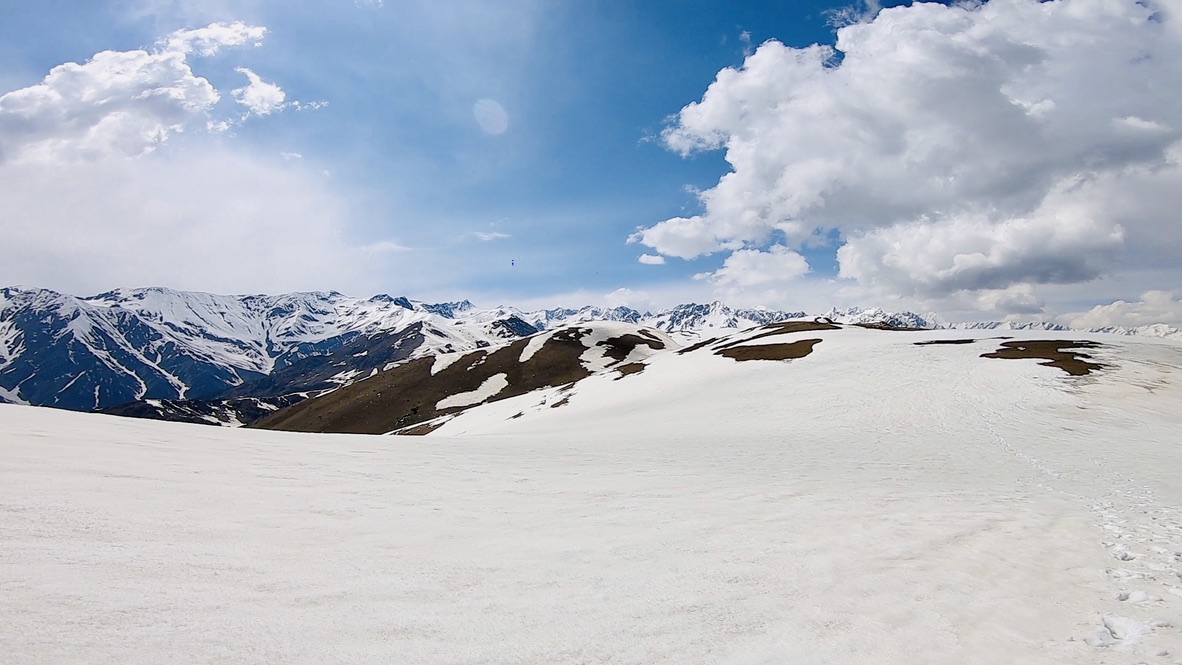 These were the peaks through which the ancient pathway to Kangra Valley from Kullu Valley was. I didn't expected that there would be this much snow at these seasons. There was around 5 feet frozen snow over the land over which we were walking at some places snow was soft this was not frozen properly my legs got stucked in snow two or three times at a point while walking my half body was inside snow.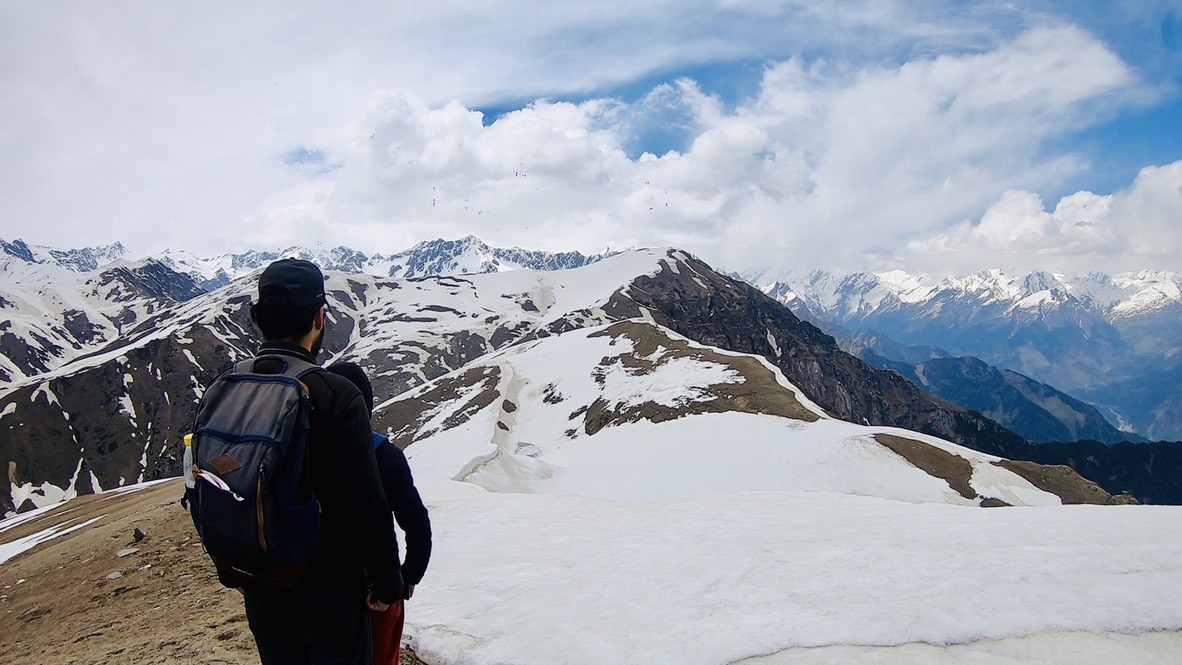 This was the last peak of Dhauladhar Range which had the turning point to Kalihani Pass. There was a lot of snow after this steep down mountain, There was also huge glaciers which made us difficult crossing them.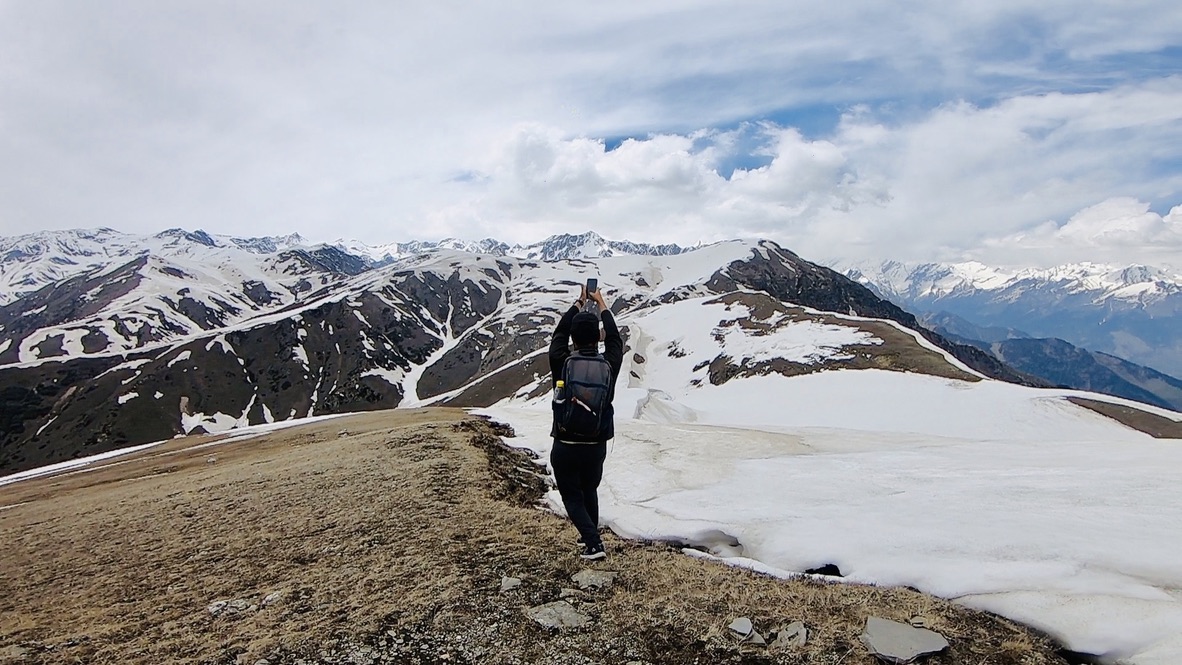 The peaks in front of us were fully covered with snow which I didn't expected. We saw the beautiful Lake of Love.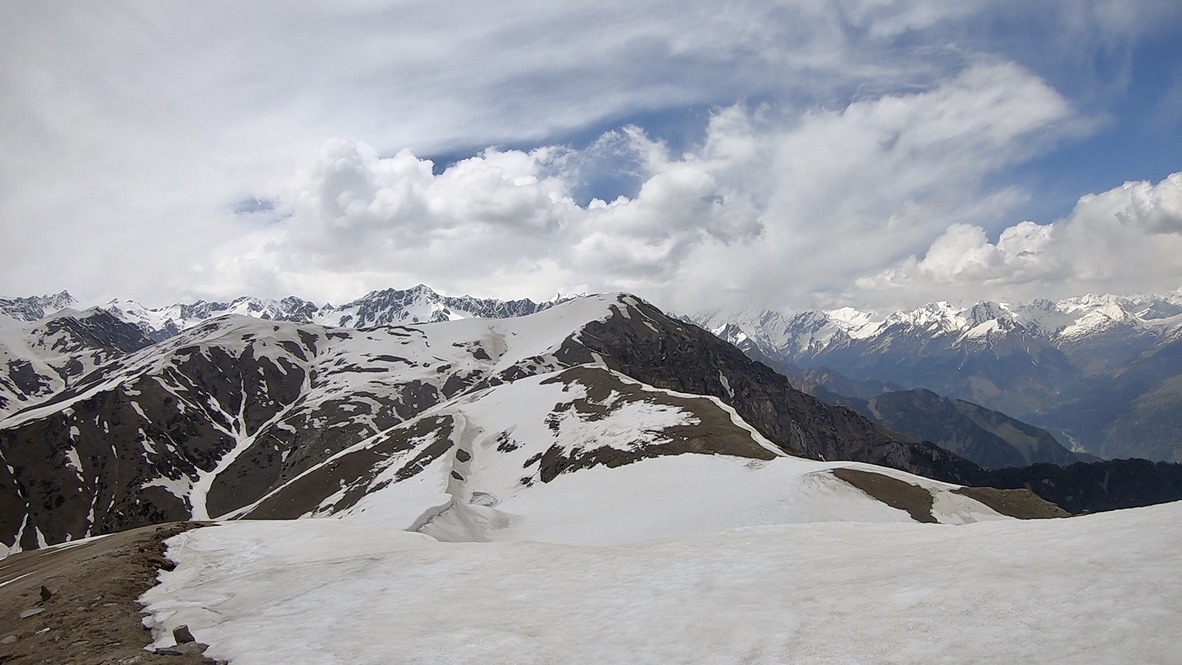 The Rani Sui Lake which was all frozen. As you guys can see in this picture the Heart shaped Rani Sui Lake frozen under the snow.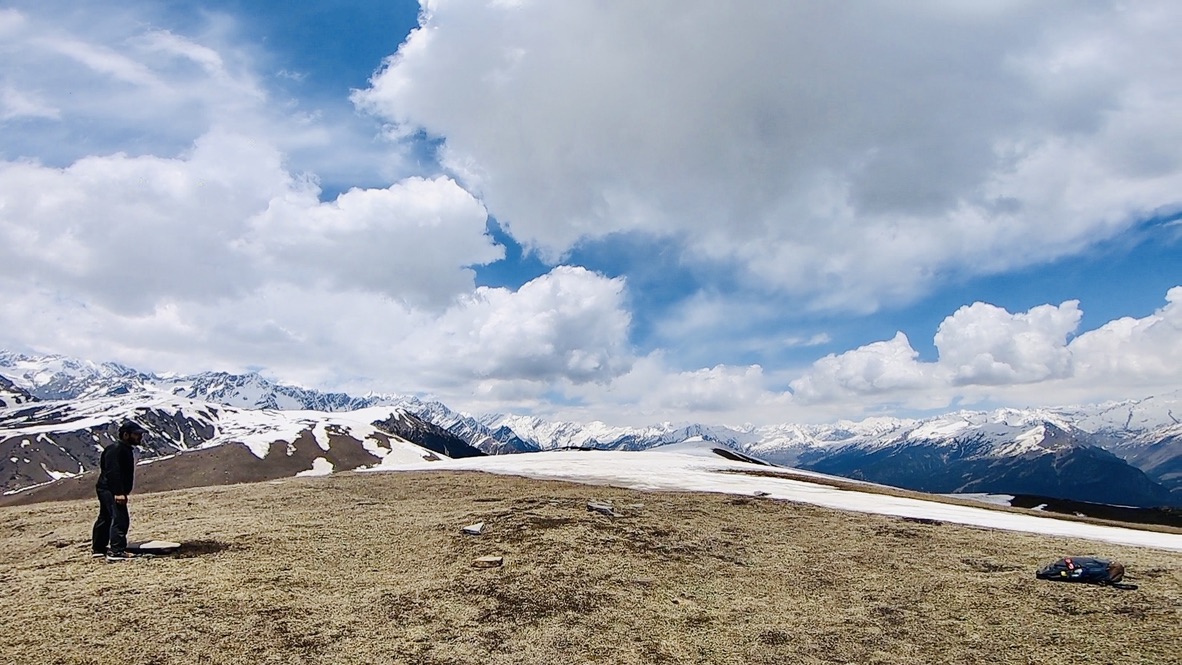 My Brother looking at the Mountains and finding that will this be safe for us to walk further or not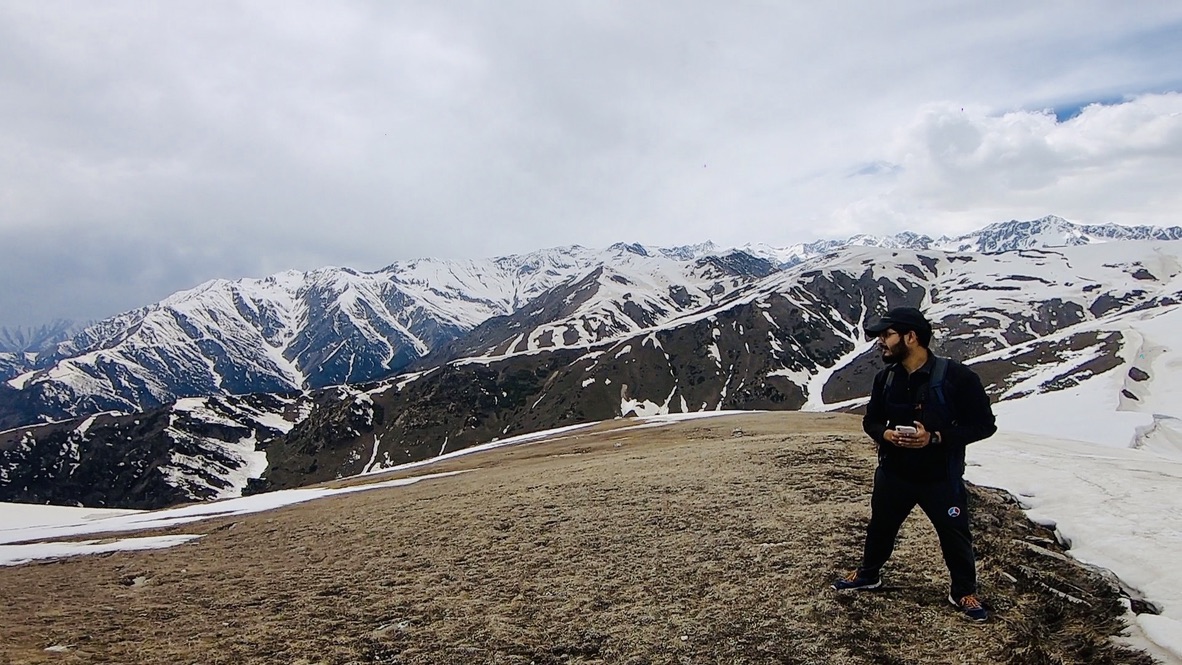 This was the turning point of our Expedition. We decided not to take risk with our lives because the temperature was going down and the Snow was just increasing at every step.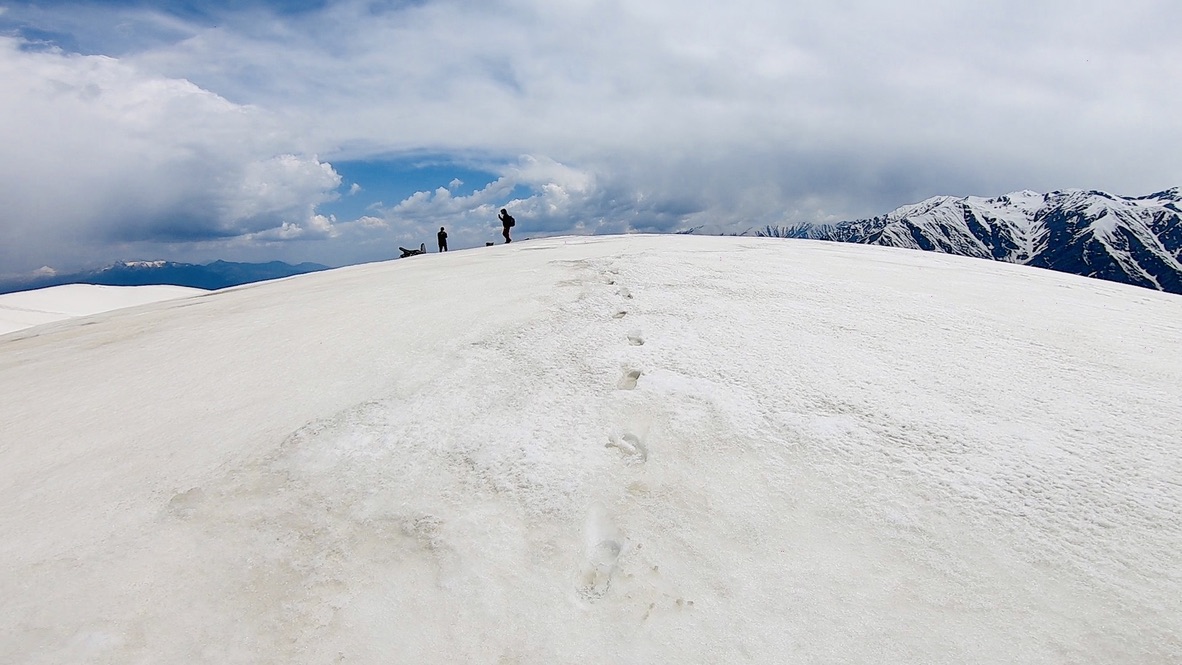 We finally decided to go back and play the safer game. This was the huge achievement for us at least we reached the Kalihani Pass and came to see explore the most beautiful mountains.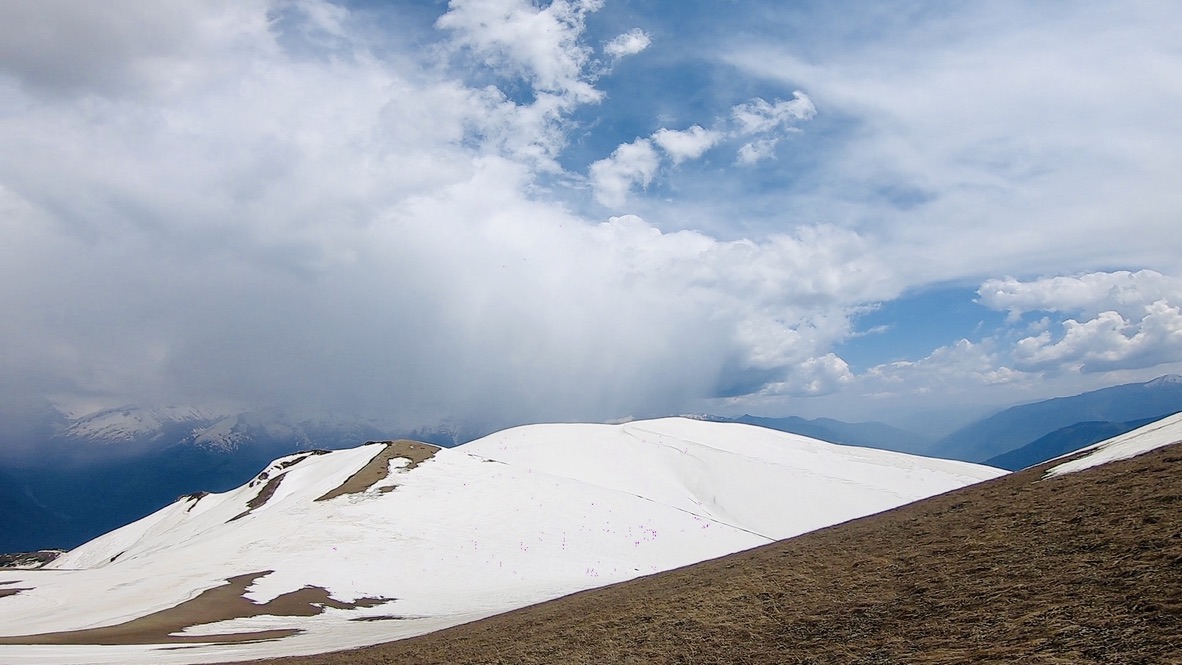 The huge mountains we climbed we had to go back now.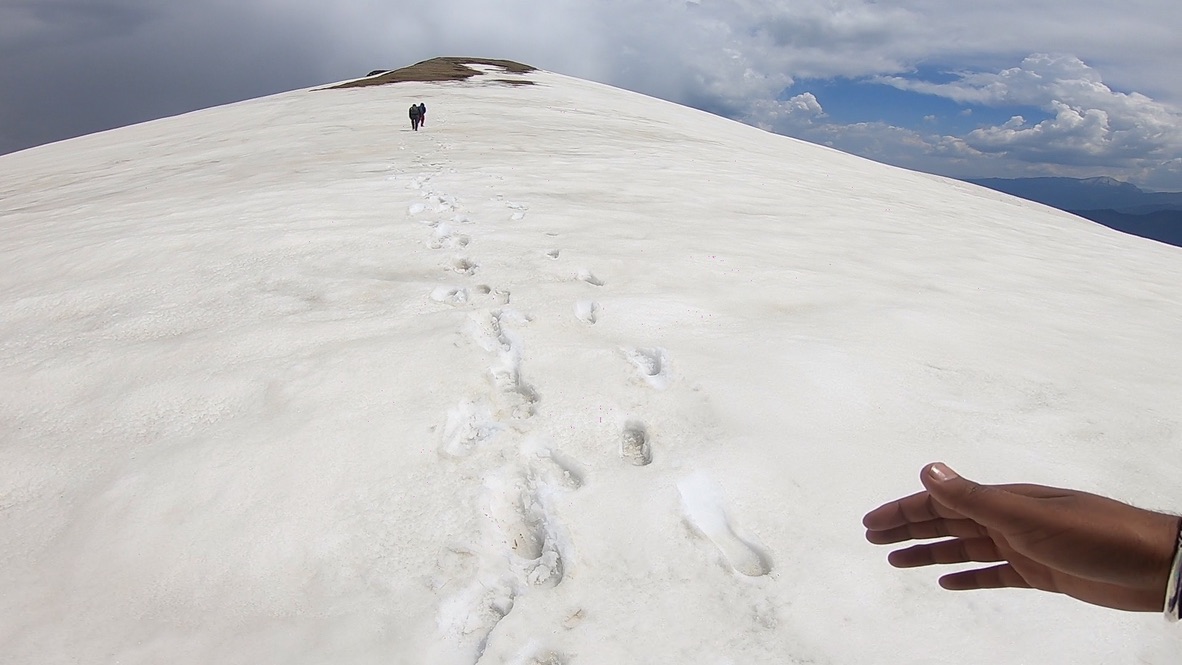 POV of GoPro Camera attached to my Chest Mount.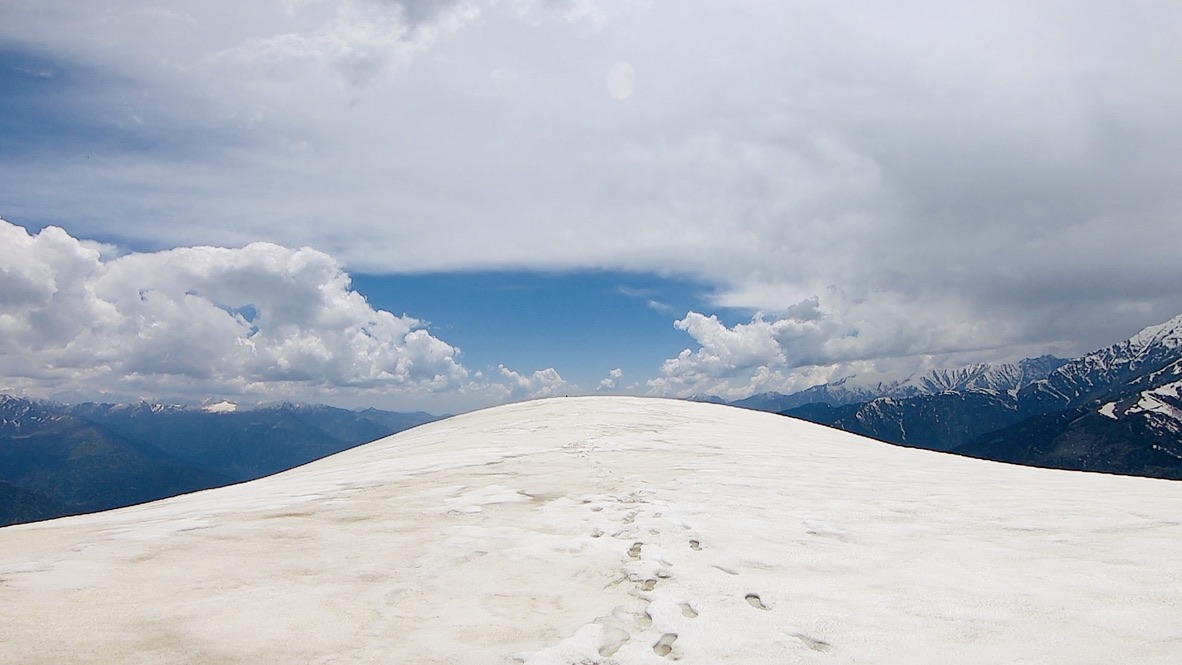 We had to run back to Mahili Theel before Daylight vanishes away. Temperature was just dipping to as low as it could it was -8 at that time.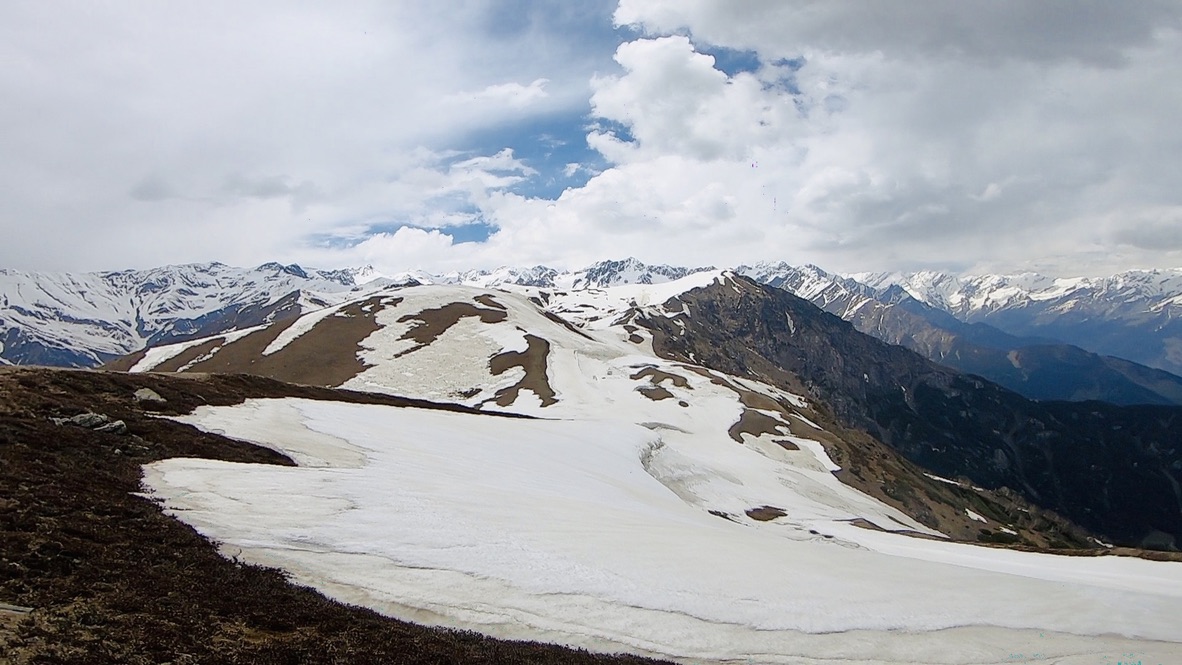 It was 3:43 PM This was the last time when I looked back and Clicked this Photographs of the End point of Dhauladhar Range Mountains.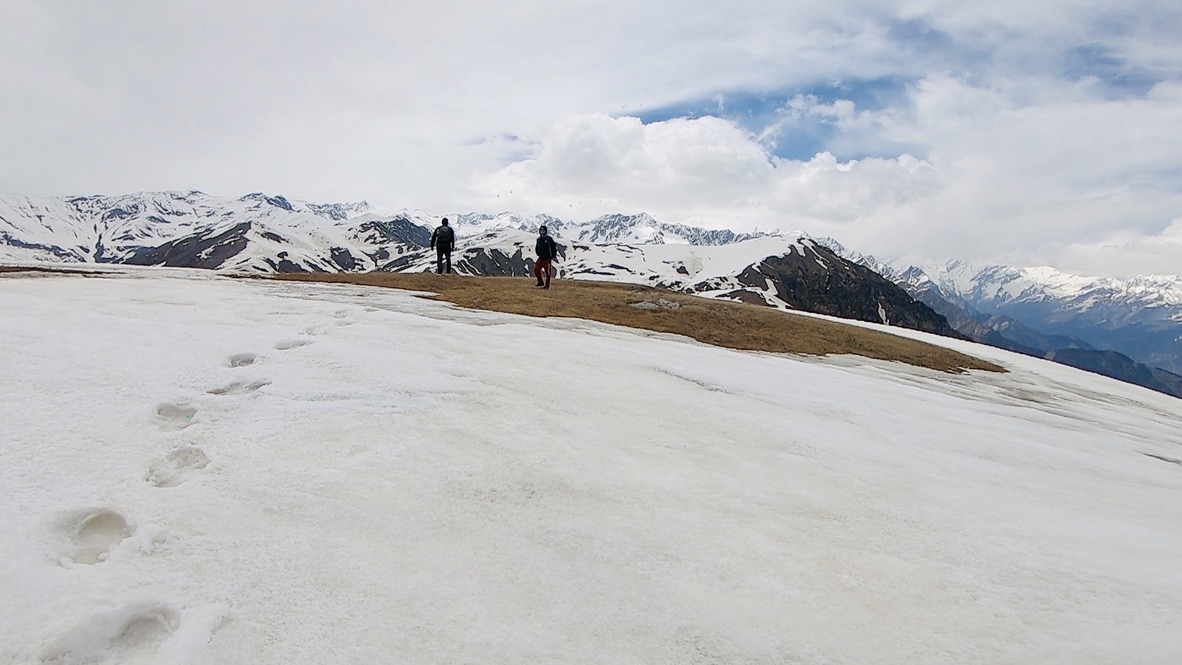 We had two hours daylight left with us for reaching Mahili Theel and Shangchar Village which was the Closest Village Motor-able to Mahili Theel.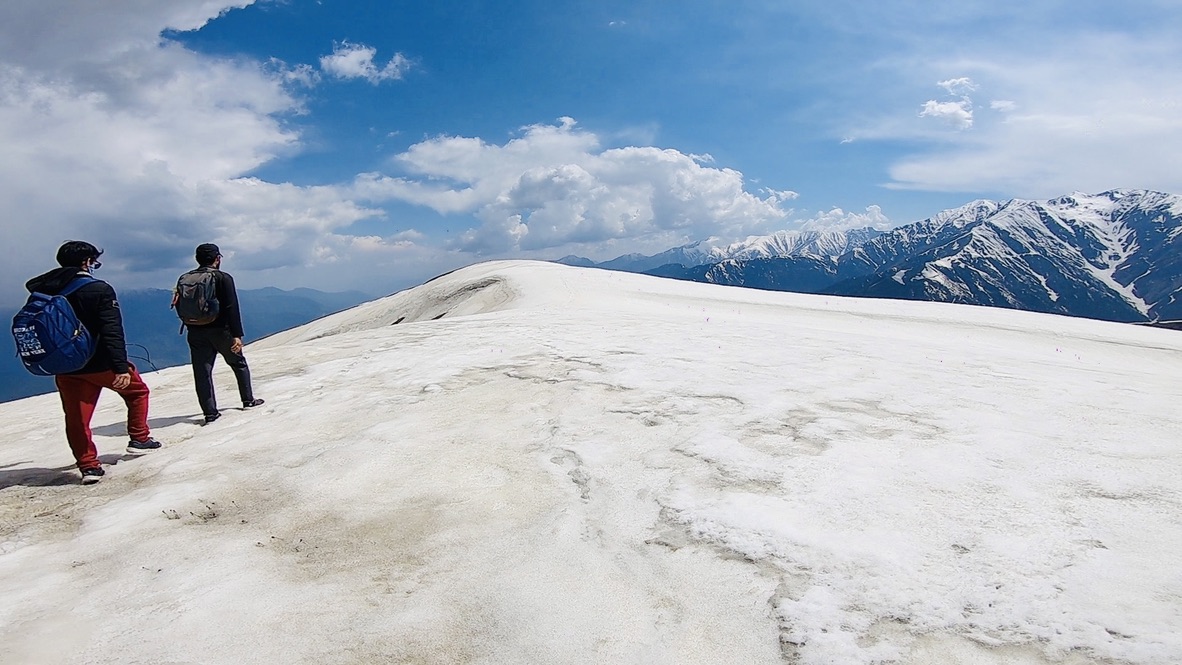 We just walked over our own footsteps because of the fear of getting legs stucked inside deep frozen snow.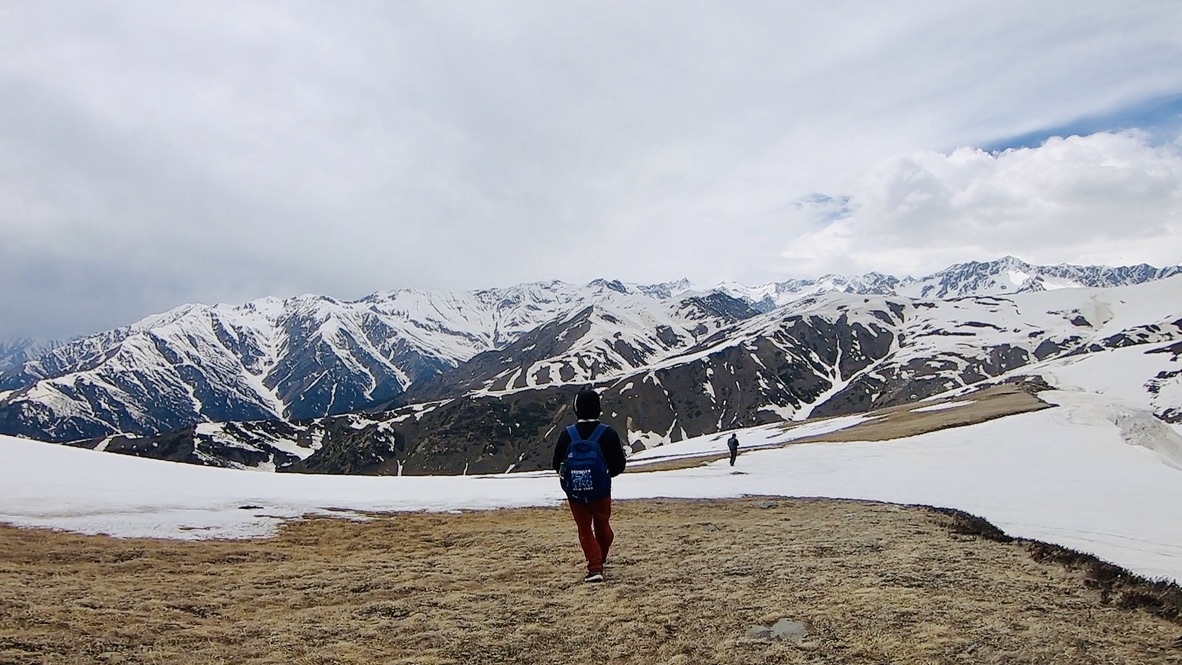 Our Boots and Socks were all wet due to snow, Our legs were all numb and frozen due to cold and snow.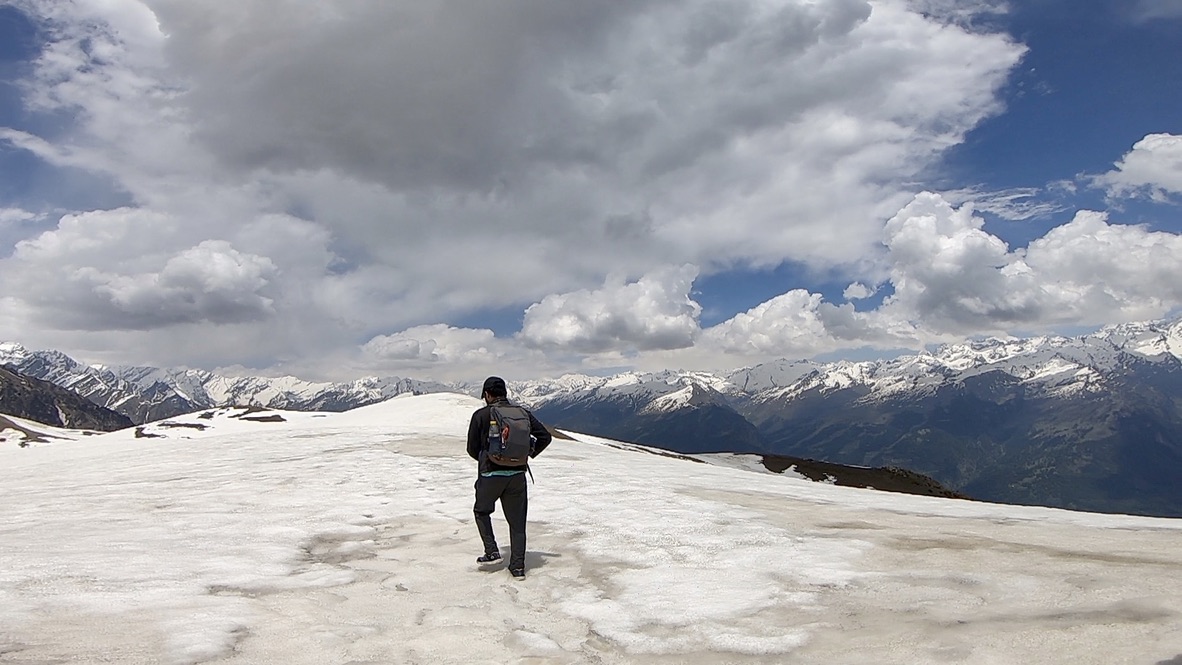 The frozen ridge which had ice all over it.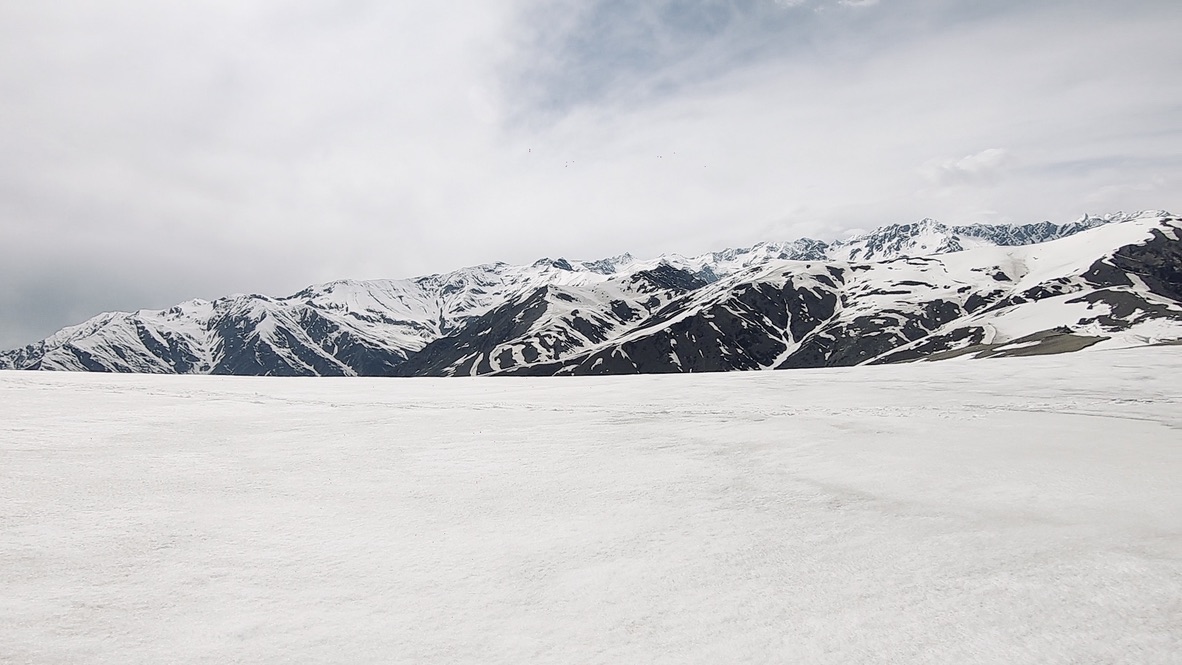 The Mighty Kalihani Ranges were still Visible from this place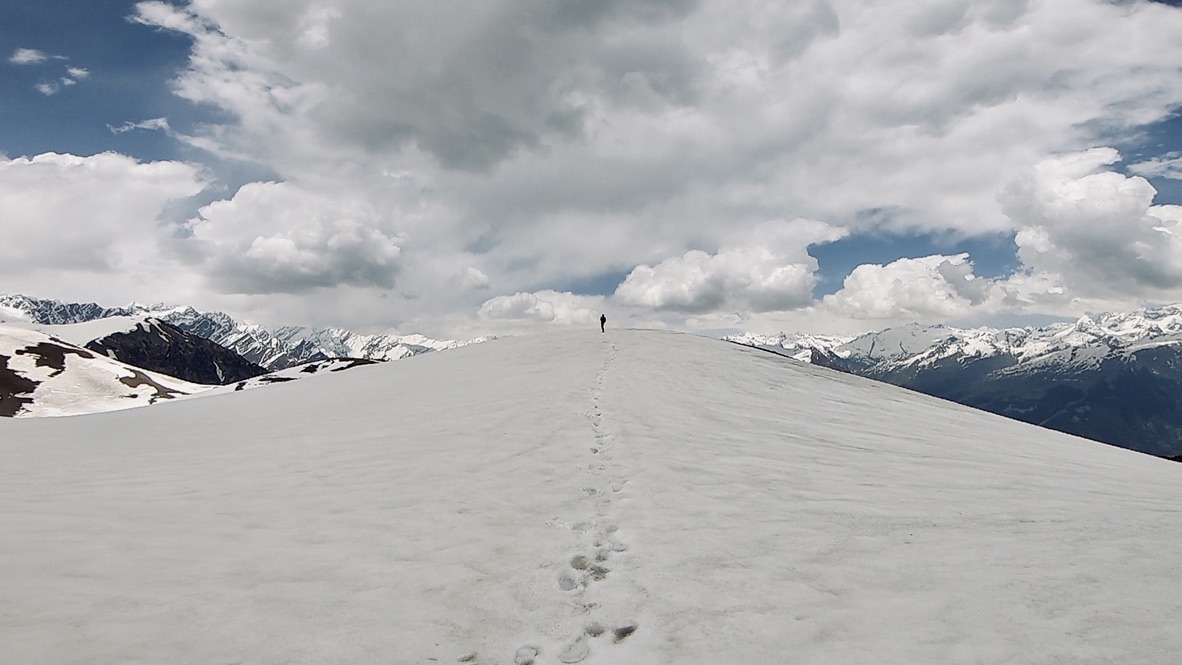 What we left behind us were our footsteps and some cold Memories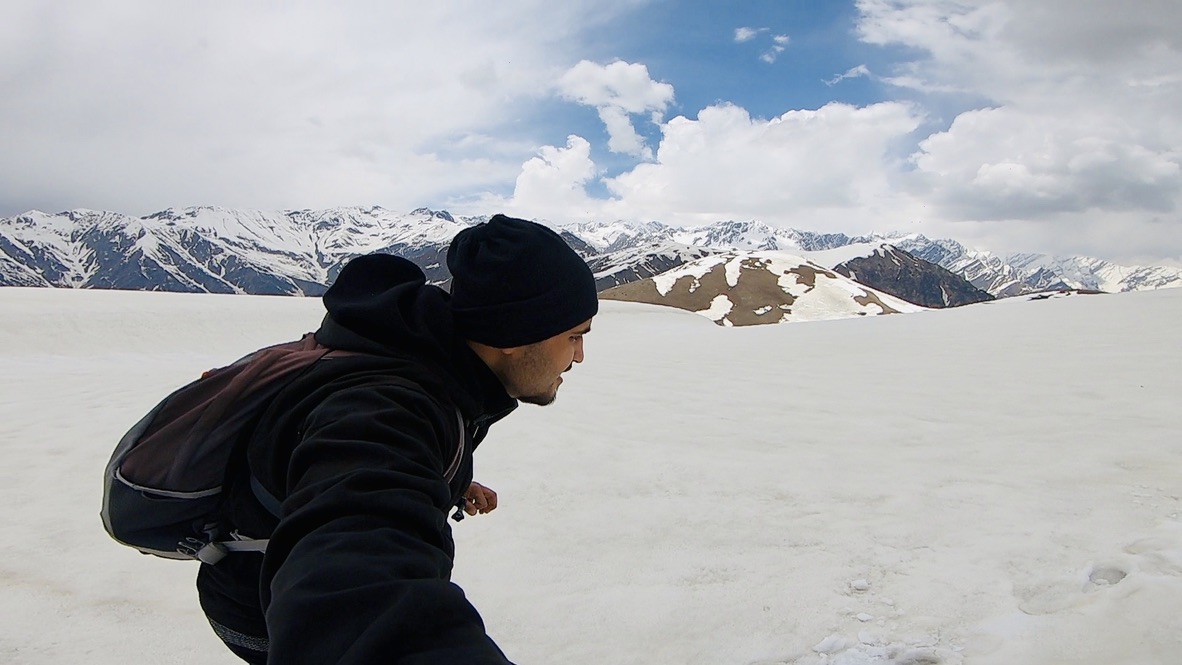 Me Running Wild and Free over the frozen Ridge
Had to breadth through my mouth open due to low oxygen level at this place.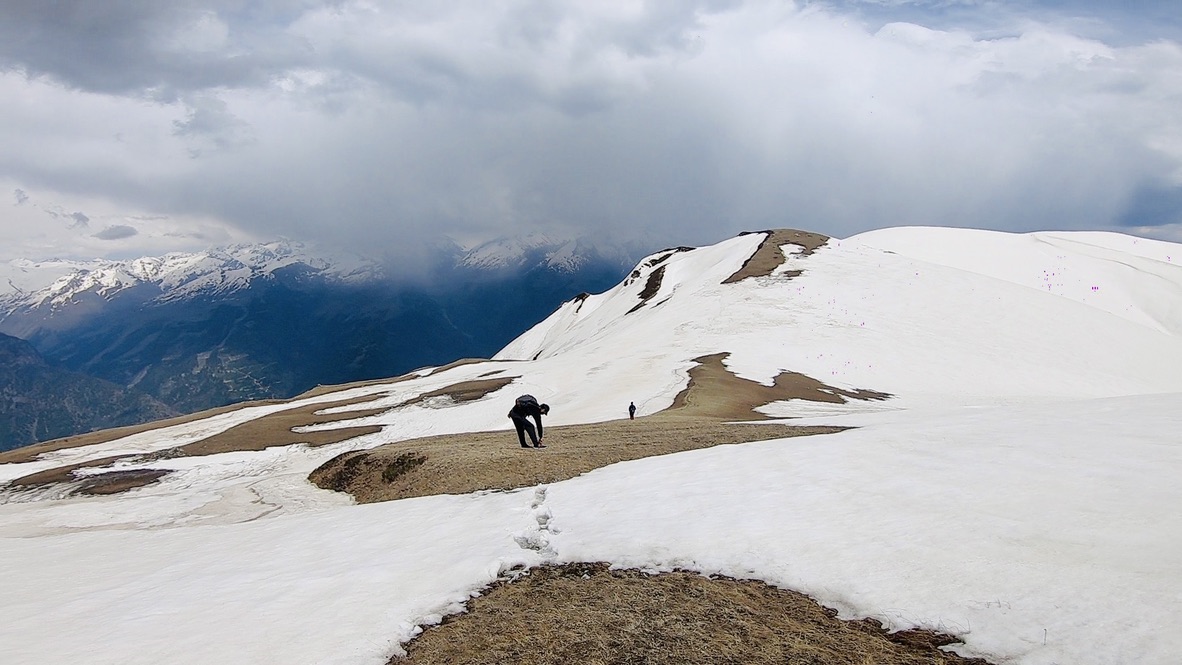 Altitude here was around 6234m above the sea level.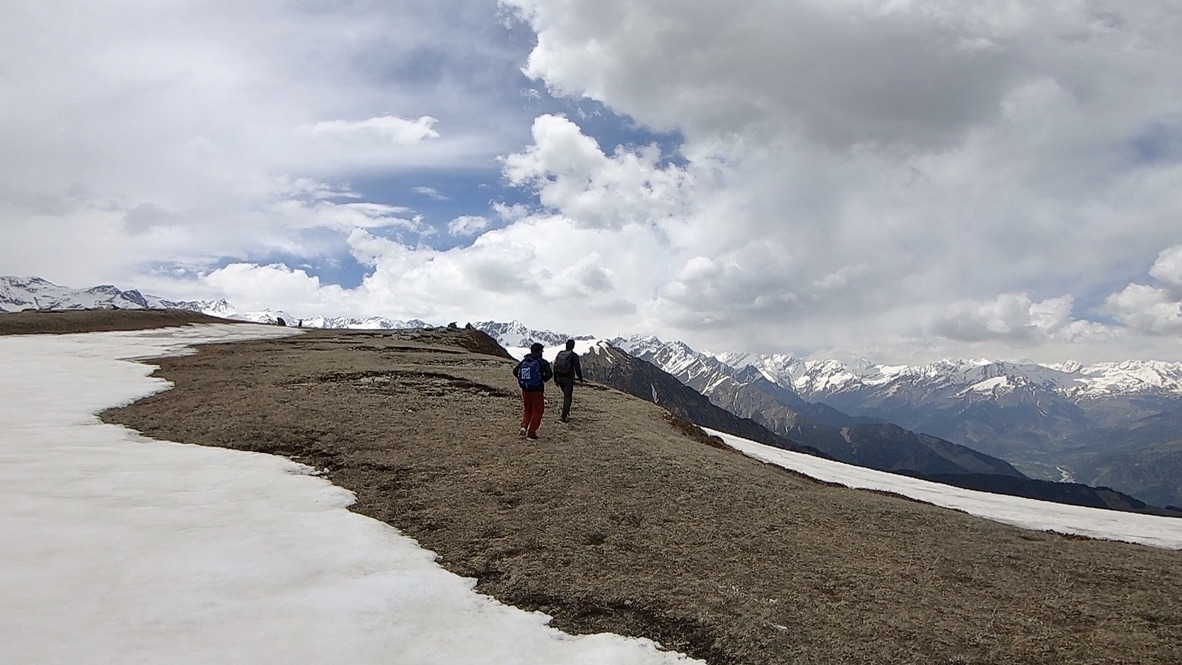 All these photographs were captured by me using my GoPro Hero 6 Action camera.
I just had so much fun exploring the hidden pathway to Kangra Valley from Kullu Valley. It was my dream Expedition which came true. Before few months I hiked to Rani Sui Lake too but during this expedition I explored the ancient Pathway.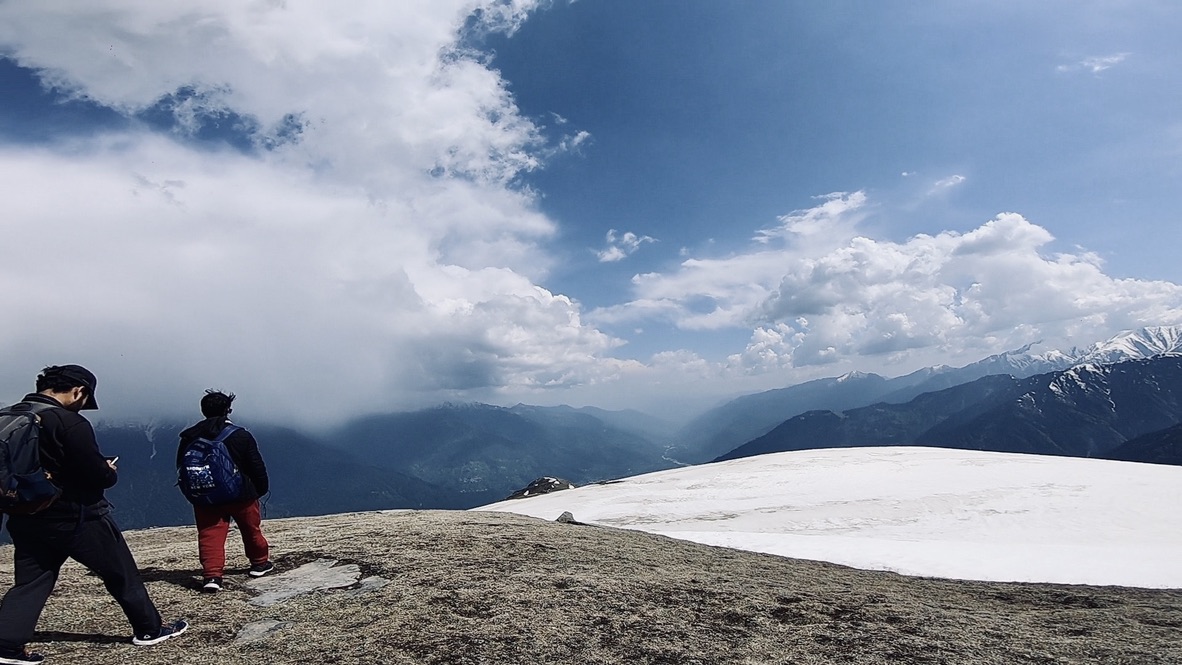 This was the highest place of Mahile Theel.
For all these photographs I used Ultra Field of View Mode in my camera.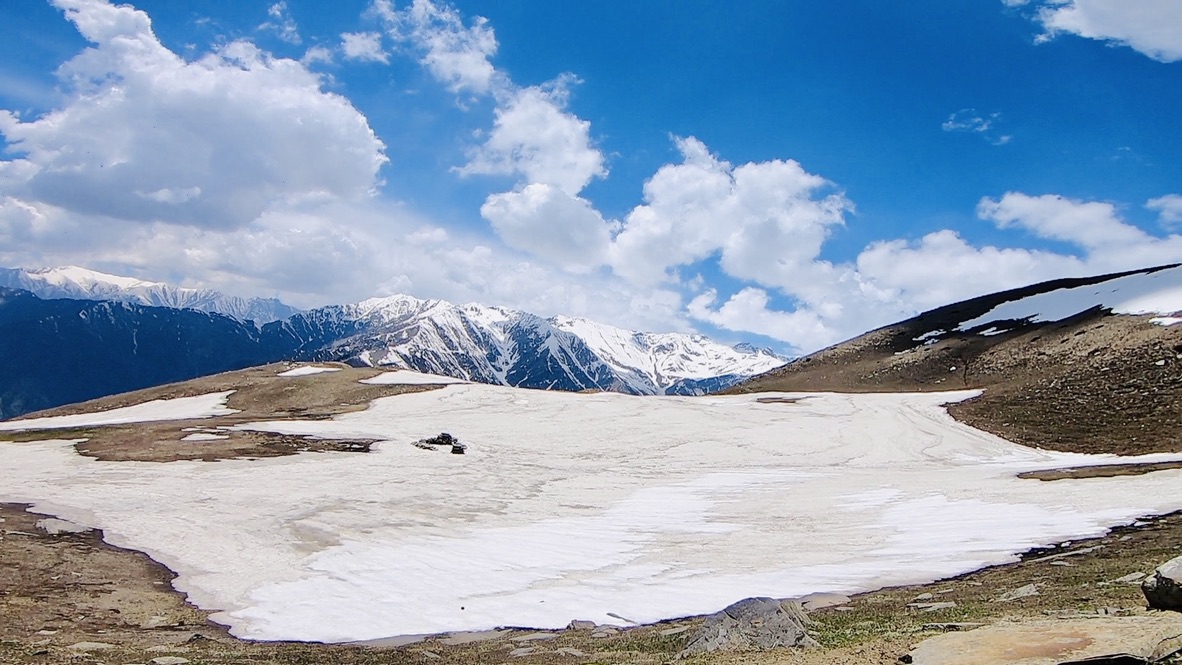 I edited all these photographs using my iPhone photos editor tool.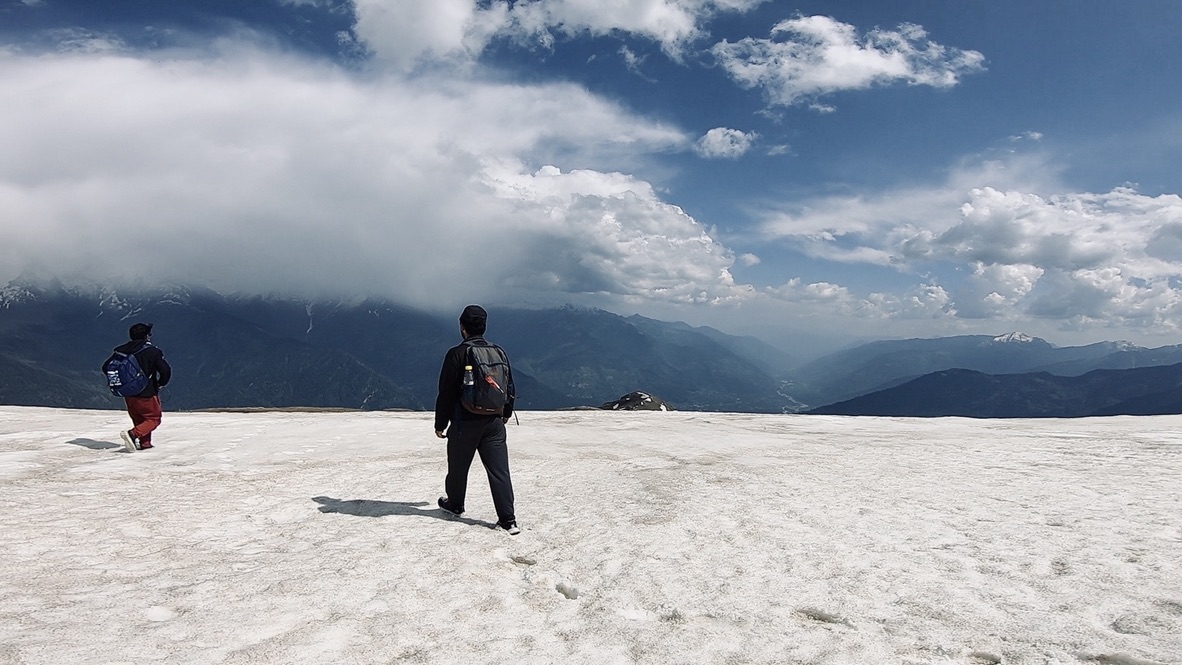 So that all today guys. I hope you liked it.🙏
Thanks for your Precious Time.
Love from The Himalayas❤️
---
---