Odds and Ends — 1 December 2022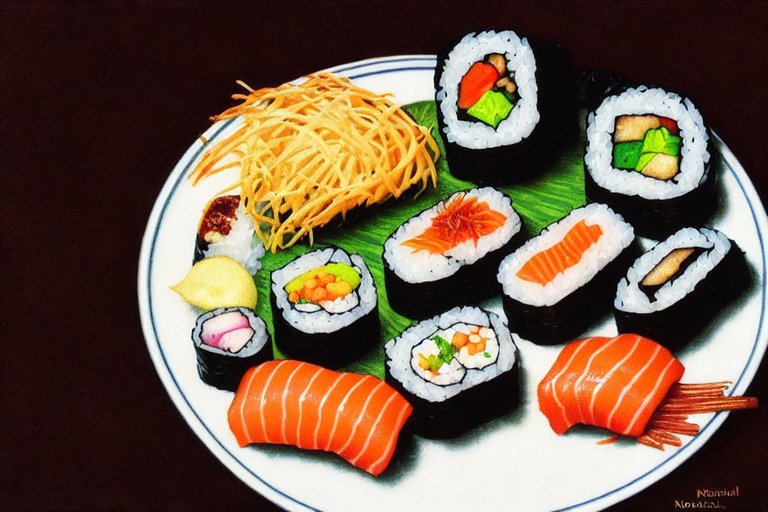 I've been playing around with
DeepDreamGenerator
's newish "text prompt" artificial intelligence image creator. This image was generated from the prompt "A plate of sushi, in the style of Norman Rockwell." Well, it looks like some tasty sushi, but I'm not seeing a Rockwell influence, other than maybe the bogus signature.
Cryptocurrency, Investing, Money, Economy, Business, and Debt:
For Hive Power Up Day, I staked 131.559 Hive.
If you're ever running low on FUD, the European Central Bank can help out: ECB says Bitcoin is artificially propped up, shouldn't be legitimised
U.S. crypto broker Genesis says it is working to avoid bankruptcy filing
Kraken Cuts 30% of Workforce Amid Crypto Winter
Bankman-Fried claims: 'I unknowingly commingled funds' at DealBook Summit
If I was his lawyer, I'd advise him to shut his pie hole.
European Union Warns Twitter It Faces Ban
The EU has threatened Elon Musk's Twitter with a European ban unless the billionaire abides by its strict rules on content moderation, setting up a regulatory battle over the future of the social network.
Never mind, Musk says — accusation against Apple was a 'misunderstanding'
Coronavirus News, Analysis, and Opinion:
Long Covid may be 'the next public health disaster' — with a $3.7 trillion economic impact rivaling the Great Recession
COVID hospitalization rates in babies as bad as for seniors amid Omicron wave
Is Spreading Medical Misinformation a Doctor's Free Speech Right?
Politics:
There Was a Conspiracy to Overthrow the Government
With a jury…finding two people guilty of seditious conspiracy, that establishes the fact that a conspiracy existed.
The verdicts are a big deal politically. They underline the gravity of the January 6 attack on the U.S. Capitol. It was far from a "normal tourist visit" as some Republicans have ridiculously maintained.
January 6 committee to discuss potential criminal referrals at Friday meeting
ICE accidentally released the identities of 6,252 immigrants who sought protection in the U.S.
The unprecedented data dump could expose the immigrants — all of whom are currently in ICE custody — to retaliation from the very individuals, gangs and governments they fled, attorneys for people who have sought protection in the U.S. said. The personal information of people seeking asylum and other protections is supposed to be kept confidential; a federal regulation generally forbids its disclosure without sign-off by top officials in the Department of Homeland Security.
What a convenient "accident."
Indiana AG Seeks to Punish Doctor Over Abortion
Indiana's Republican attorney general on Wednesday asked the state medical licensing board to discipline an Indianapolis doctor who has spoken publicly about providing an abortion to a 10-year-old rape victim who traveled from Ohio after its more-restrictive abortion law took effect.
The key word here being "asked" in that AG Rokita has no power over the licensing board which is now free to ask the grandstanding AG to fuck off. Um, you're the AG. If she's actually broken a law, go ahead and prosecute her, that's your job. Otherwise, STFU.
Lawyers told to choose between GOP chair and 10 other fake electors
Legal experts have said prosecutors may be trying to split up the electors' representation in order to offer deals to some but not to others.
The problem with seeing Nick Fuentes as evidence of a clear white supremacy lurch within Trumpism is that first, Trumpism has always quite explicitly had white supremacy as a key feature. Second, this white supremacy is always relational. 1

— Joe Lowndes (@JoeLowndes) November 29, 2022
The (Nonpartisan) Polls Were Pretty Accurate
The nonpartisan polling was actually pretty good in 2022. Most of the phantom Republican strength in pre-election statewide polling was a function of junk firms with poor data quality and low transparency spamming the polling averages with bad polls.
In reality, an aggregation of nonpartisan polls predicted the correct winner in every Senate battleground and would have predicted the margin substantially more accurately than the partisan GOP pollsters which flooded the averages in almost every major race.
House Committee Finally Receives Trump's Tax Returns
The House Ways and Means Committee now has six years of Donald Trump's federal tax returns, ending a yearslong pursuit by Democrats to dig into one of the former president's most closely guarded personal details.
Pass the popcorn!
How China could try to take over Taiwan without firing a shot.
Serendipity:
Early research suggests promising use of AI to predict risk of heart attack or stroke using a single chest X-ray
Even weak tropical cyclones have grown more intense worldwide – we tracked 30 years of them using currents


Badge thanks to @arcange
---
---